Welcome to our latest guide on accommodations with fitness facilities in the stunning region of Tuscany, Italy. Tuscany is renowned for its picturesque landscapes, charming vineyards, and rich cultural heritage. For those seeking a balance between indulgence and wellness during their vacation, hotels with gymnasiums in this region offer the perfect solution.
With a plethora of options to choose from, you can find luxurious properties that boast state-of-the-art fitness centers or boutique hotels that offer intimate workout spaces. Whether you're an avid fitness enthusiast or simply looking to maintain your routine while exploring the beauty of Tuscany, these hotels with exercise rooms are designed to cater to your needs. From modern equipment and professional trainers to serene settings overlooking rolling hills and vineyards, there's something for everyone here.
So lace up your sneakers and get ready to embark on invigorating workouts while immersing yourself in the enchanting Tuscan ambiance. Join us as we explore some of the finest hotels with fitness facilities across this captivating region!
Best Tuscany Hotels With Gym And Fitness Center
Hotel Firenze Number Nine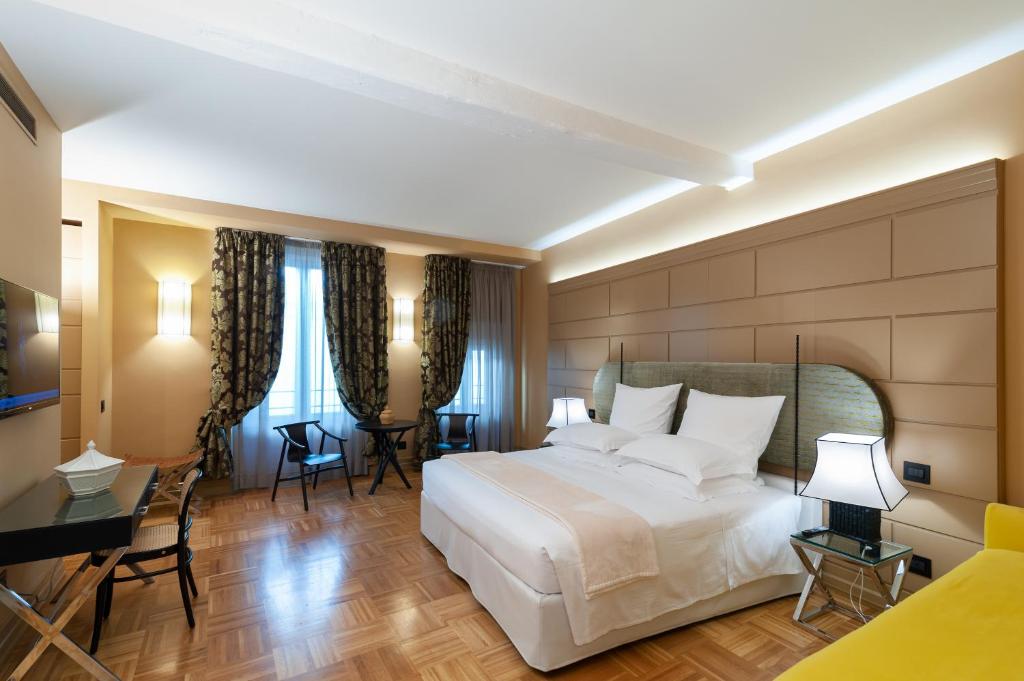 Located just a 2-minute walk from Santa Maria del Fiore Cathedral, Firenze Number Nine Hotel & SPA is a boutique property offering individually furnished rooms and suites with free WiFi throughout. The hotel also features spa facilities including relaxing massages and access to outdoor swimming pools during the summer months. Guests can enjoy free use of the fitness center and group classes such as cardio fitness and pilates. The rooms are equipped with Simmons mattresses, minibars, and kettles, all soundproofed and decorated with pastel colors. Some suites even have stuccoed ceilings. The hotel is conveniently located near Santa Maria Novella Train Station, Basilica San Lorenzo, and Piazza della Signoria.
– Prime location near major attractions
– Spa facilities for relaxation
– Free use of fitness center and group classes
– Individually furnished rooms with modern amenities
– Soundproofed rooms for added comfort
Rocco Forte Hotel Savoy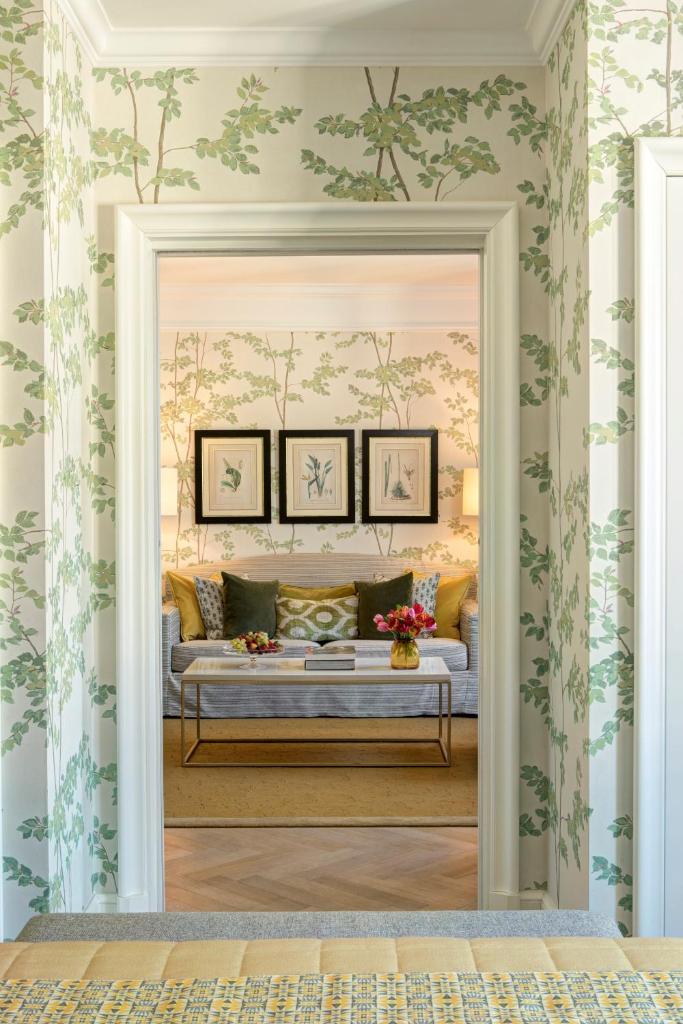 Luxury Hotel. Rocco Forte Hotel Savoy is situated in the heart of Florence, conveniently located between the Uffizi Gallery and Florence Cathedral. The hotel offers elegantly designed rooms with a contemporary style that combines Italian design with artwork inspired by local fashion houses. Guests can indulge in Tuscan specialties with a modern twist at the hotel's Irene bistro, where chef Pierangelini prepares delectable dishes using locally sourced seasonal produce. Additionally, this 5-star luxury hotel features a beautifully decorated fitness center equipped with Technogym® equipment. All air-conditioned rooms and suites come complete with a minibar and a flat-screen TV offering satellite and pay-per-view channels. Many accommodations also provide stunning views of the square, Brunelleschi's dome, or Giotto's Bell Tower.
– Prime location in the heart of Florence
– Contemporary yet elegant room design
– Delicious Tuscan cuisine at Irene bistro
– Well-equipped fitness center for guests' convenience
– Spectacular views from select rooms
Hotel Calimala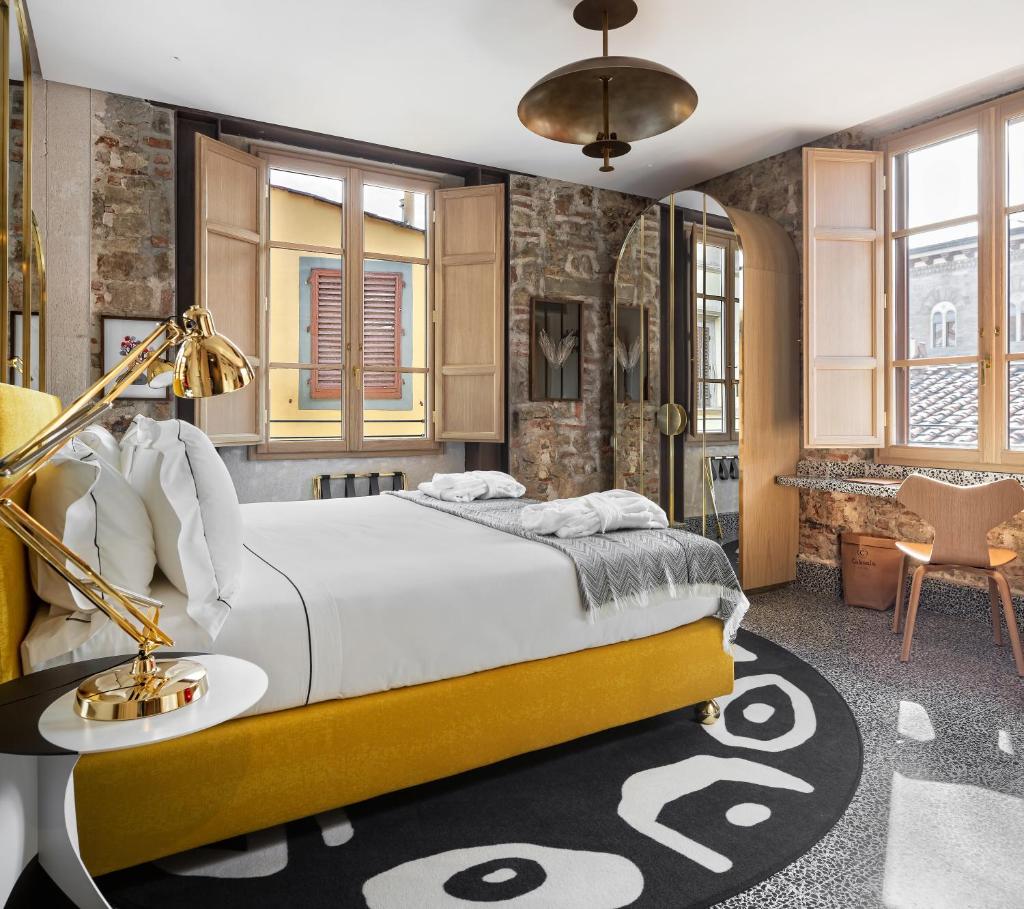 Hotel Calimala is a 4-star hotel located in the center of Florence, just 800 meters from Santa Maria Novella. This hotel offers a range of amenities including a fitness center, terrace, bar, restaurant serving Italian, Middle Eastern and international cuisine, and free WiFi. The rooms are equipped with air conditioning, flat-screen TVs with satellite channels, safety deposit boxes, private bathrooms with bidets and free toiletries. Some rooms also feature balconies and coffee machines. Guests can enjoy a daily breakfast buffet with options for vegetarians, vegans and those following gluten-free diets. Popular attractions such as Pitti Palace, Accademia Gallery and Piazza del Duomo di Firenze are within walking distance of the hotel.
– Fitness center available
– Terrace to relax on
– Bar on-site
– Restaurant serving various cuisines
– Free WiFi access
Other places to stay in Tuscany
Hotels With Fitness Center In Downtown Tuscany
Downtown Tuscany is home to a variety of hotels with fitness centers that cater to the needs of health-conscious travelers. These hotels offer state-of-the-art gym facilities equipped with modern exercise equipment, allowing guests to maintain their workout routines while enjoying the beauty and charm of Tuscany. Whether it's cardio machines, weight training equipment, or yoga studios, these hotels ensure visitors have access to top-notch fitness amenities during their stay in downtown Tuscany.
Ponte Vecchio Suites & Spa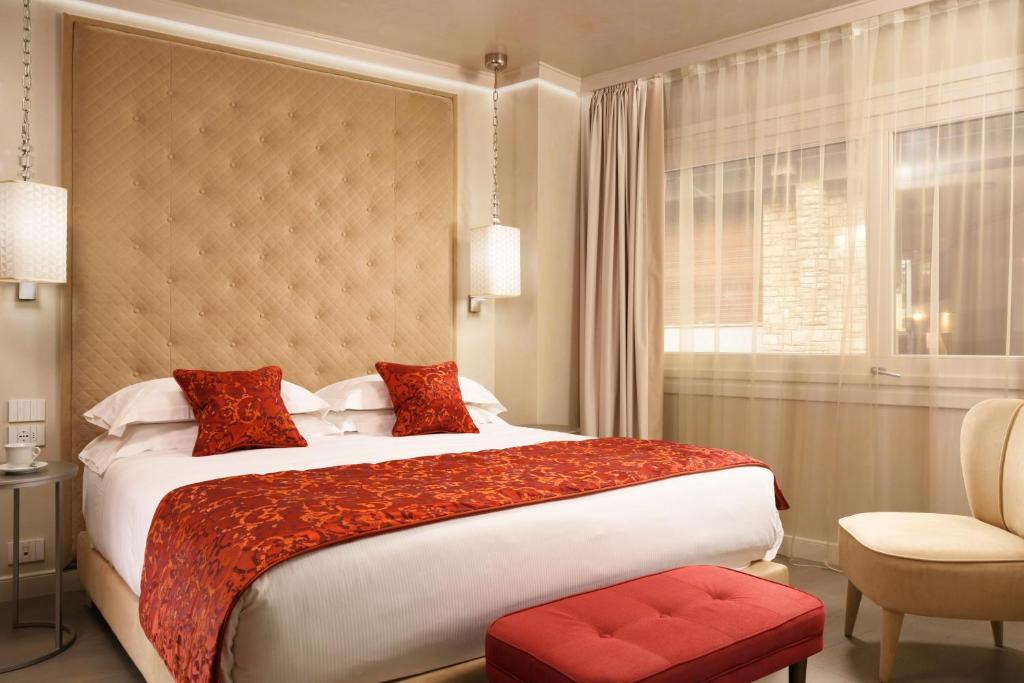 Located 2 minutes' walk from Florence's most famous bridge, Ponte Vecchio Suites & Spa is situated in the heart of the historic center. The hotel offers a free fitness center with exercise bikes and multi-purpose Technogym equipment. Guests can also enjoy spa treatments, massages, and wellness facilities such as a sauna, Turkish bath, hot tub for two people, chromotherapy showers, and a relaxation area with herbal teas. The elegant suites and studios feature parquet floors, velvet furnishings, satellite flat-screen TVs, seating areas with sofas and Nespresso coffee machines, hideaway kitchenettes, free Wi-Fi throughout the property. A continental breakfast is available daily for breakfast-included rates.
– Prime location in the historic center near Ponte Vecchio
– Free fitness center with modern equipment
– Spa treatments and massages available
– Elegant suites and studios with luxurious amenities
– Wellness facilities including sauna and hot tub
Brunelleschi Hotel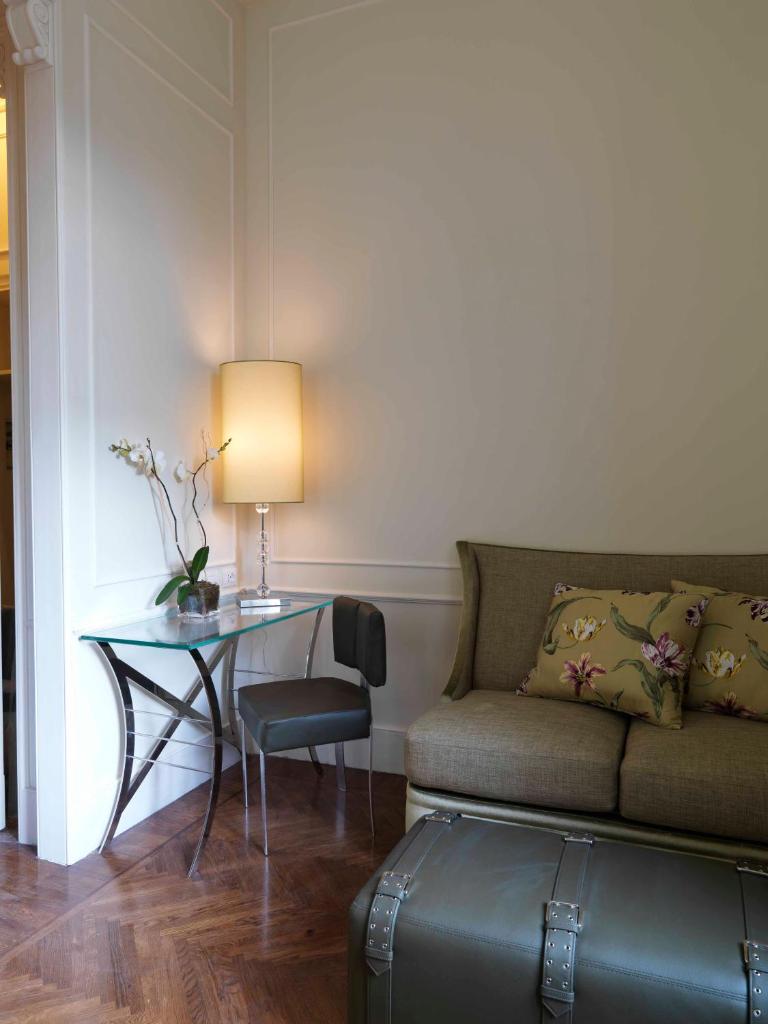 The Brunelleschi Hotel, located in a restored Byzantine tower and Medieval Church with a stunning view of Florence Cathedral, offers elegant rooms with parquet floors and a 42-inch LCD TV. The property features two restaurants: Osteria della Pagliazza, serving local cuisine, and the two-Michelin-starred gourmet restaurant Santa Elisabetta. The contemporary style rooms at the Brunelleschi Hotel include amenities such as air conditioning, an iPod docking station, and a laptop-sized safe with power socket. The bathrooms are equipped with a make-up mirror, hairdryer, and toiletries by Maison Dr Vranjes. Guests can enjoy a drink at the Tower bar and take advantage of the fitness center, private museum, and three meeting rooms. Free Wi-Fi access is available throughout the hotel along with a selection of local and international newspapers. Situated in a pedestrian area just 1 km from Santa Maria Novella Train Station, the hotel is surrounded by popular shops and cafes while being only a 5-minute walk from the famous Uffizi Gallery.
– Stunning view of Florence Cathedral
– Two restaurants offering local cuisine and gourmet dining
– Contemporary style rooms with modern amenities
– Fitness center for guests to stay active during their stay
– Convenient location near popular shops, cafes, and attractions
Four Seasons Hotel Firenze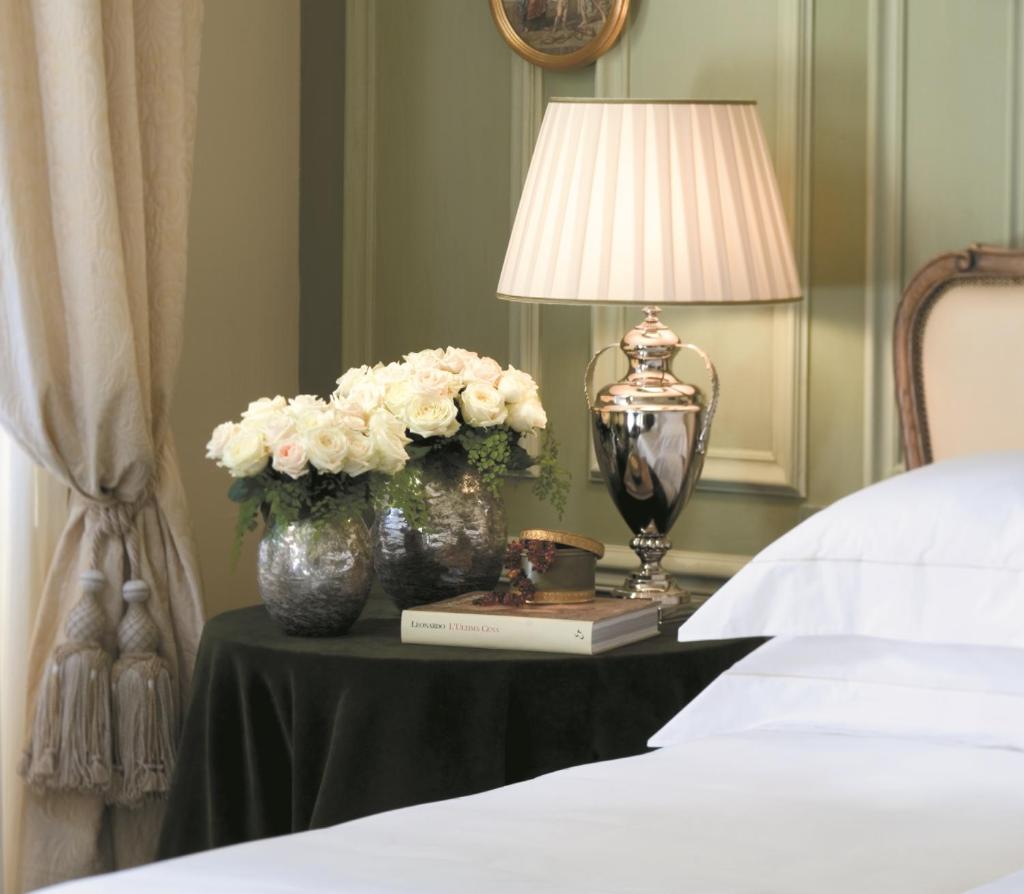 Luxury hotel located next to the botanical gardens of Giardino della Gherardesca. Composed of two buildings, Palazzo della Gherardesca and La Villa, with beautiful gardens in between. The rooms are spacious and bright, combining Renaissance décor with modern facilities such as LCD TVs and DVD players. The hotel's spa offers 9 beauty treatment rooms, a Turkish bath, and a gym, as well as an upper terrace with a pool and hot tub. Guests can enjoy fine Tuscan cuisine at the main restaurant, Il Palagio, or dine at the seasonal Al Fresco pizzeria. The hotel is centrally located just 15 minutes' walk from Florence Cathedral and the art galleries Uffizi and Accademia.
– Two-floor spa for ultimate relaxation
– Michelin-star restaurant offering delicious Tuscan dishes
– Spacious rooms with modern amenities
– Beautiful gardens to explore
– Central location near major attractions
Tuscany Hotels With Gym And Pool
Tuscany offers an array of hotels with gym and pool facilities, allowing guests to maintain their fitness routines while enjoying the stunning landscapes and rich culture of the region. These hotels provide state-of-the-art fitness centers equipped with modern exercise machines and professional trainers, ensuring a rewarding workout experience. Additionally, guests can take a refreshing dip in the luxurious pools, providing relaxation and rejuvenation after a day of exploring Tuscany's charming towns and vineyards.
Grand Hotel Minerva (Florence)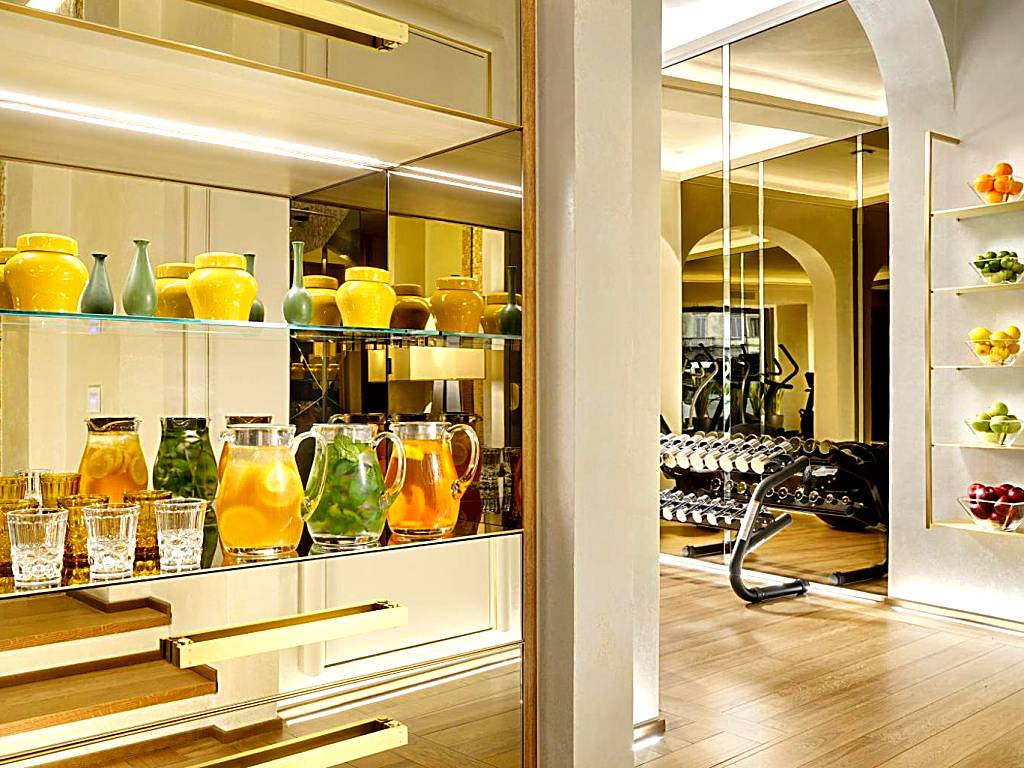 Grand Hotel Minerva offers a rooftop swimming pool and sun terrace with panoramic views of Florence's historic center. This air-conditioned hotel is conveniently located just 300 meters from Santa Maria Novella Train Station. The rooms are equipped with free Wi-Fi access and satellite TV, and some rooms even offer stunning views of Florence Cathedral, which is only 500 meters away. With a 24-hour front desk, the friendly staff is available to provide recommendations for exploring popular attractions such as the Uffizi Gallery and Gallery dell'Accademia. Guests can indulge in traditional Italian dishes at the hotel's restaurant or enjoy a refreshing drink from the rooftop bar. Additionally, this hotel boasts a gym and fitness center facilities.
– Rooftop swimming pool with panoramic views
– Convenient location near train station
– Free Wi-Fi access in all rooms
– Friendly staff providing sightseeing recommendations
– On-site gym and fitness center
The St. Regis Florence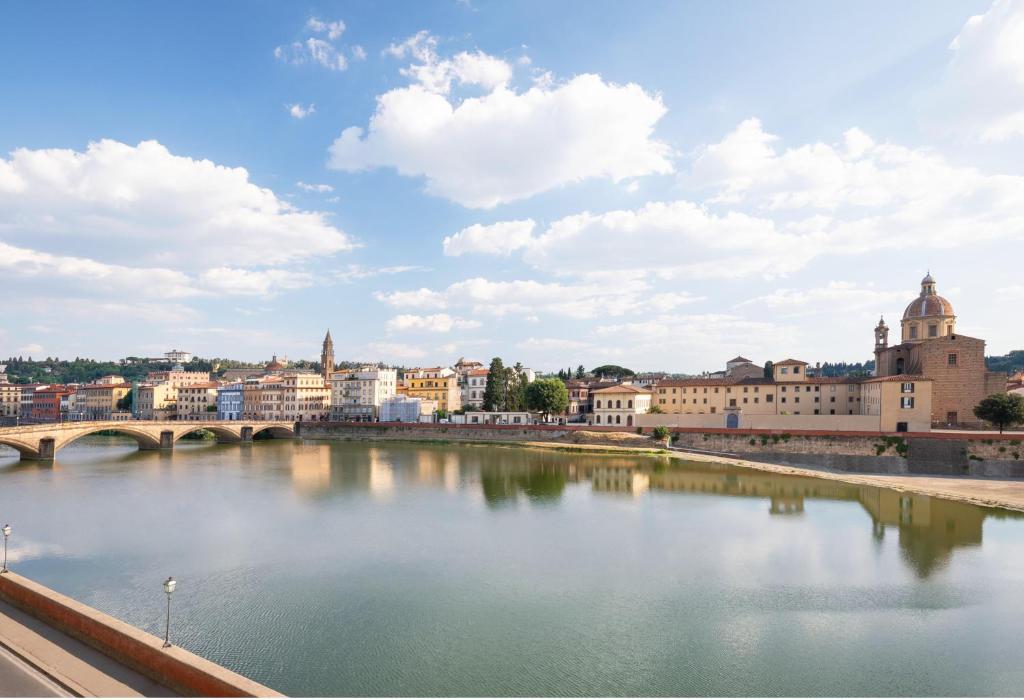 Set along the Arno River with picturesque views of the Ponte Vecchio, The St. Regis Florence is a luxurious 5-star hotel housed in a historic building designed by Brunelleschi. With its own spa, gym, and elegantly adorned rooms featuring antique furnishings, this hotel offers a truly indulgent stay. Guests can savor modern Tuscan and Mediterranean cuisine at the Winter Garden restaurant or partake in the renowned evening ritual at the bar, enjoying contemporary finger food crafted by chef Gentian Shehi. Conveniently located near Santa Maria Novella Train Station and the Cathedral, this hotel provides an ideal base for exploring Florence.
– Stunning views of the Ponte Vecchio and Arno River
– Luxurious spa for ultimate relaxation
– Well-equipped gym for fitness enthusiasts
– Elegant rooms with Florentine-style furniture and marble bathrooms
– Delicious dining options including modern Tuscan and Mediterranean cuisine
Tuscany Hotels with Gym Information
| | |
| --- | --- |
| 🛎️ Hotels with Gym in Tuscany | 8 |
| 💰 Hotel prices starting from | $168 |
| 💵 Highest price | $710 |
| 🥇 Average Review Score | 9.1/10 |
| 🛏️ Average number of Rooms | 25 |
FAQ
Are there hotels with gyms in Tuscany?
Yes, there are several hotels in Tuscany that offer gym facilities to their guests. These hotels understand the importance of fitness and wellness for travelers and provide well-equipped gyms with state-of-the-art equipment. Whether you want to start your day with a workout or continue your fitness routine while on vacation, you will have options to choose from in Tuscany.
What kind of gym facilities can I expect at hotels in Tuscany?
Hotels in Tuscany strive to provide their guests with excellent gym facilities. You can expect well-maintained gyms with a variety of cardiovascular machines such as treadmills, stationary bikes, and elliptical trainers. Additionally, many hotels also offer weightlifting equipment like dumbbells and weight benches for strength training exercises. Some properties may even have personal trainers available for assistance or offer fitness classes for guests.
Do I need to pay extra to use the gym at my hotel in Tuscany?
The additional charges for using the gym at your hotel in Tuscany may vary depending on the property. While some hotels include access to the gym as part of their room rates, others may charge a separate fee or require membership for non-guests. It is advisable to check with your chosen hotel beforehand regarding any additional costs associated with using their gym facilities.
Can I find 24-hour gyms at hotels in Tuscany?
While not all hotels in Tuscany have 24-hour gyms, there are establishments that offer round-the-clock access to their fitness centers. These 24-hour gyms allow guests flexibility when it comes to working out and cater to different schedules or jet lag-related sleep disturbances. If having access to a gym at any time is important to you during your stay in Tuscany, be sure to inquire about this feature when making your reservation.
Are there any luxury hotels in Tuscany with gyms?
Yes, Tuscany boasts a range of luxury hotels that offer gym facilities to their guests. These upscale properties understand the desires and needs of their clientele and provide high-quality fitness centers for them. With spacious workout areas, top-of-the-line exercise equipment, and additional amenities such as saunas or spa treatments, these luxury hotels ensure that guests can maintain their wellness routines while enjoying a luxurious stay in Tuscany.
Popular Hotels With Gym destinations