Get ready to indulge in a fitness-filled vacation as we explore the magnificent Hotels With Gym that Opatija, Croatia has to offer. Located on the stunning Adriatic coast, Opatija beckons health enthusiasts and gym lovers alike with its breathtaking views and luxurious accommodations. Whether you're seeking an invigorating workout session or simply want to maintain your fitness routine while on holiday, these hotels are sure to provide you with state-of-the-art fitness facilities.
Opatija boasts a wide array of Hotels With Gym that cater to all levels of fitness and wellness preferences. From boutique hotels tucked away in charming alleyways to grand resorts overlooking the sparkling sea, there's something for everyone here. Experience a rejuvenating morning workout while enjoying panoramic vistas of the Adriatic Sea or unwind after a day of exploration in one of the opulent hotel gyms equipped with modern exercise machines and equipment.
In addition to their exceptional fitness amenities, these hotels offer an abundance of other features and services that will make your stay truly remarkable. Indulge in spa treatments to relax those muscles after an intense workout or savor delectable local cuisine at their exquisite restaurants. Immerse yourself in Croatian culture by exploring nearby attractions such as Villa Angiolina or taking leisurely strolls along the iconic Lungomare promenade.
Join us as we delve into the world of Hotels With Gym in marvelous Opatija – where health meets luxury amidst unparalleled natural beauty.
Best Opatija Hotels With Gym And Fitness Center
Amadria Park Hotel Agava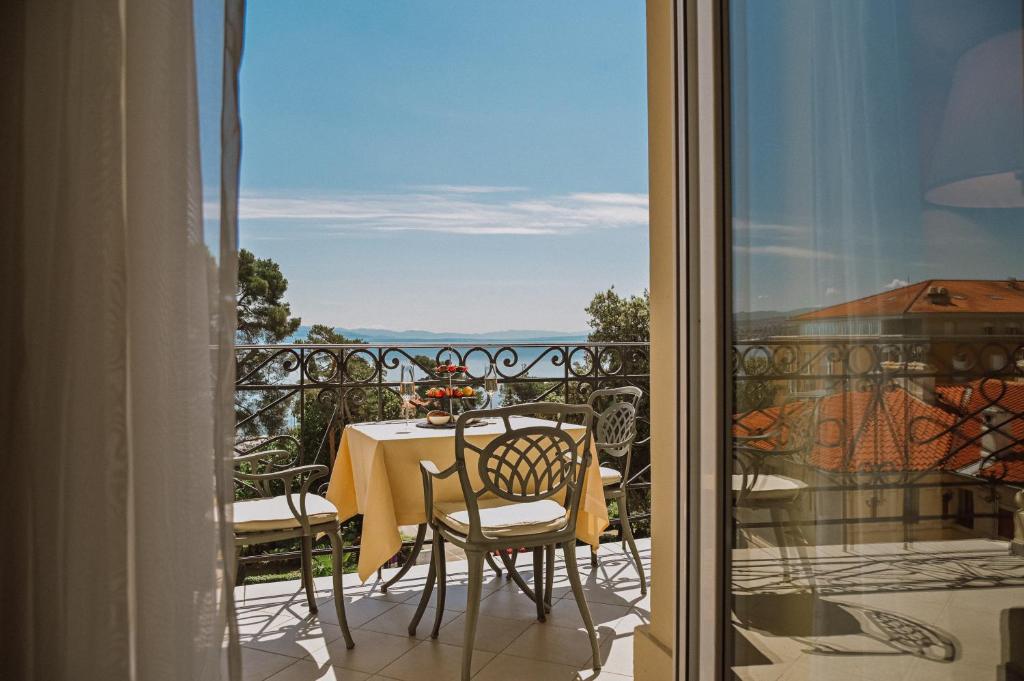 Located in the heart of Opatija, Hotel Agava is a charming 19th-century villa offering elegant rooms, an on-site restaurant, and a terrace café with great views of the main street. The spacious rooms are tastefully decorated in traditional style with wooden furnishings and feature amenities such as satellite TV, a safe, minibar, and air conditioning. The hotel's restaurant serves a variety of delicious Croatian specialities. Guests also have access to the 1500-m² wellness centre at a neighboring hotel which includes outdoor and indoor pools, saunas, hot tubs, treatment rooms, and a gym (available at an additional cost). The famous Angiolina Park with stunning views of Kvarner Bay is just steps away from the hotel, as well as the Lungomare promenade that stretches for 12 km along the riviera from Volosko to Lovran.
– Central location in Opatija
– Elegant rooms with traditional decor
– Terrace café with street views
– Access to wellness center with pools and gym
– Close proximity to Angiolina Park and Lungomare promenade
Hotel Miramar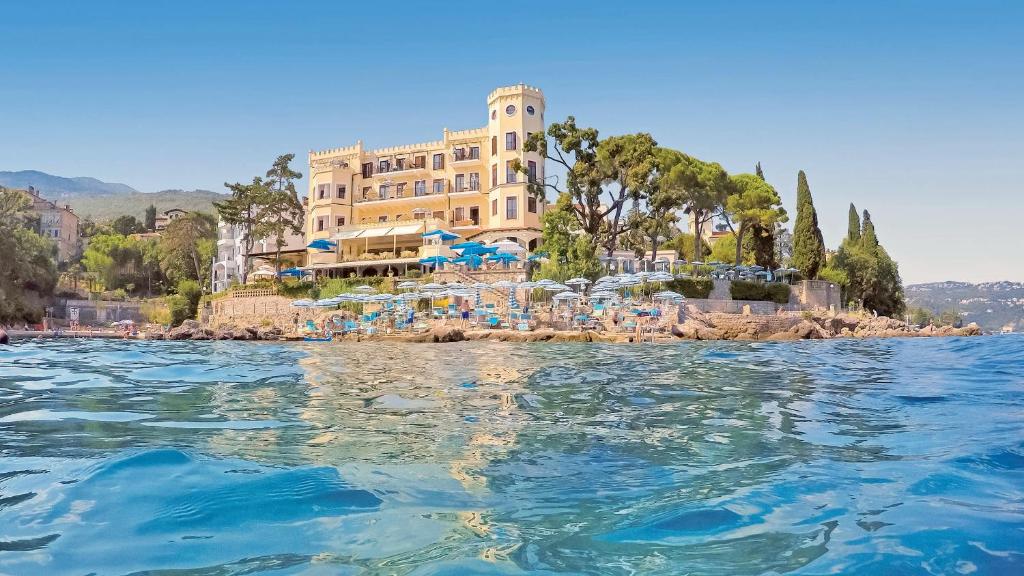 Located in Opatija, 200 metres from Škrbići Beach, Hotel Miramar offers a range of amenities for a comfortable stay. These include a seasonal outdoor swimming pool, free private parking, a fitness centre and a garden. The 4-star hotel features air-conditioned rooms with free WiFi and en-suite bathrooms. Guests can enjoy delicious meals at the hotel's restaurant. Additional facilities include an indoor pool, sauna, evening entertainment and a 24-hour front desk. Some rooms offer stunning sea views. A buffet breakfast is available daily at the accommodation. Hotel Miramar also provides spa services for guests to indulge in relaxation. Popular nearby attractions include Lipovica Beach, Tomasevac Beach and Opatija Lido Beach.
Pros:
– Convenient location near the beach
– Free private parking
– Fitness centre and spa facilities available
– Indoor pool for year-round swimming
– 24-hour front desk assistance
Hotel Admiral – Liburnia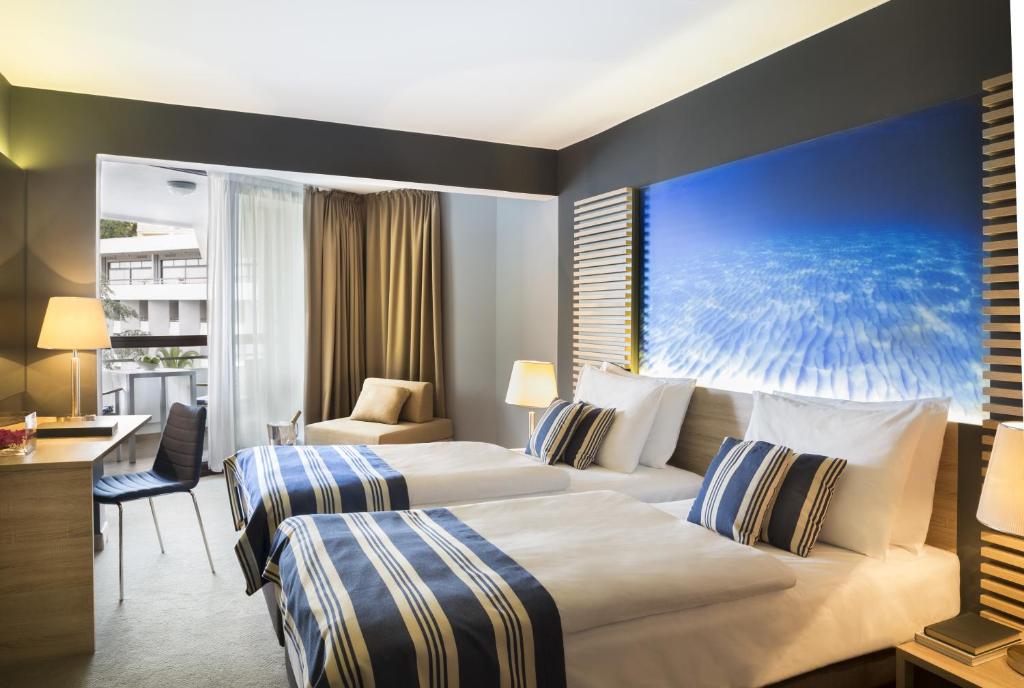 Hotel Admiral – Liburnia is a stunning hotel located right next to the sea, offering breathtaking views of the Kvarner Bay and the nearby marina. Guests can enjoy free Wi-Fi throughout the property, an indoor pool with heated seawater and a whirlpool, as well as a sauna – all included in the price. The rooms are equipped with air conditioning, satellite TV, and private balconies. Additionally, dinner is occasionally served accompanied by live music. Conveniently located near Opatija bus station and train stations in Matulji and Rijeka, Hotel Admiral – Liburnia provides easy access for travelers. Rijeka Airport is also just 45 km away.
– Stunning sea views
– Indoor pool with heated seawater
– Sauna for relaxation
– Free Wi-Fi throughout the property
– Convenient location near bus and train stations
Other places to stay in Opatija
Hotels With Fitness Center In Downtown Opatija
Downtown Opatija offers a variety of hotels with fitness centers, allowing guests to maintain their active lifestyle while enjoying their stay. These well-equipped facilities provide state-of-the-art exercise equipment and ample space for workouts, catering to both beginners and fitness enthusiasts alike. With convenient access to the city's attractions and amenities, visitors can easily explore the vibrant downtown area before or after their workout sessions. Whether guests prefer cardio exercises, strength training, or group classes, these hotels with fitness centers in downtown Opatija ensure a well-rounded and enjoyable wellness experience during their trip.
Hotel Mozart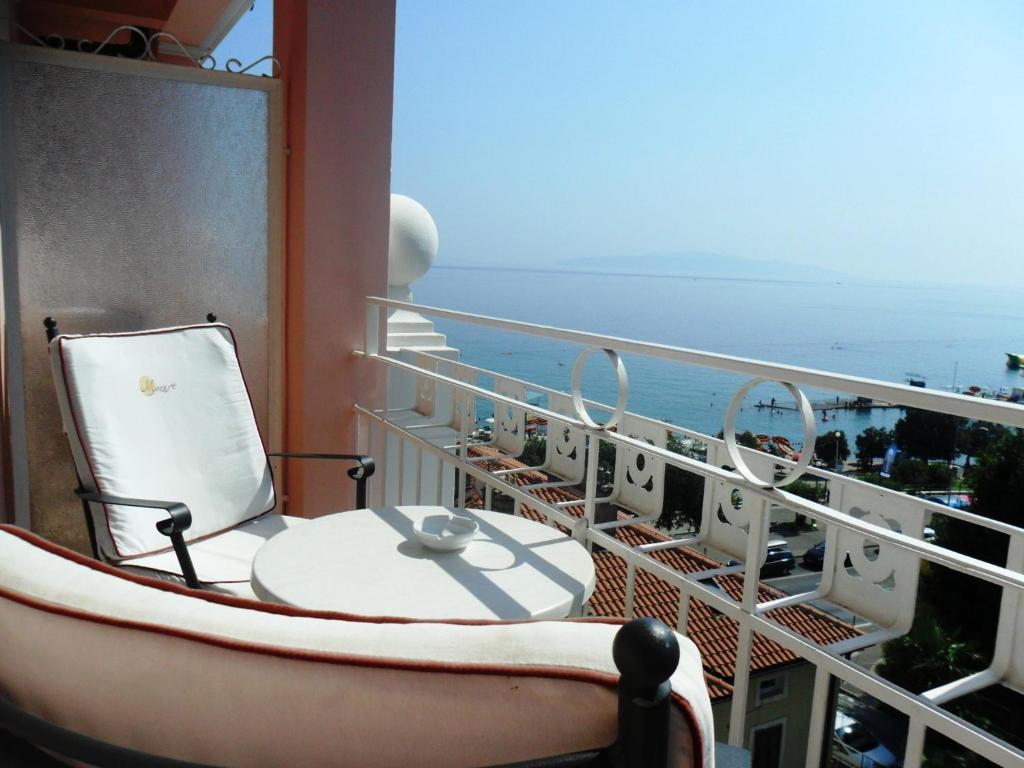 The elegant boutique Hotel Mozart is located next to the main beach in central Opatija and near the main promenade. Set in an Art Nouveau building, it offers a restaurant and bar with a terrace and garden, spa facilities and air-conditioned rooms. The Spa and Wellness Centre offers Finnish and infra-red saunas, Turkish and unique Japanese baths, hot tubs, as well as a gym and fitness area. It provides free Wi-Fi.
– Stylish furnishings with classical decor
– Spacious rooms with modern amenities
– Beautiful sea views from balconies
– Indoor garden and outdoor terrace available
– Close proximity to tennis courts, cultural attractions, historical sites, and National Parks
Hotel Domino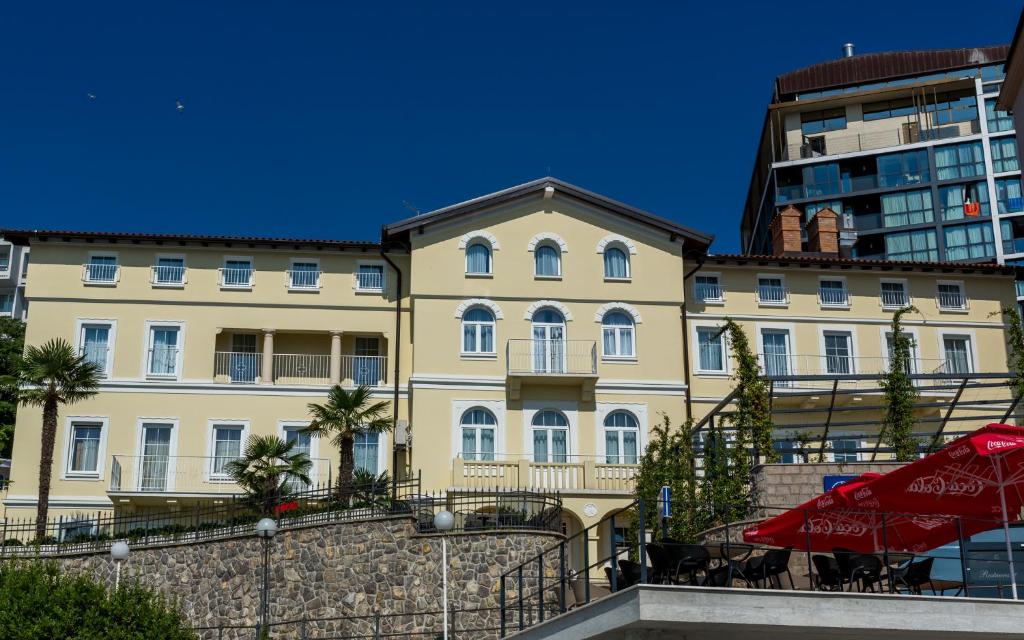 Hotel Domino is a 4-star hotel located in Opatija, offering beachfront accommodation. The hotel features a seasonal outdoor swimming pool, garden, and terrace for guests to enjoy. With free WiFi throughout the property, Hotel Domino also provides a restaurant and bar on-site. Private parking is available for convenience. The air-conditioned rooms include amenities such as a seating area, flat-screen TV with satellite channels, safety deposit box, and private bathroom with shower, toiletries, and hairdryer. Each guest room also includes a desk. Guests can indulge in a buffet or continental breakfast during their stay at Hotel Domino. The multilingual staff is available 24/7 at the front desk and can provide practical information about the area in English, German, Croatian, or Italian languages. Nearby attractions include Slatina Beach, Dog Beach, and Mali Raj Beach. Rijeka Airport is the nearest airport located 43 km away from the hotel.
– Beachfront location
– Seasonal outdoor swimming pool
– Free WiFi
– Buffet or continental breakfast available
– Multilingual staff providing practical information
Hotel Lungomare Opatija – Liburnia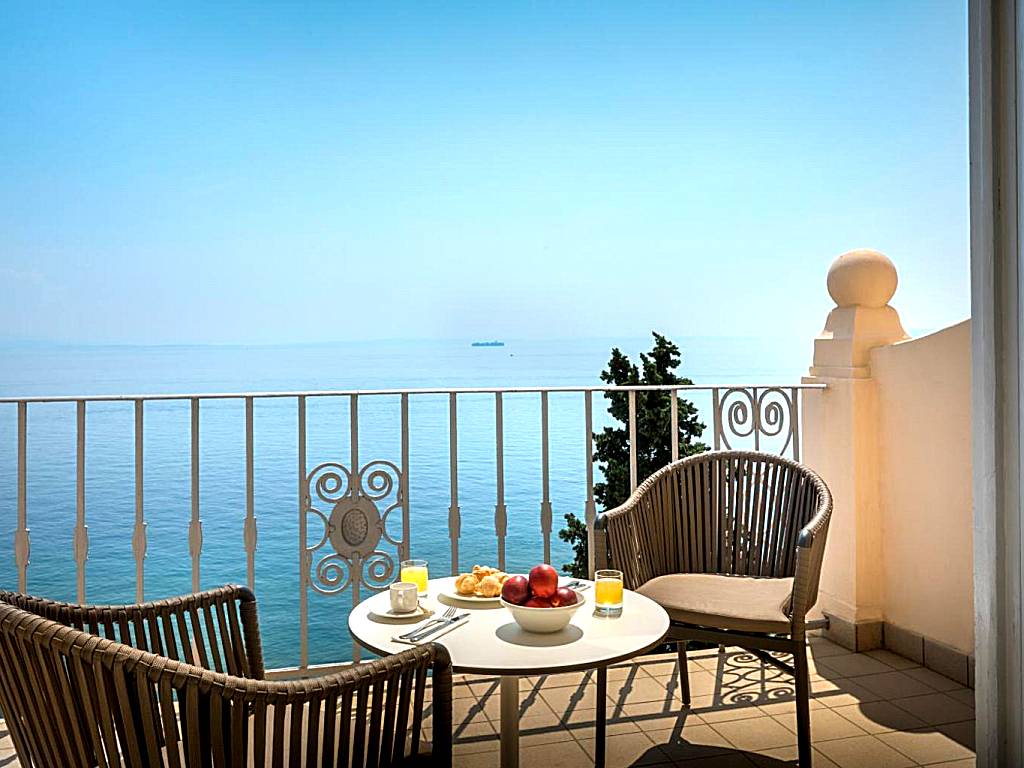 Hotel Lungomare Opatija – Liburnia is a centrally located hotel in Opatija, fully renovated in 2018. With its panoramic views of Kvarner Bay, the hotel offers comfortable rooms with LCD cable TVs and free WiFi throughout. Guests can enjoy a buffet breakfast in the dining hall and have access to deckchairs and beach umbrellas at the nearby Kristal Hotel's beach for an additional charge. For those looking to stay active, the hotel provides a gym and fitness center. Other amenities include a stone beach and indoor pool at Hotel Kristal upon request. The hotel's prime location allows guests to explore Opatija's attractions on foot, including the town center, main beach, and a scenic seaside promenade leading to Volosko or Lovran. Nearby, there are also opportunities for entertainment such as a casino, tennis courts, and a fitness and wellness center. Rijeka Airport is 45 km away from Hotel Lungomare Opatija – Liburnia.
Pros:
– Fully renovated with modern amenities
– Spectacular panoramic views of Kvarner Bay
– Free WiFi throughout the hotel
– Access to deckchairs/beach umbrellas at Kristal Hotel's beach (additional charge)
– Gym and fitness center available for guests' use
Opatija Hotels With Gym And Pool
Opatija offers a variety of hotels with gym and pool facilities, perfect for health-conscious travelers looking to maintain their fitness routine while enjoying a relaxing vacation. These hotels provide modern and well-equipped gyms, where guests can engage in invigorating workouts using state-of-the-art equipment. The pools offer a refreshing escape from the warm Croatian sun and are ideal for swimming laps or simply lounging by the water. Whether you prefer cardio exercises, strength training, or swimming, Opatija's hotels with gym and pool amenities ensure that you can prioritize your health and well-being during your stay.
BO Hotel Palazzo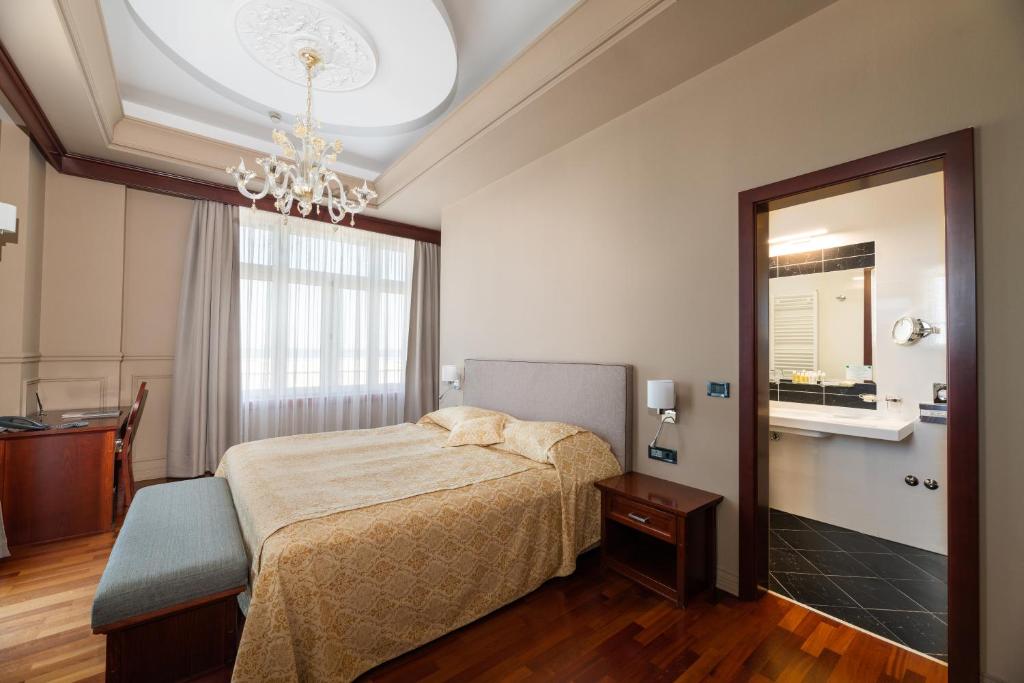 Built in 1910, BO Hotel Palazzo is a luxurious hotel located on the Porec Peninsula, right by the seaside. After a renovation in 2009, the hotel now offers modern comforts and amenities. The wellness center includes a hot tub with stunning views of the sea. Guests can choose from beautifully furnished air-conditioned rooms or spacious suites. Free Wi-Fi is available throughout the hotel. The Ritzi restaurant serves delicious local and international cuisine, while guests can enjoy breathtaking views of the Old Town and Sveti Nikola island from their rooms. The hotel's location near a park gives guests a truly Mediterranean experience with scents of pine trees and sea. Secured parking is available nearby with free shuttle service.
– Stunning sea views from the hot tub at the wellness center
– Elegant and comfortable rooms and suites
– Free Wi-Fi throughout the hotel
– Delicious local and international cuisine at Ritzi restaurant
– Convenient secured parking nearby with free shuttle service
Hotel Kristal – Liburnia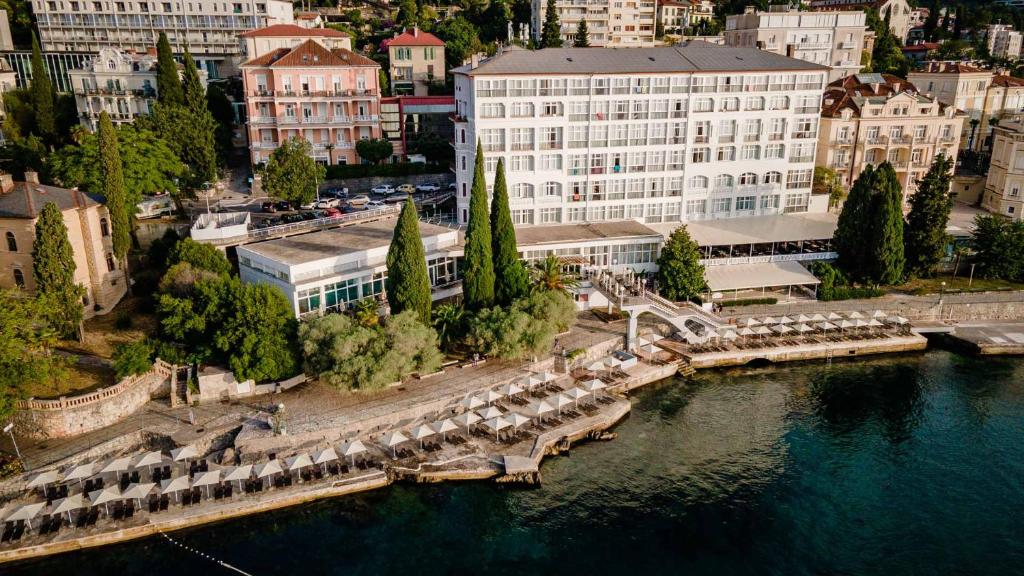 Situated right on the seafront, Hotel Kristal – Liburnia offers free Wi-Fi and its own beach with sun loungers. The hotel features indoor swimming pools and a mini fitness room. With a stunning panoramic view over Kvarner Bay, it is just a 5-minute walk from the center of Opatija and the main beach. The rooms are equipped with cable TV, a safe, minibar, and private bathroom. Some rooms even offer sea views. Guests can enjoy a breakfast buffet at the air-conditioned restaurant which also has a summer terrace for guests to enjoy the beautiful views. The hotel's bar offers hot and cold drinks. Sauna facilities are available at an additional cost. Opatija Bus Station is located just 100 meters away while train stations in Matulji/Opatija (5 km away) or Rijeka (12 km away) provide convenient transportation options. Rijeka Airport is also within reach at a distance of 45 km.
– Situated on the seafront
– Free Wi-Fi access
– Own beach with sun loungers
– Indoor swimming pools
– Panoramic view over Kvarner Bay
Valamar Tamaris Resort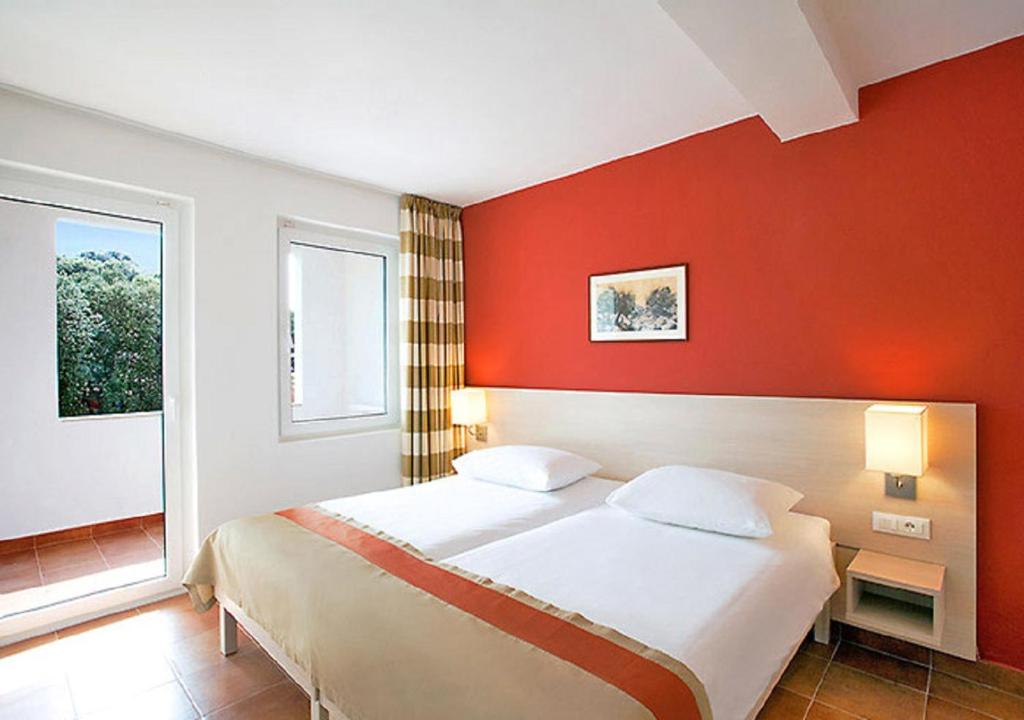 Located on the forested Lanterna Peninsula, Valamar Tamaris Resort is a stunning hotel that offers a range of accommodation options, including rooms, suites, and apartments. The resort boasts outdoor swimming pools, various restaurants serving international and Mediterranean cuisine, and a rich sports and entertainment program. Guests can enjoy amenities such as free WiFi, flat-screen TVs, minibars, furnished balconies or terraces, and private bathrooms with free toiletries. The resort also features extensive sports grounds including tennis courts and water sports facilities. After a day of activities, guests can unwind in the sauna or fitness centre or book a relaxing massage. Free bikes are available for exploring the nearby beaches. With its beautiful location and array of amenities, Valamar Tamaris Resort promises an unforgettable stay.
– Located within walking distance from 5 different beach types
– Outdoor swimming pools
– Varied offer of international and Mediterranean meals
– Extensive sports grounds including tennis courts and water sports facilities
– Sauna and fitness centre available
Opatija Hotels with Gym Information
| | |
| --- | --- |
| 🛎️ Hotels with Gym in Opatija | 9 |
| 💰 Hotel prices starting from | $290 |
| 💵 Highest price | $1423 |
| 🥇 Average Review Score | 8.6/10 |
| 🛏️ Average number of Rooms | 31 |
FAQ
Can you recommend any hotels in Opatija, Croatia that have a gym?
Yes, there are several hotels in Opatija that have gyms on-site. One option is the Remisens Premium Hotel Ambasador, which offers a fully-equipped fitness center with modern equipment and various exercise classes. Another option is the Hotel Bristol by OHM Group, which has a fitness room with state-of-the-art machines and panoramic views of the Adriatic Sea.
Are there any budget-friendly hotels in Opatija that provide access to a gym?
Yes, if you're looking for budget-friendly options that also offer access to a gym, consider staying at the Smart Selection Hotel Imperial. This hotel features a small fitness area where guests can work out during their stay. The Hotel Kvarner Palace is another affordable choice with an on-site gym, allowing guests to maintain their fitness routine without breaking the bank.
Do all hotels in Opatija charge extra for using their gyms?
No, not all hotels in Opatija charge extra for using their gyms. Some hotels include complimentary access to their fitness facilities as part of their overall amenities package. However, it's always best to check with each individual hotel beforehand to confirm whether there are any additional charges or restrictions for using their gym facilities.
What types of exercise equipment can I expect to find in the hotel gyms in Opatija?
The hotel gyms in Opatija generally offer a range of exercise equipment suitable for various workouts. You can typically find cardio machines like treadmills and stationary bikes, as well as weightlifting equipment such as dumbbells and weight benches. Additionally, some hotels may also provide yoga mats or other workout accessories upon request.
Are the hotel gyms open 24 hours a day or do they have specific operating hours?
Most hotel gyms in Opatija have specific operating hours rather than being open 24 hours a day. The exact opening and closing times can vary depending on the hotel, so it's advisable to check with the front desk or consult the hotel's website for their gym's operational schedule.
Popular Hotels With Fitness Center destinations