Welcome to our latest exploration of accommodations with fitness facilities in the stunning town of Banff, nestled in the heart of Canada's majestic Rockies. In this article, we will be delving into a range of lodgings that offer gyms, allowing travelers to maintain their wellness routines while immersing themselves in Banff's natural beauty.
Banff is renowned for its breathtaking landscapes and outdoor activities, attracting adventure seekers from all around the globe. However, after an exhilarating day exploring the rugged terrain or hitting the slopes at one of the nearby ski resorts, sometimes it is nice to unwind and recharge within your hotel's gymnasium. Luckily, there are plenty of options available for fitness enthusiasts looking to stay active during their visit.
Whether you prefer lifting weights, running on treadmills while gazing at panoramic mountain views or participating in group exercise classes led by experienced instructors – we have got you covered. Join us as we dive into a selection of hotels that understand the importance of physical well-being and provide top-notch fitness amenities for guests seeking a healthy balance between adventure and self-care during their stay in Banff.
Best Banff Hotels With Gym And Fitness Center
Fairmont Banff Springs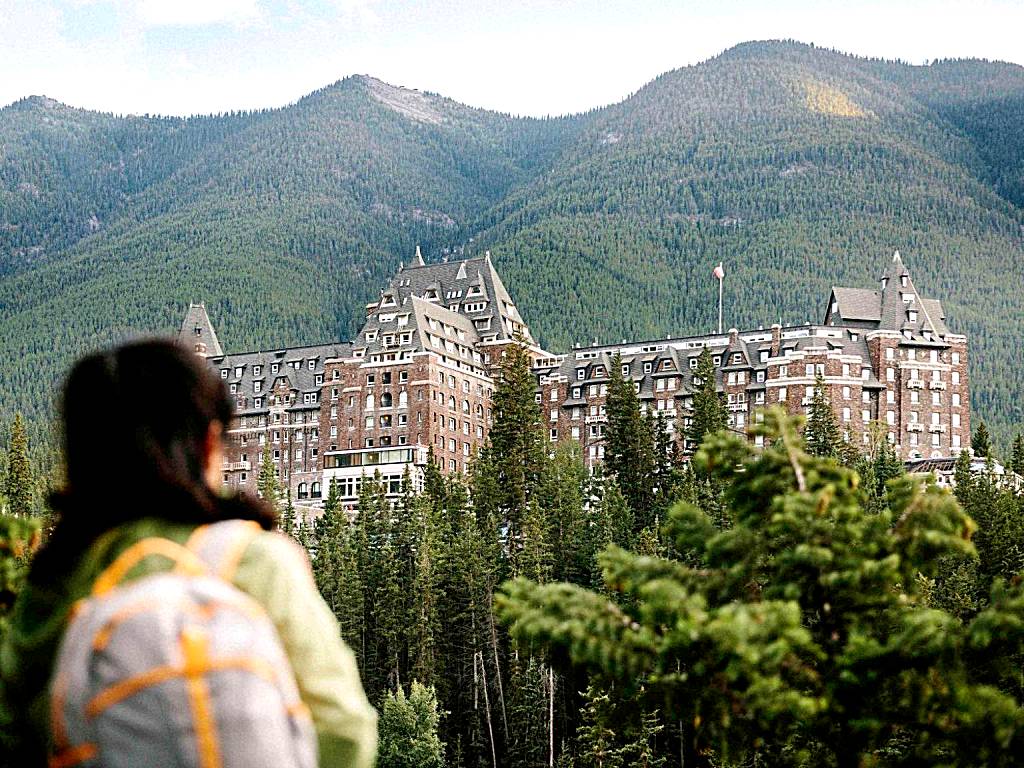 The Fairmont Banff Springs is a resort located in the picturesque Banff National Park. Styled after a Scottish Baronial castle, this National Historic Site offers a unique and charming experience for its guests. With 11 restaurants and 14 shops, there is no shortage of options for dining and shopping.
One of the highlights of this hotel is its impressive pool facilities. It boasts a 32-metre lap pool as well as a heated outdoor pool spanning 20 metres. Guests can enjoy swimming and lounging in these beautiful pools while taking in the stunning mountain views.
For those seeking relaxation and rejuvenation, the Fairmont Spa is the place to be. With 27 treatment areas, it offers a wide range of massages and beauty treatments to pamper guests. Whether you're looking to unwind or indulge in some self-care, the spa has something for everyone.
Beyond its pools and spa, this hotel offers an array of on-site activities to keep guests entertained throughout their stay. Bowling, tennis, horseback riding, and golfing are just some of the options available for those looking to have fun while enjoying their surroundings.
Additionally, ski enthusiasts will be delighted by the proximity of numerous ski locations just minutes away from the resort. The Fairmont Banff Springs provides ski passes, storage, rental services, as well as shuttle service to nearby ski resorts such as Mount Norquay Ski Village, Sunshine Village Ski Resort, and Lake Louise Ski Resort.
With comfortable rooms featuring feather and foam bedding along with elegant bathrooms complete with granite vanities and European style showers, guests can expect a luxurious stay at Fairmont Banff Springs.
– Impressive lap pool (32 meters) & heated outdoor pool (20 meters)
– Extensive spa with multiple treatment areas
– On-site activities including bowling & golfing
– Proximity to various ski locations
– Comfortable rooms with high-quality amenities
The Rundlestone Lodge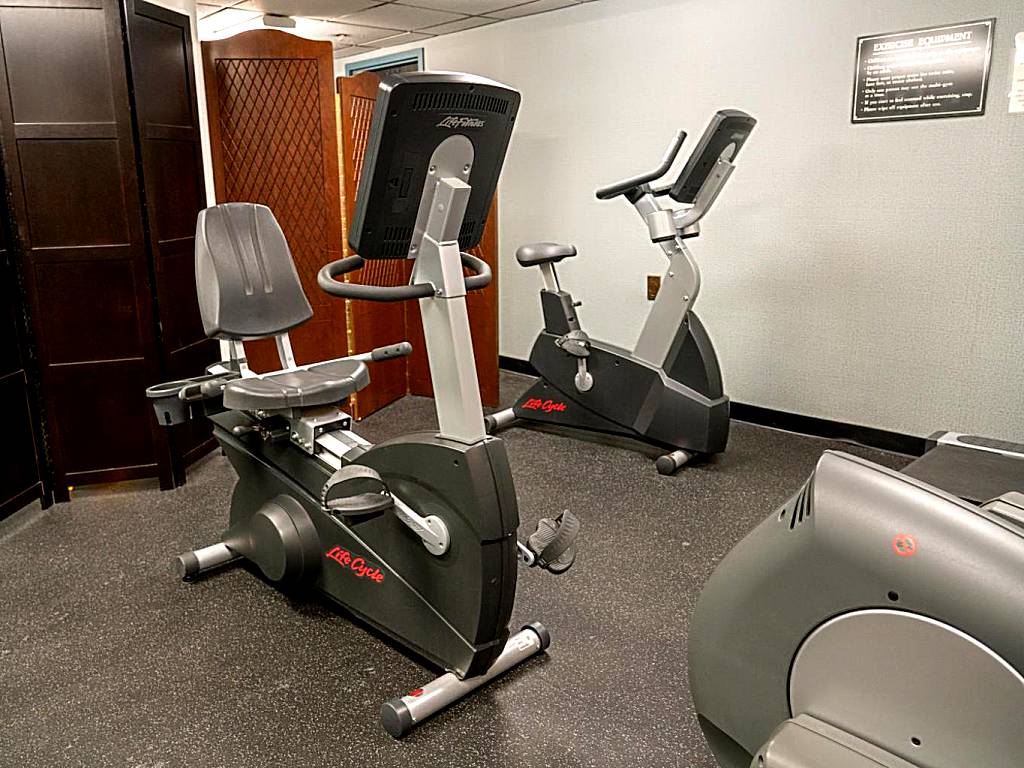 The Rundlestone Lodge is a contemporary mountain lodge situated directly on Banff Avenue, offering breathtaking views of the Canadian Rockies. Guests can enjoy the convenience of free WiFi throughout the property and take a refreshing dip in the indoor pool. The fitness centre provides ample opportunities for guests to stay active during their stay. Each spacious guestroom at The Rundlestone Lodge features a 42" HDTV, refrigerator, and tea & coffee making facilities. A work desk and comfortable seating are also available, while select rooms include a balcony for guests to soak in the stunning surroundings. The lodge boasts a cozy lobby with a large, open fireplace where guests can unwind after a day of outdoor activities. World-class skiing awaits just minutes away from the hotel, as well as scenic hiking trails for those looking to explore nature's beauty. Additionally, history enthusiasts will find the Cave and Basin Historic site only 9 minutes' drive away.
– Spectacular views of the Canadian Rockies
– Convenient location on Banff Avenue
– Indoor pool for relaxation and rejuvenation
– Fitness centre for staying active during your stay
– Cozy lobby with an inviting fireplace
Fox Hotel and Suites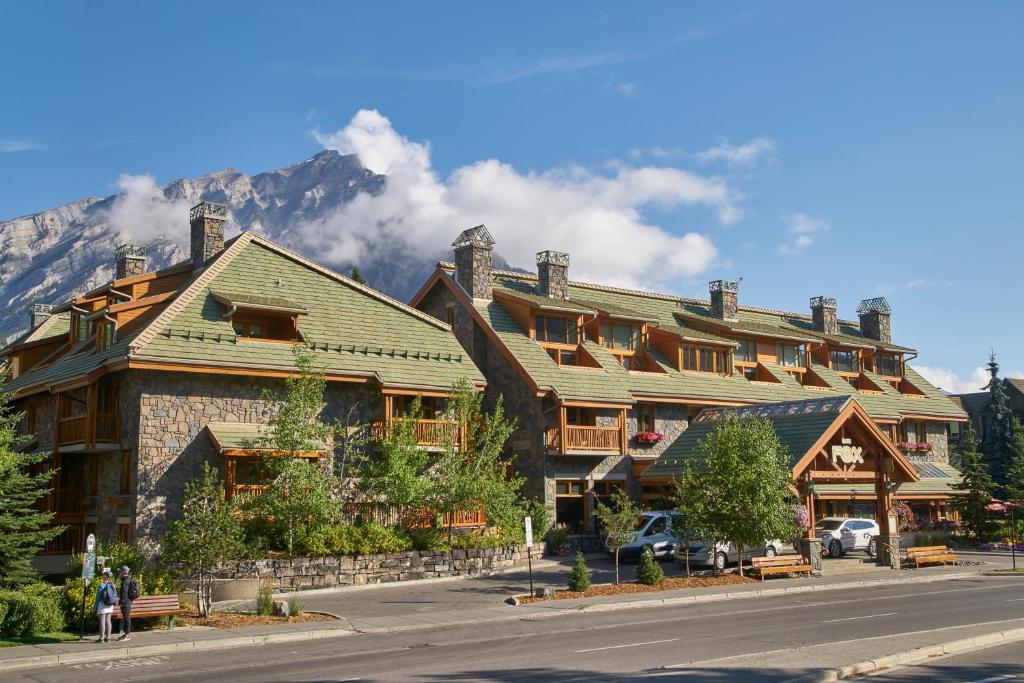 Located in historic Banff, Alberta, the Fox Hotel and Suites is a contemporary hotel offering a range of amenities and convenient services. Guests can take advantage of the free shuttle service to downtown Banff and the Banff Ski Gondola. The hotel features a unique cave-inspired hot pool for relaxation and an on-site Chili's Restaurant and Grill for dining convenience. Each room at the Fox Hotel and Suites includes modern amenities such as a flat-screen TV, free Wi-Fi, coffee maker, and sofa bed. The hotel also boasts a well-equipped gym with floor-to-ceiling mirrors and mounted flat-screen TVs for guests looking to stay active during their stay. Additionally, guest laundry facilities are available for added convenience. Located nearby are attractions like the Banff Park Museum and the mineral springs of the Cave and Basin National Historic Site.
– Free shuttle service to downtown
– Unique cave-inspired hot pool
– On-site restaurant
– Well-equipped gym
– Guest laundry facilities
Other places to stay in Banff
Hotels With Fitness Center In Downtown Banff
Downtown Banff offers a great selection of hotels with fitness centers that cater to the health-conscious traveler. These hotels provide top-notch gym facilities, equipped with modern exercise equipment and weight machines, allowing guests to maintain their fitness routine even while on vacation. Whether you prefer a cardio workout or strength training session, these downtown hotels offer a range of options to suit every fitness need. Guests can stay active and energized throughout their stay in Banff, knowing they have access to well-equipped fitness centers right at their doorstep.
Canalta Lodge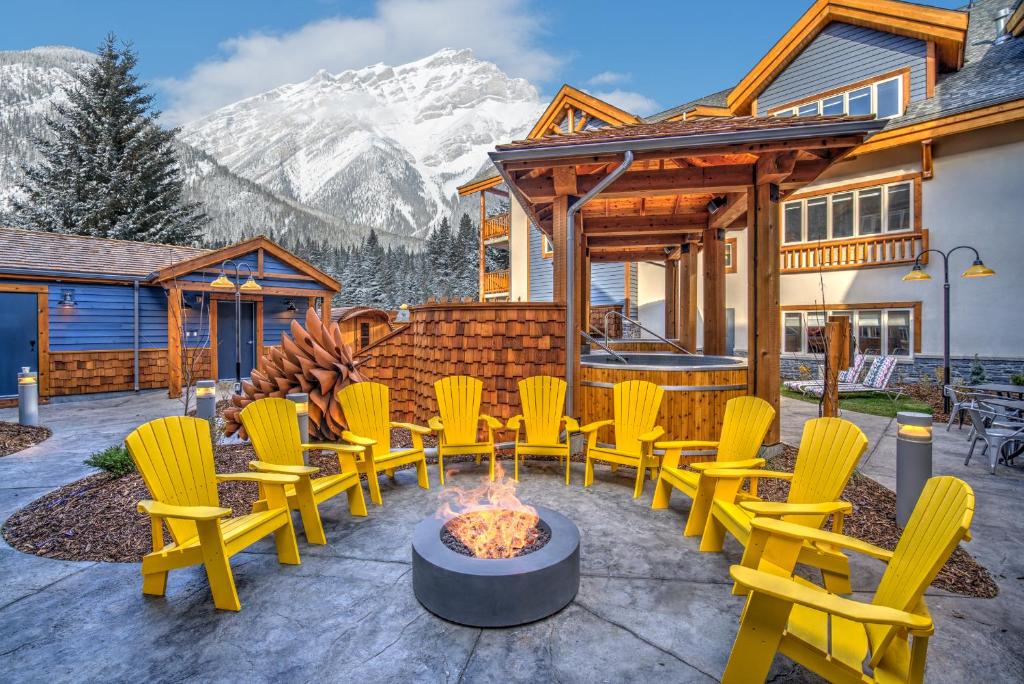 Canalta Lodge is a conveniently located hotel, just a 5-minute drive from Banff city centre. Guests can enjoy the on-site coffee shop and free WiFi access. Red Earth Spa is only a 2-minute walk away, while Snowy Owl Sled Dog Tours are within a 20-minute drive from the hotel. The air-conditioned rooms feature a seating area and cable HDTV, with private bathrooms that include bath or shower amenities and hairdryers. Ironing facilities are also provided for guests' convenience. The hotel offers a complimentary breakfast in the morning and has ski storage and fitness facilities available for use. Paid underground parking is offered on site, making it easy to explore nearby attractions such as Mount Norquay Ski Resort.
– Convenient location near Banff city centre
– On-site coffee shop
– Complimentary breakfast
– Ski storage and fitness facilities available
– Paid underground parking
Banff Rocky Mountain Resort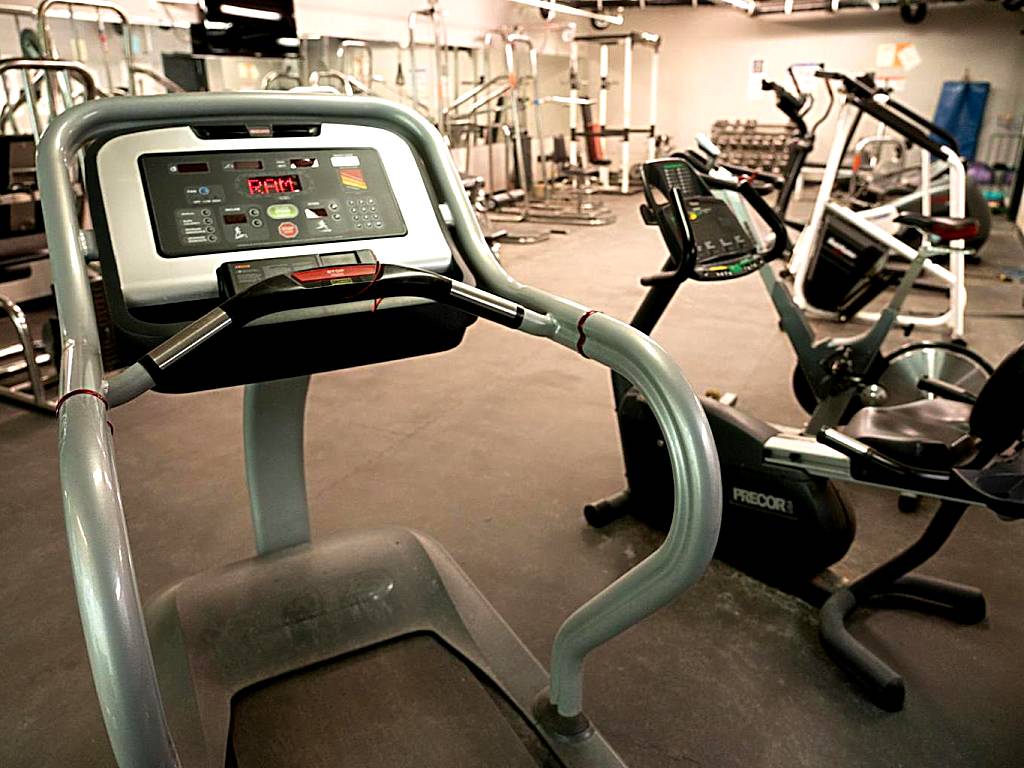 Located along the breathtaking Banff Rocky Mountain National Park, the Banff Rocky Mountain Resort offers spacious all-suite accommodation and an a la carte breakfast. Guests staying at this resort are just moments away from top-rated ski trails, scenic hiking paths, golf courses, and various outdoor activities. The resort features a health and fitness club that includes a full gym, squash courts, outdoor tennis courts, a 15-meter indoor swimming pool, as well as both indoor and outdoor hot tubs. For dining options, Alpha Bistro is situated in the main building and serves delicious Canadian cuisine in a cozy atmosphere. Additionally, guests can relax and enjoy their meals on the spacious outdoor patio while watching large screen TVs.
– Spacious all-suite accommodation
– Delicious Canadian cuisine at Alpha Bistro
– Health and fitness club with full gym facilities
– Indoor swimming pool for relaxation
– Close proximity to top-rated ski trails
Banff Hotels with Gym Information
| | |
| --- | --- |
| 🛎️ Hotels with Gym in Banff | 5 |
| 💰 Hotel prices starting from | $187 |
| 💵 Highest price | $1293 |
| 🥇 Average Review Score | 8.2/10 |
| 🛏️ Average number of Rooms | 26 |
FAQ
1. Are there any hotels in Banff that have a gym?
Yes, there are several hotels in Banff that offer gym facilities. One of the highly recommended options is the Fairmont Banff Springs Hotel, which features a fully-equipped fitness center with state-of-the-art equipment. Guests can enjoy a workout while admiring breathtaking mountain views. Another great choice is the Rimrock Resort Hotel, which also boasts an excellent gym facility with modern exercise machines and professional trainers available for guidance.
2. Do all hotels in Banff provide complimentary access to their gyms?
No, not all hotels in Banff provide complimentary access to their gyms. While some hotels offer free access to their fitness centers as part of their amenities, others may charge an additional fee or require guests to purchase a day pass for gym usage. It's always advisable to check with your hotel beforehand regarding their policy on gym access and any associated costs.
3. Can I find 24-hour gyms at hotels in Banff?
Yes, you can find 24-hour gyms at certain hotels in Banff. The Moose Hotel & Suites is one such option that offers round-the-clock access to its fitness center so guests can work out whenever it suits them best. The hotel provides a range of exercise equipment catering to different workout preferences.
4. Are there any boutique hotels in Banff with a well-equipped gym?
Absolutely! For those seeking boutique accommodations with top-notch gym facilities, Juniper Hotel & Bistro is an excellent choice in Banff. This stylish property not only offers comfortable rooms but also houses a well-equipped fitness center featuring modern equipment and ample space for various exercises and workouts.
5. Do budget-friendly accommodations in Banff have onsite gyms?
While most budget-friendly accommodations may not have large onsite gyms like luxury resorts do, some still offer basic fitness facilities or partnerships with nearby fitness centers. For example, the Banff Rocky Mountain Resort provides a fitness room with cardio equipment, weights, and even a sauna for guests to use at their convenience. It's advisable to inquire about such facilities when making your reservation at budget-friendly hotels in Banff
Popular Hotels With Fitness Center destinations