Welcome to Mussoorie, the enchanting hill station nestled in the breathtaking Himalayan range of northern India. If you're a fitness enthusiast and love to stay active even while on vacation, then you're in for a treat! Mussoorie is home to some of the finest hotels equipped with state-of-the-art fitness centers. These Hotels With Gym not only provide luxurious accommodations but also cater to your health and wellness needs.
Whether you are an early morning jogger or enjoy intense workout sessions, these hotels offer a wide range of exercise equipment and facilities that will keep your fitness routine intact. From treadmills and ellipticals to weightlifting machines and yoga studios, there's something for everyone. Imagine starting your day with an invigorating workout followed by stunning views of the lush green mountains from your hotel room window. The Hotels With Gym in Mussoorie offer a perfect blend of relaxation and rejuvenation amidst nature's bounty.
Indulge yourself in an exquisite dining experience after your workout session at the hotel's restaurant where they serve delectable dishes prepared with local ingredients. So, whether you're planning a weekend getaway or a long vacation, make sure to choose one of these Hotels With Gym so that you can stay fit while enjoying all that Mussoorie has to offer.
Best Mussoorie Hotels With Gym And Fitness Center
Jaypee Residency Manor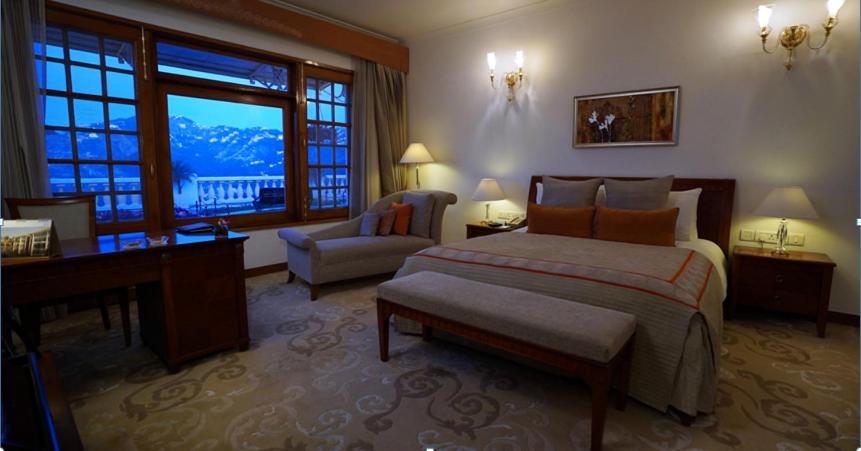 Located on a hilltop, Jaypee Residency Manor offers stunning views of the Himalayas. This hotel features an indoor pool and a full-service spa, as well as two dining options. Guests can also enjoy recreational activities such as skating and bowling in the hotel's facilities. The Tamaya Spa is fully equipped with a salon, gym, and jacuzzi for ultimate relaxation. The spacious air-conditioned rooms have private bathrooms with hot/cold showers and face a common terrace overlooking the mountains. Additional amenities include a minibar at an extra cost, Regency Restaurant serving international dishes and featuring its own bakery, and Marshal's Lounge offering wines, cocktails, and mocktails. Jaypee Residency Manor is conveniently located 8 km from Lal Tibba – the highest point in Mussoorie City – and 4 km from Mall Road. The nearest airport is Dehradun airport, which is 54 km away.
– Indoor pool for refreshing swims
– Full-service spa for relaxation
– Recreational activities including skating rink and bowling alley
– Well-equipped gym to stay fit during your stay
– Stunning views of the Himalayas from spacious rooms
The Claridges Nabha Residence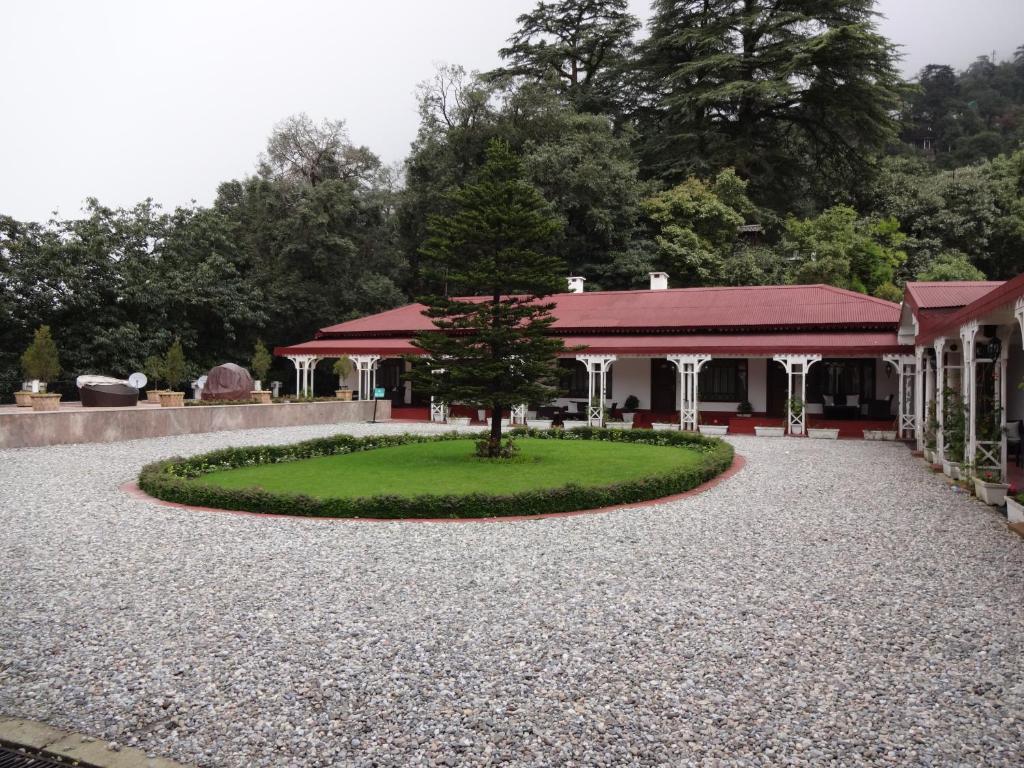 Located in a charming building, The Claridges Nabha Residence offers a range of amenities including a spa, restaurant, and garden. The air-conditioned rooms feature comfortable sofa seating areas, flat-screen TVs with satellite channels, and tea/coffee making facilities. The hotel is conveniently situated just 4 km from the Gun Hill district and 8 km from Lal Tibba. Guests can enjoy hot/cold showers in the en suite bathrooms. Additional guest facilities include a 24-hour front desk, travel arrangements assistance, and meeting/banquet facilities. The Pavilion Restaurant serves delicious Indian, Chinese, and continental dishes while The Victorian Bar offers both alcoholic and non-alcoholic beverages. Room service is also available for added convenience. Dehradun Railway Station is located 30 km away while Jolly Grant Airport is approximately 80 km from the hotel.
– Elegant building with beautiful gardens
– Convenient location near popular attractions
– Spa facility for relaxation
– Variety of dining options at the Pavilion Restaurant
– Wide selection of drinks at The Victorian Bar
Fortune Resort Grace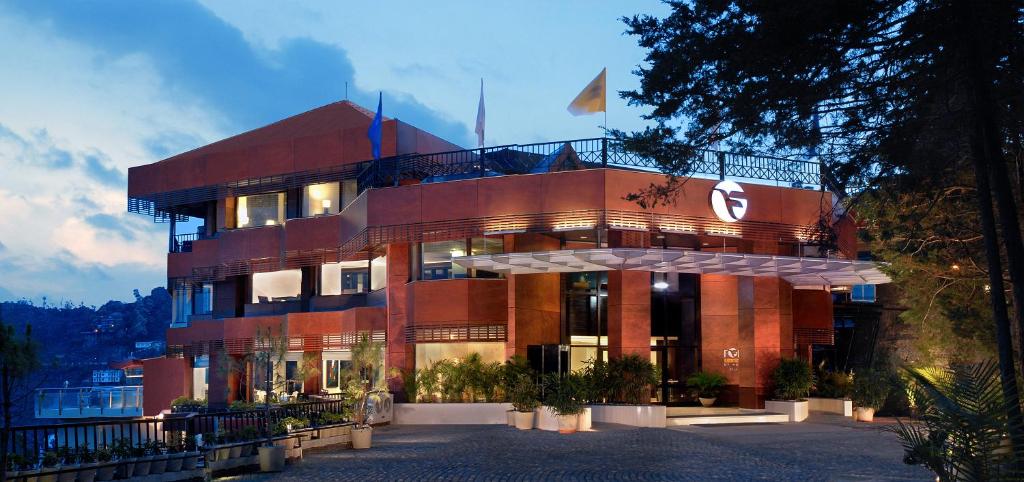 Fortune Resort Grace is a hotel nestled in Mussoorie, just 350 meters away from the famous Mussoorie Mall road. The hotel offers a fitness centre and an on-site restaurant called Orchid, where guests can enjoy delicious Indian cuisine. The property also features a spa for those looking to relax and unwind. All rooms at Fortune Resort Grace are equipped with a satellite flat-screen TV and a comfortable sitting area. Some rooms even have balconies, providing stunning views of the surrounding mountains. Additional facilities include a kids indoor play area and a bar. Guests can also take advantage of the 24-hour front desk service and massage services offered by the hotel staff. Dehradun airport is conveniently located 60.5 km away from the accommodation.
– Fitness centre available
– On-site restaurant serving Indian cuisine
– Spa services offered
– Kids indoor play area provided
– Convenient location near Mussoorie Mall road
Other places to stay in Mussoorie
Hotels With Fitness Center In Downtown Mussoorie
Downtown Mussoorie offers a range of hotels with fitness centers, allowing guests to maintain their fitness routines while enjoying their stay. These well-equipped gyms provide state-of-the-art equipment and facilities for cardio, strength training, and more. Whether you prefer a quick workout or an intense session, these hotels cater to all fitness levels and ensure that guests can stay active and healthy during their visit to downtown Mussoorie.
Royal Orchid Fort Resort Mussoorie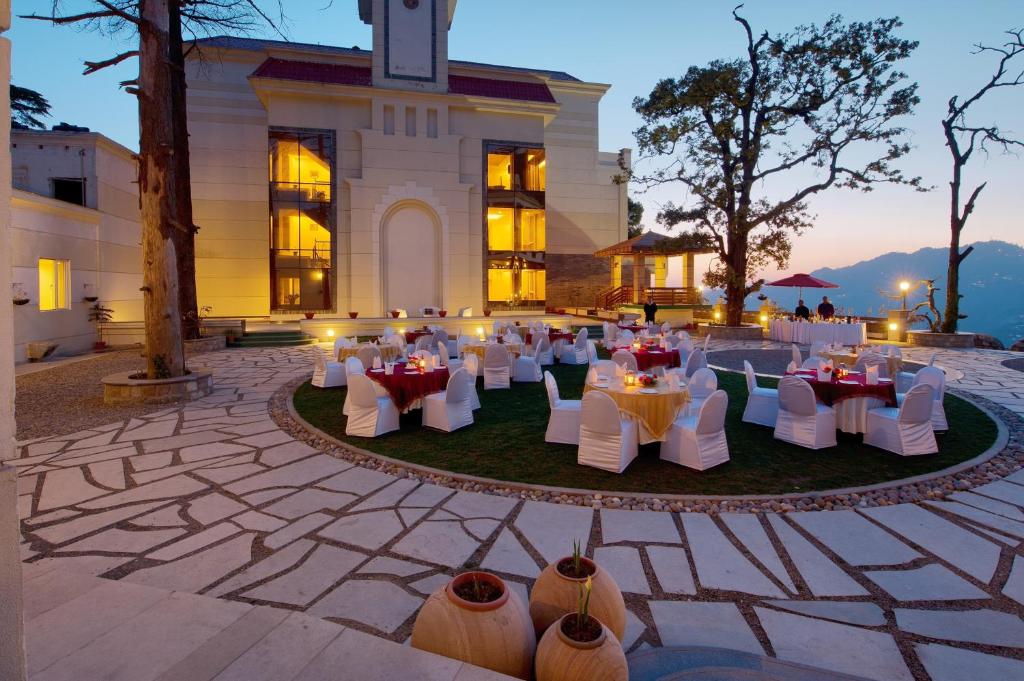 Operating a 24-hour front desk, Royal Orchid Fort Resort Mussoorie is located 1 km from Mall Road and 5 km from Mussoorie Jheel and Lal Tibba. Guests can enjoy the spa, table tennis, and mini golf facilities. The air-conditioned rooms offer satellite TV, private bathrooms with free toiletries and slippers. The resort features a terrace, business center, meeting/banquet space, ironing and dry cleaning services, as well as free parking. Nearby attractions include Kempty Falls (13 km) while the Local Bus Station is just 500 meters away. Dehradun Railway Station is 32 km away and Jolly Grant Airport is 52 km away. Pinxx restaurant offers Indian and International cuisine with 24-hour room service available for private dining.
– Convenient location near popular attractions
– Variety of recreational activities offered
– Comfortable air-conditioned rooms with modern amenities
– On-site spa facility for relaxation
– Delicious cuisine served at Pinxx restaurant
Sterling Mussoorie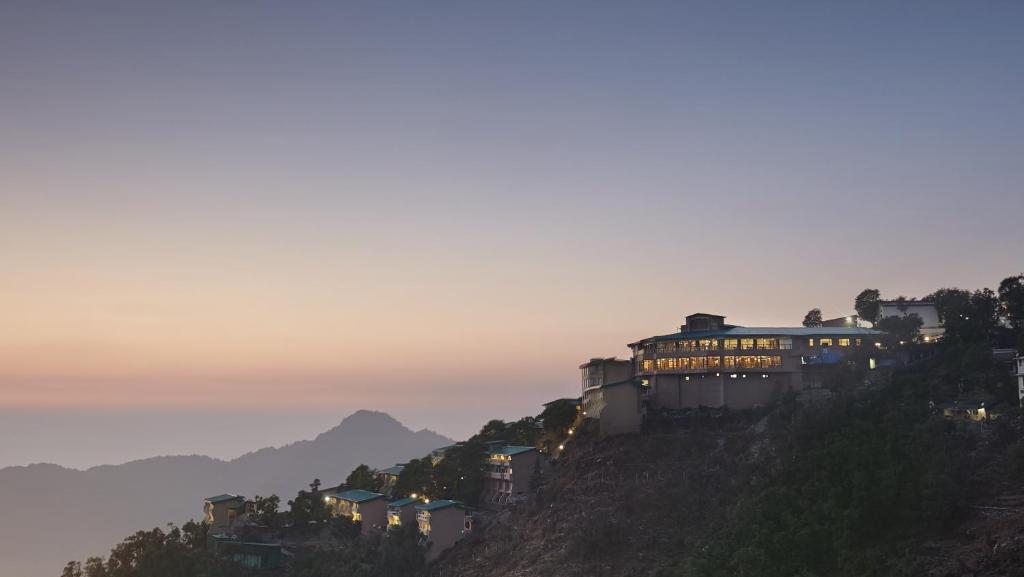 Sterling Mussoorie is a hotel located 2.6 km from the town of Mussoorie. The accommodation offers various amenities such as a spa and a kid's club with activities like chess, table tennis, and air hockey. Free private parking is available on-site. The rooms at Sterling Mussoorie are equipped with satellite flat-screen TVs, minibars, and electric kettles. Some rooms also feature balconies with mountain views. The en suite bathrooms have walk-in showers and free toiletries. The resort provides a fitness centre, steam room, and 24-hour front desk service. Additionally, there is a library and car hire facility for guests' convenience. Dhoon Dinner restaurants offer Indian, Chinese, and Continental cuisines to cater to diverse palates. The Mussoorie Bus Stand is located 37.4 km away while the Jolly Grant Airport is situated 62.8 km from the property.
– Mesmerising views of Doon valley from rooms below main block
– Tranquil surroundings
– Fitness centre for staying active during your stay
– Steam room for relaxation
– Convenient car hire facility
Mussoorie Hotels with Gym Information
| | |
| --- | --- |
| 🛎️ Hotels with Gym in Mussoorie | 5 |
| 💰 Hotel prices starting from | $82 |
| 💵 Highest price | $940 |
| 🥇 Average Review Score | 7.2/10 |
| 🛏️ Average number of Rooms | 39 |
FAQ
Can I find hotels with a gym in Mussoorie?
Yes, there are several hotels in Mussoorie that offer gym facilities. These hotels understand the importance of fitness to their guests and provide well-equipped gyms with modern exercise equipment. Whether you are a fitness enthusiast or just want to stay active during your vacation, these hotels ensure that you have access to a gym for your workout needs.
Are the hotel gyms in Mussoorie open 24 hours?
Not all hotel gyms in Mussoorie are open 24 hours, but many of them have extended operating hours to accommodate different schedules. It is advisable to check with the hotel beforehand regarding their specific gym timings. Some hotels may have limited hours or certain restrictions due to maintenance or security purposes, so it is always good to be aware of the operating schedule.
Do I need to pay extra for using the gym facilities at hotels in Mussoorie?
Most hotels include access to their gym facilities as part of their overall package for guests staying at their property. However, it is recommended to confirm this with the hotel during the booking process or upon check-in. Some luxury resorts or high-end hotels may charge an additional fee for using the gym, while others provide complimentary access as part of their amenities.
What types of equipment can I expect at the hotel gyms in Mussoorie?
The hotel gyms in Mussoorie generally offer a range of exercise equipment catering to various fitness preferences. You can typically find cardio machines such as treadmills, stationary bikes, and ellipticals for cardiovascular workouts. Additionally, there are usually strength training machines like weight benches and multi-purpose stations along with free weights for those looking for resistance training options.
Are there any other fitness amenities available besides gyms at these hotels in Mussoorie?
Apart from well-equipped gyms, some hotels in Mussoorie also provide additional fitness amenities to ensure a holistic wellness experience for their guests. These may include amenities like swimming pools, yoga studios, spa facilities, or even outdoor sports facilities such as tennis or basketball courts. It is advisable to check the hotel's website or contact them directly to inquire about the specific fitness amenities they offer.
Popular Hotels With Fitness Center destinations