Welcome to Galway, the vibrant city on the west coast of Ireland. If you're a fitness enthusiast or simply looking to stay active during your travels, you'll be pleased to know that Galway offers a range of hotels equipped with fitness centers. These establishments provide excellent facilities for guests who enjoy working up a sweat and maintaining their wellness routines even while away from home.
Galway boasts an impressive selection of hotels with gymnasiums designed to cater to all levels of fitness. Whether you prefer cardio workouts, weightlifting sessions, or yoga classes, you'll find suitable options at these accommodations. With state-of-the-art equipment and knowledgeable staff on hand, these gyms offer everything you need for a fulfilling workout experience right under one roof. So don't worry about missing out on your daily exercise routine in Galway; check into one of these hotels and continue prioritizing your health and well-being during your stay in this charming Irish city!
Best Galway Hotels With Gym And Fitness Center
Harbour Hotel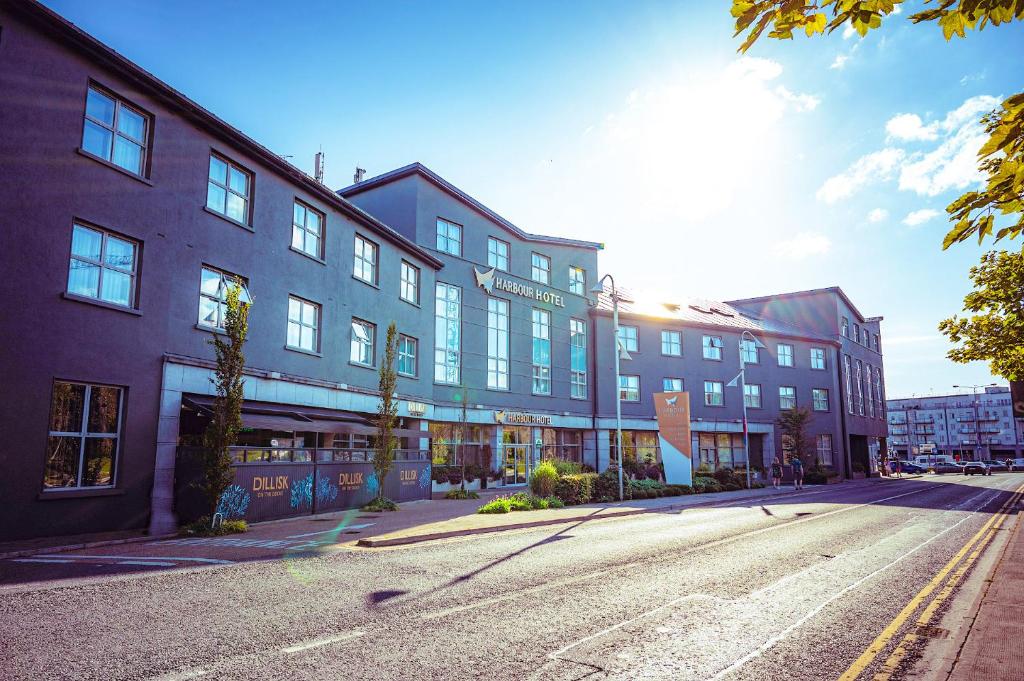 Harbour Hotel is a modern hotel located on Galway's scenic waterfront. Guests can enjoy a comfortable stay in the well-appointed rooms that include amenities such as air-conditioning, free WiFi, bluetooth speakers, and onsite car parking. The rooms are equipped with cable TV and complimentary tea and coffee facilities, along with a private bathroom featuring free toiletries and a hairdryer. The hotel also boasts Dillisk on the Docks, a contemporary restaurant and bar offering casual dining options. A full bar menu is available from 1:00 to 21:00, accompanied by live sports shown on large-screen TVs. The hotel's convenient location allows guests to explore Galway's lively city center with just a 5-minute walk away. Additionally, the Quay Street shopping street can be reached in only 3 minutes on foot, while Salthill Promenade is a short 10-minute stroll away. Both Corrib and Eyre Square shopping centers are also easily accessible within a quick 5-minute walk.
Pros:
– Convenient location near Galway's city center
– Modern rooms with amenities like air-conditioning and free WiFi
– Onsite car parking for added convenience
– Contemporary restaurant and bar serving delicious food and drinks
– Close proximity to popular shopping streets and attractions like Salthill Promenade
Clayton Hotel Galway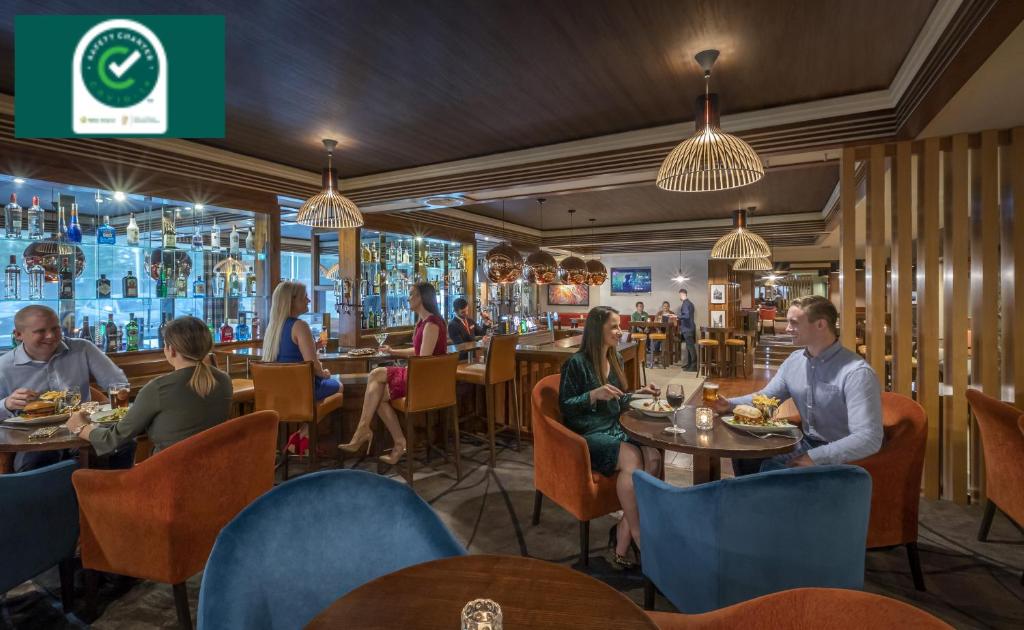 Clayton Hotel Galway is a contemporary hotel located just outside of Galway city, opposite the Galway Racecourse. This hotel offers free parking and leisure facilities, including an indoor pool and sauna. The rooms and suites are air-conditioned and feature King Koil beds and large flat-screen TVs. Guests can enjoy free WiFi throughout the hotel. The Enclosure Bar & Bistro serves drinks, snacks, and a dinner menu made with fresh local produce, while the Tribes Restaurant offers fine Galway cuisine. With friendly service and a high standard of hospitality, Clayton Hotel Galway is an ideal choice for exploring the vibrant city of Galway.
– Indoor pool
– Free parking
– Air-conditioned rooms with King Koil beds
– Free WiFi throughout the hotel
– Convenient location for exploring Galway's restaurants, pubs, and shops
Maldron Hotel Sandy Road Galway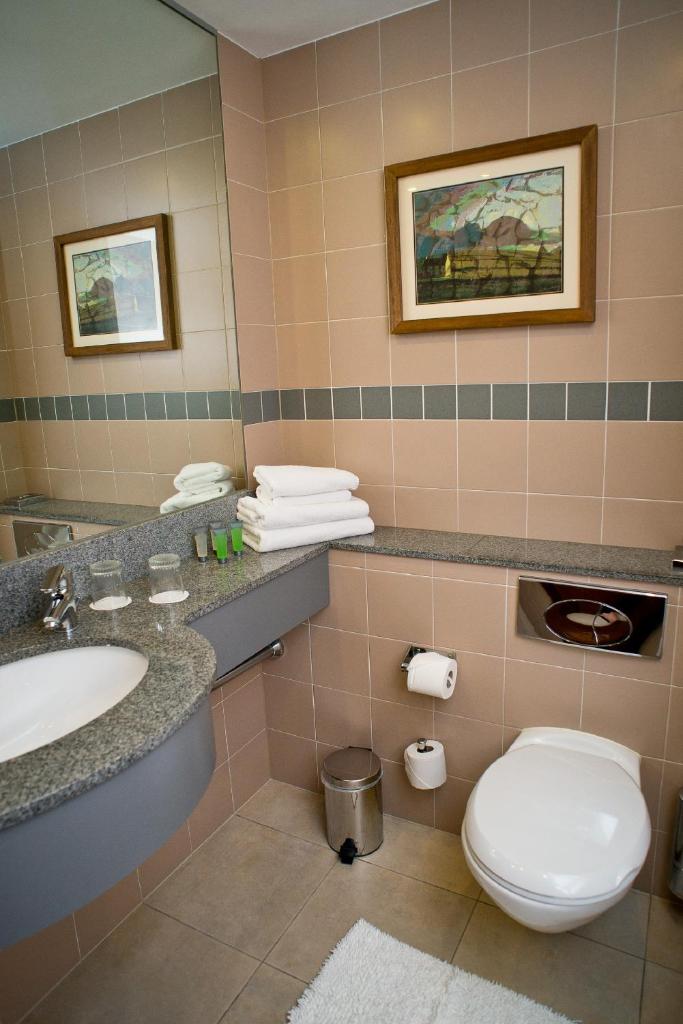 Located at Headford Point, less than a 15-minute walk from Galway city centre, the modern 4-star Maldron Hotel Sandy Road Galway offers air-conditioned rooms with free WiFi and free underground parking. Guests can enjoy a fine dining experience at the Grain & Grill Bar and Restaurant, which serves wholesome breakfast in the mornings and international cuisine in the evenings. The hotel is also conveniently located to explore Connemara and West Ireland, offering guests the opportunity to enjoy activities such as horse-riding, fishing, and surfing.
Pros:
– Convenient location within walking distance of Galway city centre
– Free WiFi and underground parking
– Air-conditioned rooms with TV's, tea/coffee making facilities, and in-room safes
– Fine dining experience at Grain & Grill Bar and Restaurant
– Opportunities for outdoor activities such as horse-riding, fishing, and surfing
Other places to stay in Galway
Hotels With Fitness Center In Downtown Galway
Downtown Galway offers a range of hotels with fitness centers, making it an ideal destination for health-conscious travelers. Whether you're in town for business or pleasure, these hotels provide convenient access to state-of-the-art gym facilities equipped with modern exercise machines and equipment. With professional trainers on hand to assist you in achieving your fitness goals, guests can enjoy invigorating workouts amidst the vibrant city atmosphere. From cardio machines to free weights, these fitness centers cater to all levels of fitness enthusiasts, ensuring a rewarding and rejuvenating stay in downtown Galway.
Clybaun Hotel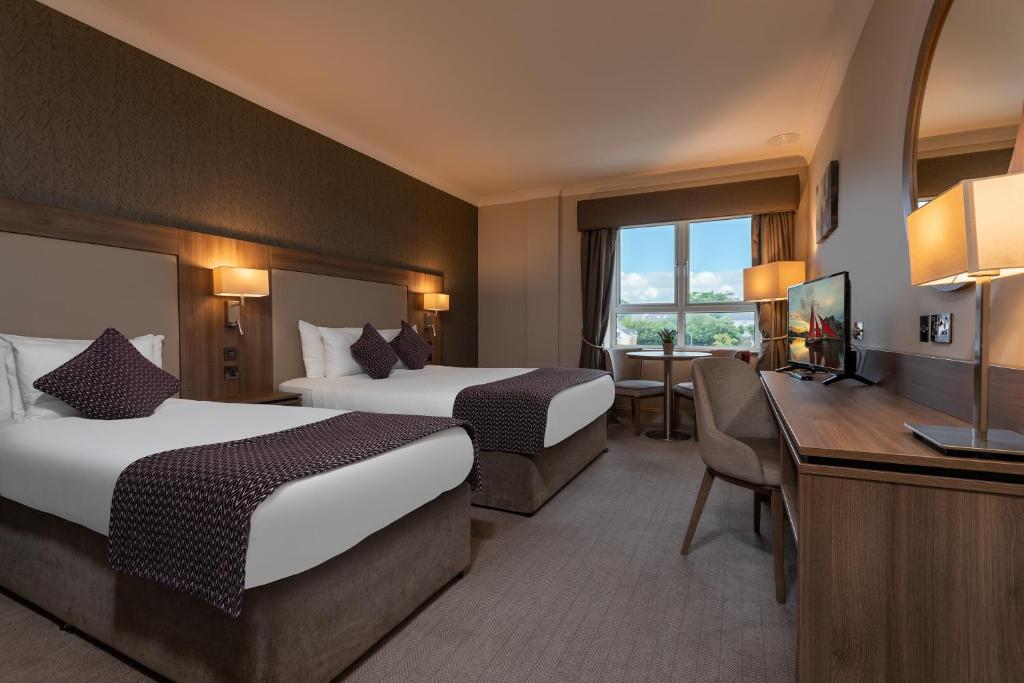 The Clybaun Hotel is ideally situated between the bustling city of Galway and the serene seaside resort of Salthill, making it a perfect base for exploring Connemara, the Aran Islands, and other attractions in the west of Ireland. The hotel offers a range of leisure facilities including an indoor heated swimming pool, a spacious gym with audiovisual entertainment, a steam room, sauna, whirlpool, and an outdoor Canadian hot tub. With its four-star rating, the Clybaun Hotel boasts bright and spacious interiors with ample indoor and outdoor seating areas for relaxation. Guests can enjoy drinks at O'Gorman's Bar & Bistro or unwind in the decked garden area. Adults and children alike can engage in various activities offered by the hotel. Additionally, there is a beauty clinic providing a wide selection of treatments. For dining options, O'Gorman's Bar & Bistro serves all-day meals from lunch to evening bar food while breakfast and dinner are served in the Maritime Restaurant offering both set menu and à la carte options. Free WiFi is available throughout all dining areas as well as plenty of on-site parking spaces. Adjacent to the hotel is a shopping center featuring popular brands such as New Look and Next. Furthermore, there is also a sports facility for guests looking to engage in different sporting activities. Galway hosts numerous festivals and events throughout June to September including the highly anticipated Galway Arts Festival, Races, and Oyster festival.
Pros:
– Indoor pool
– Convenient location between Galway city and Salthill
– Extensive leisure facilities including gym with audiovisual entertainment
– Beauty clinic offering various treatments
– On-site parking availability
Galway Bay Hotel Conference & Leisure Centre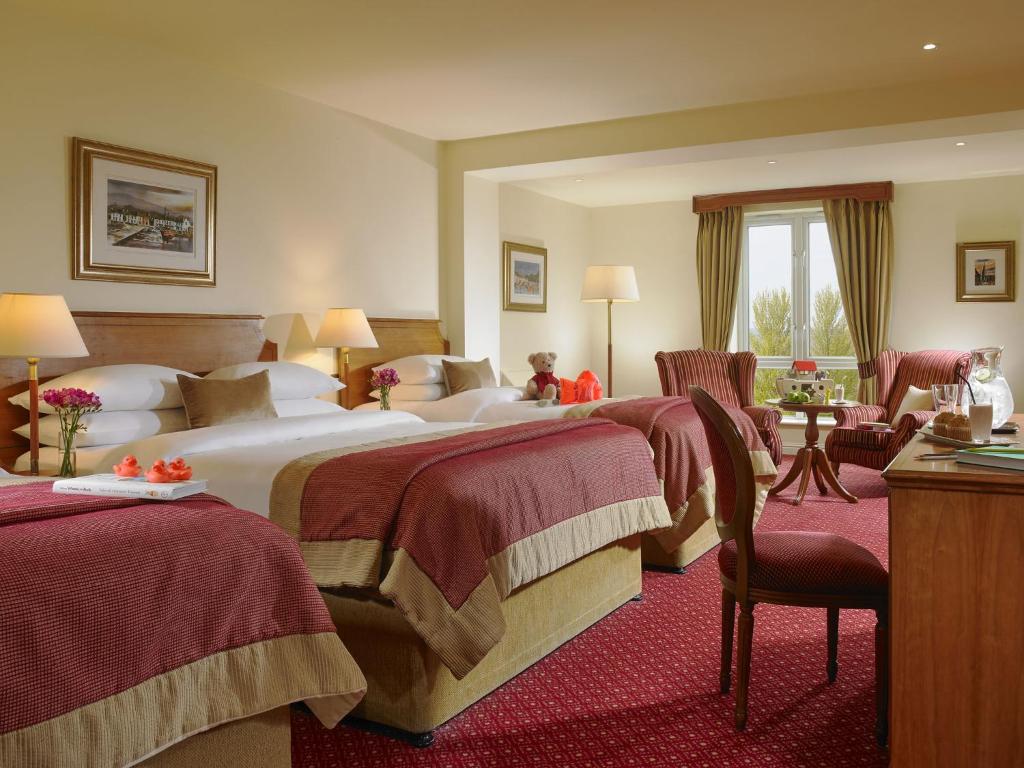 The Galway Bay Hotel Conference & Leisure Centre is an award-winning, 4-star hotel located overlooking Galway Bay and situated on Galway's Blue Flag beach. Guests can enjoy a range of amenities including a swimming pool, massage fountain, and the AA Rosette Bay Brasserie. The hotel offers bright and cosy rooms with interactive TVs, free Wi-Fi, and tea/coffee facilities. Guests also have access to a private bathroom with a hairdryer. The hotel boasts a fully equipped gym and sauna that guests can use for free, as well as offering health and beauty treatments. Delicious full Irish breakfasts are served each morning and the AA Rosette Bay Brasserie serves modern Irish cuisine made from fresh ingredients. Harvest Cafe provides carvery lunches and homemade dishes. Free parking is available at the hotel and Galway's lively city center and cathedral are just a 5-minute drive away. Additionally, Galway Golf Club and Pearse Stadium are both within walking distance of the hotel.
Pros:
– Stunning location overlooking Galway Bay
– Access to leisure centre with fully equipped gym
– Range of health and beauty treatments available
– Delicious breakfast options served each morning
– Close proximity to attractions such as Galway's city center, cathedral, golf club, and stadium
The Dean Galway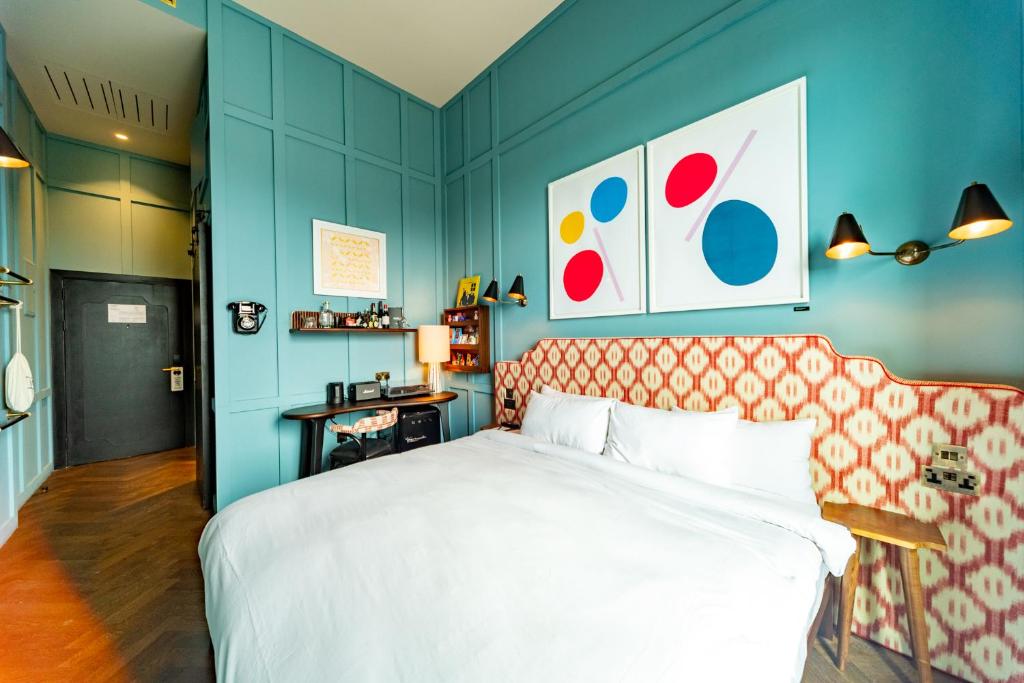 The Dean Galway is a stylish 4-star hotel located in Galway. Opened in January 2022, this modern hotel offers a range of amenities including free bikes, an outdoor swimming pool, a fitness centre, and a terrace. The hotel features a restaurant serving delicious American and Italian cuisine, as well as a bar where guests can enjoy refreshing drinks. The rooms at The Dean Galway are equipped with air conditioning, flat-screen TVs with satellite channels, minibars, kettles, showers, free toiletries, and desks. Each room also has a private bathroom with a hairdryer and comfortable bed linen. Guests can request vegetarian, dairy-free or gluten-free options for their meals. The hotel's convenient location allows guests to easily explore popular attractions such as Eyre Square, Galway Railway Station and Galway Greyhound Stadium. Shannon Airport is the nearest airport to the accommodation at just 80 km away.
– Modern 4-star hotel opened in January 2022
– Free bikes available for guests
– Outdoor swimming pool for relaxation
– Well-equipped fitness centre on-site
– Convenient location near popular attractions
Galway Hotels With Gym And Pool
Galway offers a range of hotels with gym and pool facilities, ensuring that visitors can maintain their fitness routines while enjoying their stay. These amenities provide the perfect opportunity to unwind and rejuvenate after a day of exploring the city's vibrant streets or attending business meetings. Whether guests prefer to take a refreshing swim, engage in an intense workout session, or simply relax in the sauna, Galway's hotels with gym and pool facilities cater to all needs. With attentive staff members on hand to assist guests with any requests and well-maintained equipment, these hotels ensure a comfortable and enjoyable experience for fitness enthusiasts during their stay in Galway.
The g Hotel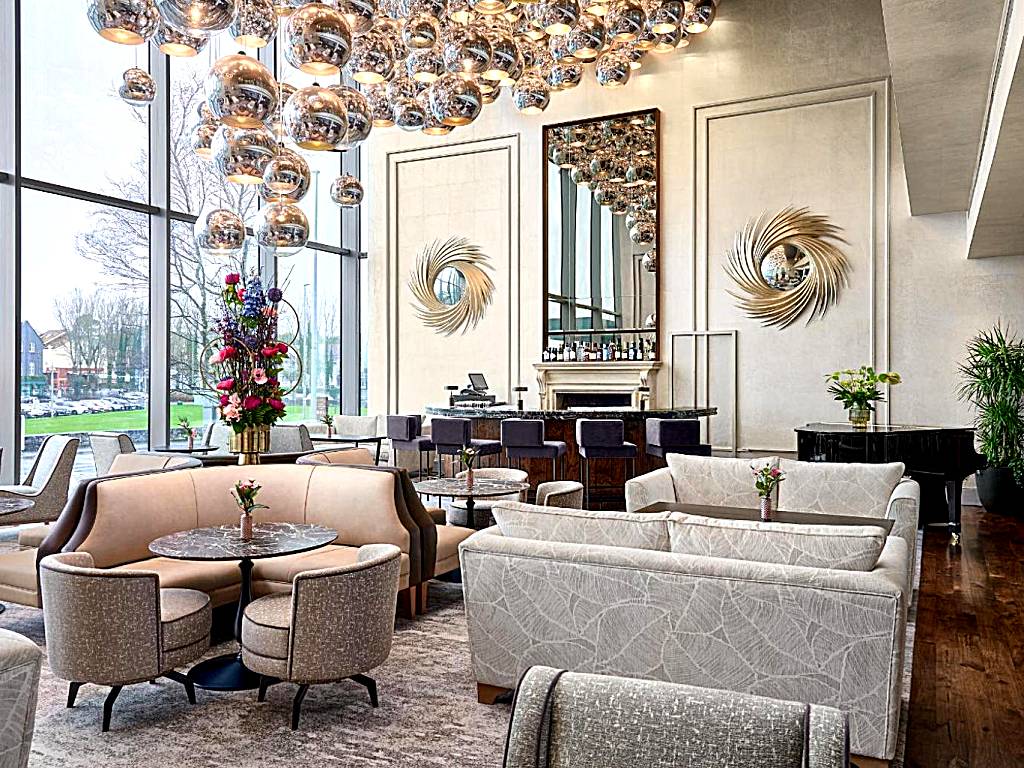 Located on the edge of Lough Atalia in Galway, Ireland, the g Hotel is a stylish and luxurious five-star destination that recently underwent a one-million-euro refurbishment. The hotel's foyer, lounges, restaurant, and cocktail bar have all been transformed into opulent spaces with a unique identity. With inspiration drawn from avant-garde designs and the world of fashion, the g Hotel stands out with its use of bold colors, large-scale reflective lighting, brash artwork, and nods to supermodels. The Grand Salon features double-height ceilings and breathtaking views of Lough Atalia, while the new jewel-like cocktail bar reflects the surrounding landscape with its mirrored back display. The restaurant has been renamed GEO and now opens onto a garden terrace for guests to enjoy. In addition to these stunning spaces, the hotel also offers two other signature lounges – the Pink Room exuding class with blush pink velvets and brass accents, and the Blue Room offering an inviting atmosphere with rich timber panels. With its striking design elements and attention to detail throughout its various spaces, the g Hotel is truly an iconic destination.
Pros:
– Stunning refurbishment creates unique and opulent spaces
– Breathtaking views over Lough Atalia from Grand Salon
– Jewel-like cocktail bar reflecting surrounding landscape
– Renovated restaurant with open plan design and garden terrace
– Elegant signature lounges evoking glamour in different ways
The Western Citypoint Apartments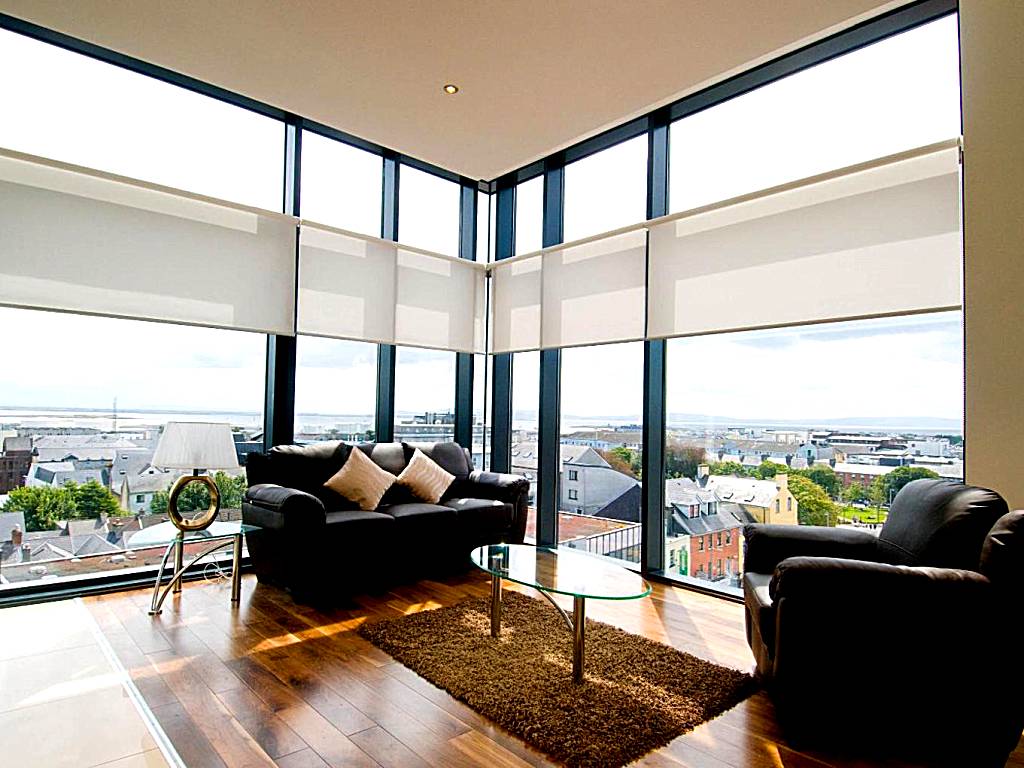 The Western Citypoint Apartments offer city-center living with stunning views and a convenient location near Eyre Square. Each apartment features a fully equipped kitchen, a spacious lounge with cable TV, and a dining area. Guests can enjoy free secure underground parking for one vehicle per apartment. Additionally, guests have access to the Snap Fitness gym for an extra charge. The apartments are managed by Western Hotel, which is located nearby, and check-in is at the hotel. The Western Bar & Restaurant is also within walking distance from the apartments. Pros include:
– Great city-center location
– Free underground parking
– Access to Snap Fitness gym
– Fully equipped kitchens in each apartment
– Nearby dining options at Western Bar & Restaurant
The Western Hotel
The Western Hotel is a charming family-run hotel nestled in the heart of Galway, just off Eyre Square. The property offers spacious en-suite rooms, free on-site parking, and a delightful restaurant and bar. Guests can enjoy traditional Irish music every Wednesday and Thursday night at the cosy bar. For those looking to stay active during their stay, access to the Snap Fitness gym is available for a surcharge of EUR 10 per session.
– Convenient location in the heart of Galway
– Spacious en-suite rooms with modern amenities
– On-site restaurant serving delicious meals made with fine local produce
– Cosy bar hosting traditional Irish music nights
– Access to Snap Fitness gym for an additional charge
Galway Hotels with Gym Information
| | |
| --- | --- |
| 🛎️ Hotels with Gym in Galway | 9 |
| 💰 Hotel prices starting from | $163 |
| 💵 Highest price | $839 |
| 🥇 Average Review Score | 8.1/10 |
| 🛏️ Average number of Rooms | 25 |
FAQ
Can I find hotels with a gym in Galway?
Yes, there are several hotels in Galway that offer gym facilities. These hotels understand the importance of fitness for their guests and provide well-equipped gyms with modern equipment for them to use during their stay.
Are fitness facilities included in the hotel room rates?
It depends on the hotel you choose. Some hotels offer complimentary access to their gym facilities as part of the room rates, while others may charge an additional fee. It's always best to check with the hotel directly or read the booking details to know if there are any extra charges involved.
What type of equipment can I expect at these hotel gyms?
Most hotels with gyms in Galway offer a wide range of exercise equipment such as treadmills, stationary bikes, elliptical machines, and weight lifting machines. Some may also have free weights and yoga/stretching areas for guests who prefer those activities.
Do I need to bring my workout gear or are they provided by the hotel?
While some hotels may provide basic workout gear like towels and water bottles, it is recommended to bring your own workout attire and shoes. This ensures comfort and hygiene during your workouts. You can always check with the specific hotel beforehand if they provide any additional amenities.
Are these gyms suitable for all fitness levels?
Yes, most hotel gyms in Galway cater to various fitness levels. They have options suitable for beginners as well as advanced exercisers. Additionally, some hotels may even offer personal trainers or group exercise classes for those seeking more guidance or motivation during their workouts.
Popular Hotels With Fitness Center destinations