Welcome to Manila, the vibrant capital city of the Philippines! If you're a fitness enthusiast who loves to stay active even while traveling, then you're in luck. In this article, we will explore some of the best accommodation options that Manila has to offer for those looking for a hotel with gym facilities. Whether you're visiting for business or pleasure, these hotels will provide you with top-notch fitness amenities and ensure that your workout routine doesn't take a backseat during your stay.
Manila boasts an impressive array of hotels equipped with state-of-the-art fitness centers. From upscale luxury establishments to budget-friendly accommodations, there is something to suit every traveler's needs. Stay fit and energized at these gyms which are equipped with modern exercise equipment including treadmills, stationary bikes, weightlifting machines, and more. With dedicated trainers on hand to assist you in achieving your fitness goals, these hotels go above and beyond in catering to their guests' wellness needs.
Not only do these hotels provide excellent gym facilities but they also offer a range of additional amenities such as swimming pools, spa services, and healthy dining options. So whether you prefer pumping iron or practicing yoga before starting your day exploring Manila's cultural landmarks or indulging in its delicious cuisine, rest assured that these hotels have got you covered. Join us as we dive into the world of Hotels With Gym in Manila and discover the perfect place where health meets comfort during your Philippine adventure!
Best Manila Hotels With Gym And Fitness Center
City Of Dreams – Nüwa Manila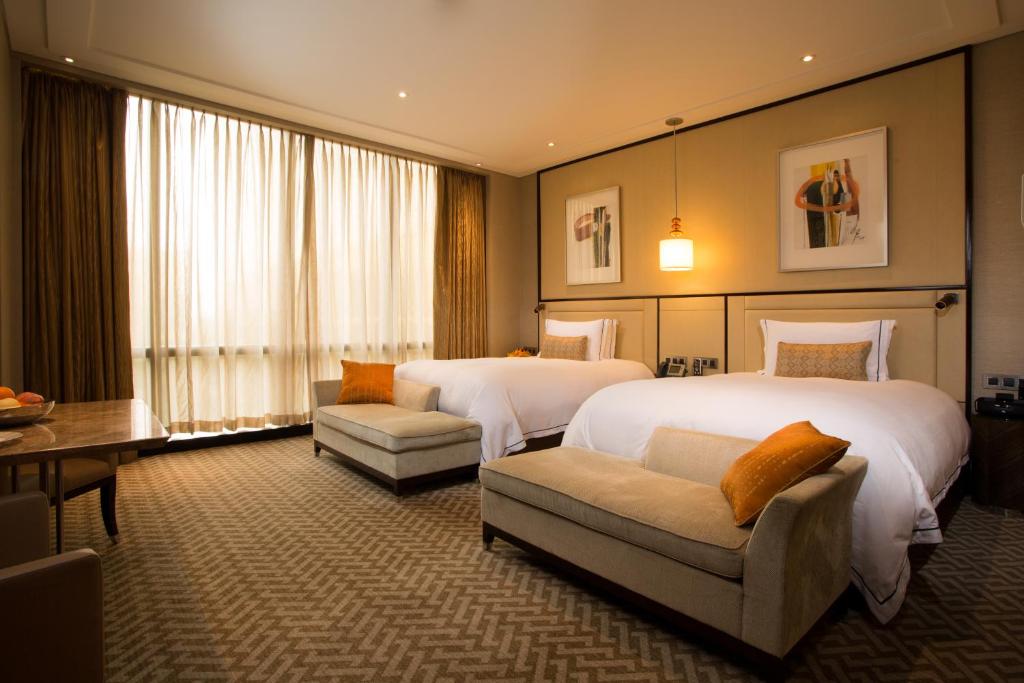 City of Dreams Manila – Nüwa is a luxurious, 5-star hotel located 3.1 km from SM City Mall of Asia and 4.2 km from Ninoy Aquino International Airport. This stunning hotel offers air-conditioned rooms, studios, and suites with free WiFi and city views. Guests can enjoy the outdoor pool and indulge in delicious meals at Breezes, an elegant al fresco restaurant. Haliya serves a curated menu of classic Filipino dishes, while Crystal Dragon highlights authentic regional Chinese cuisine. The hotel also features a fitness center, spa, 24-hour concierge and front desk service, multilingual staff, on-site shops, and a complimentary minibar for all room types.
Pros:
– Luxurious accommodations with stunning city views
– Convenient location near shopping malls and the airport
– Delicious dining options featuring Filipino and Chinese cuisine
– Extensive amenities including an outdoor pool, fitness center, and spa
– Complimentary minibar for all room types
The Peninsula Manila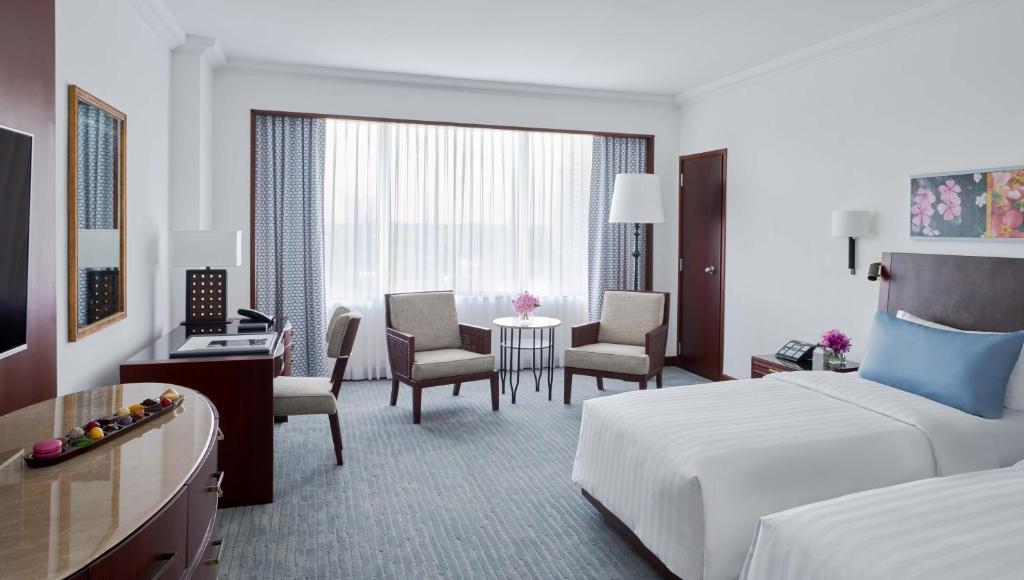 Located in the heart of Manila's central business district, The Peninsula Manila offers guests a luxurious and convenient stay. Just a short distance from popular shopping destinations such as Glorietta and Greenbelt Mall, this hotel features an outdoor swimming pool, 8 dining options, and a spa for ultimate relaxation. The rooms come with modern amenities including air conditioning, flat-screen cable TV, and free WiFi. Guests can enjoy international buffets at Escolta or Asian cuisine with garden views at Spices. For fine dining, Old Manila is the place to be while Salon de Ning and The Bar offer elegant cocktails. The hotel also has a gym for fitness enthusiasts along with sauna facilities and a hair salon. Other amenities include a gift shop, kid's club, airport shuttle service (at an additional cost), currency exchange services and free parking. With its prime location and top-notch facilities, The Peninsula Manila is the perfect choice for both business travelers and leisure seekers.
– Convenient location in the central business district
– Luxurious amenities including an outdoor swimming pool
– Multiple dining options offering diverse cuisines
– Well-equipped gym for fitness enthusiasts
– Spa facilities for ultimate relaxation
Edsa Shangri-La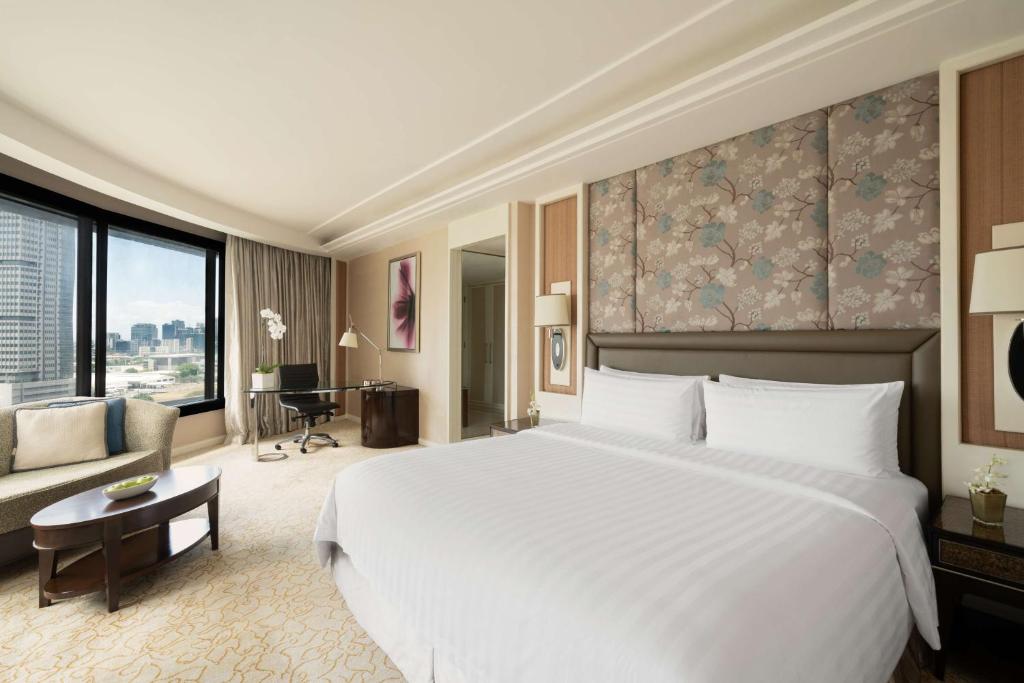 Nestled in Mandaluyong City's financial and commercial district is the luxurious Edsa Shangri-La, Manila. This hotel offers a range of leisure facilities for guests to enjoy, including a spa, an outdoor pool, and a gym. Guests can indulge in pampering massages at Chi, The Spa and also have access to gluten-free and vegetarian dining options. Each room at Edsa Shangri-La features floor-to-ceiling windows with stunning views of either Metro Manila or tropical landscaped gardens. The rooms are equipped with flat-screen TVs, minibars, and free WiFi access. With six dining options available, including Cantonese delicacies at Summer Palace and refined Japanese dining at Senju, the hotel caters to diverse tastes. Additional amenities include an outdoor free-form swimming pool with a slide, two tennis courts, and a jogging path. Located just 100 meters away from prestigious shopping malls like Shangri-La Plaza and SM Megamall.
Pros:
– Luxurious accommodations with breathtaking views
– Extensive leisure facilities including a spa and outdoor pool
– Multiple dining options catering to various tastes
– Access to gluten-free and vegetarian dining options
– Convenient location near popular shopping destinations
Other places to stay in Manila
Hotels With Fitness Center In Downtown Manila
Hotels with fitness centers in downtown Manila offer an excellent option for travelers who prioritize their health and well-being. These establishments provide convenient access to state-of-the-art gyms and exercise facilities, allowing guests to maintain their fitness routines while on the road. Whether it's cardio equipment, weightlifting machines, or group exercise classes, these hotels cater to a wide range of fitness needs. With their central locations in downtown Manila, guests can easily explore the vibrant cityscape while staying committed to their health goals. So, for those seeking accommodations that combine comfort and fitness amenities in the heart of Manila, these hotels are an ideal choice.
Makati Shangri-La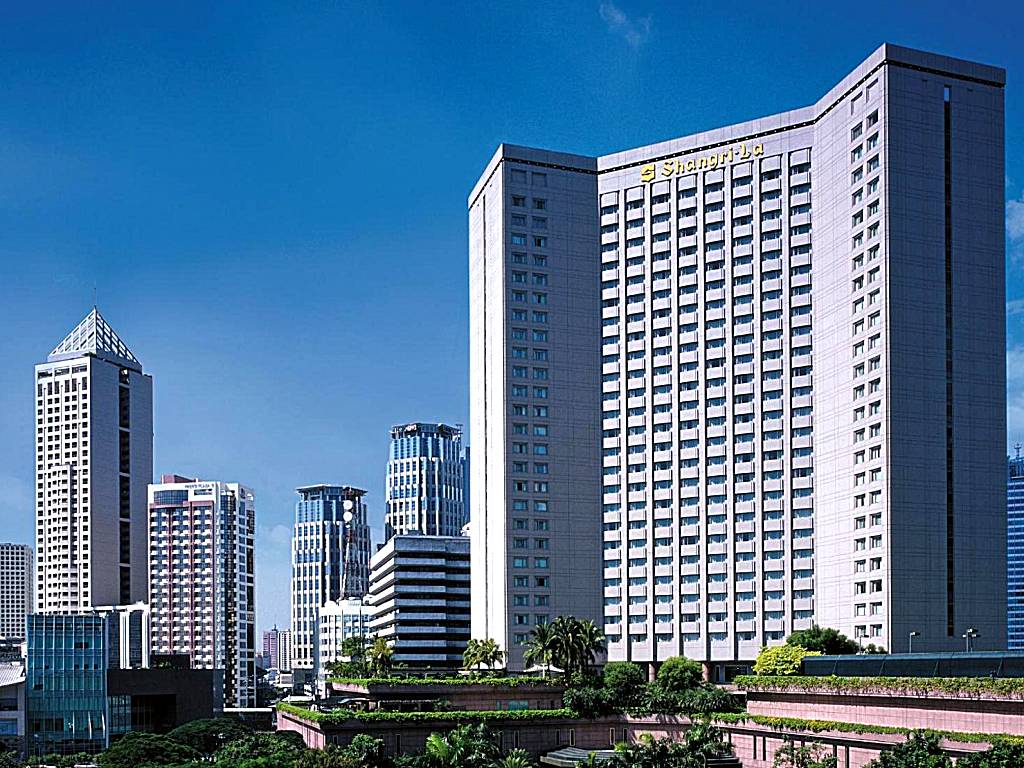 Located in the heart of Ayala Centre, Makati Shangri-La Manila is a luxury hotel that offers a wide range of amenities for its guests. The hotel features an outdoor pool and a well-equipped Health Club with fitness centre and tennis courts. It is conveniently situated within walking distance of the Ayala and Greenbelt Shopping Centres, making it an ideal choice for those who love shopping and entertainment. The rooms at Makati Shangri-La offer beautiful city views and come with modern facilities such as a 55-inch flat-screen TV, safety deposit box, and tea/coffee making facilities. The attached bathrooms are spacious and include a separate bathtub and shower. For business travelers, the hotel provides a full range of office services at its business centre. In terms of dining options, guests can enjoy delicious Chinese cuisine at Shang Palace or savor international dishes at Sage Grill.
Pros:
– Luxury hotel offering impeccable service
– Conveniently located in Ayala Centre, close to shopping centres
– Outdoor pool for relaxation
– Well-equipped Health Club with fitness centre and tennis courts
– Variety of dining options serving Chinese and international cuisines
Quest Plus Conference Center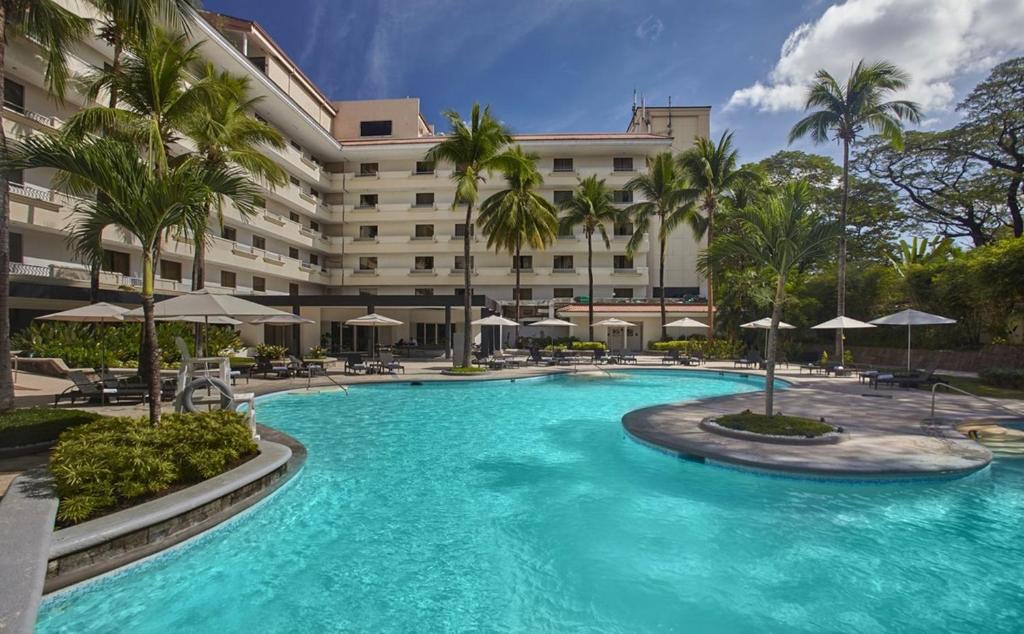 Located in the stunning Mimosa Leisure Estate in Clark, Quest Plus Conference Center offers guests a wide range of amenities and activities to enjoy during their stay. From its prime location, guests have easy access to a championship golf course, casino, duty-free shopping hub, and nature walks. The hotel itself boasts an outdoor pool and free WiFi throughout. The rooms are well-equipped with flat-screen cable TVs, safety deposit boxes, minibars, and tea/coffee makers. Select rooms even feature luxurious bathrooms with bathtubs. Guests can maintain their fitness at the hotel's gym or entertain themselves with table tennis or billiards. Additionally, there is also a games room offering darts for those who are looking for some friendly competition. For those attending events or conferences in the area, Quest Plus Conference Center provides a grand ballroom and meeting room facilities. When it comes to dining options, Mequeni Live offers all-day Eastern and Western cuisine with an open-concept kitchen for a truly immersive culinary experience. With its convenient location just a 5-minute drive from Clark International Airport and proximity to Mimosa Golf and Country Club (3.6 km away), Quest Plus Conference Center is the perfect choice for travelers looking for comfort and convenience.
Pros:
– Access to championship golf course
– Variety of nearby entertainment options
– Outdoor pool available
– Well-equipped gym on-site
– Spacious rooms with modern amenities
Manila Hotels with Gym Information
| | |
| --- | --- |
| 🛎️ Hotels with Gym in Manila | 5 |
| 💰 Hotel prices starting from | $195 |
| 💵 Highest price | $1215 |
| 🥇 Average Review Score | 8.8/10 |
| 🛏️ Average number of Rooms | 36 |
FAQ
Is it common for hotels in Manila to have a gym?
Yes, it is quite common for hotels in Manila to have an on-site gym. With the increasing demand for fitness facilities among travelers, many hotels in the city now offer well-equipped gyms that cater to both cardio and strength-training needs. Whether you are staying at a budget hotel or a luxury resort, you are likely to find a gym facility available for guests.
Do all hotels with gyms in Manila provide personal trainers?
Not all hotels with gyms in Manila provide personal trainers. While some upscale hotels may offer this service as part of their comprehensive wellness programs, most hotels only provide access to fitness equipment and facilities. However, if you require assistance or guidance during your workout session, some hotels may be able to arrange for a personal trainer upon request at an additional cost.
Are hotel gyms in Manila usually open 24/7?
Hotel gyms in Manila generally operate within specific hours that vary from one hotel to another. Most hotel gyms open early morning around 6 or 7 am and close by late evening around 9 or 10 pm. It is important to check with your chosen hotel regarding their gym operating hours before planning your workout schedule.
Is there any extra charge for using the gym facilities at Manila's hotels?
The availability of complimentary use of gym facilities varies from one hotel to another in Manila. Some high-end hotels may include free access as part of their room package, while others may charge an additional fee per day or per stay. It is advisable to inquire about any potential fees when making your reservation or during check-in so that you can plan accordingly.
What amenities can I expect at the gyms provided by hotels in Manila?
Hotels with gyms in Manila typically offer a range of amenities catering to guests' fitness needs. Common features include treadmills, elliptical machines, stationary bikes, weightlifting equipment, and sometimes even group exercise classes. Additionally, most gyms are equipped with clean towels, water stations, and changing rooms with showers for guests' convenience.
Popular Hotels With Fitness Center destinations