Welcome to Lagos, Portugal, a stunning coastal town nestled on the southern tip of the country. If you're a fitness enthusiast looking to maintain your workout routine while enjoying a relaxing vacation, you're in for a treat. Lagos is home to an array of hotels that offer state-of-the-art fitness facilities, ensuring you never miss a beat when it comes to your health and wellness goals.
Whether you prefer lifting weights or breaking a sweat with cardio exercises, these hotels with gymnasiums are designed to cater to all types of fitness aficionados. From modern equipment that caters to both beginners and advanced athletes alike, these gyms are sure to inspire and motivate you throughout your stay. After an invigorating workout session, take advantage of the hotel's spa facilities or take a leisurely stroll along the nearby picturesque beaches for some well-deserved relaxation. So pack your sneakers and get ready for an unforgettable experience at one of Lagos' finest hotels with fitness centers!
Best Lagos Hotels With Gym And Fitness Center
Boutique Hotel Vivenda Miranda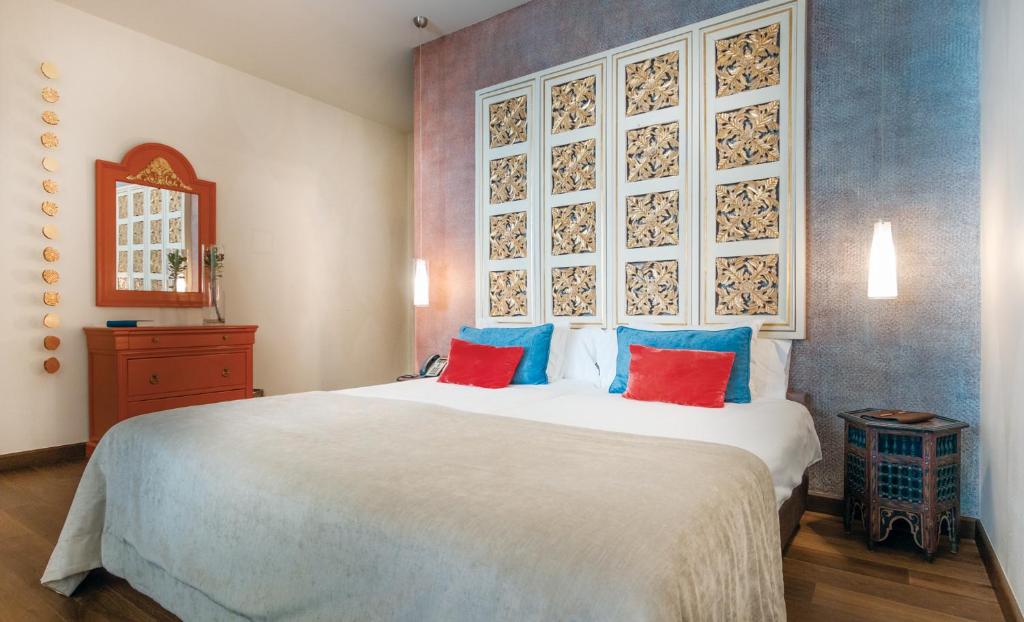 Boutique Hotel Vivenda Miranda is an intimate getaway overlooking the Atlantic Ocean in Lagos, just a 5-minute walk from the beach. Offering stunning Porto de Mós beach views and mature Mediterranean gardens, this boutique hotel features uniquely furnished rooms with private balconies or terraces. Guests can enjoy an outdoor spa pool, sauna, and massage options. The hotel also offers a small gym for guests to stay active during their stay. In addition, Boutique Hotel Vivenda Miranda boasts a gourmet restaurant with panoramic sea views and a wide range of ethical and organic treatments at Charme D Orient. Other amenities include a car rental service for exploring the area and proximity to Boavista Golf Course (3 km) and Faro International Airport (90 km).
– Intimate boutique hotel with stunning ocean views
– Private balconies or terraces in each room
– Outdoor spa pool for relaxation
– Gourmet restaurant with panoramic sea view
– Wide range of ethical treatments available at Charme D Orient
Iberostar Selection Lagos Algarve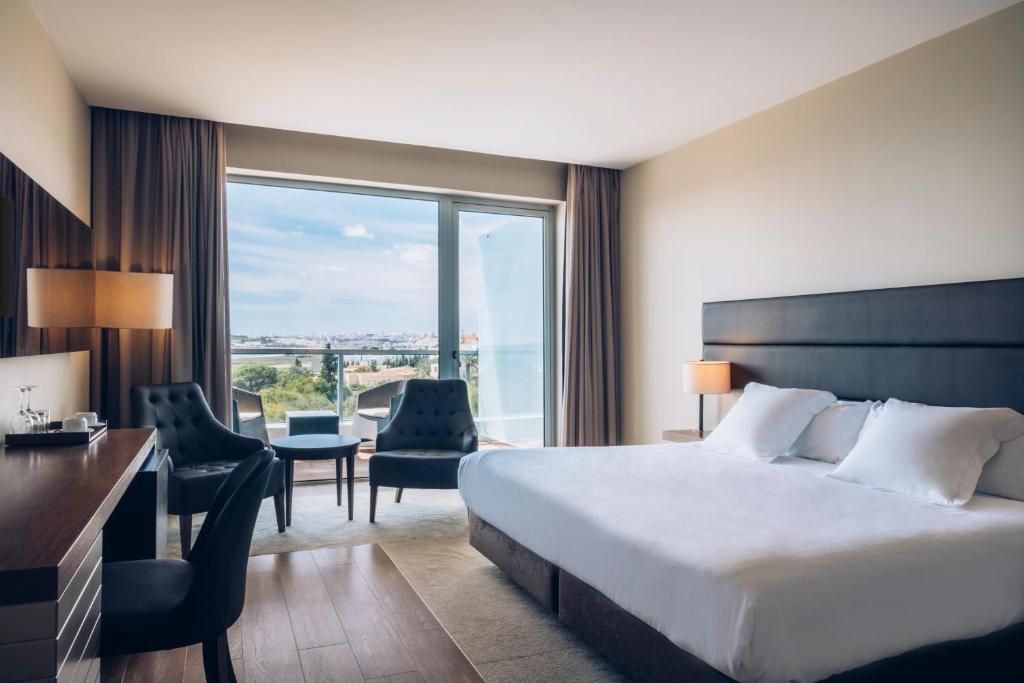 Located by the stunning Meia Praia beach in Lagos, the 5-star Iberostar Selection Lagos Algarve offers a luxurious stay with a range of amenities. Enjoy panoramic ocean views from the outdoor pool and indulge in international cuisine at the on-site restaurant. The air-conditioned rooms and suites provide comfort and convenience with features such as minibars, satellite TV, and free WiFi. Guests can also make use of the well-equipped fitness centre overlooking the ocean for their workout needs. For relaxation, there is a hot tub, sauna, and indoor pool available. With its prime location near Meia Praia Railway Station and Palmares Golf Club just a short distance away, Iberostar Selection Lagos Algarve is an ideal choice for both leisure and business travelers.
– Spectacular ocean views from the outdoor pool
– Luxurious rooms with private balconies
– Well-equipped fitness centre overlooking the ocean
– Relaxation facilities including hot tub and sauna
– Convenient location near railway station and golf club
Marina Club Lagos Resort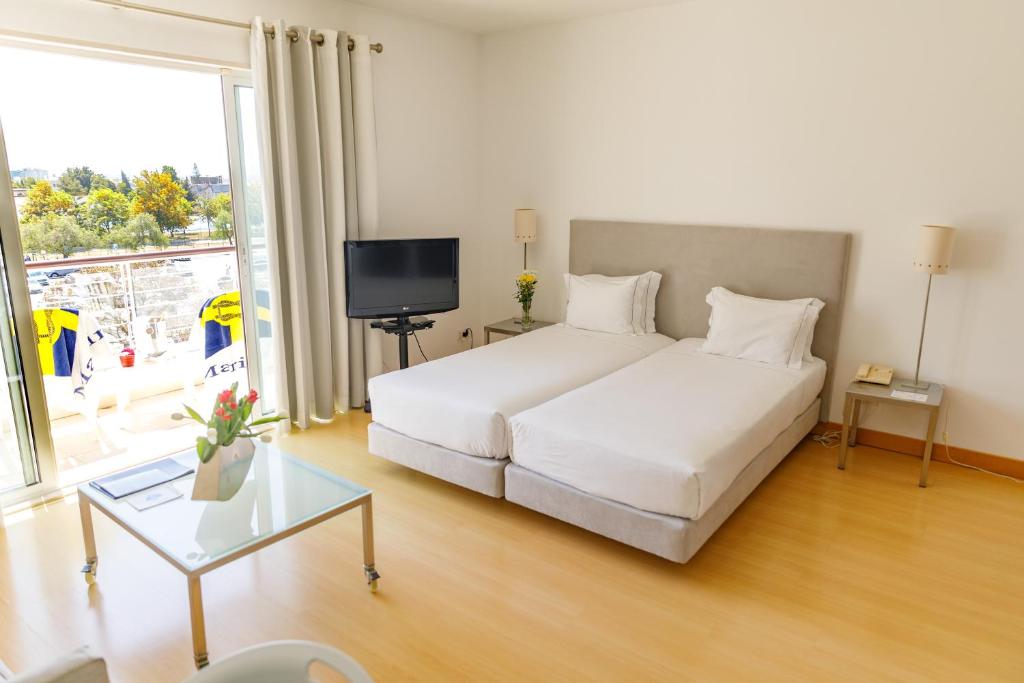 Marina Club Lagos Resort is a luxurious hotel located within sight of the marina and just a short walk from Lagos' historic center and Meia Praia Beach. The resort offers modern apartments and studios with private balconies, as well as various spa facilities for an additional charge. Each guest unit is tastefully decorated in soft tones and furnished with modern furnishings. Guests can enjoy breakfast at the restaurant before exploring the nearby marina or lounging by the outdoor pool. The friendly staff is also available to arrange rental cars or bikes for guests who want to explore further. With free parking available in the underground garage, Marina Club Lagos Resort provides convenience and comfort for a memorable stay.
– Convenient location near marina, historic center, and beach
– Modern apartments and studios with private balconies
– Access to various spa facilities (additional charge)
– Outdoor pool for relaxation under the sun
– Helpful staff that can arrange rental cars or bikes
Other places to stay in Lagos
Hotels With Fitness Center In Downtown Lagos
Hotels with fitness centers in downtown Lagos offer guests a convenient way to stay active and maintain their exercise routines during their stay. These well-equipped gyms provide state-of-the-art equipment, cardio machines, weights, and sometimes even personal trainers to help guests achieve their fitness goals. Whether guests prefer high-intensity workouts or a more relaxed session, these hotels ensure that they have everything they need for a satisfying workout experience. With the added bonus of being located in the heart of Lagos, guests can easily explore the city after their workout or relax in luxurious accommodations.
Vila Gale Lagos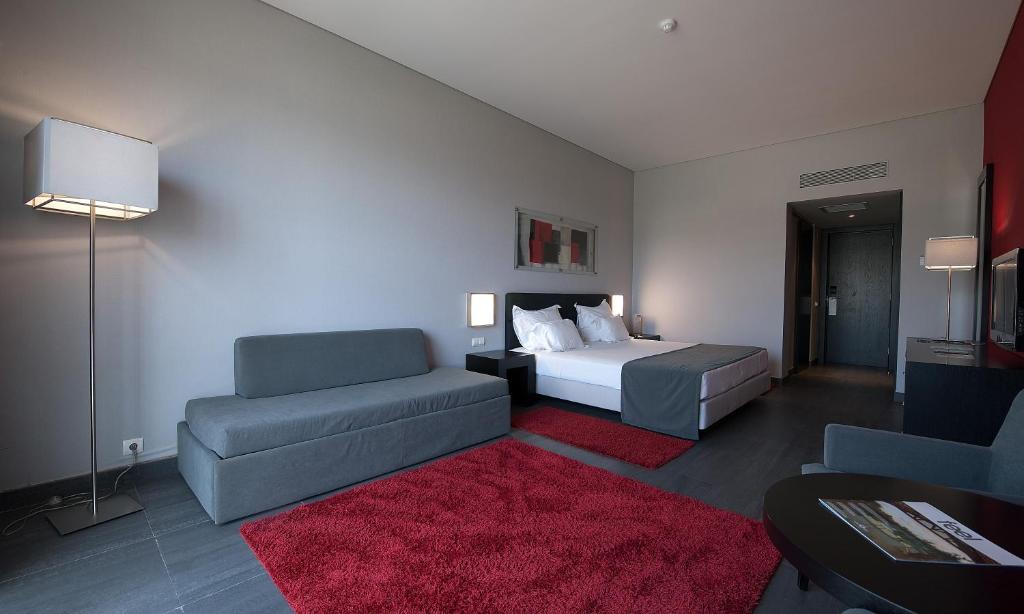 The 4-star Vila Gale Lagos is a luxury resort situated on the Lagos seafront, right along the sandy Meia Praia Beach. It is just a 5-minute drive from Lagos Marina. The resort features the Satsanga Spa and wellness center, where guests can enjoy amenities such as a gym, sauna, steam bath, and massage rooms (at an additional cost). The hotel also offers an indoor swimming pool as well as a large outdoor swimming pool set in a spacious 1,200 m² garden. Gourmet cuisine can be savored in the restaurants, while families can make use of the Kids' Club and three tennis courts available on-site. The air-conditioned rooms are beautifully designed and equipped with modern audiovisual equipment. The surrounding beaches of Lagos are renowned for their beauty and offer ample opportunities for water sports like windsurfing, scuba diving, water skiing, and fishing. Additionally, Vila Gale Lagos provides conference facilities with various meeting rooms for corporate events or banquets.
– Located right on Meia Praia Beach
– Satsanga Spa with gym facilities
– Indoor and outdoor swimming pools
– Gourmet cuisine served in restaurants
– Family-friendly amenities such as Kids' Club and tennis courts
Tivoli Lagos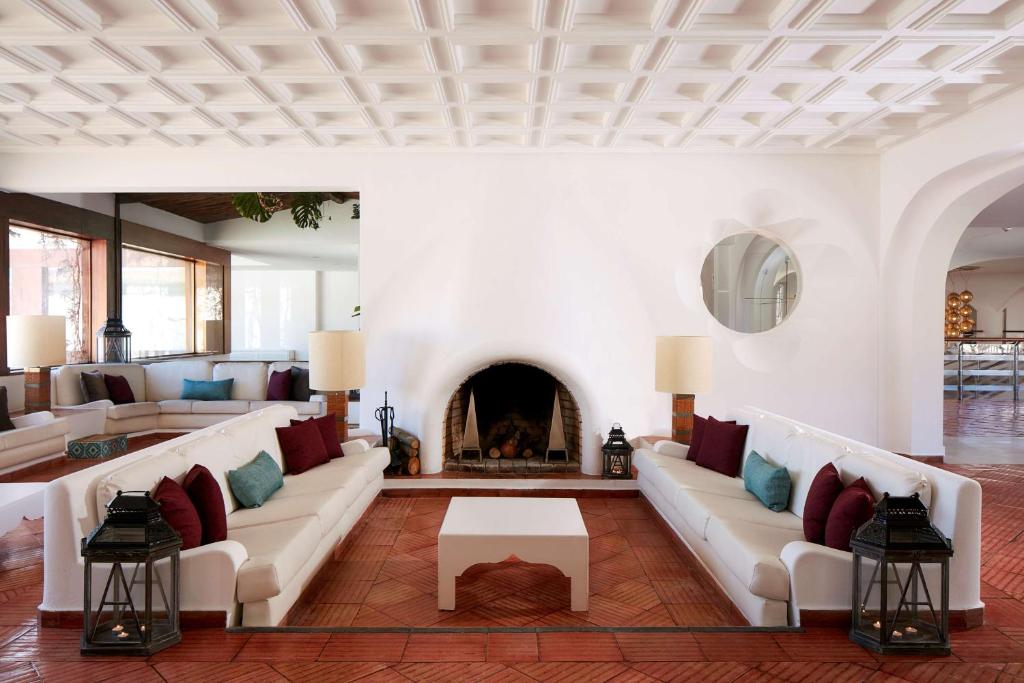 Tivoli Lagos is a 4-star hotel in Lagos, Portugal. It offers a range of amenities including indoor and outdoor pools, spa facilities, and a courtyard with a swimming pool. The hotel has an Algarve-themed décor and ambiance. The Duna beach club, located on 2 km of beach, features a large swimming pool with a sunbathing area and cocktail bar. From March to October, the hotel provides a free shuttle service to its private Duna Beach Club on Meia Praia. The air-conditioned rooms at Tivoli all have balconies and offer satellite TV and minibars. They also include en suite bathrooms with hairdryers. Guests can enjoy Portuguese cuisine at the Páteo Velho Restaurant's outdoor grill or have an American-style breakfast at the Lacóbriga Restaurant. The Fortress Ponta de Bandeira and Church of Saint Anthony are less than a 15-minute walk away from the hotel, while the Ponta da Piedade caves are just a short boat trip south of Lagos. Tivoli also offers various water sports activities such as kite surfing and water skiing. Moreover, it is ideal for events, parties, gatherings, and even beach weddings.
– Indoor and outdoor pools
– Spa facilities
– Shuttle service to private beach club
– Balconies in every room
– Variety of water sports available
Penina Hotel & Golf Resort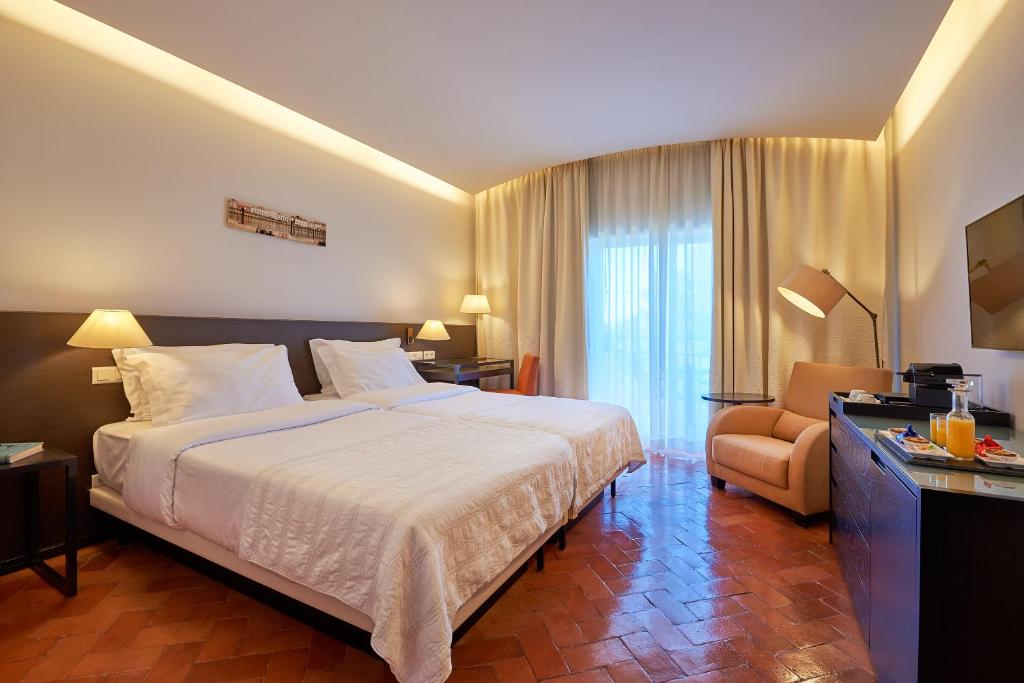 The Penina Hotel & Golf Resort is a luxurious 5-star resort located in the Algarve, just 5 km away from Portimão and the city of Lagos. Surrounded by beautiful gardens, this resort offers a range of sports and leisure facilities including three golf courses and a large outdoor swimming pool. The rooms are spacious and filled with natural light, featuring plush beds with white linens, balconies, and seating areas. Guests can enjoy massage treatments, sauna sessions, and access to the well-equipped fitness center. The resort also features five tennis courts and a Children's Club with weekly programs for younger guests. With five restaurants serving Portuguese, Italian, and international cuisine, as well as four bars offering light snacks and cocktails, there are plenty of dining options to choose from. Free parking is available at the hotel, and popular attractions such as Alvor Beach and Continente Shopping Centre are just a short drive away.
– Expansive outdoor pool
– Selection of sports facilities including golf courses
– Well-equipped fitness center
– Children's Club with weekly programs
– Five restaurants serving varied cuisine
Lagos Hotels With Gym And Pool
Lagos Hotels With Gym And Pool offer guests the perfect combination of fitness and relaxation during their stay. These hotels feature state-of-the-art gyms equipped with modern exercise equipment, allowing guests to maintain their workout routine while away from home. Additionally, the refreshing pools provide an ideal spot for a leisurely swim or to simply unwind and soak up the sun. Whether guests are looking to stay active or unwind after a long day, Lagos Hotels With Gym And Pool cater to all their needs, ensuring a memorable and rejuvenating experience.
Vila Joya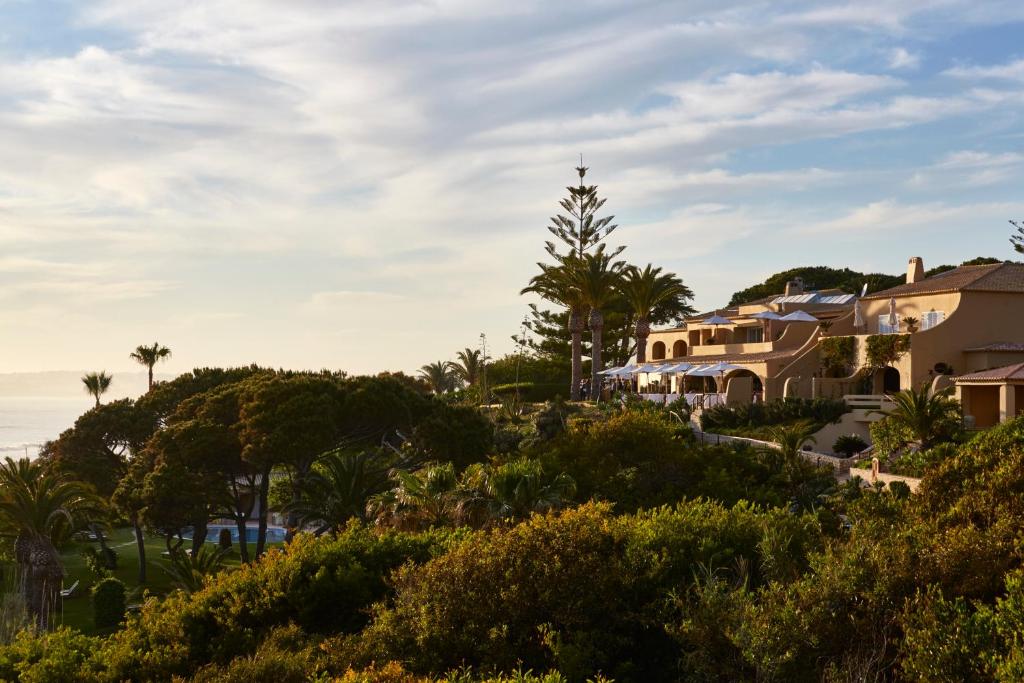 Vila Joya is a luxurious 5-star resort located next to Praia de Galé beach with breathtaking ocean views. The resort offers an array of amenities including two outdoor pools, spa facilities, and a golf academy with customized training. The guest rooms feature a stunning Moorish-inspired design and balconies overlooking the coast. Vila Joya's prestigious restaurant has been ranked in San Pellegrino's World's 50 Best Restaurants and serves Mediterranean seafood with high-quality French haute cuisine. The resort also offers free WiFi, a sauna, steam bath, outdoor hot tub, and beautiful garden and terrace areas for relaxation. Private limousine transfers are available for an additional fee.
– Two Michelin Star Restaurant
– Scenic Ocean views
– Spa facilities and golf academy
– Luxurious guest rooms with balcony overlooking the coast
– Free WiFi
Costa d'Oiro Ambiance Village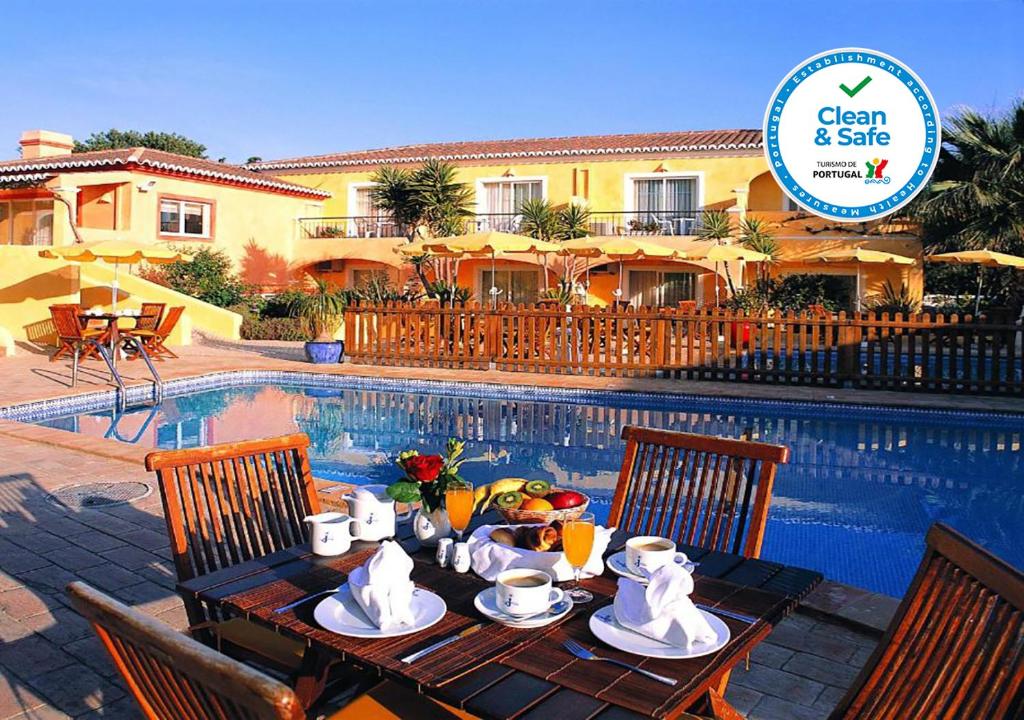 Costa d'Oiro Ambiance Village is a charming hotel located just 300 meters from Lagos' Dona Ana Beach. The hotel showcases the beautiful Mediterranean architecture with its villas, gardens, terraces, and swimming pools spread throughout the property. Each room is uniquely decorated in a Mediterranean theme and offers a private balcony or terrace, some with views of the swimming pool. Guests can enjoy a delicious breakfast experience with an extensive menu featuring both hot and cold buffet options as well as local delicacies from the Algarve. The Restaurante do Village serves breakfast, snacks, and dinner with Portuguese recipes in mind. The friendly staff are always ready to assist guests in organizing activities such as windsurfing, canoeing, dolphin safaris, and surfing. Additionally, the hotel's proximity to Ponta da Piedade Lighthouse allows for easy exploration of its fabulous caves and beaches. With all these amenities and attractions nearby, Costa d'Oiro Ambiance Village is an ideal choice for a memorable stay in Lagos.
– Indoor and outdoor pools
– Unique Mediterranean-themed rooms
– Extensive breakfast menu
– Portuguese cuisine at Restaurante do Village
– Assistance with organizing various activities
Carvi Beach Hotel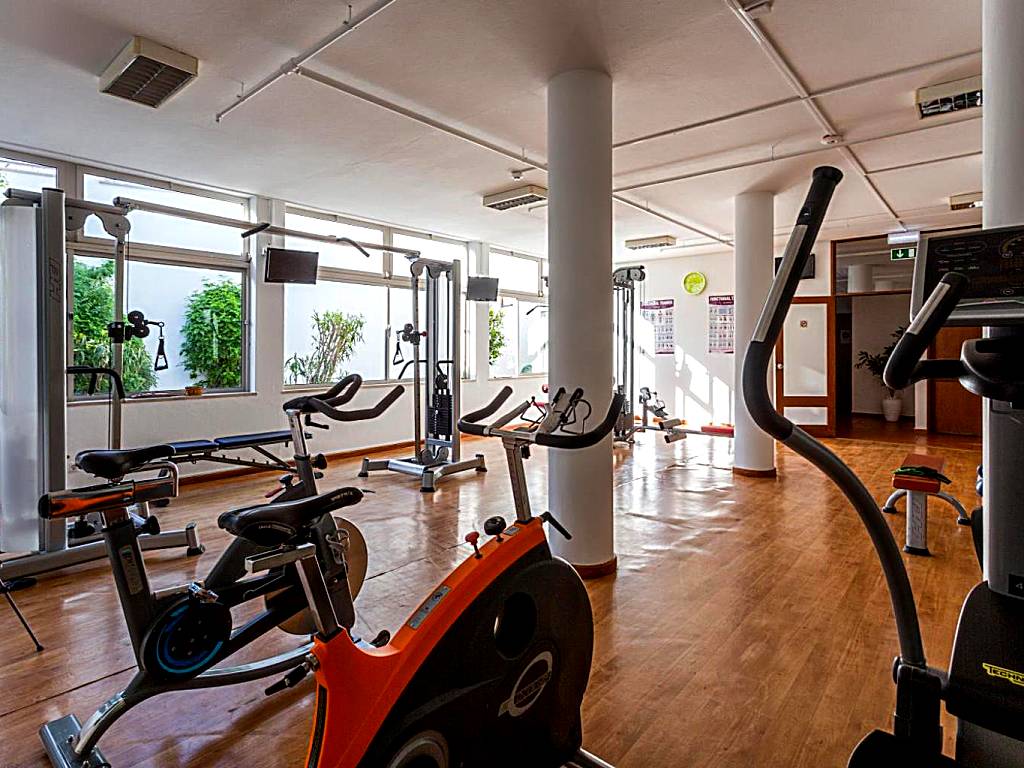 Located directly on Dona Ana beach in Lagos, Carvi Beach Hotel offers a contemporary and stylish accommodation. The guest rooms are well-equipped with modern amenities like blackout curtains, mini fridge, safety deposit box, and a private bathroom. Many of the rooms offer breathtaking views of the ocean. On the rooftop terrace, guests can enjoy a variety of meals or refreshing beverages at the restaurants while admiring the stunning sea view. The hotel also features a gym and fitness center for guests to stay active during their stay. Additionally, free WiFi access is available throughout the property. For those looking to explore further, the historic center of Lagos is just 1.7 km away and offers a range of dining options. After a swim in the rooftop swimming pool, guests can rent bicycles from the 24-hour reception to venture around town or visit nearby attractions such as Lagos Train Station and Boavista Golf Course in just a short drive.
– Directly located on Dona Ana beach
– Stylish contemporary guest rooms with ocean views
– Rooftop terrace with restaurants overlooking the sea
– Gym and fitness center for staying active
– Convenient location near historic center and other attractions
Magnolia Mar Apartamentos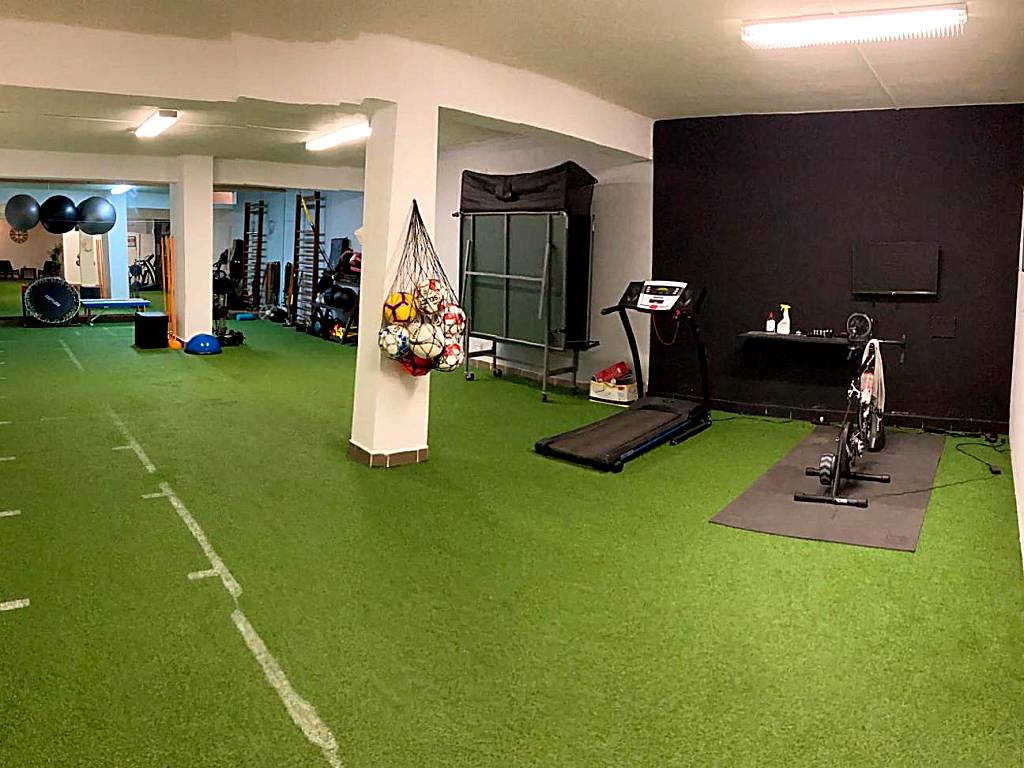 Magnolia Mar Apartamentos is a beachfront property located just 200 meters from Porto de Mós Beach. The studios and apartments have their own private entrance, as well as a seating area with a sofa and TV, fully equipped kitchen, private bathroom, and balcony. Some units also feature a washing machine. Guests can enjoy the beautiful garden, Field of Padel, children's playground, and an outside barbecue area. The property offers a bar with beach views for guests to relax and enjoy drinks. Additional amenities include a gym and fitness center, tennis court, table tennis equipment in the games room, car and bicycle rental services at the front desk. The Magnolia Mar is conveniently situated within driving distance to local shops, restaurants in Porto de Mós centre (3 minutes), Lagos city centre (8 minutes), Clube Ténis Lagos (7 minutes), several quality golf courses (10 minutes). Faro International Airport is approximately 59 minutes away by car with shuttle service available at an additional cost.
– Beachfront location
– Fully equipped apartments with private entrance
– On-site bar with beach views
– Gym and fitness center
– Convenient access to local shops and restaurants
Lagos Hotels with Gym Information
| | |
| --- | --- |
| 🛎️ Hotels with Gym in Lagos | 10 |
| 💰 Hotel prices starting from | $253 |
| 💵 Highest price | $791 |
| 🥇 Average Review Score | 8.5/10 |
| 🛏️ Average number of Rooms | 19 |
FAQ
1
Are there hotels in Lagos, Portugal that have a gym?
Yes, there are several hotels in Lagos, Portugal that have a gym facility. These hotels understand the importance of maintaining an active lifestyle even while traveling and provide guests with well-equipped fitness centers. Whether you prefer cardiovascular exercise or strength training, you will find suitable options at these hotels.
2
What are the benefits of staying at a hotel with a gym in Lagos?
Staying at a hotel with a gym in Lagos offers numerous benefits for health-conscious travelers. Firstly, it allows you to maintain your fitness routine without interruption. Secondly, working out can help alleviate travel-related stress and jet lag. Additionally, exercising regularly during your stay can boost your energy levels and make exploring the city more enjoyable.
3
What kind of equipment can I expect to find in hotel gyms in Lagos?
Hotel gyms in Lagos typically offer a variety of equipment to cater to different workout preferences. You can expect to find treadmills, stationary bikes, elliptical trainers for cardiovascular exercises. Additionally, many gyms have weight machines and free weights for strength training purposes. Some hotels may also provide yoga mats or offer group exercise classes.
4
Do I need to pay extra to use the gym facilities at hotels in Lagos?
The availability and cost of using gym facilities vary from one hotel to another in Lagos. While some hotels include complimentary access to their gyms as part of their room rates, others may require an additional fee or offer day passes for non-guests. It is advisable to check with your chosen hotel regarding their specific policies on using the gym facilities.
5
Can I use the hotel's gym even if I am not staying at the property?
Some hotels in Lagos do allow non-guests to use their gym facilities upon payment of a daily fee or through purchasing day passes. However, this policy differs among establishments and is subject to availability. It is recommended to contact the hotel in advance to inquire about their non-guest access policy and any associated fees.
Popular Hotels With Gym destinations