Welcome to the vibrant city of Cape Town, located in the breathtaking region of South Africa. In this energetic metropolis, where the mountains meet the sea, you may find yourself in search of a place to stay that not only offers comfort and convenience but also caters to your fitness needs. Look no further than these magnificent accommodations boasting state-of-the-art fitness facilities.
If you're a health-conscious traveler seeking an invigorating workout during your stay, Cape Town has an impressive selection of hotels equipped with gyms. Whether you prefer an early morning cardio session or evening weightlifting routine, these establishments have got you covered. With their range of exercise machines and equipment, along with knowledgeable staff to assist you in achieving your fitness goals, staying fit while indulging in all that Cape Town has to offer becomes effortless.
Embrace the opportunity to combine relaxation and fitness by choosing a hotel with a gym during your visit to this captivating city. Stay committed to your exercise routine without having to venture far from your accommodation as these exceptional hotels provide modern workout spaces for guests like yourself. Soak up the panoramic views as you break a sweat and experience firsthand how wellness is seamlessly woven into the fabric of Cape Town's hospitality scene.
Best Cape Town Hotels With Gym And Fitness Center
Taj Cape Town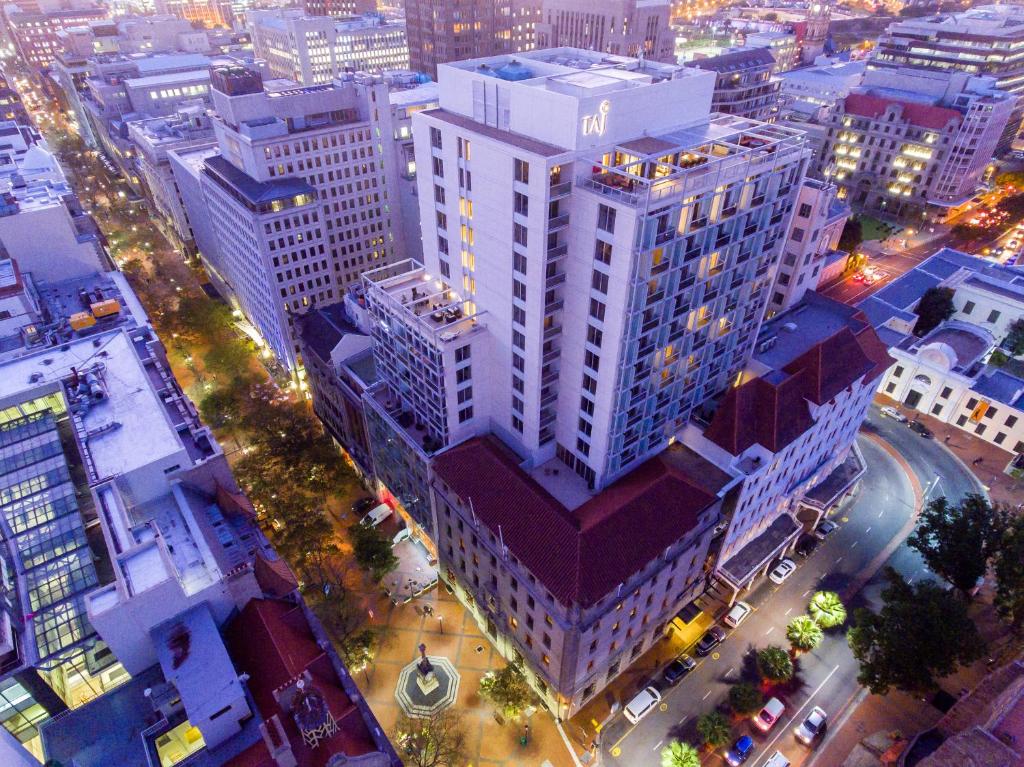 Taj Cape Town is a luxury hotel located in the heart of Cape Town, offering guests a truly indulgent experience. The hotel features an indoor lap pool, perfect for swimming and relaxing. With its central location, guests can easily explore nearby tourist attractions and businesses on foot. The hotel offers free WiFi, access to the Jiva Grande Spa, and a complimentary shuttle service to the V&A Waterfront daily. Guests can also enjoy complimentary access to the sauna, steam room, and heated lap pool at the spa. The rooms and suites are elegantly designed with classical furnishings and most have balconies. All accommodations are air-conditioned and equipped with flat-screen TVs. The marble bathrooms come with rain showers and large bathtubs. Dining options include the 3-level Mint restaurant which serves a wide variety of international cuisines. For fitness enthusiasts, there is a spacious fitness center with Techno machines for working out. The famous Long Street is just a 1-minute walk away from Taj Cape Town, while the V&A Waterfront is 3 km away and Table Mountain is 5 km away. The Cape Town International Convention Centre (CTICC) is conveniently located 1.5 km from Taj Cape Town and Cape Town International Airport is within easy reach at just 20 km away.
– Luxury Hotel with indoor lap pool
– Central location near tourist attractions
– Free WiFi access
– Complimentary shuttle service to V&A Waterfront
– Access to sauna, steam room, and heated lap pool at Jiva Grande Spa
Ellerman House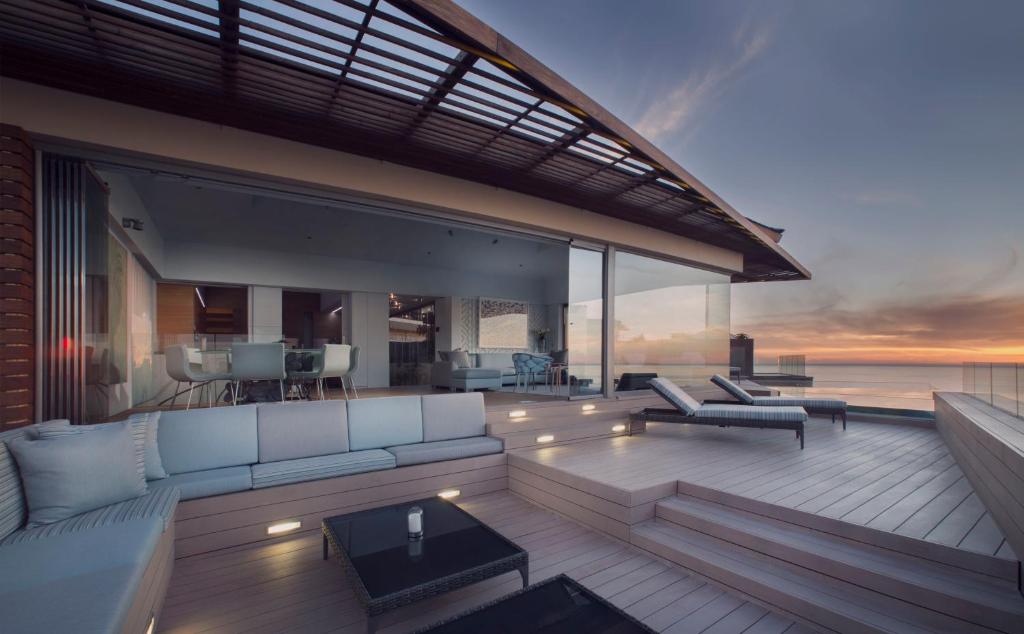 Located on the slopes of Lion's Head in Bantry Bay, Ellerman House is an elegant mansion offering breathtaking views of the Atlantic Ocean. The hotel features a lush garden and an outdoor swimming pool, as well as a complimentary airport shuttle. The on-site restaurant serves a variety of cuisines influenced by Cape Malay spices and fresh organic produce. Each individually decorated room comes with classic furnishings, a balcony or terrace, satellite TV, safe, and tea-and-coffee-making facilities. Guests can enjoy a glass of wine at the bar or relax in the spa which includes a sauna, steam room, and various treatments upon request. Other facilities include a fitness center, wine cellar, art gallery, and free WiFi throughout the property. With its convenient location, V&A Waterfront is just 6 km away while Camps Bay can be reached in only 5 minutes by car and Table Mountain is just a 10-minute drive away.
– Stunning panoramic views of the Atlantic Ocean
– Elegant mansion with luxurious rooms
– Complimentary airport shuttle service
– On-site restaurant offering delicious food with Cape Malay influences
– Spa with various treatments available upon request
Home Suite Hotels Station House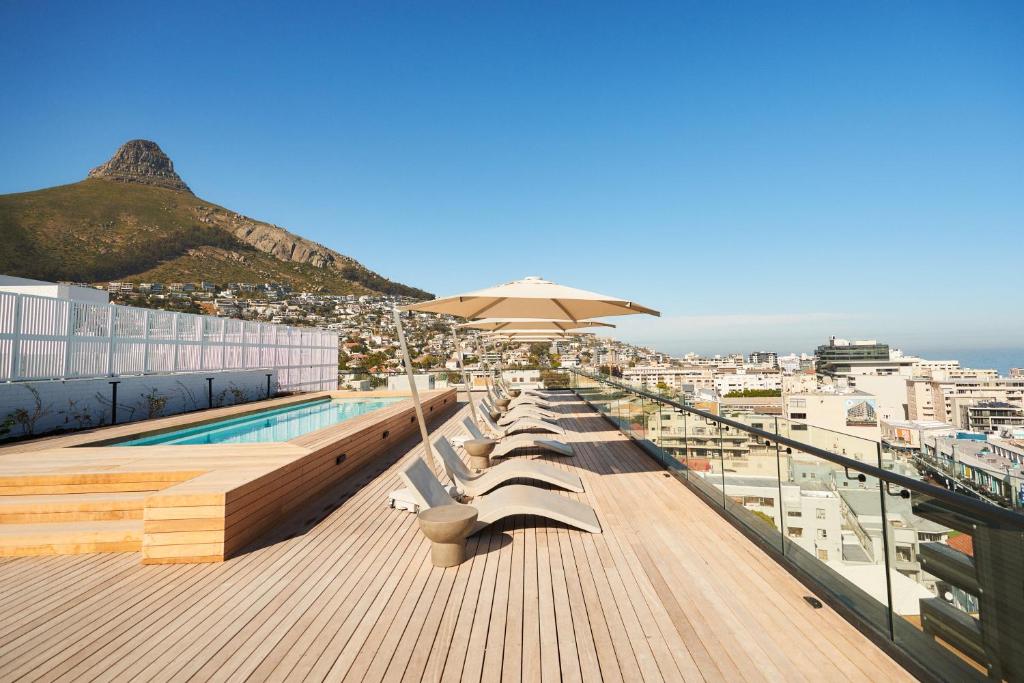 Newly opened in August 2022, Home Suite Hotels Station House is a 4-star hotel located in Cape Town, just 400 meters from Broken Bath Beach. It offers guests a range of amenities including an outdoor swimming pool, free private parking, a fitness center, and a beautiful garden. The hotel features free WiFi throughout the property and has a terrace with stunning city views. Guests can enjoy meals at the on-site restaurant or have drinks at the bar. The air-conditioned rooms are equipped with modern facilities such as a desk, coffee machine, fridge, microwave, safety deposit box, flat-screen TV, balcony, and private bathroom with shower. Bed linen and towels are provided in each room. A choice of à la carte or continental breakfast is available for guests to start their day. Popular attractions including Milton Beach, Sunset Beach, and Saunders Rock's Beach are within close proximity to the hotel. Cape Town International Airport is conveniently located just 24 km away.
– Newly opened 4-star hotel
– Outdoor swimming pool
– Free private parking
– Fitness center on-site
– Close to popular beaches
Other places to stay in Cape Town
Hotels With Fitness Center In Downtown Cape Town
Downtown Cape Town offers a variety of hotels with state-of-the-art fitness centers, catering to health-conscious travelers. These fitness centers are equipped with modern exercise equipment and facilities that allow guests to maintain their workout routines while enjoying their stay in the city center. Whether it's a cardio session, weightlifting, or yoga practice, visitors can find everything they need for a satisfying workout experience within easy reach of their accommodation in downtown Cape Town.
Pepperclub Hotel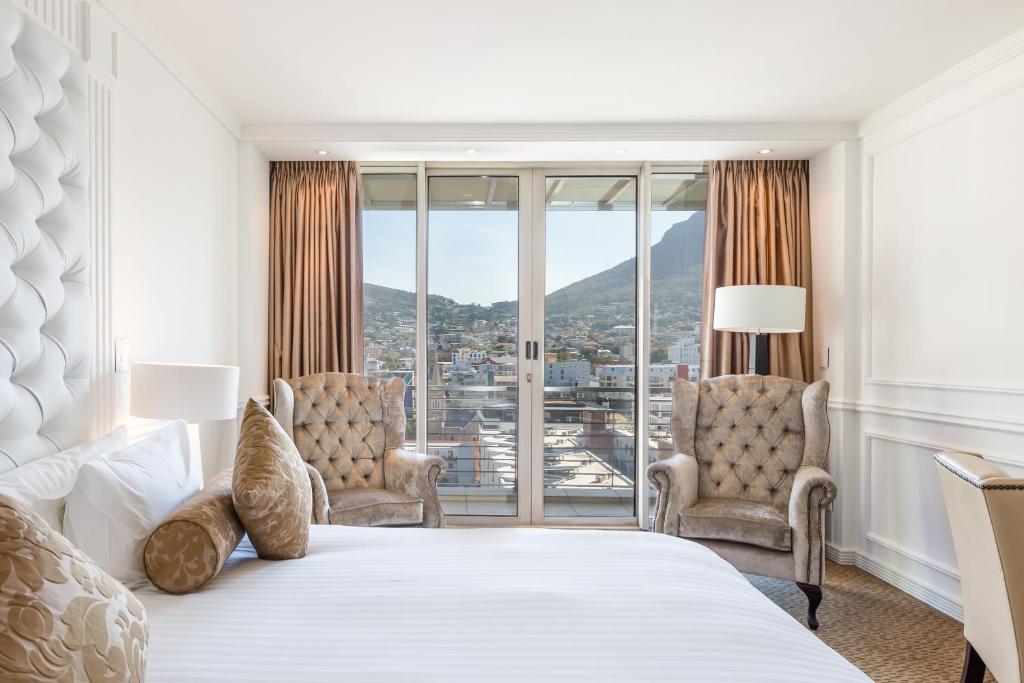 Pepperclub Hotel is a luxury hotel located in the heart of Cape Town. It offers a range of amenities including an outdoor pool, wellness center with a gym, and a private cinema. The spacious rooms feature extra-length king-sized beds, comfortable armchairs, and wall-mounted 42-inch plasma TVs. Guests can relax and enjoy panoramic views of the city and mountains on the Pool Deck located on the 8th floor. The hotel also provides refrigerator and coffeemaker facilities, as well as electronic laptop safes for extra security. Most suites have private balconies and kitchen facilities. Guests at Pepperclub Hotel have access to exclusive beach club facilities on Camps Bay beachfront, just a 10-minute drive away. Complimentary shuttles to Camps Bay and the V&A Waterfront are available. The hotel offers stylish decor, free Wi-Fi throughout its property, and dining options including Ruby's Bakery and Cafe for breakfast and lunches, COPA Restaurant for contemporary cuisine, and Paparazzi Bar for drinks or light meals. Pepperclub Hotel is conveniently located only 20 minutes' drive from Cape Town International Airport.
– Luxury hotel with outdoor pool
– Spacious rooms with king-sized beds
– Panoramic views of the city
– Exclusive access to beach club facilities
– Stylish decor with free Wi-Fi throughout
Future Found Sanctuary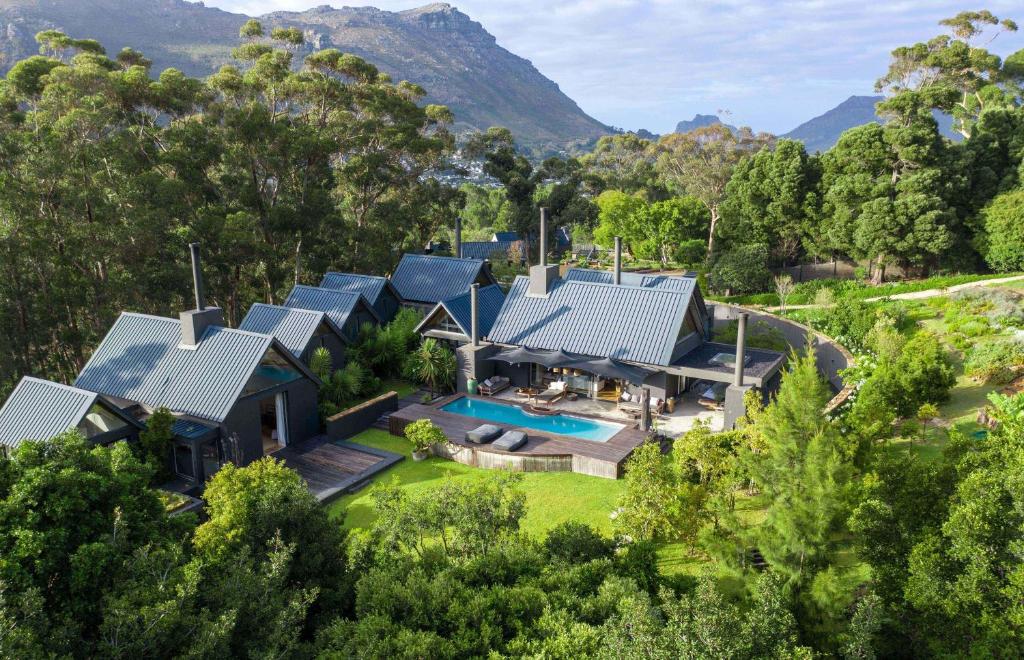 Future Found Sanctuary is a luxury hotel located in Cape Town, just 2.6 km away from World of Birds. This 5-star hotel offers a range of amenities including an outdoor swimming pool, free private parking, a fitness centre, and a garden. Guests can enjoy breathtaking mountain views from their rooms and have access to a shared lounge and bar. Certain rooms also feature pool views and balconies. The hotel offers additional services such as room service, organizing tours, and access to a shared kitchen. Each air-conditioned room is equipped with modern facilities including a desk, kettle, fridge, minibar, safety deposit box, flat-screen TV, terrace, and private bathroom with shower. Guests can start their day with an à la carte breakfast at the hotel or indulge in a delicious barbecue meal. There are plenty of activities to enjoy in and around Cape Town such as hiking. The hotel also provides business center facilities as well as ironing and laundry services for guests' convenience. Kirstenbosch National Botanical Garden is 10 km away while Chapman's Peak is 13 km away from the accommodation.
– Luxury hotel with stunning mountain views
– Outdoor swimming pool for relaxation
– Fitness center for staying active
– Shared kitchen for convenience
– Access to tour organizing services
The Rockefeller Hotel by NEWMARK
Opened in October 2021, The Rockefeller Hotel by NEWMARK is a stylish establishment located in the heart of Cape Town. This 4-star hotel boasts air-conditioned rooms, a fitness centre, and free WiFi. Guests can enjoy a drink at the on-site bar and take advantage of the tour desk and luggage storage facilities. Each room at The Rockefeller Hotel by NEWMARK is equipped with comfortable bedding, towels, a seating area, flat-screen TV, and safety deposit box. Some rooms also feature a kitchenette with an oven. Guests can start their day with a buffet, à la carte or continental breakfast options. The hotel offers 4-star accommodation along with an indoor pool for guests to relax and unwind. With multilingual staff available at the reception desk speaking Afrikaans, Arabic, English, and Spanish; assistance is always within reach. Conveniently situated just 2.5 km from Robben Island Ferry and 4.1 km from V&A Waterfront, this hotel provides easy access to popular attractions in Cape Town. The nearest airport is Cape Town International Airport, located 19 km away.
– Recently opened in October 2021
– Central location in Cape Town
– Fitness centre for guests to stay active
– Free WiFi available throughout the hotel
– Multilingual staff at reception for easy communication
Cape Town Hotels with Gym Information
| | |
| --- | --- |
| 🛎️ Hotels with Gym in Cape Town | 6 |
| 💰 Hotel prices starting from | $138 |
| 💵 Highest price | $1626 |
| 🥇 Average Review Score | 9.2/10 |
| 🛏️ Average number of Rooms | 46 |
FAQ
Is it common for hotels in Cape Town to have a gym?
Yes, many hotels in Cape Town offer gym facilities for their guests. With the city being a popular tourist destination and considering the health-conscious lifestyle of its residents, it is quite common to find hotels with well-equipped gyms. Whether you're visiting for business or leisure, you will likely have access to various fitness facilities during your stay.
Are hotel gyms in Cape Town free to use for guests?
Most hotel gyms in Cape Town are complimentary for hotel guests. However, some upscale or boutique hotels may charge a fee or require a membership for accessing their fitness centers. It's recommended to check with your specific hotel regarding their gym usage policies and any associated costs beforehand.
What kind of equipment can I expect at the hotel gyms in Cape Town?
Hotel gyms in Cape Town generally offer a range of modern exercise equipment such as treadmills, stationary bikes, elliptical machines, weightlifting stations, and various strength training equipment. Some may even provide additional amenities like yoga mats, boxing bags, or swimming pools. The equipment provided will vary from one hotel to another but you can expect a decent selection at most establishments.
Do all hotels with gyms also have trained instructors available?
Not all hotels with gyms in Cape Town have trained instructors readily available on-site. While some larger luxury hotels might offer personal trainers or group fitness classes as part of their services, smaller or budget accommodations usually do not provide this amenity. However, if professional guidance is important to you during your workout sessions while traveling, consider staying at an upscale hotel that offers these additional services.
Can non-hotel guests use the gym facilities at these establishments in Cape Town?
In most cases, hotel gym facilities are exclusive to registered guests only. However, there are some instances where certain hotels offer day passes or allow outside visitors access to their gyms for a fee. It's advisable to inquire with the hotel directly regarding their guest policy if you are not staying at the property but still wish to use their gym facilities.
Popular Hotels With Fitness Center destinations