Welcome to Killarney, Ireland, a magnificent destination nestled amidst the lush landscapes of County Kerry. If you're a fitness enthusiast or simply looking to stay active during your travels, you'll be delighted to know that this charming town offers an array of hotels equipped with top-notch fitness facilities. From boutique establishments to luxurious resorts, Killarney has something for everyone seeking accommodations that cater to their wellness needs.
Immerse yourself in the captivating beauty of Killarney's natural surroundings while maintaining your workout routine at one of the many Hotels With Gym situated in this enchanting town. Whether you prefer cardiovascular exercise or strength training, these hotels provide state-of-the-art fitness centers complete with modern equipment and trained staff who can assist you along your fitness journey. Indulge in invigorating workouts and bask in breathtaking views as you sweat it out in an environment designed to enhance both your physical and mental well-being.
As you explore all that Killarney has to offer, rest assured knowing that you won't have to compromise on your health and fitness goals during your stay. Embrace the convenience and luxury of Hotels With Gym in this picturesque Irish town, enabling you to maintain a balanced lifestyle while immersing yourself in its rich heritage, stunning landscapes, and warm hospitality. Get ready for a memorable experience where rejuvenation meets exploration – all within arms' reach at these accommodating establishments.
Best Killarney Hotels With Gym And Fitness Center
The Lake Hotel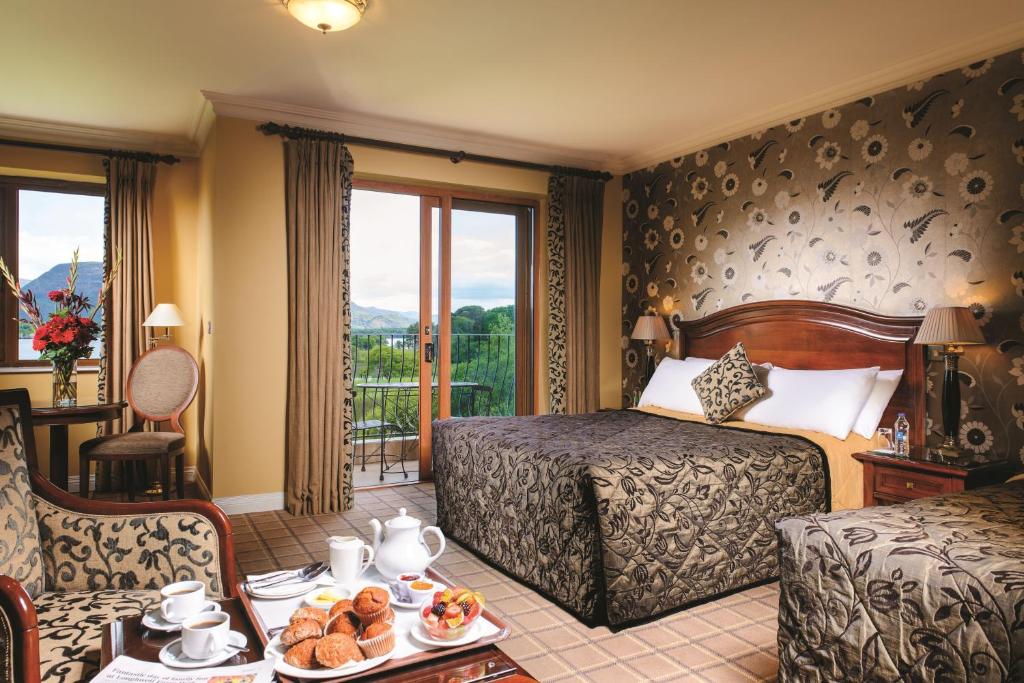 Located on the picturesque shores of Loch Lein, The Lake Hotel offers breathtaking views of the surrounding mountains. Just a short distance from Killarney, this charming 4-star family-run hotel features comfortable en suite rooms with baths and showers, satellite TVs, and hair dryers. Many rooms offer stunning countryside views and some even have balconies. The highlight of dining at The Lake Hotel is Castlelough Restaurant, where guests can savor fine Irish cuisine while enjoying the beautiful garden vistas. History buffs will enjoy exploring the ancient pathways that lead to the ruins of McCarthy Mor Castle, dating back to the 12th century. Guests can start their day with morning coffee in the Sun Lounge or indulge in a traditional breakfast in the dining room. Afterward, they can relax and unwind with a drink at the elegant Devil's Punch Bowl Bar, which overlooks Mangerton Mountain and its namesake lake. With its rich history dating back to 1820 and Queen Victoria's stay in 1861, The Lake Hotel offers a unique experience for those seeking tranquility amidst nature's beauty.
– Stunning lakefront location
– Magnificent mountain views
– Charming family-run establishment
– Delicious Irish cuisine at Castlelough Restaurant
– Relaxing outdoor hot tub
Castlerosse Park Resort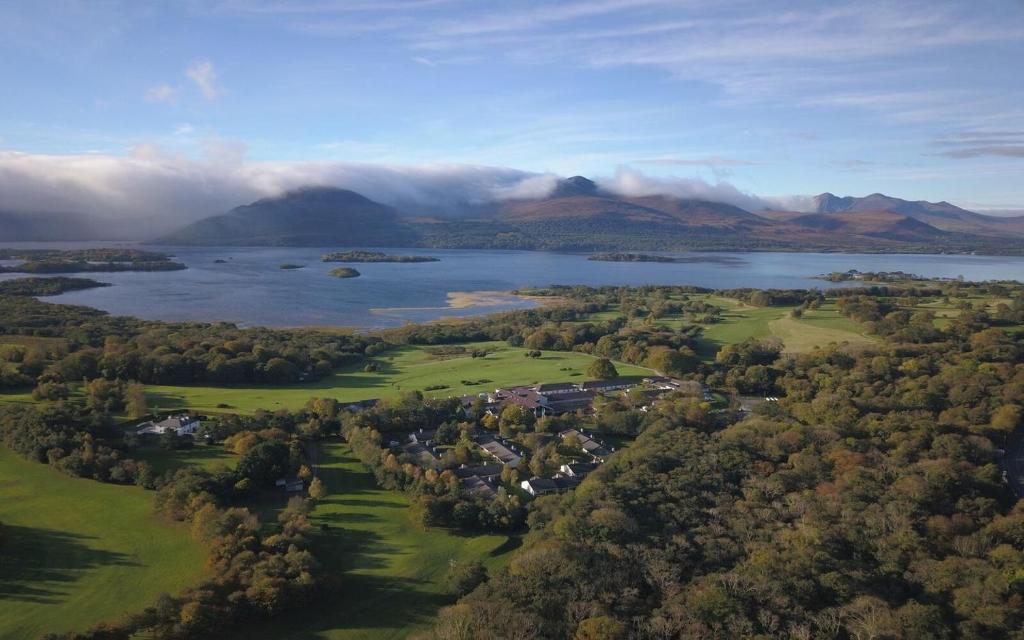 Situated in its own parklands with a stunning lakeside setting, Castlerosse Park Resort offers guests splendid views of lakes and mountains. Just 2 km away from Killarney town, the hotel provides free parking and free WiFi for its guests. The property also features a tennis court and a fitness centre for those looking to stay active during their stay. The management and staff at Castlerosse Hotel are dedicated to ensuring a warm and welcoming experience for all guests. The rooms are equipped with TVs, bathrooms with showers, baths, and hairdryers. Meeting facilities, a shared lounge, and a kids' club are among the other amenities offered by the hotel. Guests can enjoy various activities on-site or in the surrounding areas such as cycling, hiking, and fishing. Whether you're interested in exploring the beautiful town or simply taking in the serene ambience and breathtaking scenery of this region, Castlerosse Park Resort is an ideal choice.
Pros:
– Magnificent lakeside setting with picturesque views
– Convenient location close to Killarney town
– Free parking and WiFi
– On-site tennis court and fitness centre
– Wide range of activities available on-site or nearby
Hotel67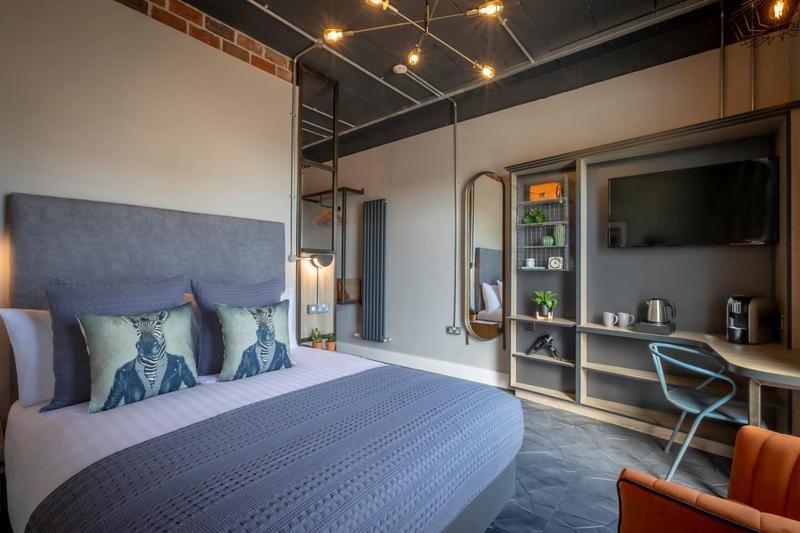 Hotel67 is a newly opened hotel in Killarney, offering a range of amenities and services for guests to enjoy. Located just 600 meters from INEC, the hotel boasts a fitness center, free private parking, a garden, and a shared lounge. Guests can indulge in delicious meals at the restaurant or relax with drinks at the bar. For ultimate relaxation, there is also a hot tub and hammam available. The hotel features an indoor pool and sauna for guests to unwind after a long day of exploring. Additionally, evening entertainment ensures that guests are entertained throughout their stay. Each room at Hotel67 is well-appointed with comfortable amenities including wardrobe space, flat-screen TVs, private bathrooms with fresh linens and towels provided. Some rooms even offer stunning mountain views for guests to admire while enjoying their morning coffee made from the in-room coffee machine. The friendly reception staff is always ready to provide tips on exploring the area's attractions. Muckross Abbey is only 2.1 km away from the hotel while St Mary's Cathedral is located 3.1 km away, ensuring easy access to popular landmarks nearby. With its convenient location and excellent facilities, Hotel67 offers everything needed for a memorable stay in Killarney.
– Newly opened hotel with modern facilities
– Convenient location near INEC
– Fitness center and indoor pool for active guests
– Restaurant serving delicious meals
– Stunning mountain views from some rooms
Other places to stay in Killarney
Hotels With Fitness Center In Downtown Killarney
Downtown Killarney offers a fantastic array of hotels with fitness centers, ensuring that visitors can maintain their wellness routine while exploring the vibrant city. These well-equipped facilities provide a range of state-of-the-art gym equipment and amenities, allowing guests to stay active and energized during their stay. Whether it's a morning workout or an evening session to unwind after a day of sightseeing, these fitness centers offer convenient options for travelers seeking to prioritize their health and fitness goals while enjoying all that downtown Killarney has to offer.
The Brehon Hotel & Spa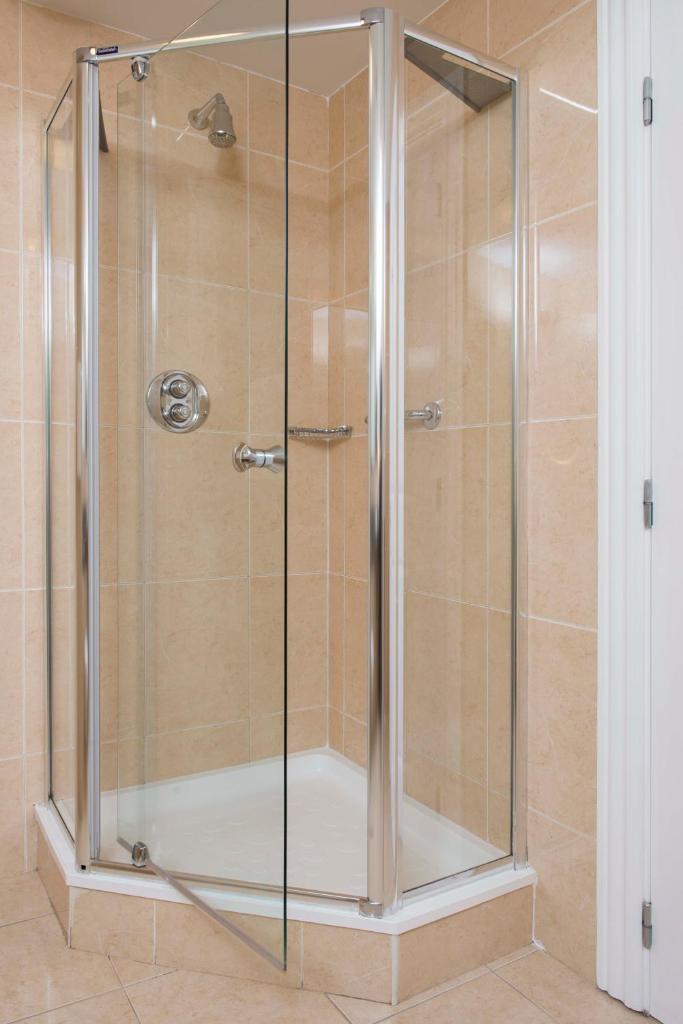 The Brehon Hotel & Spa is a luxurious hotel located in Killarney, overlooking the stunning views of Killarney National Park. With its marble bathrooms and spacious rooms, guests can enjoy a comfortable stay while taking in the beauty of the surrounding mountains. The highlight of this hotel is its Angsana Spa, where guests can indulge in a range of Thai-style treatments and massages. The rooms are equipped with baths, walk-in showers, and fluffy bathrobes for that extra touch of luxury. The hotel also offers satellite TV, slippers, and complimentary mineral water for added comfort. Guests can dine at the Danú restaurant which serves a variety of dishes made from local produce and market fresh ingredients. The Brehon Hotel & Spa Bar provides an extensive selection of wines, cocktails, and bar menu options to satisfy any cravings. For those looking to relax after a long day exploring Killarney town center (which is just a short walk away), there is also a swimming pool available exclusively for guests over 18 years old. Overall, The Brehon Hotel & Spa offers a perfect blend of comfort, relaxation, and gastronomic delights.
Pros:
– Beautiful views overlooking Killarney National Park
– Luxurious Angsana Spa with Thai-style treatments
– Spacious rooms with marble bathrooms
– Delicious dining options at Danú restaurant
– Convenient location near Killarney town center
Hotel Killarney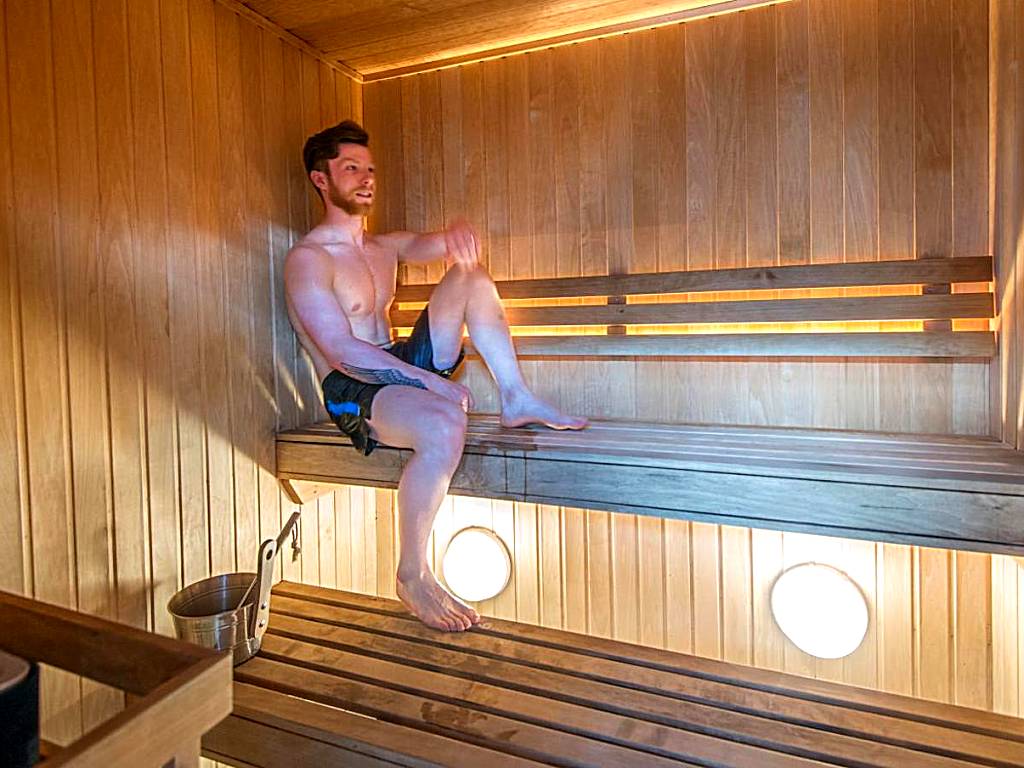 Hotel Killarney is located in a quiet location just 1.6km from the heart of Killarney. This hotel offers a range of fantastic facilities for guests to enjoy, including an indoor pool, leisure club, free parking and comfortable en suite rooms with satellite TVs. The hotel also caters to families with kids and teens clubs, mini-golf, and both indoor and outdoor playgrounds. Guests can make use of the Club Vitae Leisure Club which features an indoor pool, steam room, sauna, hot tub, sports hall, and a modern gym. The light and airy rooms at the hotel come equipped with tea and coffee-making facilities as well as bathrooms that include a bath, shower, hairdryer, and toiletries. Dining options at Hotel Killarney include Lannigans restaurant which serves fresh local food including char-grilled steaks and homemade burgers. For more casual dining experiences or snacks throughout the day there is also a lobby bar available for guests to enjoy. The hotel is conveniently located within walking distance of Killarney Train Station while Fitzgerald Stadium is just a short 5-minute drive away.
– Quiet location near Killarney
– Indoor pool
– Kids and teens clubs
– Modern gym
– Free parking
The Parkavon Hotel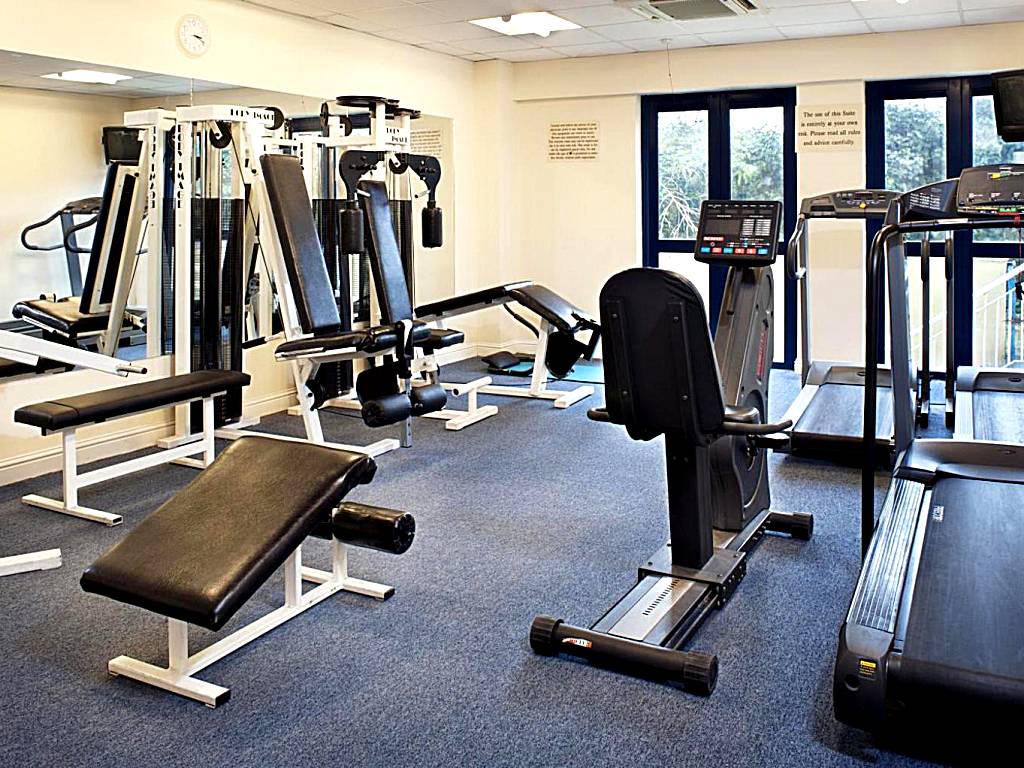 The Parkavon Hotel Killarney is a conveniently located hotel, just a short walk from the center of Killarney and the INEC. The hotel offers modern amenities such as free WiFi throughout the property and free on-site parking. In addition, there is a well-equipped gym for guests to stay active during their stay. The comfortable bedrooms at The Parkavon feature en suite bathrooms, TVs, hairdryers, and tea/coffee facilities. Guests can enjoy breakfast in the restaurant which also offers an evening dinner menu. The bar at the hotel serves food daily and broadcasts all major sports events on TV. One of the highlights of staying at The Parkavon is free access to the leisure center, which includes a sauna, swimming pool, and kids pool. With its location near Killarney National Park, guests have easy access to explore attractions like Ross Castle and Muckross House.
– Conveniently located near Killarney center
– Free WiFi throughout the property
– Well-equipped gym for fitness enthusiasts
– Leisure center with sauna and swimming pool
– Close proximity to popular attractions in Killarney National Park
Killarney Hotels With Gym And Pool
Killarney boasts a variety of hotels with excellent fitness amenities, including well-equipped gyms and refreshing pools. These establishments understand the importance of maintaining an active lifestyle while traveling, thus providing guests with state-of-the-art fitness facilities to ensure they can stay on top of their fitness goals. Whether you're looking to start your day with an invigorating workout or unwind after a long day of exploring, Killarney's hotels with gyms and pools offer the perfect solution for all types of travelers seeking both relaxation and wellness during their stay.
Great Southern Killarney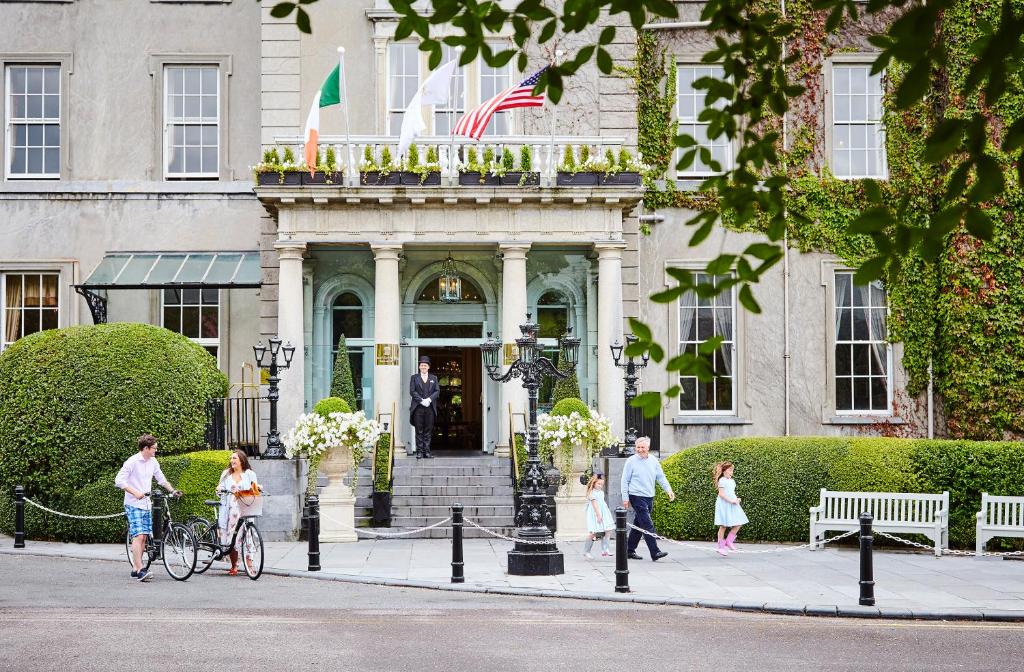 Great Southern Killarney is a Victorian landmark and one of Ireland's most beautiful hotels since 1854. With its distinctive architecture, effortless service, and genuine hospitality, it has been a favorite retreat for over 160 years. The hotel offers a warm and inviting atmosphere where guests can relax by the open fire in the entrance hall or unwind on a soft velvet sofa while enjoying afternoon tea. What sets Great Southern Killarney apart is its impressive six acres of gardens right in the center of a bustling town. Here, time slows down just a little as you bask in the light streaming through tall windows, take leisurely strolls through the gardens, or find solace on secluded benches.
Pros:
– Charming Victorian architecture
– Effortless service and genuine hospitality
– Beautiful gardens spanning six acres
– Central location in a bustling town
– Relaxing atmosphere perfect for unwinding
Aghadoe Heights Hotel & Spa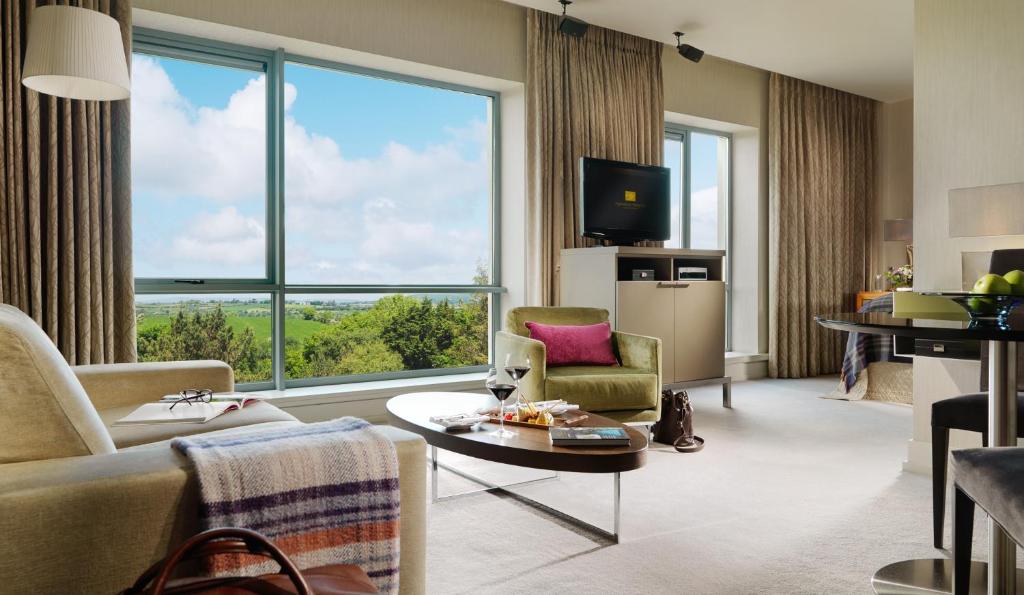 The Aghadoe Heights Hotel & Spa is a luxurious 5-star hotel located just 2 miles from Killarney town center. Situated amidst stunning mountains and lakes, this hotel offers breathtaking views of the Kerry countryside. The air-conditioned rooms at Aghadoe Heights Hotel & Spa are designed with comfort in mind, featuring separate baths and walk-in showers. Guests can indulge in a range of treatments at the Spa at Aghadoe while enjoying panoramic views of the surroundings. Other amenities include free Wi-Fi, mini-bars, and some rooms even have floor-to-ceiling windows. The hotel also boasts an indoor pool, hot tub, steam room, and mini-gym for guests to enjoy. Delight your taste buds with fine European cuisine at the award-winning Lake Room Restaurant which features a glass-walled wine cellar as its centerpiece. For those looking to unwind or enjoy a meal outdoors, The Heights Lounge and terrace bar offer stunning mountain views that will leave you speechless. With its convenient location, guests can explore nearby attractions such as Killarney Riding Stables (less than 10-minute walk) and Killarney Golf Club (less than 1 mile away).
The Killarney Park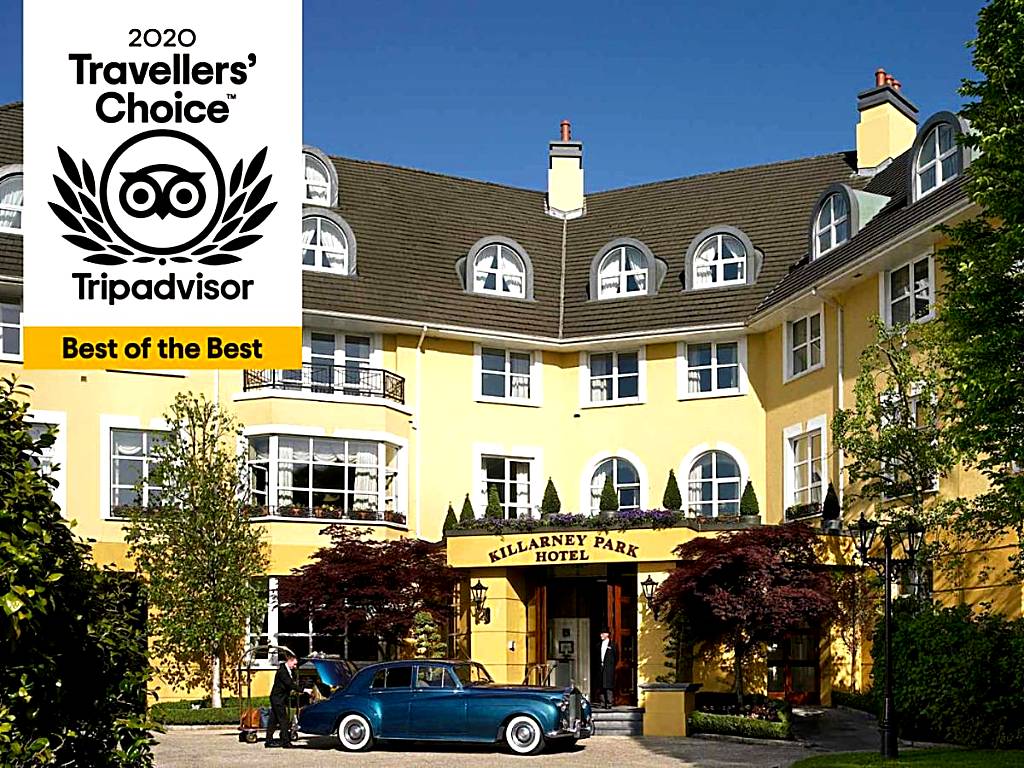 Located just a 5-minute walk from the Killarney Train Station, The Killarney Park is a luxurious 5-star hotel built in 1992. This family-run establishment offers elegant and spacious rooms with either city or countryside views, complete with modern amenities such as smart TVs and Smeg coffee machines. The hotel boasts an indoor pool and spa, where guests can indulge in Eve Lom and Elemis treatments. Additionally, there is a Fitness Suite and several pools at varying temperatures available at the Health & Fitness Club. Visitors can also enjoy fine dining at The Peregrine restaurant, which features stylish decor and serves exceptional cuisine made from Kerry's finest produce. Complimentary WiFi is provided throughout the hotel, making it convenient for guests to stay connected. In terms of location, The Killarney Park offers easy access to various day trips including the famous Ring of Kerry, the stunning Gap of Dunloe, and the expansive Killarney National Park. Muckross House and traditional farms are only a short drive away while the wild Dingle Peninsula can be reached within an hour by car. With its luxury amenities and prime location on the beautiful west coast of Ireland's Wild Atlantic Way route, The Killarney Park provides an unforgettable experience for travelers.
– Elegant rooms with modern amenities
– Indoor pool and spa
– Award-winning restaurant celebrating local produce
– Fitness Suite with multiple pools
– Convenient location for day trips
Killarney Hotels with Gym Information
| | |
| --- | --- |
| 🛎️ Hotels with Gym in Killarney | 9 |
| 💰 Hotel prices starting from | $201 |
| 💵 Highest price | $1526 |
| 🥇 Average Review Score | 8.5/10 |
| 🛏️ Average number of Rooms | 19 |
FAQ
Can I find hotels with a gym in Killarney, Ireland?
Yes, there are several hotels in Killarney that have on-site gyms for guests to use. These gyms feature state-of-the-art equipment and offer a variety of exercise options to cater to different fitness levels and preferences.
Is there an additional fee for using the gym at hotels in Killarney?
The policy regarding fees for using the hotel gym varies from one establishment to another. Some hotels include access to their gym facilities as part of the room rate, while others may charge a separate fee or require guests to purchase a day pass. It is advisable to check with the individual hotel before your stay.
What kind of equipment can I expect to find at these hotel gyms in Killarney?
Hotels with gyms in Killarney typically provide a range of cardiovascular machines such as treadmills, stationary bikes, and elliptical trainers. Additionally, guests can usually find strength training equipment like dumbbells or weight machines. The specific equipment available may vary by hotel, so it's best to inquire directly.
Are the hotel gyms open 24/7?
Most hotel gyms in Killarney operate within certain hours which could be anywhere from early morning until late evening. It is uncommon for them to remain open 24/7 due to security reasons and staffing constraints. Guests can usually access the gym during these designated hours but it's recommended checking with the front desk for precise timings.
Do I need to bring my own workout gear when staying at hotels with gyms in Killarney?
While some hotels provide workout gear such as towels and mats, it's generally advisable that you bring your own exercise clothing and shoes when planning on using the gym facilities. This ensures comfort and hygiene during your workout session.
Popular Hotels With Fitness Center destinations