Welcome to the enchanting city of Udaipur, India, where luxury and fitness seamlessly blend at Hotels With Gym. Nestled amidst the majestic Aravalli hills, this vibrant city offers a plethora of options for travelers seeking both cultural experiences and health-conscious indulgences. Whether you are an avid fitness enthusiast or simply looking to maintain your workout routine while on vacation, Udaipur's hotels with gym facilities will provide you with everything you need for a rejuvenating stay.
Immerse yourself in the opulence of Udaipur's renowned hotels that boast state-of-the-art fitness centers. These establishments offer a wide range of modern exercise equipment coupled with breathtaking views of the city's iconic landmarks. Indulge in invigorating workouts while admiring panoramic vistas of Lake Pichola or the grand City Palace – an experience that seamlessly merges physical well-being with visual splendor.
Revel in the warm hospitality and impeccable service as dedicated staff members guide you through tailored wellness programs designed to suit individual needs and goals. After an energizing workout session, unwind in luxurious spa facilities where skilled therapists offer a range of traditional Indian massages and treatments that guarantee utmost relaxation. In between exploring Udaipur's captivating attractions, satisfy your taste buds with delectable healthy cuisine carefully crafted by expert chefs who prioritize nutritious meals without compromising on flavor.
Whether you seek solace in yoga sessions against picturesque backdrops or prefer high-intensity training sessions led by professional trainers, Hotels With Gym in Udaipur have it all covered. So why not embark on a journey where wellness meets wanderlust? Come discover the delights of Udaipur while ensuring your health remains a priority at these splendid hotels equipped with top-notch gym facilities.
Best Udaipur Hotels With Gym And Fitness Center
Trident Udaipur
Trident Udaipur is a stunning hotel located on the banks of the Pichola Lake, surrounded by landscaped gardens. Spread over 43 acres, this recently renovated property offers a luxurious and cultural experience in Udaipur. The rooms and suites showcase the architectural and cultural heritage of the city, while providing modern amenities such as high-speed internet, in-room coffee making machines, a personal safe, and a modern entertainment system. Guests can enjoy delicious meals at the Aravalli multi-cuisine restaurant or The Terrace which serves international dishes. They can also unwind with a selection of drinks at Amrit Mahal. The hotel features an outdoor pool and guests can take leisurely walks in the garden with stories of Bada Mahal – a 150-year old wildlife conservatory within the premises. Additional amenities include free WiFi, 24-hour room service, a business center, currency exchange services, car rental assistance, babysitting services upon request, and free parking.
– Luxurious accommodation showcasing Udaipur's cultural heritage
– Multiple dining options serving delicious cuisine
– Beautiful outdoor pool for relaxation
– Free WiFi available throughout the property
D Fortune Park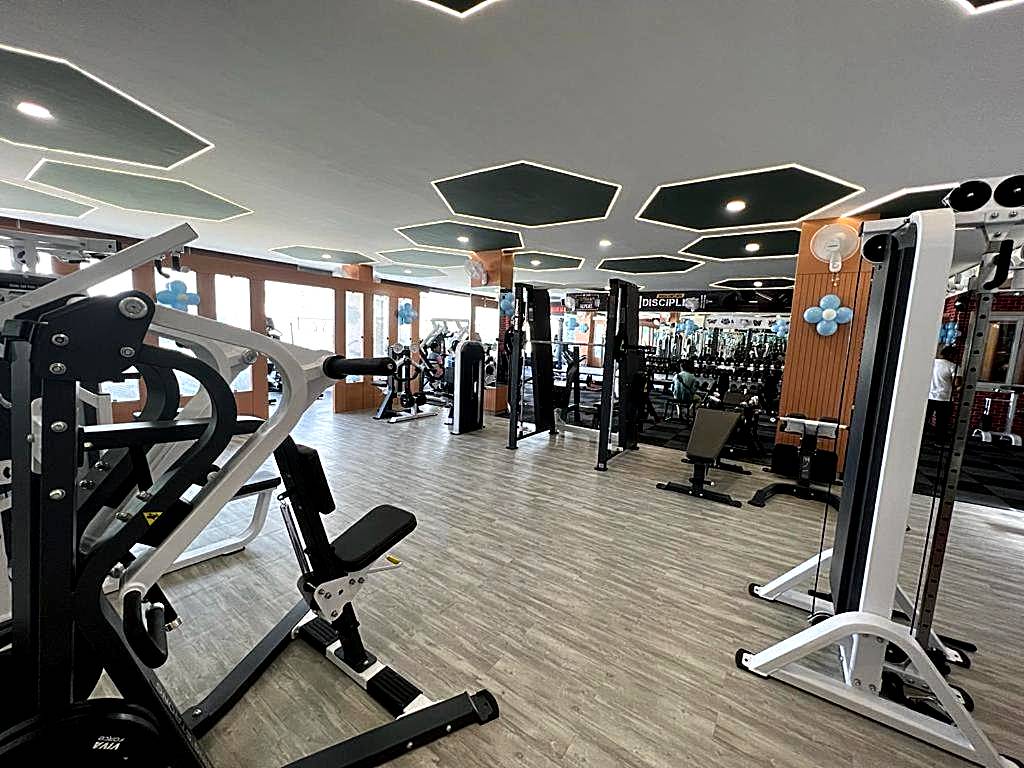 Newly opened in May 2023, D Fortune Park is a hotel situated in Udaipur, just 5.1 km away from Udaipur Railway Station. Offering a range of amenities and services, including free private parking, a terrace, and a restaurant, this property is conveniently located near popular attractions such as Lake Pichola, Jagdish temple, and Bagore ki Haveli. The hotel features a 24-hour front desk, airport transfers, room service, and free WiFi for all guests. Each room at D Fortune Park includes a balcony and comes equipped with air conditioning and a flat-screen TV. Some rooms even offer stunning city views. Guests can start their day off right with continental or vegetarian breakfast options available each morning. For those looking to stay active during their stay, the hotel provides access to an on-site gym and fitness center. With its prime location and excellent amenities, D Fortune Park is the perfect choice for travelers visiting Udaipur.
– Newly opened hotel with modern facilities
– Situated near popular tourist attractions
– Balcony rooms available with city views
– Convenient access to on-site gym and fitness center
– Continental and vegetarian breakfast options offered each morning
Aurika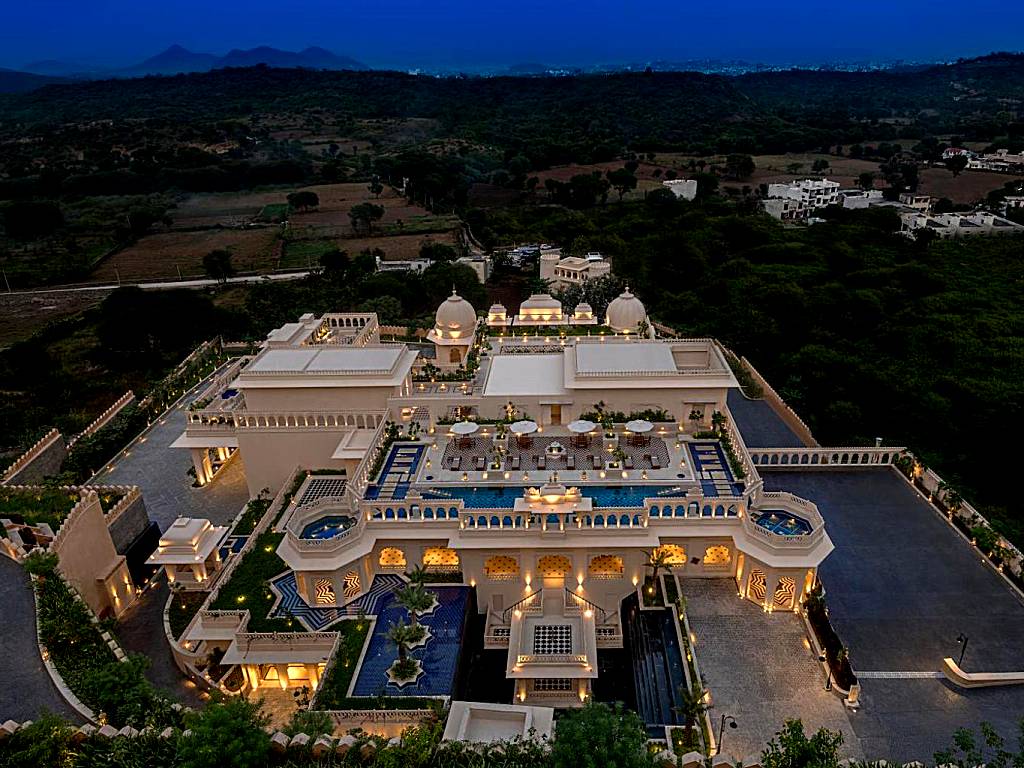 Located in Udaipur, 5.8 km from Jagdish temple, Aurika, Udaipur – Luxury by Lemon Tree Hotels offers guests a luxurious experience with its fitness centre, free private parking, terrace, and restaurant. This 5-star hotel boasts air-conditioned rooms with free WiFi and each room has a private bathroom. Guests can enjoy amenities such as room service, a 24-hour front desk, and currency exchange. The hotel also offers a continental, Full English/Irish or Italian breakfast every morning. Nearby attractions include Bagore ki Haveli (5.8 km) and City Palace of Udaipur (6.1 km), while Maharana Pratap Airport is the closest airport at a distance of 43 km.
– Fitness centre for guests to stay active during their stay
– Free private parking for convenience
– Terrace to relax and enjoy the views
– Restaurant on-site for dining options
Other places to stay in Udaipur
Hotels With Fitness Center In Downtown Udaipur
Downtown Udaipur offers a range of hotels with fitness centers, catering to the health-conscious traveler. Visitors can enjoy easy access to well-equipped gyms, complete with modern exercise equipment and facilities. From cardio machines to weight training equipment, these fitness centers provide guests with the opportunity to maintain their fitness routines while exploring all that Udaipur has to offer. Whether it's an early morning workout or a late-night session, these hotels ensure that guests can stay active during their stay in downtown Udaipur.
Taj Lake Palace Udaipur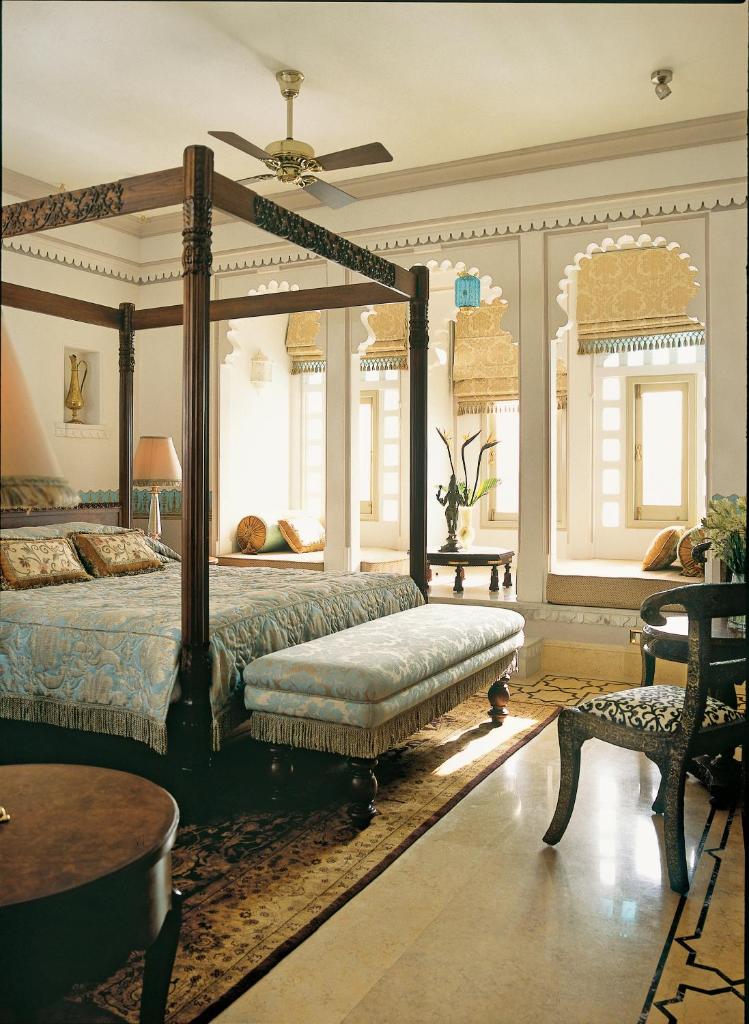 Located in the middle of Lake Pichola, Taj Lake Palace Udaipur is a mesmerizing resort that was built in 1746 using marble and features stunning architecture. The hotel offers a range of luxurious amenities, including a full service spa at Jiva Spa, site-specific yoga sessions, and fine-dining experiences at Neel Kamal and Bhairo restaurants. With butler service available in the rooms, guests can enjoy breathtaking views of the City Palace, Aravalli and Machla Magra hills, and Jag Mandir. The hotel also provides heritage walks, astrology sessions, cultural shows, and leisure facilities such as a 24-hour fitness center and hot/cold spa pool. Additional amenities include a shopping arcade, games room, business center, all-day dining at Jharokha restaurant overlooking Lake Pichola
Sarasiruham Resort – Private Pool Villa in Udaipur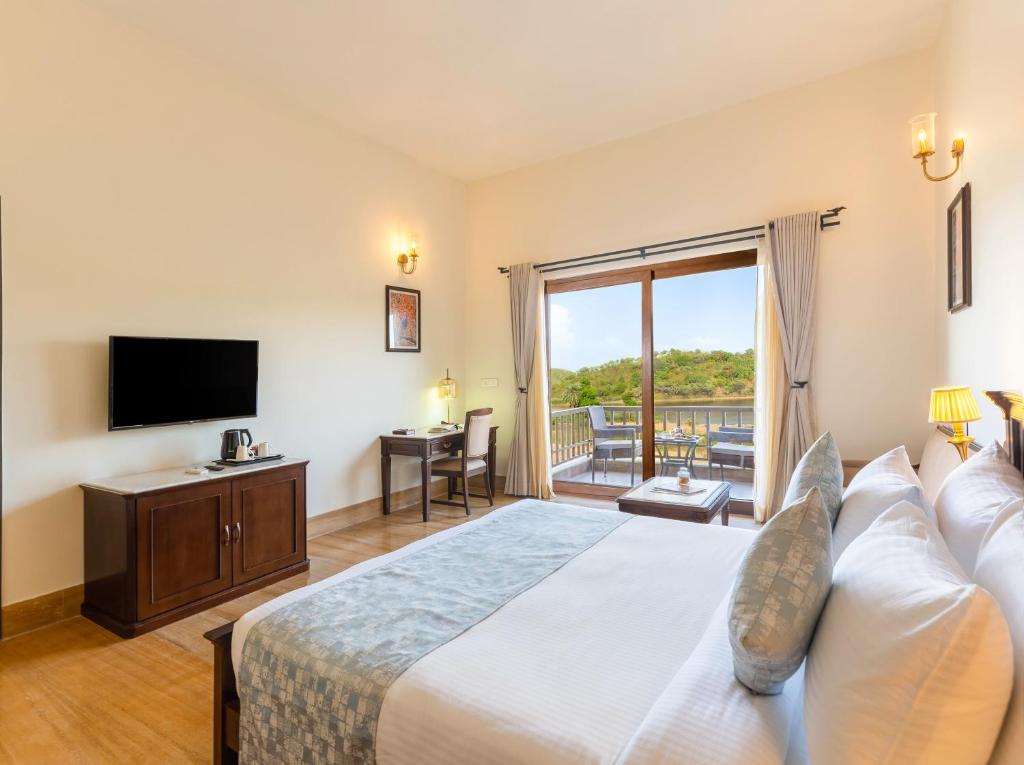 Sarasiruham Resort – Private Pool Villa in Udaipur is a luxurious 5-star resort located in Udaipur, just 23 km away from Jagdish temple. This newly opened resort offers a range of amenities including free bikes, free private parking, a fitness centre, and a beautiful garden. The accommodation features air-conditioned rooms with modern facilities such as a desk, kettle, fridge, safety deposit box, flat-screen TV, balcony, and private bathroom with shower. Guests can enjoy breakfast options every morning including buffet, à la carte and continental choices. The resort also boasts an on-site restaurant serving Indian and international cuisine with vegetarian, vegan and dairy-free options available upon request. Additional amenities include a children's playground and free WiFi throughout the property. With its convenient location near popular attractions like Bagore ki Haveli and City Palace of Udaipur (both 23 km away), Sarasiruham Resort – Private Pool Villa is an ideal choice for travelers seeking luxury and comfort during their stay in Udaipur.
– Newly opened 5-star resort
– Free bikes available for guests
– Fitness centre on-site
– Beautiful garden surroundings
– On-site restaurant offering Indian and international cuisine
Taj Aravali Resort & Spa Udaipur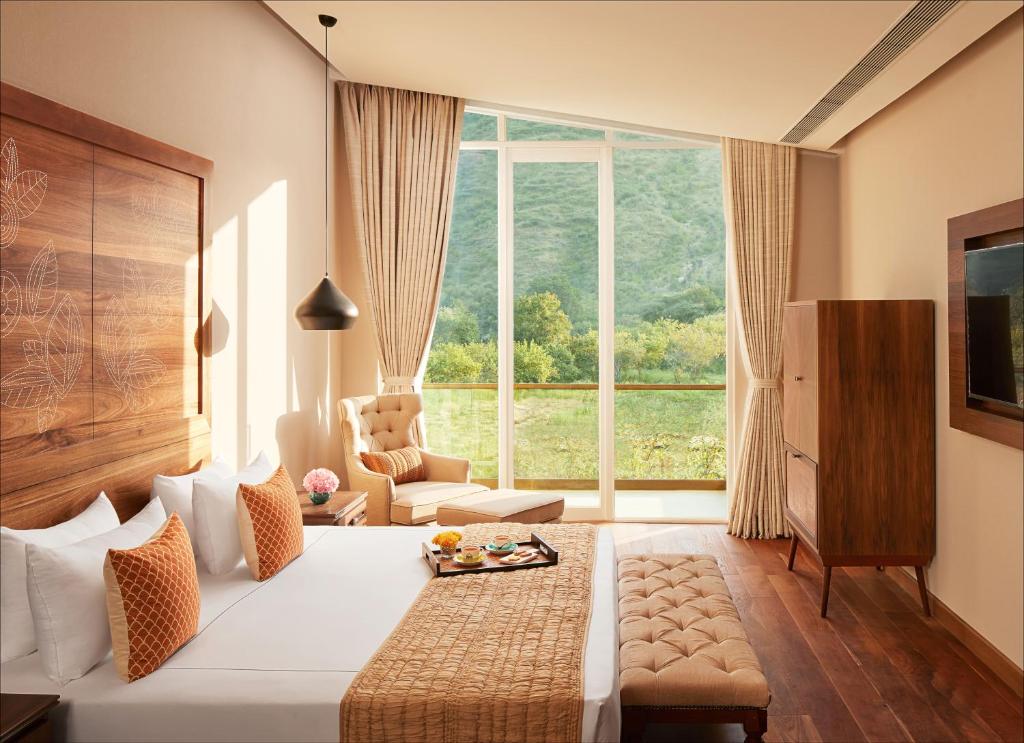 Positioned on a dramatic landscape in the state of Mewar and spread over 27 acres surrounded by the Aravali Ranges, Taj Aravali Resort & Spa Udaipur offers a luxurious stay with stunning views. The hotel features an outdoor swimming pool and a fitness centre. Inspired by Rajasthani architecture and nomadic culture, all rooms are equipped with air-conditioning and a flat-screen TV. Guests can also enjoy the 34 seater movie theatre and indulge in relaxation at the Jiva Spa housed in its own block. Conveniently located, it is within 6 km from Bagore ki Haveli and Jagdish temple. Free WiFi is available throughout the resort.
– Outdoor swimming pool
– Fitness centre
– 34 seater movie theatre
– Jiva Spa for ultimate relaxation
– Multiple dining options including specialty vegetarian restaurant
Udaipur Hotels with Gym Information
| | |
| --- | --- |
| 🛎️ Hotels with Gym in Udaipur | 6 |
| 💰 Hotel prices starting from | $269 |
| 💵 Highest price | $1075 |
| 🥇 Average Review Score | 9.1/10 |
| 🛏️ Average number of Rooms | 29 |
FAQ
Can I find hotels with gyms in Udaipur?
Yes, there are several hotels in Udaipur that offer gym facilities to their guests. These hotels understand the importance of fitness and provide well-equipped gyms with modern exercise equipment. You can easily find a hotel with a gym to maintain your fitness routine during your stay in Udaipur.
Do all hotels with gyms in Udaipur have professional trainers?
Not all hotels with gyms in Udaipur have professional trainers on site. However, many of these hotels do provide basic assistance and guidance for guests who wish to use the gym facilities. If you require more specialized training or personal attention, you may want to consider booking a hotel that specifically advertises professional trainers.
Is there an extra charge for using the gym facilities at these hotels?
The policies regarding charges for using gym facilities may vary from hotel to hotel in Udaipur. Some hotels include access to the gym as part of their room rates, while others may charge an additional fee for usage. It is advisable to check directly with the specific hotel you plan to stay at regarding any potential charges associated with using their gym facilities.
What types of workout equipment can I expect at these hotel gyms?
Hotels with gyms in Udaipur generally offer a range of workout equipment including treadmills, stationary bikes, weights, and various cardiovascular machines. The exact selection may vary depending on the size and style of the hotel's fitness center. It is always beneficial to contact the hotel beforehand if you have specific requirements or preferences regarding exercise equipment.
Are there any alternative options available near these hotels for outdoor workouts?
Absolutely! In addition to providing indoor gym facilities, many hotels in Udaipur are located near picturesque surroundings that are perfect for outdoor workouts such as jogging or yoga sessions. The scenic beauty around Lake Pichola and Fateh Sagar Lake offers great opportunities for outdoor exercise and fresh air. Don't forget to pack your workout gear and take advantage of the beautiful surroundings during your stay in Udaipur!
Popular Hotels With Gym destinations