Welcome to Malta, the ultimate destination for fitness enthusiasts! In this captivating Mediterranean island, you will find a plethora of accommodations that cater to your wellness needs. Whether you are a casual gym-goer or a dedicated fitness fanatic, Hotels With Gym in Malta offer top-notch facilities and services to ensure you can stay active while enjoying your vacation.
Imagine waking up to breathtaking views of the Maltese coastline and heading down to a state-of-the-art fitness center within your chosen hotel. These establishments provide an array of workout options suitable for every preference and skill level. From fully equipped gyms with cutting-edge equipment to spacious studios for group classes like yoga and Zumba, there is something for everyone here. Regardless of whether you prefer lifting weights or sweating it out on cardio machines, these hotels have got you covered.
Moreover, staying at Hotels With Gym in Malta not only allows you to maintain your exercise routine but also enhances your overall well-being. After an invigorating workout session, treat yourself to rejuvenating spa treatments or take a dip in the pristine pool overlooking the azure sea. Relish healthy meals crafted from locally sourced ingredients at the hotel's restaurants, nourishing your body from within.
So pack your workout gear and get ready for an unforgettable experience combining luxury accommodation with first-class fitness facilities. Whether you're exploring historic sites such as Valletta or lounging on sandy beaches like Golden Bay – rest assured that Malta has everything you need for an indulgent yet health-conscious escape!
Best Malta Hotels With Gym And Fitness Center
AX The Victoria Hotel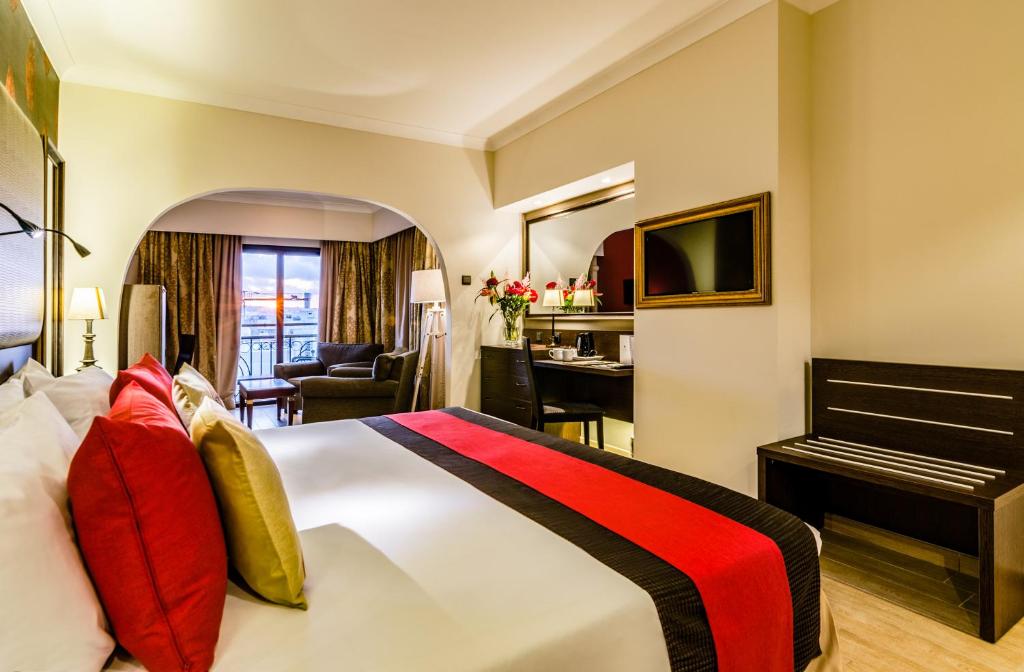 Located in the heart of Sliema, the 4-star boutique hotel AX The Victoria Hotel offers a luxurious and unforgettable stay. With a rooftop terrace boasting a pool and stunning views, this hotel is perfect for those seeking relaxation and indulgence. The Point Shopping Mall is just 1 km away, while the seaside promenade is only a 5-minute walk from the hotel. The spacious rooms are beautifully designed, with options of fresh Mediterranean blue or elegant Victorian décor. Each room is air-conditioned and equipped with tea and coffee-making facilities as well as a Smart TV with international channels. The Victorian lobby welcomes guests with its charming fireplace and Chesterfield sofas, setting the tone for an enchanting stay. On the top floor, guests can find a dedicated wellness area featuring a gym, indoor pool, and spa facilities. Start your day off right with a buffet breakfast or indulge in Mediterranean cuisine at The Copperfield's Restaurant. For refreshing cocktails or traditional English teas, head to Penny Black Bar. Reception can also arrange taxi services for your convenience.
– Rooftop terrace with pool offering stunning views
– Luxury spa facilities for ultimate relaxation
– Spacious rooms with stylish design
– Convenient location near shopping mall and seaside promenade
– Dedicated gym on top floor
The Preluna Hotel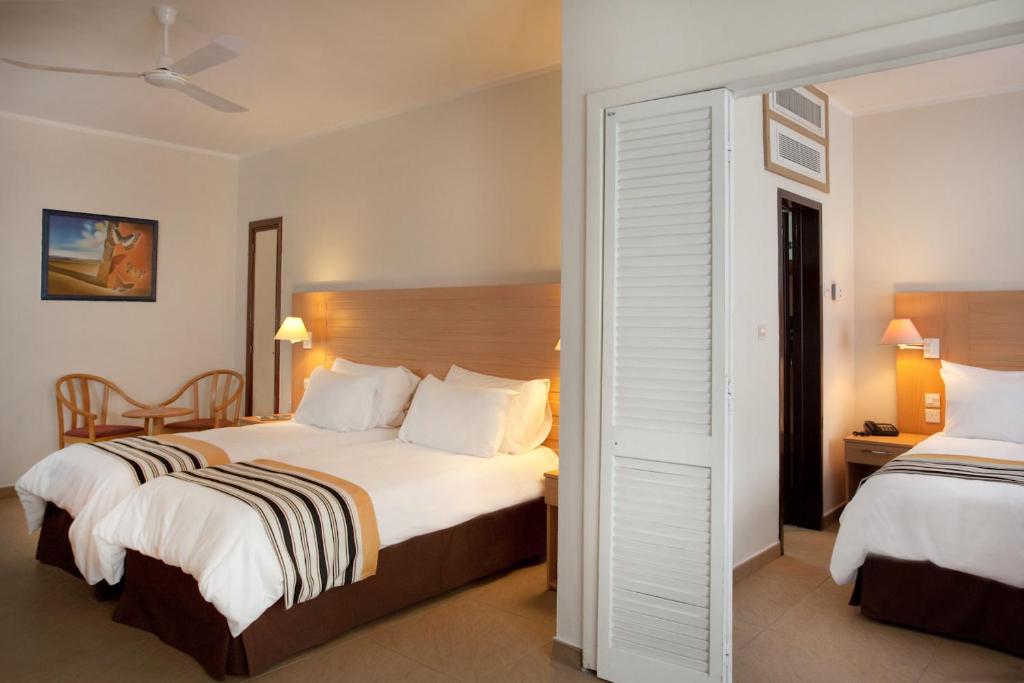 Situated along the beautiful seafront of Sliema in Malta, The Preluna Hotel offers a perfect combination of relaxation and entertainment. With its 4 restaurants, free gym, private beach, and luxurious amenities, guests are guaranteed a memorable stay. The spacious rooms feature modern décor and some even provide stunning views of the Mediterranean Sea. The hotel boasts both indoor and outdoor pools, including a large swimming pool for adults and a separate kids' pool. Guests can indulge in ultimate relaxation at the Feelgood spa which includes an indoor heated pool with hydromassage and a sauna. All rooms are equipped with air conditioning, tea/coffee maker, satellite flat-screen TV, and a private bathroom complete with bath and shower facilities. Free WiFi is available throughout the property to keep guests connected at all times. For those seeking further rejuvenation, massages and treatments can be arranged upon request. Dining options at The Preluna Hotel are diverse; enjoy buffet-style international dishes with breathtaking sea views at Triton restaurant or have a leisurely drink at Skyroom Cocktail Bar & Grill while taking in the panoramic views from the sea-view open terrace.
– Indoor and outdoor pools
– Private beach area with swimming pool
– Feelgood spa with an indoor heated pool
– Various dining options with stunning views
– Free WiFi throughout the property
Palais Le Brun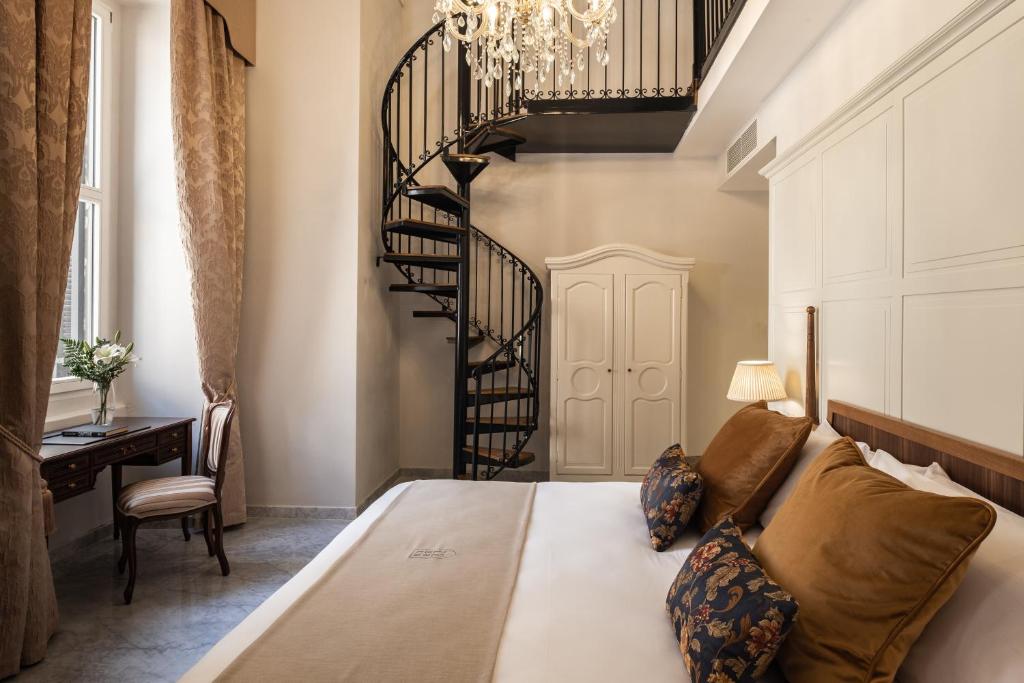 Located in Valletta's city centre, Palais Le Brun is a charming boutique hotel that offers guests a range of excellent amenities. The hotel features an outdoor swimming pool, fitness centre, and terrace for guests to relax and enjoy their stay. Additionally, the property boasts a restaurant, 24-hour front desk, shared lounge area, and free WiFi. Guests can start their day with a continental, à la carte or Full English/Irish breakfast. The hotel also offers convenient services such as a business centre, concierge service, and ticket purchasing assistance for its guests. All rooms are air-conditioned and equipped with a flat-screen TV and private bathroom with either shower or bathtub. Some units even offer stunning views of the sea. Popular attractions like the University of Malta – Valletta Campus, Upper Barrakka Gardens, and Manoel Theatre are all easily accessible from the hotel's central location. Malta International Airport is also conveniently located just 6 km away.
– Boutique hotel in Valletta's city centre
– Outdoor swimming pool and fitness centre
– Terrace for relaxation
– Restaurant on-site
– Convenient amenities like free WiFi availability
Other places to stay in Malta
Hotels With Fitness Center In Downtown Malta
Downtown Malta offers a fantastic selection of hotels with fitness centers, making it an ideal destination for health-conscious travelers. These hotels boast state-of-the-art gym facilities equipped with modern exercise equipment and trained instructors to ensure guests can maintain their fitness routines even while on vacation. Whether you prefer cardio workouts or strength training, these hotels provide a range of options to cater to every guest's needs. With convenient locations in the heart of downtown, visitors can easily explore the city's attractions and then unwind by working up a sweat at the hotel fitness center.
Corinthia Palace Malta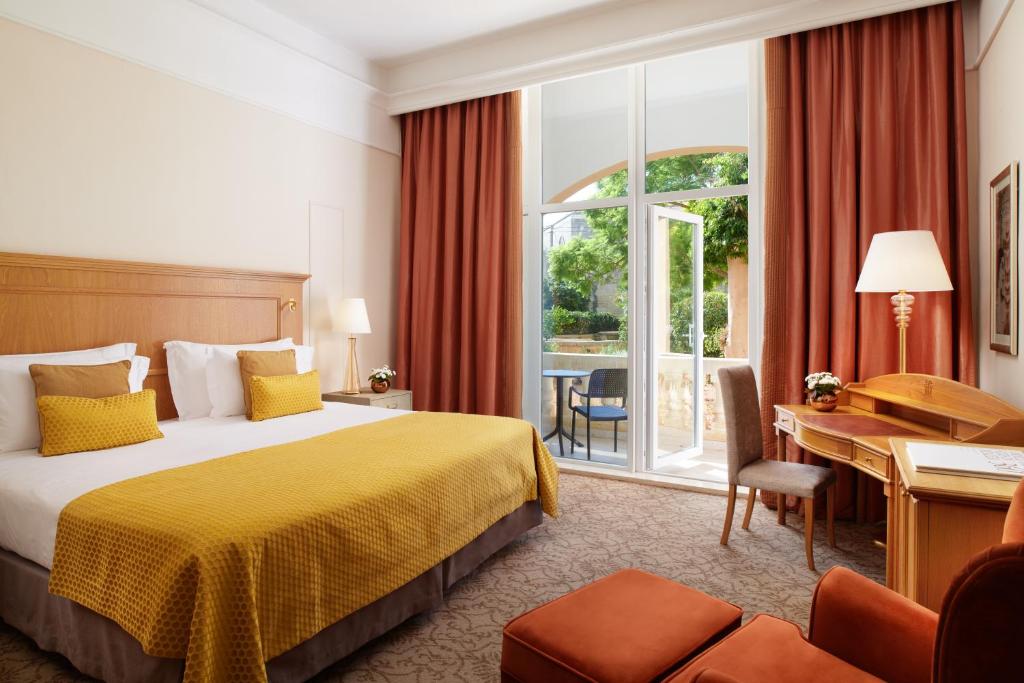 Corinthia Palace Malta is a luxurious 5-star hotel located in the heart of the island of Malta. This boutique hotel, built around an elegant converted villa from the 19th century, offers a range of amenities including an outdoor swimming pool, wellness centre, and gym. Surrounded by beautifully landscaped gardens, it provides a peaceful setting for a relaxing break. The hotel faces the Presidential Palace and is conveniently situated next to the picturesque San Anton Botanical Gardens. Each spacious guest room at Corinthia Palace Malta features a private balcony and modern comforts. The friendly and professional staff are always available to assist guests with their needs. Additional features include an indoor pool and limited access for children during mornings. With its central location, guests are well-positioned to explore Malta, with attractions such as the walled city of Medina just 4 km away and the popular resort town of St Julians only 7 km away.
– Luxurious 5-star hotel
– Outdoor swimming pool
– Wellness centre and gym facilities
– Beautifully landscaped gardens
– Convenient location for exploring Malta
Mercure St. Julian's Malta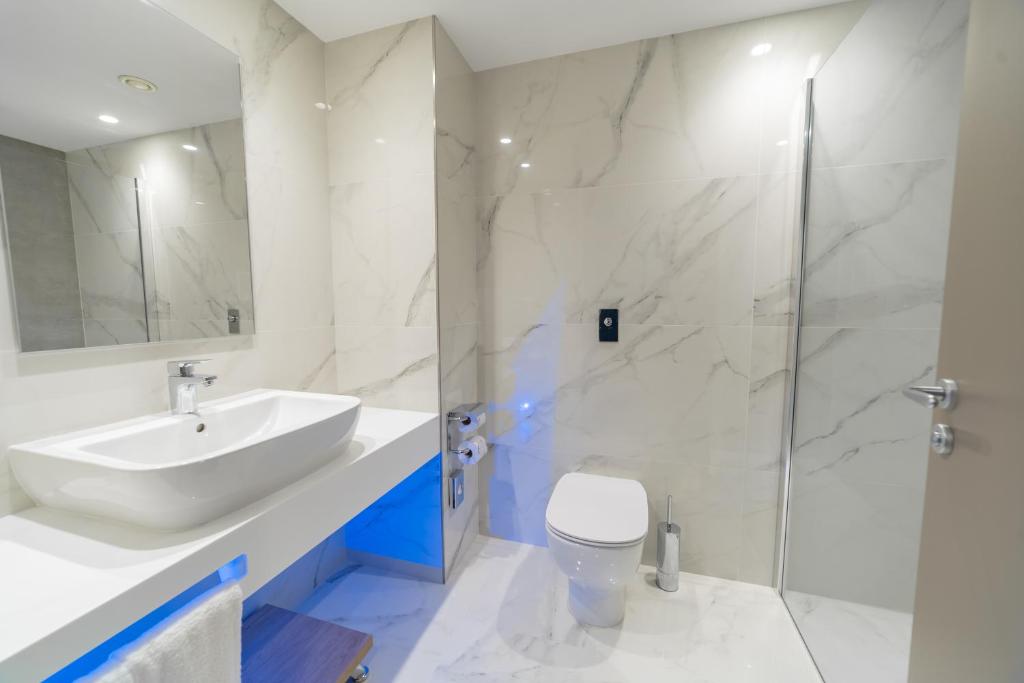 Located in the beautiful area of St. Julian's and overlooking Spinola Bay, the newly opened Mercure St. Julian's Malta offers a range of amenities for guests to enjoy. The hotel features a rooftop terrace with a swimming pool, providing the perfect spot to relax and take in the stunning views. Guests can also make use of the fitness centre to stay active during their stay. The modern rooms are equipped with all the necessary amenities, including a smart TV, desk, tea/coffee making facilities, and fridge. With its convenient location, guests will find themselves close to popular attractions such as Balluta Bay, St. George's Bay, and Portomaso Marina. There are also plenty of entertainment options in the area, including restaurants, clubs, casinos, and diving centres for those looking for adventure. Overall, Mercure St. Julian's Malta offers a comfortable stay with its range of facilities and excellent location.
– Rooftop pool offering breathtaking views
– Fitness centre for staying active during your stay
– Modern rooms equipped with all necessary amenities
– Convenient location near popular attractions and entertainment options
– Free WiFi throughout the hotel
Marina Hotel Corinthia Beach Resort Malta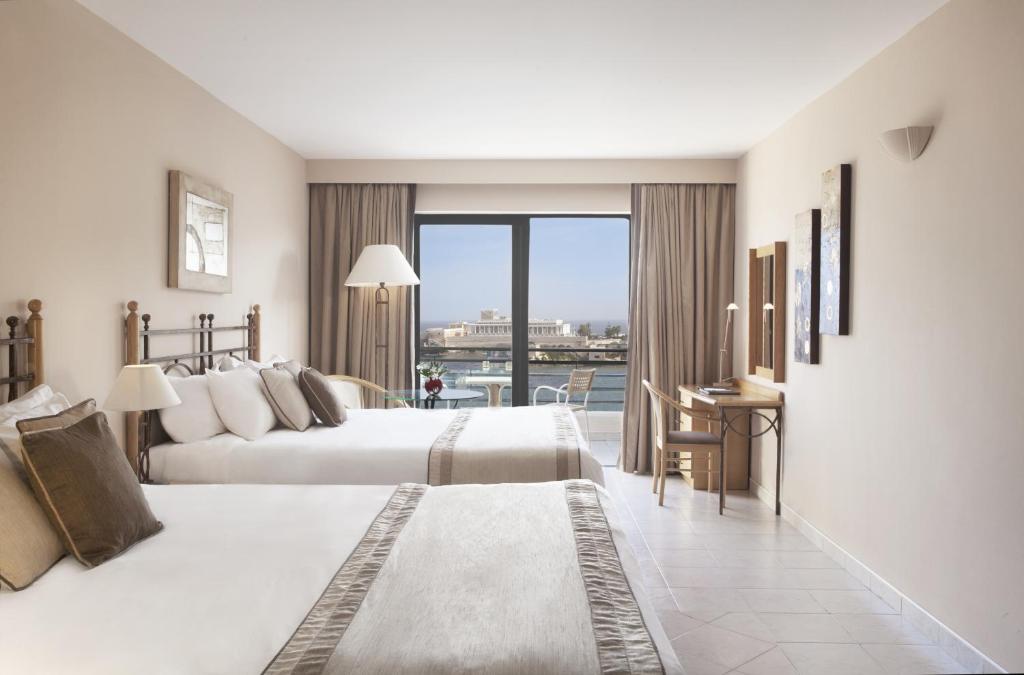 Marina Hotel Corinthia Beach Resort Malta offers an exceptional vacation experience with its stunning panoramic views of Malta's St. George's Bay. This eco-friendly hotel boasts a private beach club, diving center, and free WiFi throughout the property. Guests can enjoy a range of facilities including indoor and outdoor pools, a health club, and a kid's pool. Additionally, guests have access to the outdoor pools, indoor pool, sauna, gym, and wellness facilities at the partner property Apollo by Dee Spas. The rooms are decorated in vibrant pastel colors and feature balconies with seating areas. Amenities include air conditioning, satellite flat-screen TVs, and free WiFi access. With 10 restaurants and 4 bars offering Mediterranean delicacies along with innovative international dishes, guests will be spoilt for choice when it comes to dining options. The location is unbeatable as it is just steps away from St. George's beach and a bus stop that provides easy access to Valletta and Sliema – two of Malta's main cities. Restaurants and bars are also within walking distance from the hotel. Both free and private parking options are available.
Pros:
– Indoor and outdoor pools
– Private beach club
– Wide range of dining options
– Access to partner property's wellness facilities
Malta Hotels With Gym And Pool
When it comes to finding the perfect hotel in Malta, one of the top considerations for many travelers is access to a well-equipped gym and a refreshing pool. Luckily, Malta offers a selection of hotels that cater to fitness enthusiasts, with state-of-the-art gyms that feature modern equipment and knowledgeable staff. These hotels also boast inviting pools where guests can take a leisurely swim or simply relax by the water. Whether you're looking to maintain your workout routine while on vacation or unwind after exploring all that Malta has to offer, these hotels provide the ideal combination of fitness and relaxation amenities.
Hotel Juliani – Boutique Hotel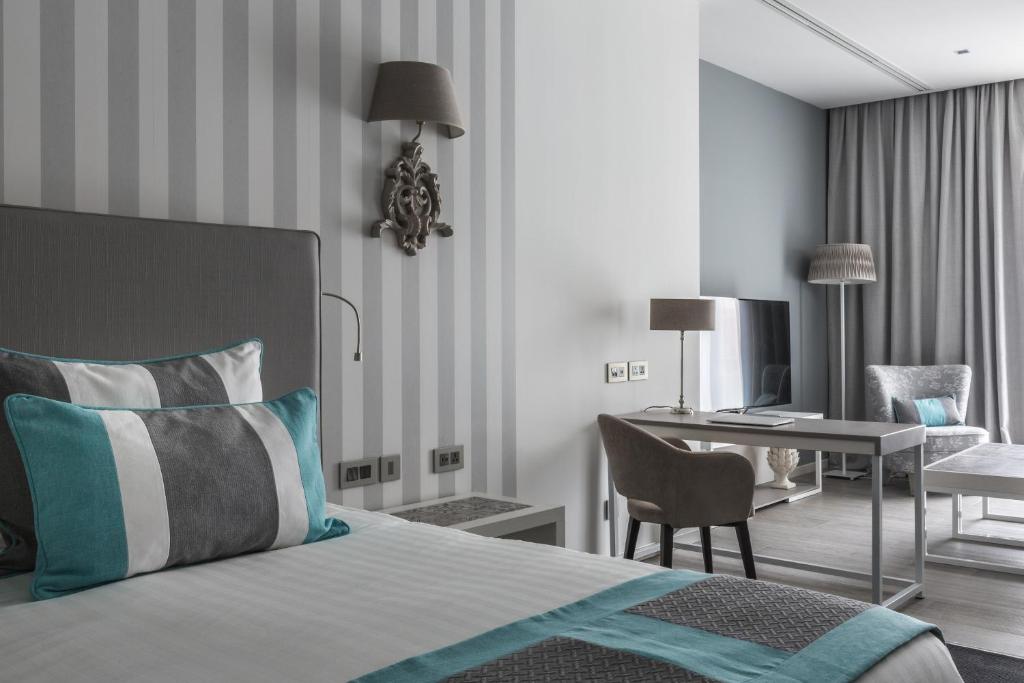 Hotel Juliani – Boutique Hotel is a stunning property located on Saint Julian's seafront, offering breathtaking panoramic views of Spinola Bay. Housed in an elegant townhouse, this boutique hotel provides a comfortable and luxurious stay for its guests. The spacious, air-conditioned rooms are well-appointed with modern amenities such as a minibar and satellite TV. The hotel features the Zest restaurant which specializes in both European and Asian cuisine, and also offers a terrace bar for guests to enjoy their meals with a view. The private bathrooms are equipped with soft bathrobes, walk-in showers, rain showers, hairdryers, and complimentary toiletries. Guests can start their day with a continental buffet breakfast at the Juliani Cafe or indulge in light meals and snacks throughout the day. In terms of location, the hotel is conveniently situated within a 10-minute walk from Balluta Bay beach and has excellent connectivity through the nearby Spinola bus stop.
– Rooftop terrace with pool
– Free Wi-Fi
– Free parking
– Convenient access to public transportation
– Excellent location near beaches
be.HOTEL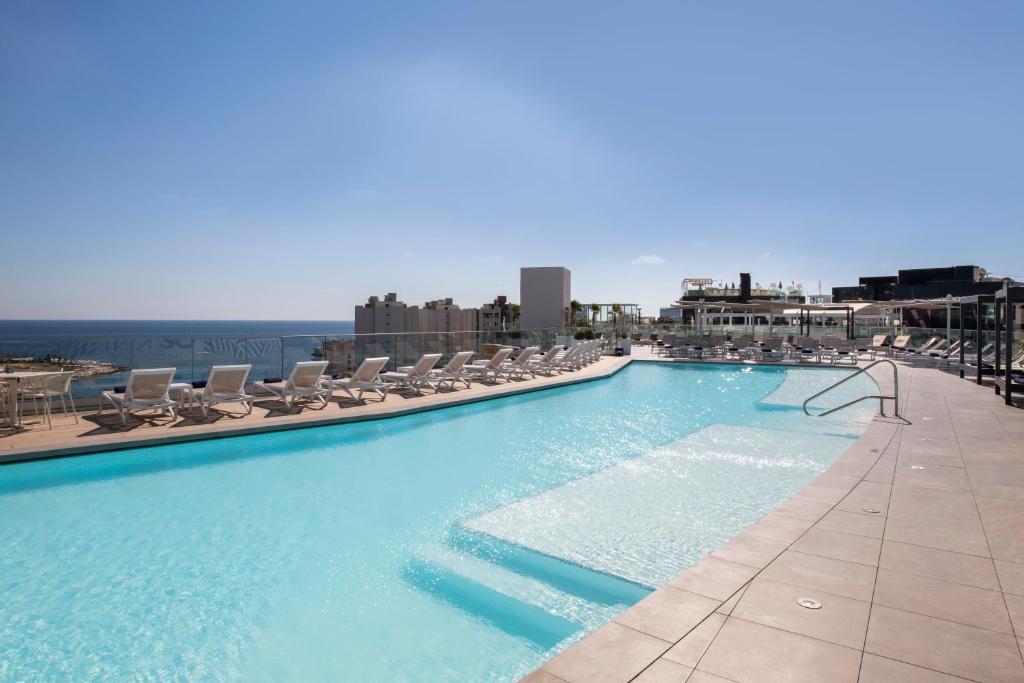 Located just 200 meters from the stunning sandy beach of St George's Bay, be.HOTEL is a vibrant and modern 4-star hotel situated within the Baystreet Tourist Complex. The highlight of this hotel is its large panoramic pool on the 11th-floor rooftop terrace, offering breathtaking views. The air-conditioned rooms are divided into two wings and feature interactive HD TVs and en suite bathrooms with hairdryers and complimentary toiletries. Guests can enjoy free WiFi throughout their stay. Within the complex, there are numerous shops, a family entertainment center, a bowling alley, and a wide range of restaurants to explore. Additionally, be.HOTEL's proximity to various pubs, bars, and clubs in Paceville ensures that guests can fully immerse themselves in the liveliness of Malta's nightlife scene. For those arriving by plane, Malta International Airport is conveniently located just 9 km away.
– Prime location by St George's Bay
– Spectacular panoramic pool on the rooftop
– Modern and colorful rooms with interactive HD TV
– Ample shopping options within the complex
– Close proximity to vibrant nightlife in Paceville
Pebbles Resort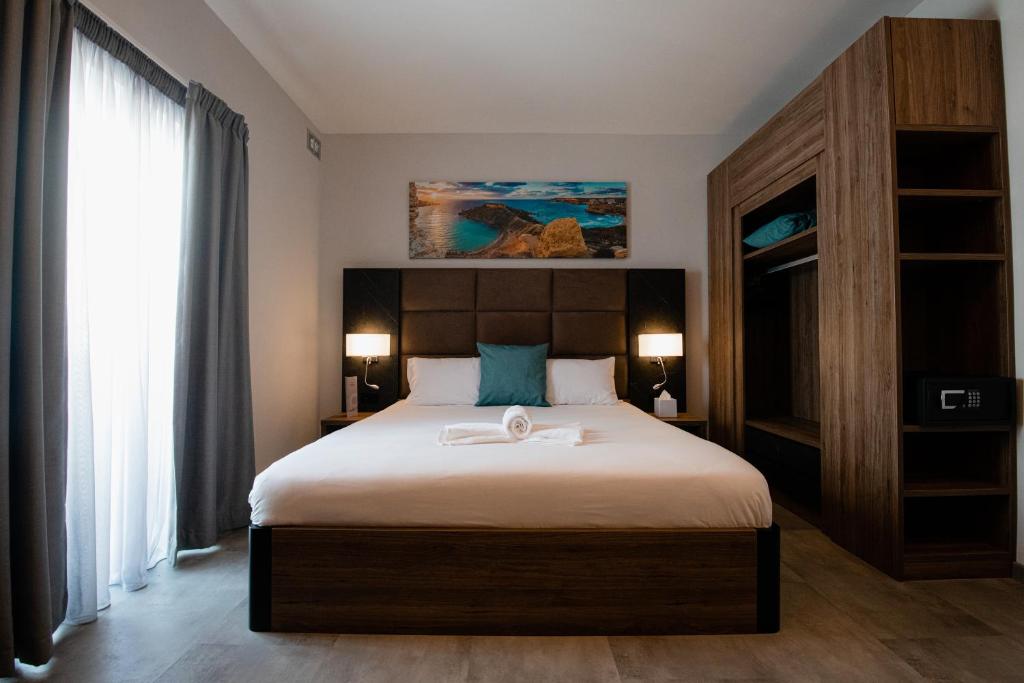 Pebbles Resort is a small 4-star hotel located in St Paul's Bay, just meters away from the Bugibba area. The hotel offers a range of amenities including two restaurants, an outdoor swimming pool, a gym, a heated indoor pool, and a hot tub. Guests can enjoy free WiFi in shared areas and in all rooms. The air-conditioned rooms feature balconies with pool or city views, along with modern comforts such as fridges, flat-screen TVs with international channels, tea/coffee making facilities, and safes. Additional services include a 24-hour front desk, room service, ATM machine, and currency exchange. The private bathrooms are equipped with toiletries and bath towels. There are also two bars on-site for guests to relax and unwind. The hotel's convenient location allows easy access to popular attractions such as Bugibba Square, Perched Beach, and Malta National Aquarium. For added convenience, Pebbles Resort offers assistance with paid shuttle service arrangements to Malta International Airport which is only 17 km away.
– Small hotel conveniently located near Bugibba Square
– Indoor and outdoor pools available for guests
– Free WiFi in all rooms and shared areas
– 24-hour front desk provides excellent customer service
– Assistance with shuttle service arrangements
Malta Hotels with Gym Information
| | |
| --- | --- |
| 🛎️ Hotels with Gym in Malta | 9 |
| 💰 Hotel prices starting from | $170 |
| 💵 Highest price | $1455 |
| 🥇 Average Review Score | 8.8/10 |
| 🛏️ Average number of Rooms | 94 |
FAQ
1. Are there any hotels with gym facilities in Malta?
Yes, there are several hotels in Malta that offer gym facilities to their guests. These gyms are well-equipped with modern exercise machines and equipment, providing travelers with the opportunity to maintain their fitness routines while on vacation. Staying at these hotels allows guests to enjoy the convenience of a gym without having to leave the property.
2. What types of workout equipment can I expect to find at hotels with gyms in Malta?
Hotels with gym facilities in Malta typically offer a range of workout equipment such as treadmills, stationary bikes, elliptical machines, free weights, and weightlifting machines. Some establishments even have additional amenities like yoga mats or aerobics classes for those looking for alternative forms of exercise.
3. Do the hotels charge extra fees for using their gym facilities?
The policies regarding gym access and potential fees vary from hotel to hotel in Malta. While some may include the use of their fitness center as part of their overall room rate, others might charge an additional fee or require guests to purchase a day pass specifically for gym access. It is advisable to check with your chosen hotel before your trip if you are concerned about additional costs.
4. Can non-guests use the gyms at these hotels?
In most cases, hotel gyms in Malta are primarily reserved for registered guests staying on-site. However, some establishments may offer day passes or allow non-guests access for a fee. It is best to contact each hotel directly to inquire about their policy regarding non-guest usage of their fitness facilities.
5. Are there any 24-hour gyms available at hotels in Malta?
While it is not common for hotels in Malta to have 24-hour gyms on-site due to security reasons and staffing limitations, some establishments do provide extended hours during which guests can access the fitness center outside regular operating hours. It is recommended to check with the hotel in advance if you require access to a gym during specific time frames outside standard hours of operation.
Popular Hotels With Gym destinations