Welcome fellow travelers to our exploration of the magnificent city of Lisbon, Portugal. As we embark on this journey, let us delve into a topic that is close to the hearts of fitness enthusiasts and health-conscious globetrotters alike: accommodations with fitness facilities in Lisbon. Whether you prefer to break a sweat in the morning or unwind after a day of sightseeing, Lisbon offers an impressive array of hotels with gymnasiums where you can maintain your workout regime without compromising on comfort and convenience.
In this bustling metropolis nestled along the scenic Tagus River, you will discover hotels that are not only known for their exceptional hospitality but also for their well-equipped fitness centers. No matter which district captures your interest – from the historic Alfama to the chic Chiado or even the vibrant Bairro Alto – there are establishments that cater to your desire for an active lifestyle while traveling. So lace up those running shoes or grab those dumbbells as we explore some of the best hotels with exercise facilities available in Lisbon. Get ready to stay fit and rejuvenated amidst breathtaking architecture, delicious cuisine, and warm Portuguese hospitality!
Best Lisbon Hotels With Gym And Fitness Center
EPIC SANA Lisboa Hotel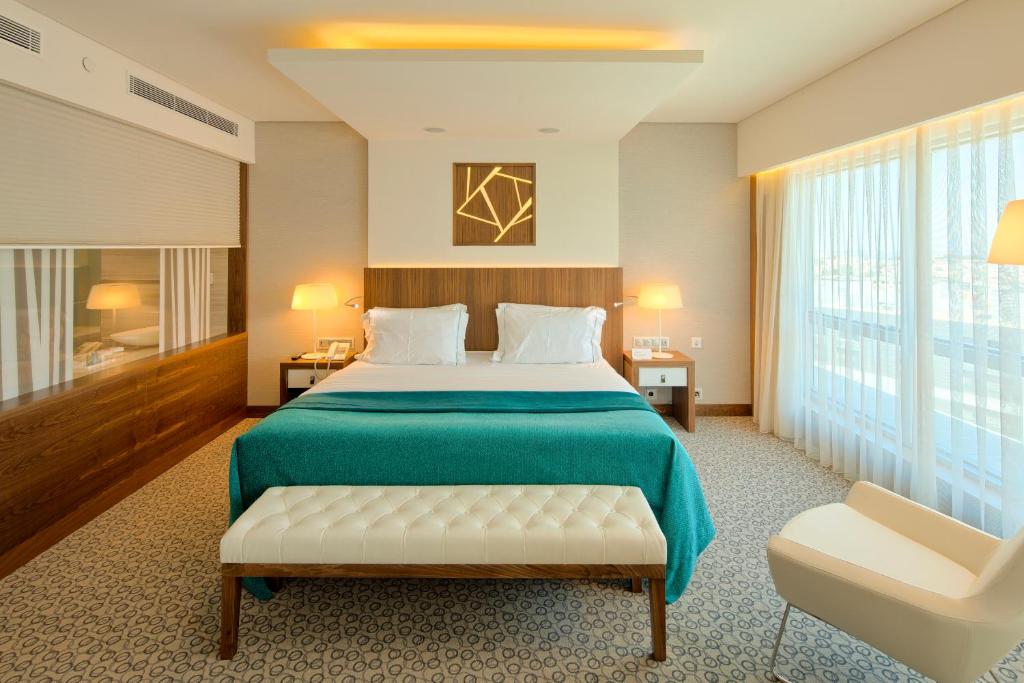 Located between the famous Amoreiras shopping center and the prestigious Marquês de Pombal square, EPIC SANA Lisboa Hotel is a stunning 5-star hotel in Lisbon. It offers elegant and spacious contemporary rooms and suites with breathtaking views of the city or river. The hotel boasts several dining options, including an award-winning restaurant – Flor-De-Lis, a lounge terrace and bar – Scale, and a rooftop bar – Upscale with an infinity pool lounge exclusively for hotel guests. For ultimate relaxation, guests can visit the SAYANNA Wellness & Spa, which features private treatment rooms, a lap pool, sauna, steam room, ice fountain, and sensorial showers. The hotel also has an impressive congress and event center with flexible meeting rooms. With its convenient location near public transportation and major attractions like Bairro Alto district, EPIC SANA Lisboa Hotel is the perfect choice for both business travelers and tourists.
– Elegant contemporary rooms
– Stunning city or river views
– Multiple dining options
– Luxurious wellness spa facilities
– Convenient location near attractions
Lumen Hotel & The Lisbon Light Show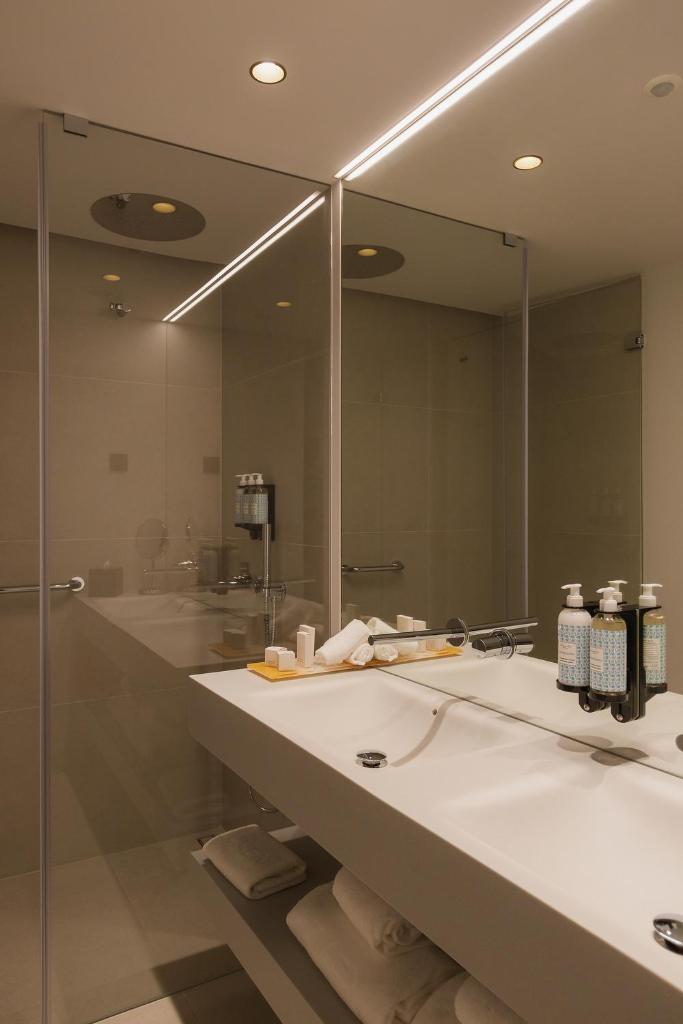 Lumen Hotel & The Lisbon Light Show is a contemporary hotel situated in Lisbon, offering guests a unique and immersive experience of light and color. Opened in September 2020, this hotel boasts an array of excellent amenities including a rooftop pool, fitness center, outdoor swimming pool, evening entertainment, and a 24-hour front desk. Guests can also enjoy the daily videomapping show that takes place in the hotel's interior garden. The air-conditioned rooms are well-equipped with modern facilities such as a coffee machine, minibar, safety deposit box, flat-screen TV, and private bathroom with a shower. A buffet breakfast is available each morning and there is free WiFi throughout the property. Additionally, the hotel features a restaurant, bar, shared lounge area for relaxation, and a sun terrace for guests to unwind on. Located near popular points of interest including Miradouro da Senhora do Monte and Dona Maria II National Theatre along with easy access to Humberto Delgado Airport just 5 km away.
Pros:
– Rooftop pool for ultimate relaxation
– Unique videomapping show providing an immersive experience of light and color
– Modern amenities in air-conditioned rooms
– Convenient location near popular attractions
– Free WiFi available throughout the property
NH Lisboa Campo Grande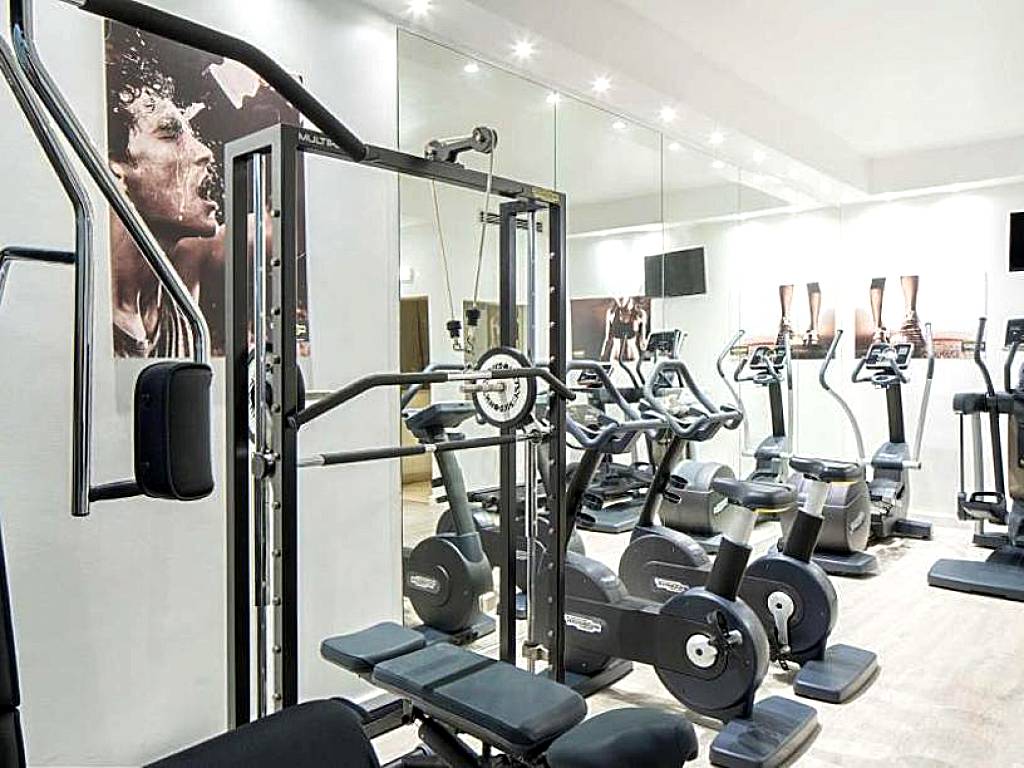 NH Lisboa Campo Grande is a conveniently located hotel, just across the street from Entrecampos Metro Station. It offers a range of amenities to ensure a comfortable stay for guests. The hotel serves a delicious breakfast buffet, complete with fresh juice, preserves, and gourmet coffee. For those looking to stay active during their trip, there is a well-equipped gym available. The rooms at NH Lisboa Campo Grande feature large windows and offer a pillow menu for added comfort. Each room also includes amenities such as a minibar, cable TV, and free Wi-Fi. Guests can relax in the lobby with a local newspaper or take advantage of the hiking and walking trails in the surrounding area. With its close proximity to Campo Grande Park and Lisbon Airport just 5 minutes away by car, this hotel is an ideal choice for travelers. Marquês de Pombal Square is also less than 10 minutes' drive away.
– Convenient location next to Entrecampos Metro Station
– Delicious breakfast buffet with various options
– Well-equipped gym for fitness enthusiasts
– Comfortable rooms with large windows and pillow menu
– Close proximity to Campo Grande Park and Lisbon Airport
Other places to stay in Lisbon
Hotels With Fitness Center In Downtown Lisbon
Hotels with fitness centers in downtown Lisbon offer a perfect blend of convenience and wellness for travelers looking to maintain their workout routine while exploring the city. These hotels provide state-of-the-art gym facilities equipped with modern exercise equipment, allowing guests to stay active and invigorated during their stay. Whether it's a quick cardio session or an intense strength training workout, these fitness centers cater to all levels of fitness enthusiasts. With dedicated staff on hand to assist guests and a serene ambiance, visitors can enjoy a seamless fitness experience in the heart of downtown Lisbon.
MYRIAD by SANA Hotels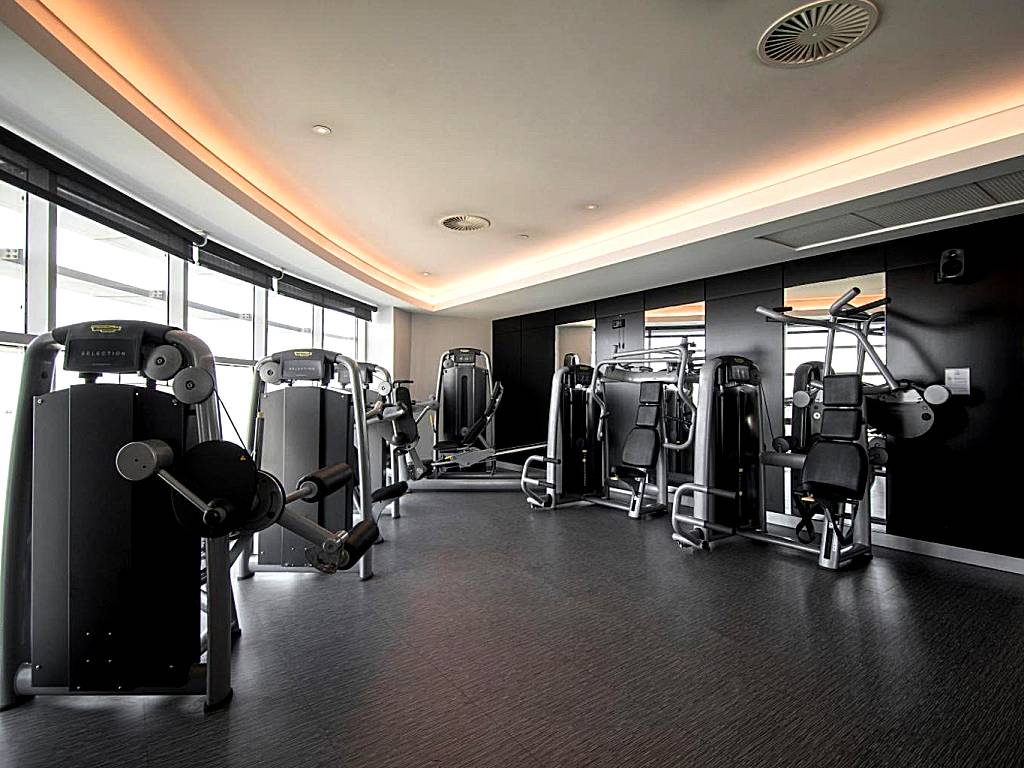 Located next to the Tagus River, beside the iconic Torre Vasco da Gama, is the luxurious MYRIAD by SANA hotel. With its impressive sail-shaped design, this Preferred Hotels & Resorts member offers contemporary rooms and suites with breathtaking panoramic views of the river or Parque das Nações. Indulge in epicurean experiences at their exceptional Michelin-starred restaurant, FIFTY SECONDS, or relax on the trendy and charming terrace of RIVER LOUNGE. The hotel also features SAYANNA WELLNESS & SPA on its 23rd floor, complete with treatment rooms, an indoor pool, and a fitness center. Additionally, there are flexible meeting rooms on the mezzanine level called LEÓNIDAS that boast natural light and stunning views over the river. Don't miss out on exploring MYRIAD CRISTAL CENTER—an unmissable congress and events center connected to the hotel by an aerial glass bridge. This convenient location provides excellent access to transportation facilities such as train stations and metro stations nearby. Guests can even enjoy a private VIP transfer service upon request for a seamless arrival or departure experience. Surrounding the hotel is a wide variety of shops, restaurants, bars along a picturesque 5 km stretch of Tagus riverfront.
Pros:
– Impressive sail-shaped design
– Breathtaking panoramic views
– Michelin-starred restaurant
– Trendy terrace with beautiful river views
– Convenient location with easy access to transportation facilities
NH Collection Lisboa Liberdade
Located on Liberdade Avenue, NH Collection Lisboa Liberdade is a 4-star hotel offering luxurious accommodations in the heart of Lisbon's historical and commercial center. The hotel boasts a seasonal rooftop pool and lawned terrace with stunning views over Lisbon and the Tagus River. With Avenida Metro Station just in front of the hotel, guests have easy access to explore the city. The spacious rooms feature modern decor and amenities such as Nespresso coffee machines, pillow menus, work desks, minibars, free high-speed WiFi, and flat-screen satellite TVs. Guests can enjoy a daily buffet breakfast with fresh local products and vegan/gluten-free options or opt for breakfast in their room or through room service. The on-site Restaurant Do Teatro serves delicious local cuisine while the ground floor café offers light snacks and refreshments. The rooftop bar is perfect for relaxing with a drink while taking in panoramic views of historic Lisbon and São Jorge Castle. Additionally, there are plenty of nearby restaurants, pubs, and shops to explore. For those looking to stay active during their stay, NH Collection Lisboa Liberdade features a 24-hour fitness center as well as access to a tennis court for guests' convenience. The hotel also offers meeting rooms with castle views and direct access to the rooftop area for events or business gatherings up to 35 people. With its central location near popular districts like Bairro Alto and Chiado, as well as attractions like Marques de Pombal Square, Rossio Train Station Santa Justa Lift ,and São Jorge Castle within walking distance or quick metro rides away,Humberto Delgado International Airport accessible via metro just 7 km away,this hotel is an ideal choice for both leisure travelers wanting easy exploration of Lisbon's highlights,and business travelers requiring convenient amenities,such as free Wi-Fi,a professional hair dryer,and guest relations service provided by NH Collection Lisboa Liberdade.
– Convenient location on Liberdade Avenue
– Seasonal rooftop pool and terrace with panoramic views
– Spacious rooms with modern decor and amenities like Nespresso coffee machines
– Variety of dining options including a restaurant, café, and rooftop bar
– 24-hour fitness center and access to a tennis court for guests.
BessaHotel Liberdade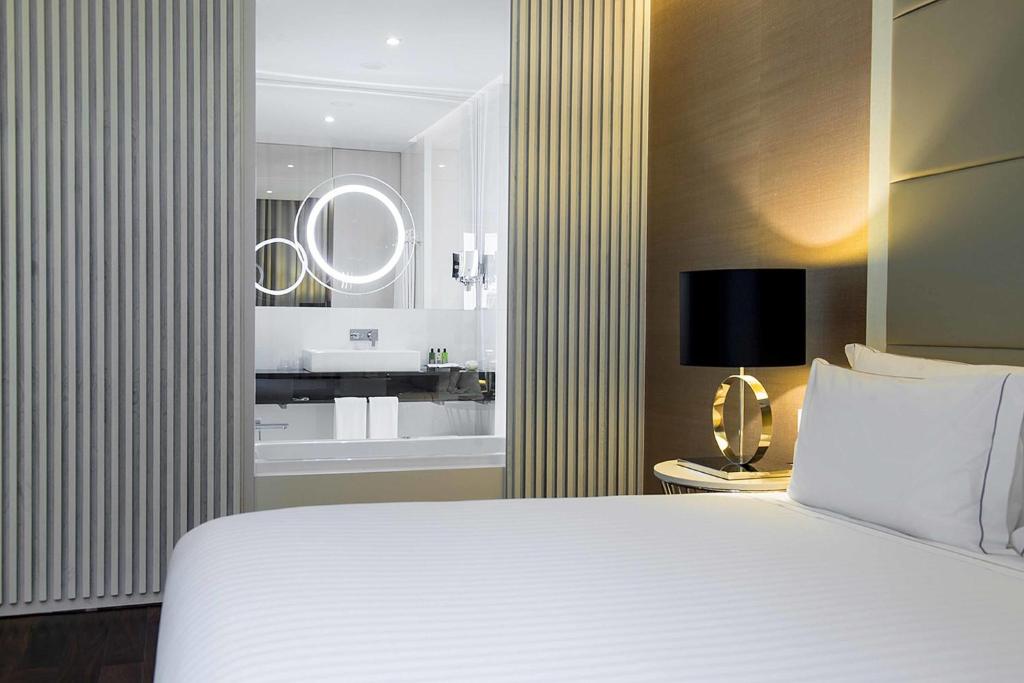 Located in Lisbon's prestigious Avenida da Liberdade, BessaHotel Liberdade offers a central and convenient stay. Just a few minutes away from Restauradores Square, this hotel provides guests with free WiFi and the option for private parking at an additional cost. The wellness area at BessaHotel Liberdade is impressive, featuring an indoor pool, sauna, Turkish bath, and fitness center. The luxurious air-conditioned rooms are tastefully decorated in a modern style and come equipped with a work desk and satellite/cable flat screen TV with Chromecast connectivity and video on demand. Some rooms even offer balconies with city views. With a 24-hour reception, BessaHotel offers additional amenities such as a business center and therapeutic massages upon request. Guests can also take advantage of luggage storage and laundry facilities during their stay. Plus, the hotel's location is ideal for exploring Lisbon as it is 500 meters from Rossio square and 700 meters from the commercial area of Chiado. The Restauradores Metro Station is conveniently located just 300 meters away while Lisbon International Airport is only 6 km away.
– Indoor pool for relaxation
– Central location near popular attractions
– Free WiFi access
– Wellness area including sauna and Turkish bath
– Luxurious rooms with modern decor
Lisbon Hotels With Gym And Pool
Lisbon boasts a wide range of hotels with gym and pool facilities, offering travelers the perfect opportunity to stay fit and relax during their visit to this vibrant city. Whether it's an invigorating workout or a refreshing swim, guests can enjoy state-of-the-art fitness equipment and pristine swimming pools within the comfort of their hotel. With these amenities readily available, visitors can maintain their fitness routine or simply unwind after exploring Lisbon's rich history and culture.
Pestana Sintra Golf Resort & SPA Hotel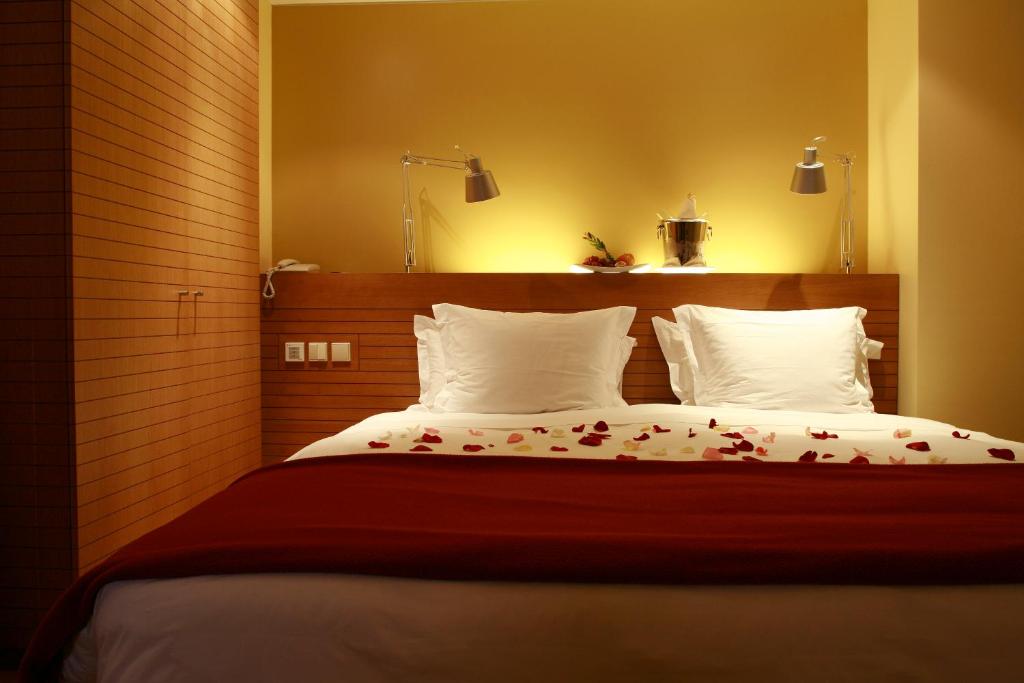 Located in Quinta da Beloura, the Pestana Sintra Golf Resort & SPA Hotel is a wonderful accommodation option for golf enthusiasts and those looking to explore the beautiful town of Sintra. Situated next to an 18-hole golf course and just 3 km from Sintra's center, this hotel offers a range of amenities to make your stay comfortable and enjoyable. The air-conditioned rooms feature a contemporary design and modern amenities, including flat-screen TVs. The hotel boasts two outdoor swimming pools, an indoor pool, and a spa area where guests can relax and rejuvenate. The property also offers tennis courts for active guests. The on-site Mourisco Restaurant serves delicious traditional Portuguese cuisine as well as international dishes in an upscale setting, while the O Chafariz Bar offers refreshing cocktails and snacks by the gardens. For ultimate relaxation, guests can indulge in deluxe massage services at the Physio Spa which also features sauna and Turkish baths. Additionally, there is free parking available on site (subject to availability). With its convenient location near Estoril and Cascais seaside resorts, Pestana Sintra Golf Resort & SPA Hotel provides a great base for exploring the surrounding area.
Pros:
– Convenient location next to an 18-hole golf course
– Indoor and outdoor pools for relaxation
– Tennis courts available for active guests
– Spacious rooms with balconies offering views of Sintra Hills
– On-site spa offering sauna, Turkish baths, and deluxe massage services
Tivoli Oriente Lisboa Hotel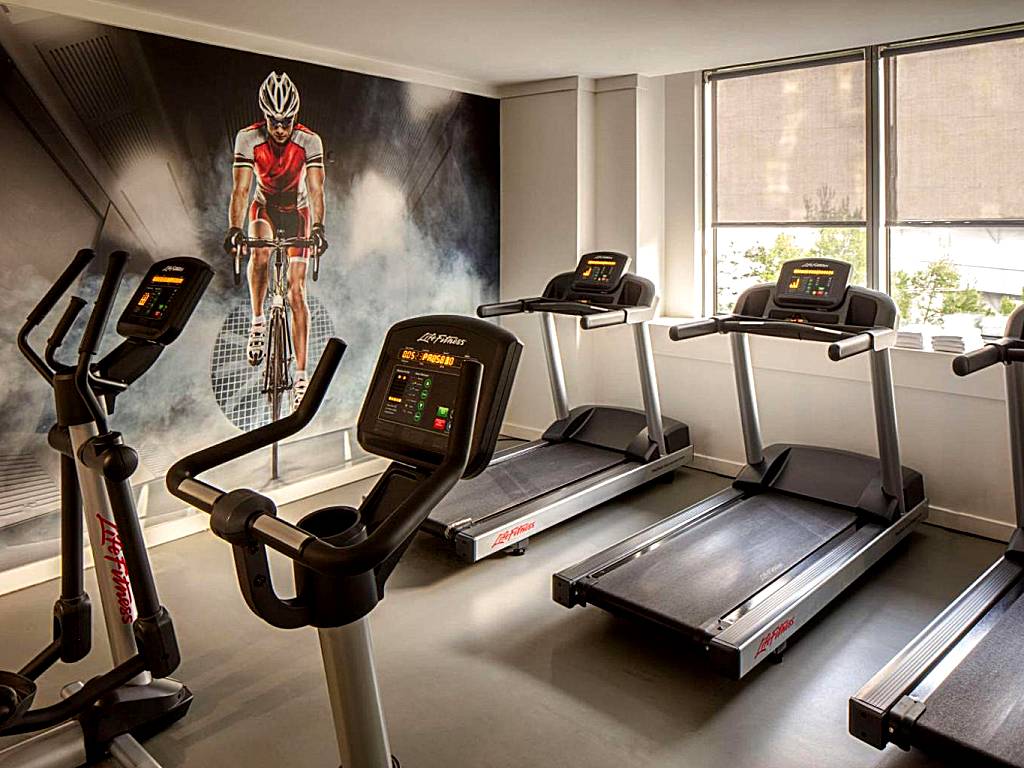 Tivoli Oriente Lisboa Hotel is a contemporary accommodation located in Lisbon's iconic Parque das Nações, offering stunning views of the Tagus River. The hotel features an indoor pool with a hot tub, relaxation facilities, and a recently refurbished fitness center. The renovated and soundproofed rooms are beautifully decorated, with most of them featuring designer furnishings and captivating views of Lisbon or the Tagus River. Each room includes satellite TV channels and an en suite bathroom with either a bathtub or shower. Guests can also enjoy delightful cocktails at the Sky Bar, which offers panoramic views of Lisbon and the Tagus River. The hotel's convenient location allows easy access to popular landmarks such as Vasco da Gama Shopping Centre and Estação do Oriente Station. Additionally, Lisbon International Airport is just a five-minute drive away or three metro stops (ten minutes) away.
– Contemporary accommodation overlooking the Tagus River
– Indoor pool with hot tub and relaxation facilities
– Beautifully decorated rooms with captivating views
– Sky Bar offering panoramic views
– Convenient location near popular landmarks
Moxy Lisboa Oriente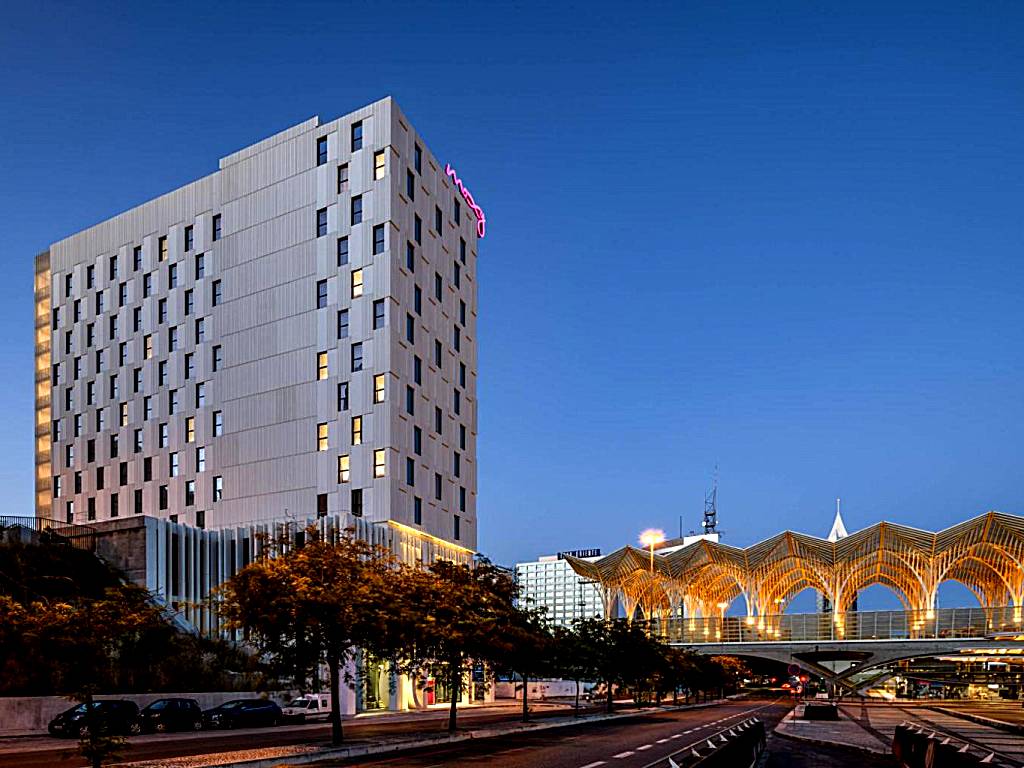 Opened in July 2020, Moxy Lisboa Oriente is a 3-star hotel located in Lisbon, just 300 meters from Gare do Oriente. The hotel offers modern accommodation with a fitness centre, private parking, and a shared lounge. With free WiFi throughout the property, guests can enjoy a comfortable stay with amenities such as air-conditioned rooms featuring a desk, safety deposit box, flat-screen TV, and private bathroom with shower. The hotel also provides a continental breakfast for guests to start their day. Conveniently situated near popular attractions like Lisbon Oceanarium (1.3 km), Miradouro da Senhora do Monte (8.4 km), and Commerce Square (9.1 km), Moxy Lisboa Oriente is an ideal choice for travelers looking for a stylish yet affordable stay in Lisbon.
– Modern and stylish accommodation
– Fitness centre available for guests
– Private parking for convenience
– Free WiFi throughout the property
– Continental breakfast offered
Lisbon Hotels with Gym Information
| | |
| --- | --- |
| 🛎️ Hotels with Gym in Lisbon | 9 |
| 💰 Hotel prices starting from | $144 |
| 💵 Highest price | $874 |
| 🥇 Average Review Score | 8.8/10 |
| 🛏️ Average number of Rooms | 39 |
FAQ
Can I find hotels with a gym in Lisbon?
Yes, you can definitely find hotels with gyms in Lisbon. The city offers a wide range of accommodations that cater to health-conscious travelers who want to maintain their fitness routines while on vacation. Many hotels in Lisbon have well-equipped gyms that include cardio machines, weightlifting equipment, and sometimes even group exercise classes.
Are hotel gyms in Lisbon open 24/7?
No, most hotel gyms in Lisbon are not open 24/7. While some may have extended hours beyond regular working hours, it is common for hotel gyms to operate within certain time frames during the day. It's advisable to check with your chosen hotel beforehand regarding their gym's operating hours if you plan on using it during specific times.
Do all hotels with a gym offer personal training services?
Not all hotels with gyms in Lisbon offer personal training services. While some upscale or luxury hotels may provide this option as part of their fitness facilities, it is not guaranteed across all establishments. However, guests can expect assistance from trained staff members who can guide them on how to use the gym equipment properly.
Are there any additional fees for using the hotel gym?
In most cases, using the hotel gym in Lisbon is included as part of your room rate or resort fee. However, there might be exceptional cases where certain amenities such as spa facilities or specialized fitness classes require an additional fee. It's always recommended to inquire about any potential extra charges before utilizing the gym facilities.
What other wellness amenities do these hotels provide besides a gym?
Hotels with gyms in Lisbon often go beyond just offering fitness centers and include various other wellness amenities for their guests' comfort and relaxation. These may include spa services like massages and treatments, swimming pools for leisurely swims or aqua workouts, saunas or steam rooms for detoxification purposes, and sometimes even yoga or meditation classes to promote mental well-being.
Popular Hotels With Fitness Center destinations