Welcome to the vibrant city of Amman, Jordan! If you're someone who loves staying active even while traveling, then you've come to the right place. Today, we'll be exploring some of the finest accommodations in Amman that not only provide comfortable lodging but also offer state-of-the-art fitness facilities. So whether you're a fitness enthusiast or simply want to stay in shape during your trip, these Hotels With Gym in Amman will exceed your expectations.
Amman is known for its rich history and breathtaking landmarks, but it's also a great destination for health-conscious travelers. Imagine waking up in the morning and heading straight to a well-equipped gym where you can kick-start your day with an invigorating workout session. These Hotels With Gym ensure that guests have access to top-notch fitness equipment such as treadmills, stationary bikes, free weights, and more. Whether you prefer cardio exercises or strength training, there is something for everyone at these fitness centers.
In addition to the cutting-edge gym facilities, these hotels also understand the importance of relaxation after a challenging workout. Many of them boast spa amenities such as sauna rooms and steam baths where guests can unwind and rejuvenate their bodies after exerting themselves. Furthermore, some establishments feature swimming pools that allow visitors to cool off or engage in leisurely laps under the sun.
So if you're looking for accommodations that seamlessly combine comfort with fitness opportunities during your visit to Amman, look no further than these Hotels With Gym. Your body will thank you for maintaining an active lifestyle while exploring all this incredible city has to offer!
Best Amman Hotels With Gym And Fitness Center
Amman Marriott Hotel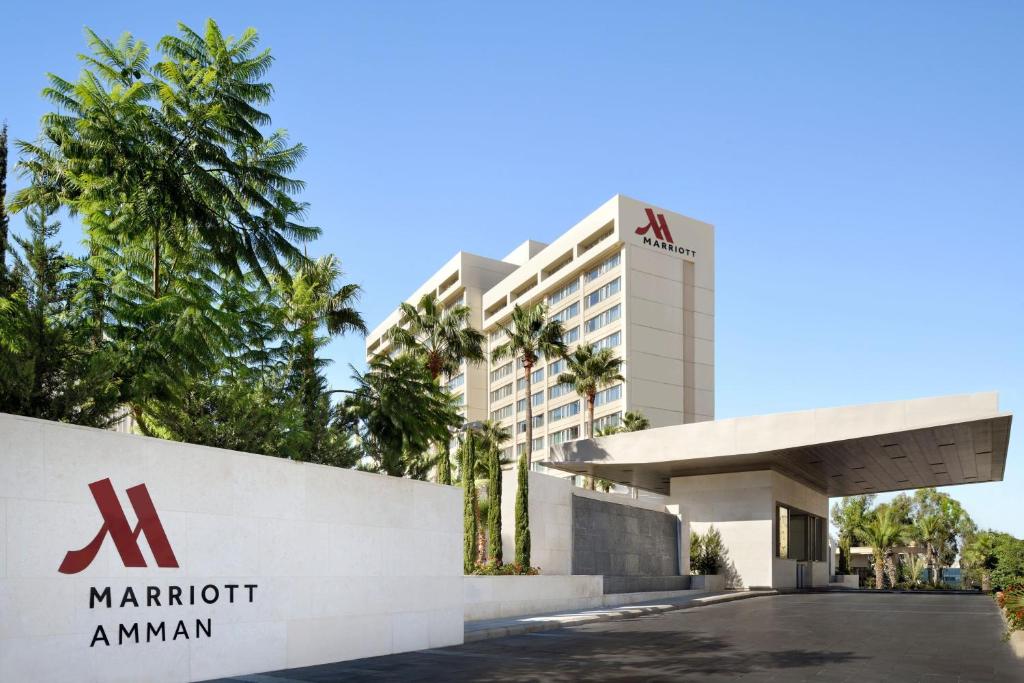 The Amman Marriott Hotel is a luxurious 5-star hotel located in the Shmeissani district of Al Abdali, offering well-appointed and spacious rooms. The hotel boasts six restaurants, including Villa Mediterrano serving delicious Mediterranean cuisine and Il Terrazzo offering authentic Italian dishes. Guests can also enjoy gourmet food, fine wine, and cigars at the award-winning Library Lounge & Cigar Bar. The hotel features a health club with two pools, where guests can relax or work out in the gym. For those seeking relaxation, massages and beauty treatments are available at the Oasis Health Club. The rooms and suites are equipped with Marriott's Jack Pack technology for an enhanced in-room experience, with deluxe rooms featuring Chromecast and a 49-inch flat-screen TV while suites offer a 55-inch flat-screen TV. The hotel is conveniently located near the shopping district and financial center of Amman, making it an ideal choice for both business and leisure travelers.
– Well-appointed and spacious rooms
– Six restaurants offering a variety of cuisines
– Health club with two pools
– Convenient location near shopping district and financial center
– Marriott's Jack Pack technology in all rooms
Landmark Amman Hotel & Conference Center
The Landmark Amman Hotel & Conference Center is a luxurious hotel situated in the bustling diplomatic and business districts of Amman. Guests can enjoy complimentary Wi-Fi, an inviting outdoor pool, and a well-equipped fitness center. The rooms at Landmark Amman & Conference Center are modern and spacious, offering comfortable seating areas and satellite TV. For those seeking relaxation, the Fitness n' Wellness health club provides various amenities including a hot tub and sauna, as well as rejuvenating massage treatments such as deep tissue and shiatsu massages. With six restaurants and bars on-site, guests have plenty of dining options to choose from including the Colours All Day Restaurant for all-day dining, Sugar Cube for fresh juices, and Ghoroub located on the 13th floor which serves refreshing cocktails. Additionally, the hotel is conveniently located just a 5-minute drive away from the Roman Theatre while Marka International Airport is only 8 km away. Pros:
– Prime location in the heart of diplomatic and business districts
– Free Wi-Fi
– Outdoor pool
– Well-equipped fitness center
– Multiple dining options available
Sheraton Amman Al Nabil Hotel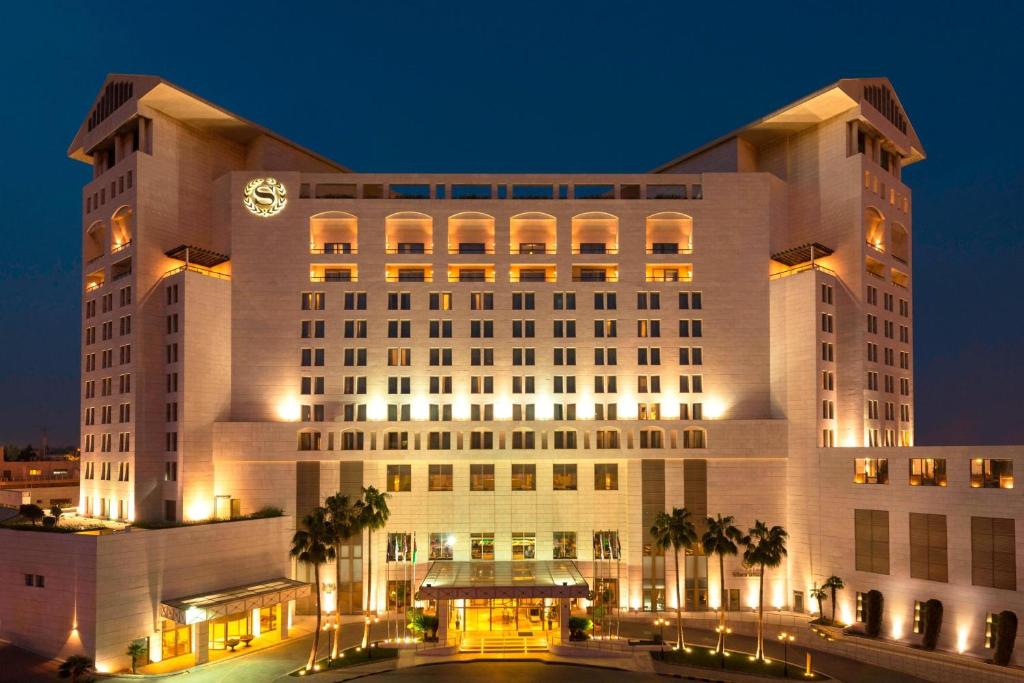 Sheraton Amman Al Nabil Hotel is a luxurious 5-star hotel located in the heart of Amman's embassy and business district. This luxury hotel offers indoor and outdoor pools, a spa, and a gym. Its prime location makes it convenient for guests to explore popular cultural and historical sites, as well as various malls and shopping centers in the area. The hotel boasts 268 spacious rooms and suites fitted with chic furnishings, offering guests the Sheraton Signature Sleep Experience beds for ultimate comfort. Modern amenities such as free WiFi and satellite TV are available in every room, with some rooms featuring a seating area and private terrace. Guests can indulge in massage treatments or unwind in the steam bath at Sheraton Amman spa, while fitness enthusiasts can enjoy the modern gym equipped with cardiovascular equipment and free weights at Sheraton Fitness. Additional facilities include interactive fitness activities, hot tubs, saunas, steam rooms, and relaxing massages at Shine Spa. For dining options, guests can savor a daily breakfast at the Spice Garden all-day dining restaurant which also serves themed buffet dinners. The Green Lounge offers an extensive selection of coffees and teas from around the world along with live entertainment in the evening. The Bar provides an eclectic atmosphere with a wide variety of beverages to choose from. With its convenient location just 25 minutes away from Queen Alia International Airport by car, Sheraton Amman Al Nabil Hotel ensures that guests have easy access to both leisurely activities and important travel connections.
– Luxurious 5-star hotel
– Indoor and outdoor pools
– Spa facilities including massage treatments
– Modern gym equipped with cardiovascular equipment
– Convenient location for exploring cultural sites
Other places to stay in Amman
Hotels With Fitness Center In Downtown Amman
Downtown Amman offers a wide range of hotels with excellent fitness centers, making it an ideal destination for health-conscious travelers. These hotels provide state-of-the-art gym facilities that cater to all fitness levels and preferences. Whether you are looking for cardio equipment, weight machines, or group exercise classes, you will find everything you need to maintain your workout routine while exploring the vibrant city of Amman. With their convenient locations in downtown, these hotels offer easy access to popular attractions and dining options, ensuring a well-rounded travel experience for fitness enthusiasts.
W Amman Hotel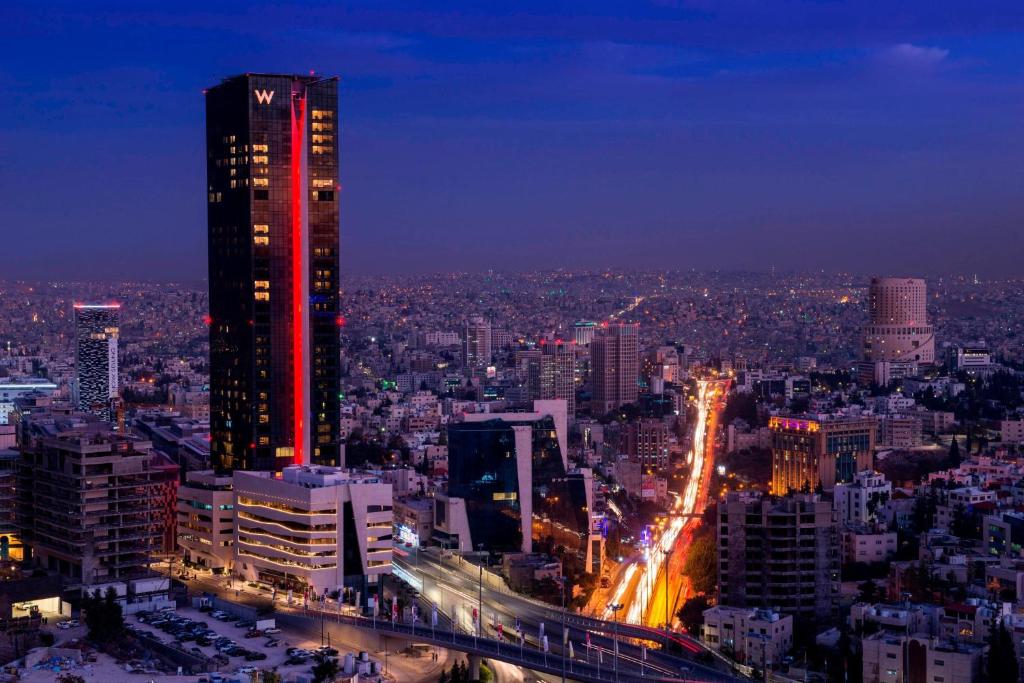 W Amman Hotel is located in the heart of Abdali, Amman's up-and-coming new downtown. With its contemporary and bold architectural design, the hotel offers stunning views of the city's seven hills. Guests can enjoy free high-speed WiFi throughout their stay. The hotel features 280 vibrant guest rooms, including 44 suites, all designed with floor-to-ceiling windows that showcase the iconic Amman cityscape. The interior exudes a high-energy vibe with vivid design elements and cutting-edge technology. Each room is equipped with a flat-screen TV with cable channels and guests can enjoy in-room Illy coffee or tea from the W Mix Bar. The W signature bed ensures a comfortable sleep experience, while the bathroom offers both rain showers and bathtubs along with Bliss® amenities for relaxation. Dining options include an all-day dining restaurant serving authentic dishes and a specialty venue offering Asian-inspired flavors. Guests can also unwind in the Living Room or experience AURA, a three-floor destination bar known for its pulsating music scene. For those seeking wellness activities, there is a state-of-the-art FIT gym as well as a sun terrace where yoga sessions take place. The WET® pool invites guests to soak up the warm Jordanian sun while AWAY® Spa offers pampering treatments for ultimate relaxation. Additional amenities include a WIRED® Business Center for business needs and P.A.W – Pets Are Welcome™ program for pet-friendly stays.
Pros:
– Convenient location in Abdali, Amman's new downtown
– Stunning views of the city's seven hills from floor-to-ceiling windows
– High-energy interior design and cutting-edge technology
– Variety of dining options including authentic cuisine and specialty venues
– State-of-the-art fitness facilities and spa services available
Kempinski Hotel Amman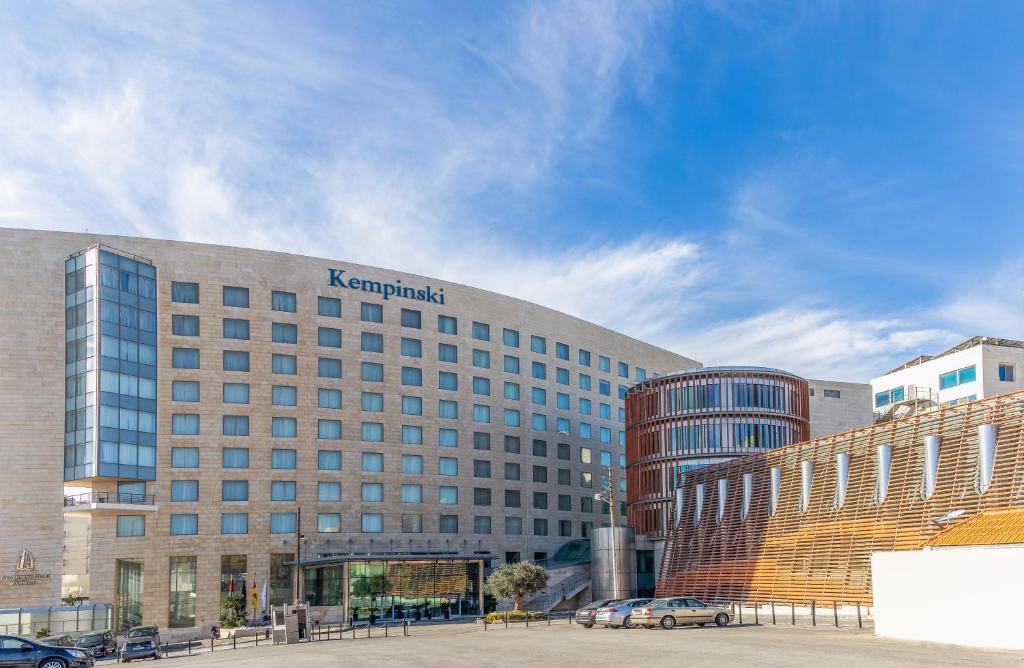 The Kempinski Hotel Amman is a luxurious hotel situated in Shmeisani, Amman's central business district. This hotel offers guests a variety of amenities and services to ensure a comfortable stay. The modern rooms feature a seating area, pillow menu, and marble bathroom with luxury amenities. Guests can enjoy panoramic views of the city from their rooms, while some rooms also offer a separate living area, LCD TV, and access to the Executive Lounge. With three on-site restaurants, including the Via Appia Restaurant serving delicious Italian cuisine made from fresh ingredients, guests are spoiled for choice when it comes to dining options. The hotel also boasts a lively sports bar with a video game area and Le Cafe Lounge and Terrace where guests can relax with cocktails and enjoy live music. For those looking to pamper themselves, the Kempi Spa offers a range of body massages and beauty treatments. Additionally, the hotel features billiards, eight bowling alleys for entertainment as well as a playground for children. During the summer months, guests can take advantage of the heated outdoor pool. Conveniently located less than 2 km from Aş Şaqrah's center and 9 km from Marka International Airport, the Kempinski Hotel Amman provides free private parking on-site.
– Convenient location in central business district
– Panoramic views of Amman city from some rooms
– Variety of dining options including Italian cuisine
– Excellent spa facilities offering massages and beauty treatments
– Entertainment options such as billiards and bowling alleys
Mövenpick Hotel Amman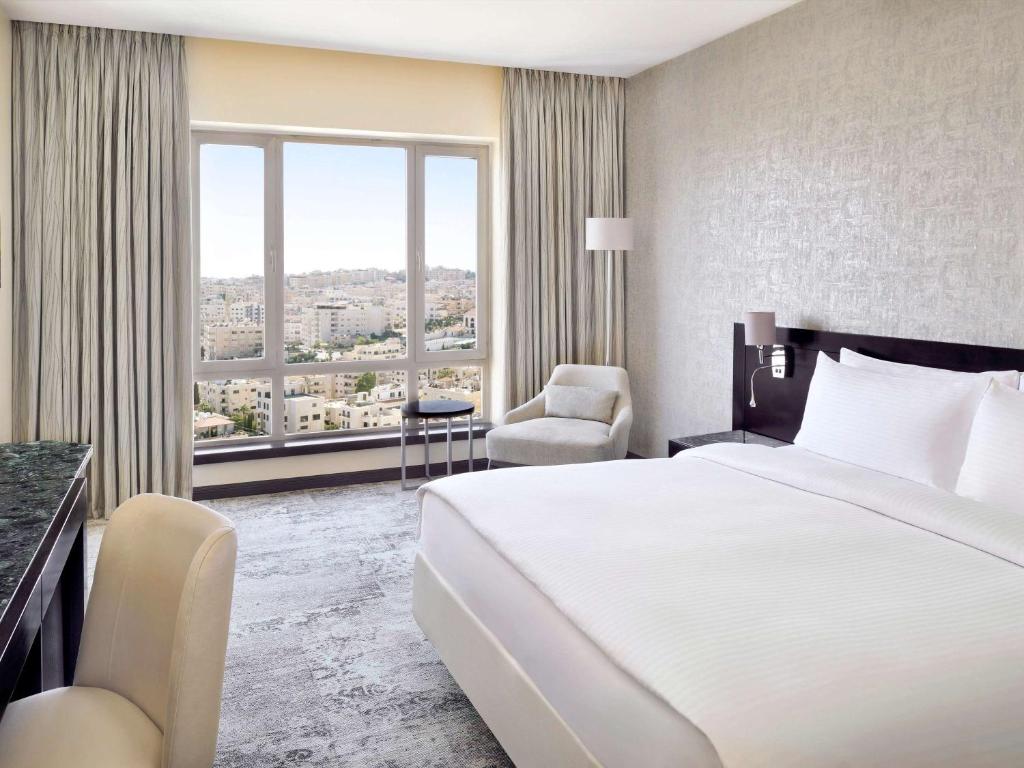 The Mövenpick Hotel Amman is a high-rise property located in a business district near government offices, making it an ideal choice for business travelers. It is also conveniently situated just 30 minutes' drive from exhibitions at Amman International Fair, making it a comfortable base for those looking to explore the capital's rich history. With 218 rooms spread across 14 floors, the hotel provides a range of accommodation options to suit different needs and budgets. Guests can choose from Classic rooms to Executive rooms, as well as various sizes of suites. All rooms offer free high-speed internet and coffee & tea making facilities. The hotel boasts four unique dining experiences: The Cappuccino Lounge serves fresh pastries and delicious beverages; The Senate All-Day Dining Restaurant offers daily breakfast, lunch, and dinner buffets with an à la carte menu available; Trend Club + on the first floor provides an excellent atmosphere for guests looking to dance the night away while enjoying bar food and drinks; Rumors Lounge offers classic cocktails and panoramic views along with a delicious food menu. In addition to its dining options, Mövenpick Hotel Amman features a Health Club with a modernly equipped gym and spa facilities for guests to relax and rejuvenate after a long day. There is also an outdoor pool available for guests' enjoyment. For those planning events or special occasions, the property offers eight event venues including a ballroom that can accommodate up to 1200 guests. Queen Alia International Airport is just a 30-minute drive away.
– Convenient location in a business district near government offices
– Range of accommodation options including suites
– Four unique dining experiences offering diverse menus
– Well-equipped gym and spa facilities in the Health Club
– Outdoor pool for relaxation
Amman Hotels With Gym And Pool
Amman offers a wide selection of hotels with gym and pool facilities, making it an ideal destination for fitness enthusiasts and those looking to relax. Whether you prefer to start your day with a refreshing swim or maintain your workout routine while traveling, these hotels offer state-of-the-art gyms equipped with modern fitness equipment. After breaking a sweat, unwind in the inviting pools where you can take a dip or simply soak up the sun on loungers by the water's edge. With their exceptional facilities, Amman's hotels ensure that guests can stay active and rejuvenated throughout their stay.
Amman International Hotel
Amman International Hotel is a five-star boutique hotel located on Queen Rania Street in Amman. Its prime location offers easy access to Jordan University and Almadena Almunawara Street, known for its prestigious shopping centers. The hotel is only a 30-minute drive from the airport and just 10 minutes away from attractions such as the Royal Culture Center, military museum, and sports city. The hotel boasts 100 elegantly appointed guest rooms with spacious layouts and stunning views of Amman. Each room comes equipped with amenities such as air conditioning, wireless high-speed internet access, a 56" flat screen smart TV with YouTube and streaming capabilities, as well as a hot bathtub or walk-in rain shower. Other complimentary offerings include tea, coffee, mineral water, and a mini-bar.
Pros:
1. Range of exceptional venues for gastronomical experiences.
2. Oasis beauty and fitness spa offering top-quality facilities for well-being.
3. Organizes special conferences, events, wedding receptions, gala dinners.
4. Offers guided city tours and day trips around Jordan.
5. Free valet parking with round-the-clock security measures in place.
Fairmont Amman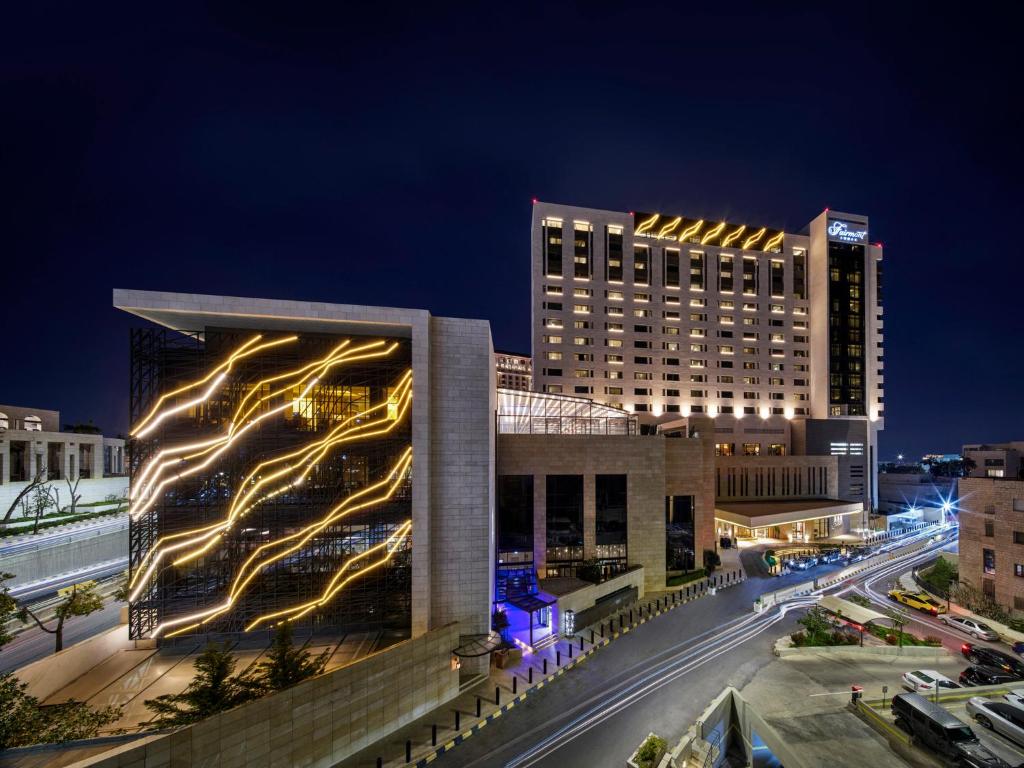 Located in an ideal spot on the Firth circle, with Abdoun within walking distance, Fairmont Amman is a five-star deluxe hotel offering contemporary design and breathtaking views of the beautiful Amman hills. The 317 spacious and elegantly appointed guest rooms and suites come complete with premium amenities. Each room features a 43" flat screen LED TV in the living area, luxurious marble bathrooms with a walk-in rain shower and deep soaker tub, as well as state-of-the-art technology including wired and wireless high-speed internet access and media connectivity panel. The hotel boasts exceptional dining venues such as Nur with its Levantine cuisine, Caprice which blends art, music, culture alongside signature cocktails mixology. Pan offers contemporary Asian cooking while Nasim serves fragrant hot and cold mezze, grilled meats, and traditional Jordanian dishes. Guests can also indulge in wellness at the Willow Stream Spa which offers fitness facilities including vitality pools, Turkish hamam scrub room, Dead Sea pool, inhalation steam rooms and healing saunas. Queen Alia International Airport is just a 35-minute drive away from the hotel.
– Convenient location near Abdoun
– Spacious rooms featuring modern amenities
– Exceptional dining experiences
– Extensive wellness facilities at Willow Stream Spa
– Close proximity to Queen Alia International Airport
Amman Hotels with Gym Information
| | |
| --- | --- |
| 🛎️ Hotels with Gym in Amman | 8 |
| 💰 Hotel prices starting from | $228 |
| 💵 Highest price | $1178 |
| 🥇 Average Review Score | 8.6/10 |
| 🛏️ Average number of Rooms | 26 |
FAQ
Are there hotels with gyms in Amman, Jordan?
Yes, there are several hotels in Amman that have dedicated gym facilities for their guests. These hotels understand the importance of fitness and wellness, and provide well-equipped gyms with state-of-the-art equipment to accommodate the needs of their guests. Whether you are looking to maintain your regular workout routine or simply want to stay active during your stay, Amman offers a range of hotel options with gym facilities.
How do I find hotels with gyms in Amman?
To find hotels with gyms in Amman, you can use online travel websites or hotel booking platforms. Simply enter your desired location (Amman) and filter the search results by checking the box for "gym" or "fitness center" under the amenities section. This will narrow down the options and show you hotels that offer gym facilities. Additionally, most hotel websites also mention their amenities on their official pages, so you can check individual hotel websites as well.
Do all hotels in Amman have gyms?
Not all hotels in Amman have gyms or fitness centers. While many establishments recognize the importance of offering these facilities to their guests, some smaller budget hotels may not have dedicated gym spaces due to limited resources or space constraints. Therefore, if having access to a gym is important to you during your stay in Amman, it is advisable to double-check before making a reservation or choose from one of the many established upscale hotels that feature fitness centers.
What kind of equipment can I expect at hotel gyms in Amman?
Hotel gyms in Amman typically offer a range of modern exercise equipment such as treadmills, elliptical machines, stationary bikes, weightlifting stations, and free weights. The exact selection may vary from one hotel to another based on their size and level of luxury. Some high-end properties might even offer additional amenities like swimming pools, spa services, or yoga studios alongside their gym facilities.
Are hotel gyms in Amman free for guests?
In most cases, the use of hotel gyms in Amman is free for guests. Hotels understand that fitness and wellness are important aspects of a comfortable stay, and therefore they provide complimentary access to their gym facilities as part of their overall service. However, it is always recommended to confirm this information with the specific hotel you plan to stay at before your arrival just to avoid any unexpected charges or restrictions.
Popular Hotels With Fitness Center destinations