Welcome to our latest exploration of accommodations in Al Ain, UAE! In this edition, we delve into the realm of fitness and well-being by shedding light on hotels equipped with exceptional exercise facilities. So, if you're a health enthusiast or simply want to maintain your workout routine while traveling, fret not – we've got you covered!
Al Ain is renowned for its stunning landscapes and rich cultural heritage, but did you know that the city also boasts an array of top-notch hotels with striking fitness centers? From cutting-edge gymnasiums to state-of-the-art wellness areas, these establishments offer more than just a place to rest your head. Whether you prefer cardio workouts or weight training sessions, these gyms are designed to cater to all fitness levels and preferences.
So lace up those sneakers and get ready for a vacation that combines relaxation with physical rejuvenation. Join us as we journey through the best hotels with gym facilities in Al Ain, uncovering hidden gems that prioritize both your comfort and your commitment to staying active.
Best Al Ain Hotels With Gym And Fitness Center
Telal Resort Al Ain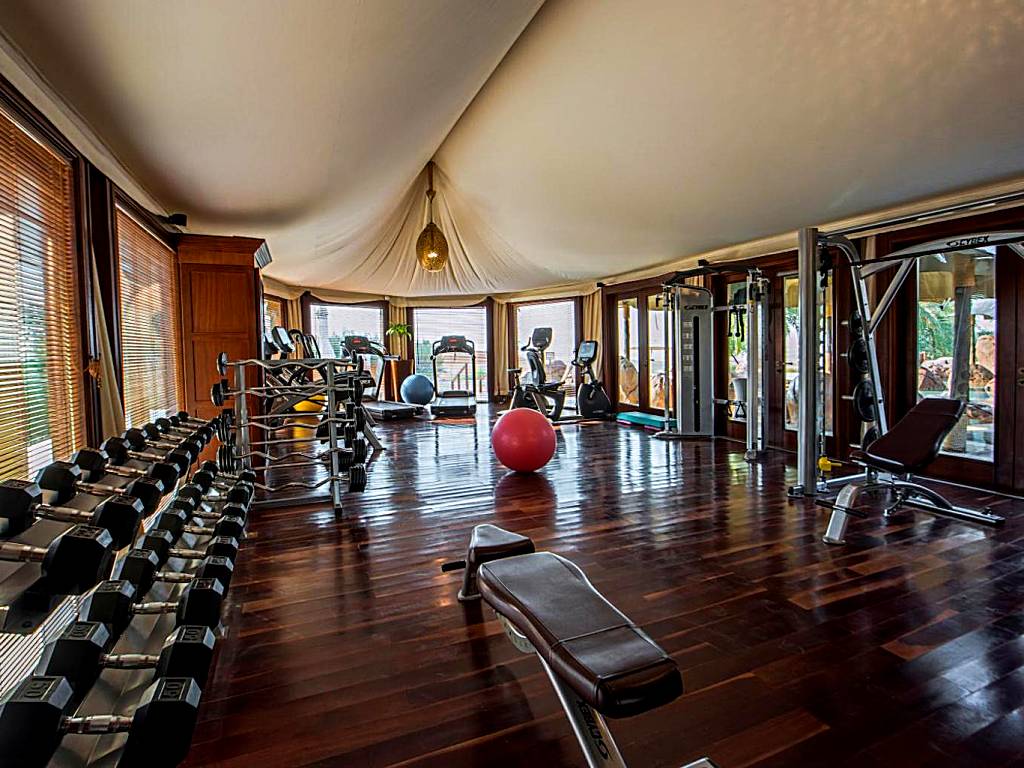 Telal Resort Al Ain is a stunning desert retreat situated in the city of Al Ain. This luxurious resort offers a range of amenities including an outdoor swimming pool, wellness center, and various outdoor activities. The Green Mubazzarah hot springs are just a short 35-minute drive away, providing guests with a natural oasis to relax and unwind. The resort also boasts a fitness center and minimarket on-site for convenience. The villas at Telal Resort Al Ain are beautifully decorated in a traditional style with modern technology such as in-villa Apple iPads that control the air-conditioning and lights. Each villa also includes free WiFi, a flat-screen TV, and a cozy seating area. Dining options at the resort include an Emirati restaurant that can accommodate special dietary requests. Free valet parking is available for guests' convenience. For those looking to immerse themselves in local culture, the resort offers activities such as horseback riding, camel riding, falconry, cycling, Zipline adventures, sandboarding, archery, and wildlife safaris. Guests can also indulge in rejuvenating massage treatments for an additional fee. Located just an hour's drive from Abu Dhabi International Airport and 55 km from Jabel Hafeet mountain range, Telal Resort Al Ain is the perfect destination for travelers seeking luxury accommodations surrounded by natural beauty.
– Outdoor swimming pool
– Wellness center
– Range of outdoor activities available
– Fitness center on-site
– Beautifully decorated villas with modern technology
Al Bada Hotel and Resort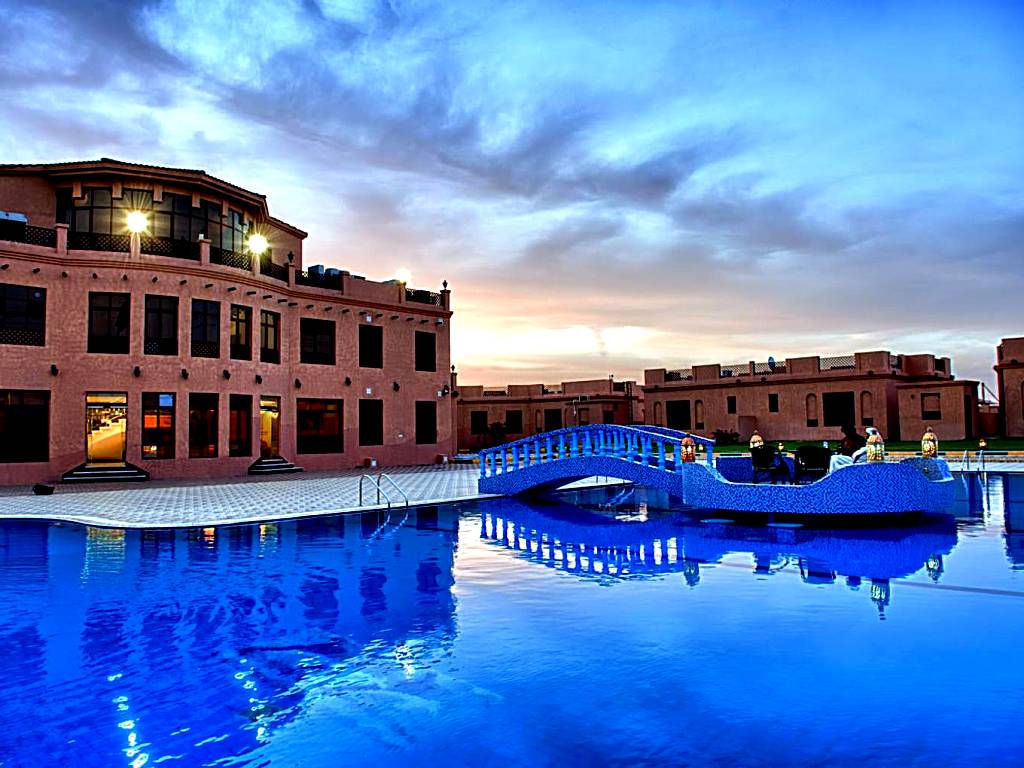 Located in the desert of Al Ain, Al Bada Hotel and Resort offers a tranquil escape for guests. The hotel features a swimming pool with a sun-lounger terrace, as well as an e-Game club. The chalets at Al Bada are elegantly decorated and include amenities such as free Wi-Fi, air conditioning, and flat-screen TVs. Each chalet also has a spacious seating area with a dining table and a fully equipped kitchen. Guests can dine at the open-air restaurant where live music entertainment is offered on weekends, or enjoy shisha in the evening. The hotel offers a range of activities including horse riding, paintball, and motor riding. Younger adults can visit the gaming zone which includes electronic games and billiards. In terms of location, Foah Shopping Mall is just a 5-km drive away while Hili Park is 8 km away. The hotel is conveniently located near Al Ain International Airport with an airport shuttle available upon request.
Pros:
– Beautiful desert location
– Spacious chalets with elegant décor
– Range of activities for guests to enjoy
– Open-air restaurant with live music entertainment
– Convenient location near shopping mall and airport
Alberni Jabal Hafeet Hotel Al Ain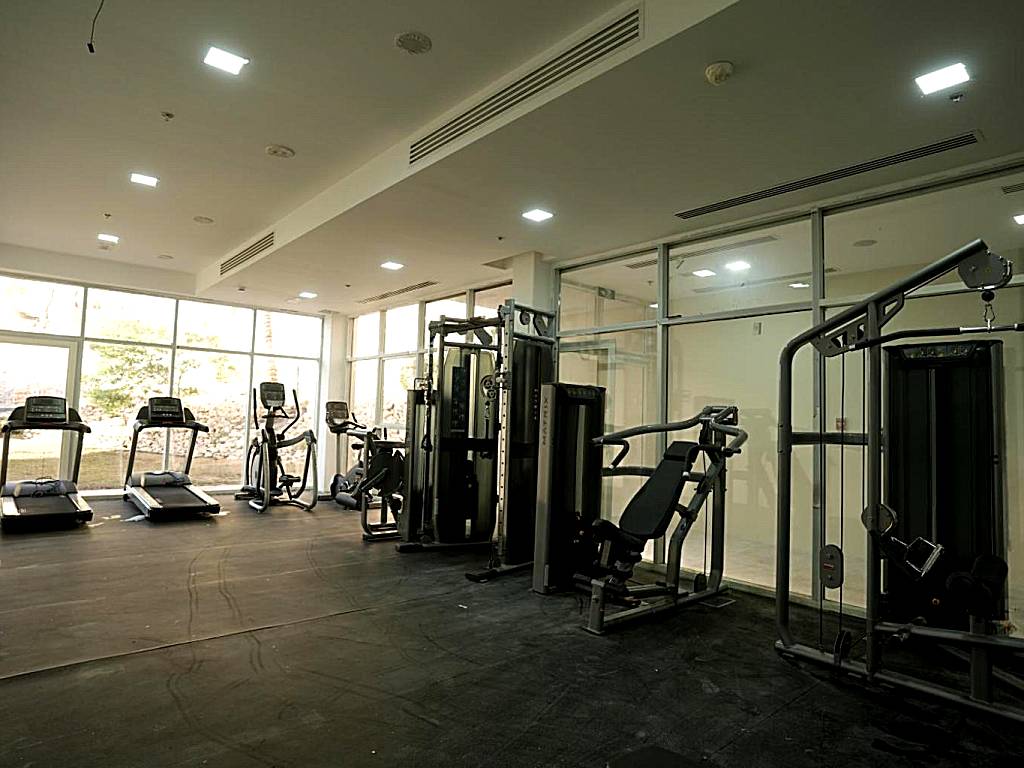 Newly opened in April 2023, Alberni Jabal Hafeet Hotel Al Ain is a luxurious 5-star hotel located in Al Ain, just 11 km from Hot Springs Green Mubazzarah. The hotel offers a range of amenities including an outdoor swimming pool, free private parking, a fitness centre, and a beautiful garden. Families will appreciate the presence of a kids' club, restaurant, water park, and children's playground on the premises. The air-conditioned rooms are equipped with modern facilities such as a desk, kettle, safety deposit box, flat-screen TV, terrace, and private bathroom with bidet. Guests can enjoy additional features like room service and currency exchange at the 24-hour front desk. For leisure and relaxation activities, there is also a hot tub available for guests to unwind in after exploring nearby attractions such as Palace Museum (23 km) and Al Ain Oasis (25 km). Conveniently situated just 39 km from Al Ain International Airport, the hotel offers paid airport shuttle services.
Pros:
– Newly opened in April 2023
– Outdoor swimming pool
– Free private parking
– Fitness centre
– Water park
Other places to stay in Al Ain
Hotels With Fitness Center In Downtown Al Ain
In Downtown Al Ain, fitness enthusiasts and health-conscious travelers will find a variety of hotels equipped with top-notch fitness centers to help maintain their workout routines while away from home. These hotels boast well-maintained gyms, offering state-of-the-art equipment and facilities for guests to break a sweat and stay active during their stay. Whether it's weightlifting, cardio exercises or group classes, these hotels ensure that visitors have access to all the necessary resources to achieve their fitness goals. With professional trainers on-site to provide guidance and support, guests can enjoy invigorating workouts in a convenient downtown location.
Ayla Hotel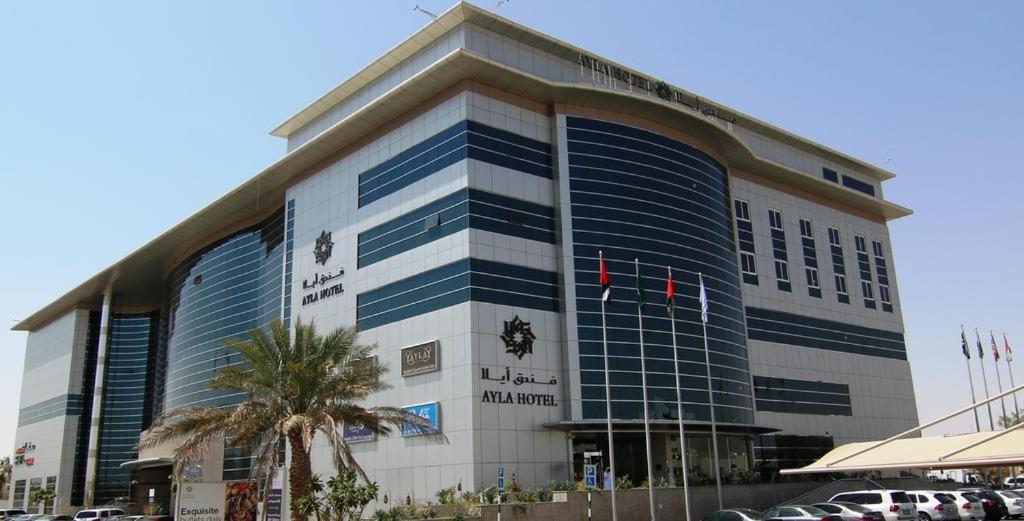 Ayla Hotel is a centrally located hotel in Al Ain City, situated within a Community Mall. This hotel offers contemporary guest rooms, spacious suites, and even a large ballroom for events. The rooms are adorned with modern furnishings that have Arabic elements and feature flat-screen TVs. Guests can indulge in relaxation at the Pulse Health Club, which offers massage treatments, steam room, hot tub, sauna, and a fully-equipped gym. The health club also boasts an indoor temperature-controlled swimming pool for guests to enjoy. Culinary delights await at Ayla's restaurant with its International Buffet featuring various Theme Nights. For lighter fare and refreshments, guests can head to Tamra Café or the rooftop Chill out lounge – Sky5. Additionally, Ayla Hotel provides convenient services such as a tour desk and car rental service for those who wish to explore the area. Just a 5-minute drive away is the Al Ain National Museum.
Pros:
– Centrally located within a Community Mall
– Modern rooms with Arabic elements
– Well-equipped Pulse Health Club including massage treatments and indoor pool
– Array of dining options available on-site
– Convenient services like tour desk and car rental service
Asfar Resorts Al Ain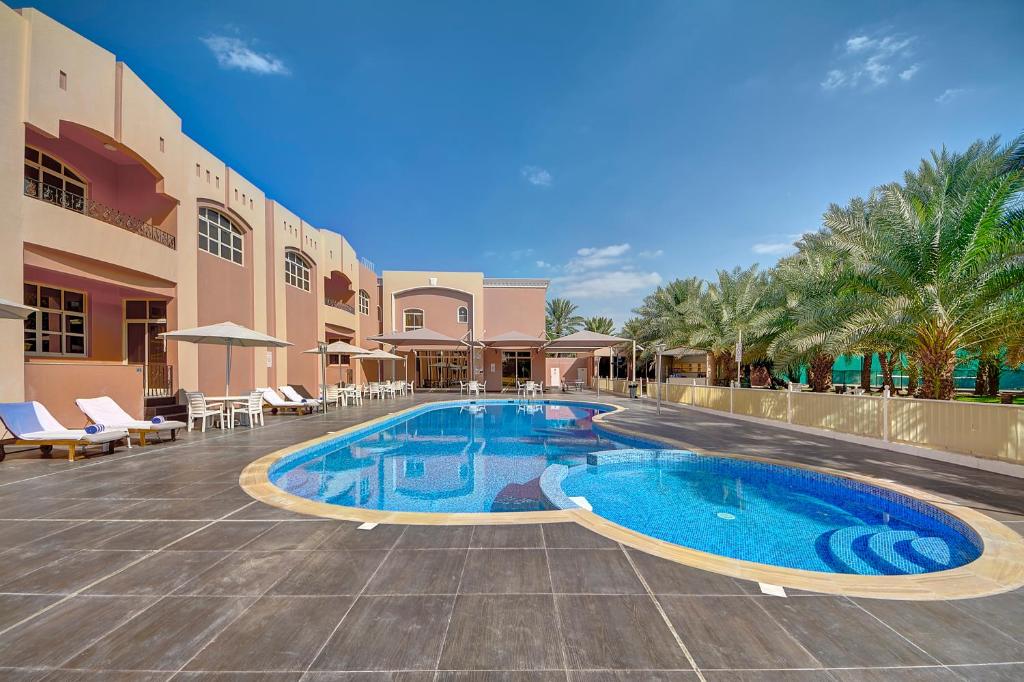 Located in Al Masoody Road, opposite Safeer Mall, Asfar Resorts Al Ain is a resort that offers spacious self-catering suites with balconies. Surrounded by landscaped gardens, the resort features an outdoor pool and a fitness center. The modern, air-conditioned suites at Asfar Resorts Al Ain are equipped with a washing machine and satellite TV. Each suite also has a fully equipped kitchen with a refrigerator. Guests can enjoy their breakfast in the privacy of their own room before exploring the surrounding area. The hotel's restaurant serves regional dishes, while the city center with its local restaurants and bars is just a 10-minute drive away. Bawadi Mall, the largest mall in Al Ain, is approximately 45 minutes away by car. For guests' convenience, free private parking is available on site and Al Ain International Airport is only 13 km away.
Pros:
– Spacious self-catering suites with balconies
– Outdoor pool for relaxation and enjoyment
– Fitness center for guests to stay active during their stay
– Convenient location near Safeer Mall and city center attractions
– Free private parking provided for guests' convenience
Mercure Grand Jebel Hafeet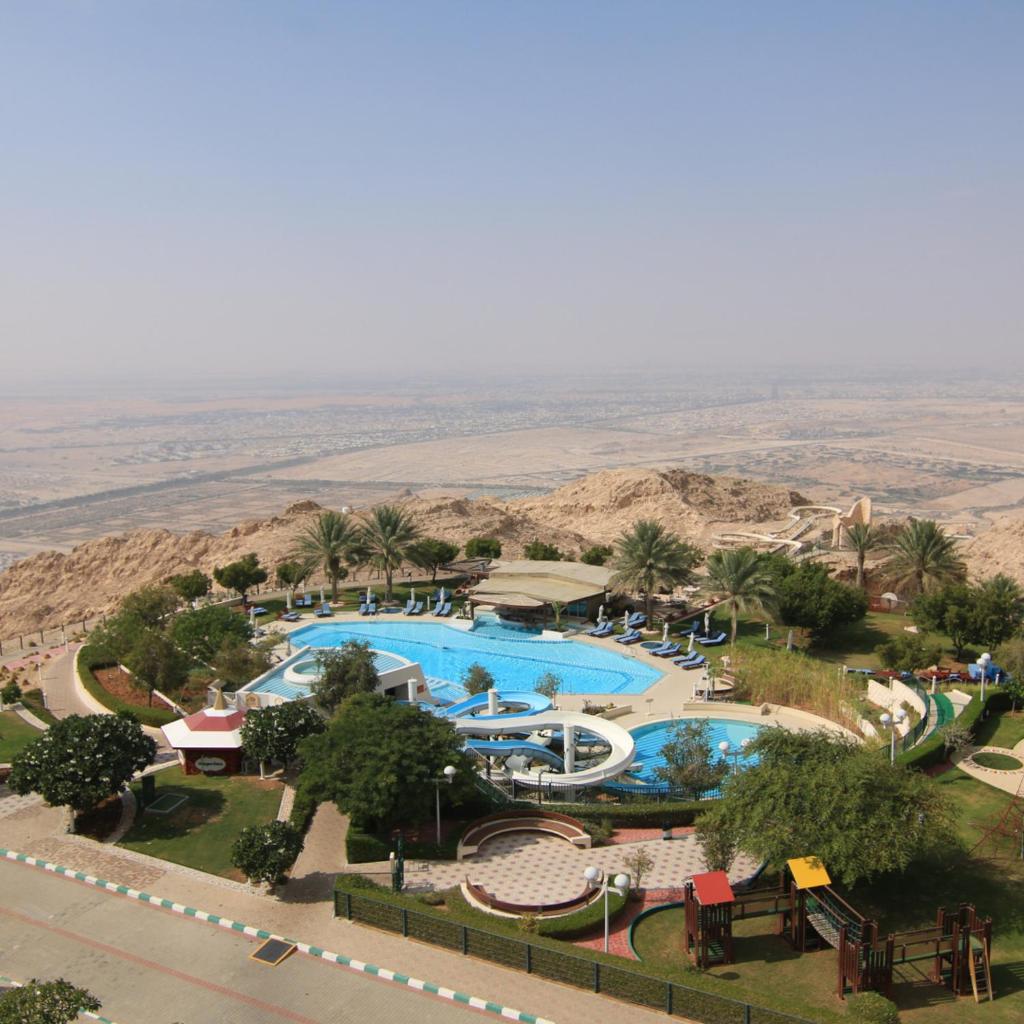 Located on Hafeet Mountain at 915 metres, Mercure Grand Jebel Hafeet is a unique oasis resort with stunning architecture. The hotel features three restaurants and three swimming pools with exciting water slides. The spacious and modernly decorated rooms offer a minibar for added convenience. Guests can enjoy hot dishes and cold snacks through the hotel's room service or savor their lunch on the terrace while taking in breathtaking city views. Le Belvedere serves a delightful blend of French, Moroccan, and Italian cuisine, while the Orient Café offers delectable oriental finger food. With its convenient location just a two-hour drive from Abu Dhabi and Dubai, guests can easily explore nearby attractions such as Hili Fun City Park (25 km away) or visit the Camel Race Track and zoo situated just 10 km from the hotel.
Pros:
– Beautiful mountainous location
– Three swimming pools with water slides
– Multiple dining options offering diverse cuisines
– Spacious and modern rooms with minibars
– Convenient proximity to popular attractions
Al Ain Hotels With Gym And Pool
Al Ain, known for its beautiful landscapes and rich cultural heritage, offers a wide range of hotels with gym and pool facilities. These hotels provide guests with the perfect setting to stay active and refreshed during their visit. Whether you prefer to swim laps in a sparkling pool or get your heart pumping in a fully-equipped gym, these accommodations have it all. With state-of-the-art equipment and professional trainers available, guests can maintain their fitness routine while enjoying their stay in Al Ain. So whether you're traveling for business or pleasure, staying at one of these hotels ensures that you can keep up with your exercise regime while also exploring all that this charming city has to offer.
Aloft Al Ain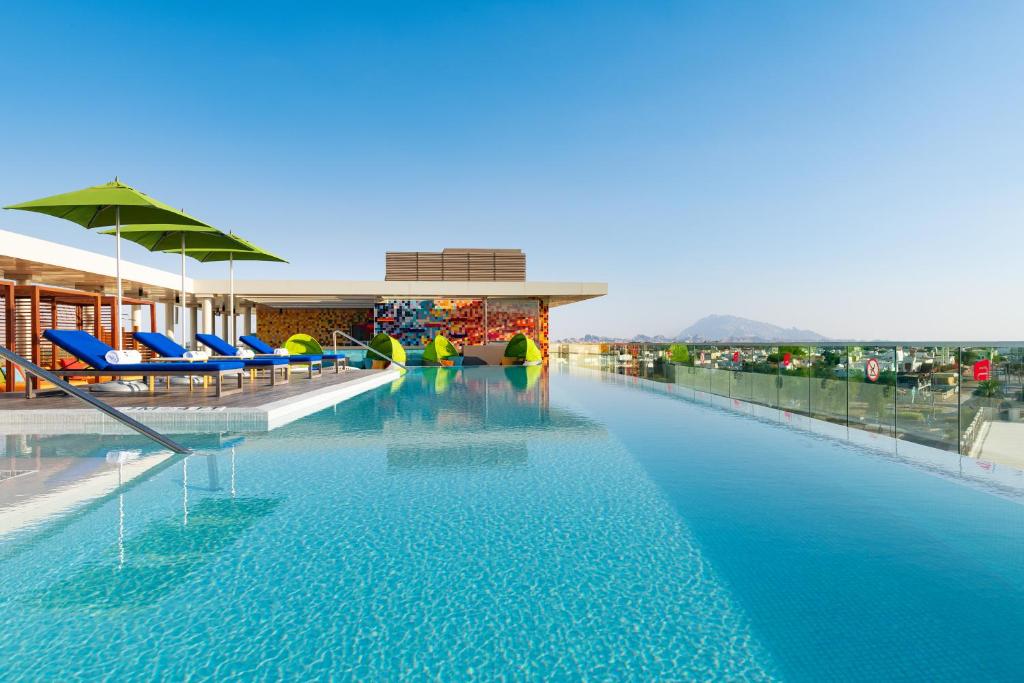 Aloft Al Ain is a stylish hotel located in the heart of Al Ain Square, making it the perfect base for exploring the exciting attractions of the oasis city. The hotel boasts buzzing public spaces and four innovative restaurants and lounges, including Olive Tree restaurant, The Rooftop pool & lounge, W XYZ lounge, and Re:fuel by Aloft – a one-stop food and beverage area. Guests can enjoy free WiFi throughout the property. The spacious rooms and suites feature high ceilings, large windows, a seating area, flat-screen TV, work desk, complimentary coffee, tea and water bottle in each room. The private bathrooms are equipped with walk-in showers and guests are provided with bathrobes and slippers for their comfort. With a 24-hour front desk and free parking available on-site, Aloft Al Ain offers convenience to its guests. Additionally, the hotel is just 6 km away from Palace Museum and Al Ain Oasis. The nearest airport is Al Ain International Airport which is only 10 km away.
– Rooftop pool
– Stylish design
– Convenient location
– Free WiFi throughout the property
– Four innovative restaurants & lounges
City Seasons Hotel Al Ain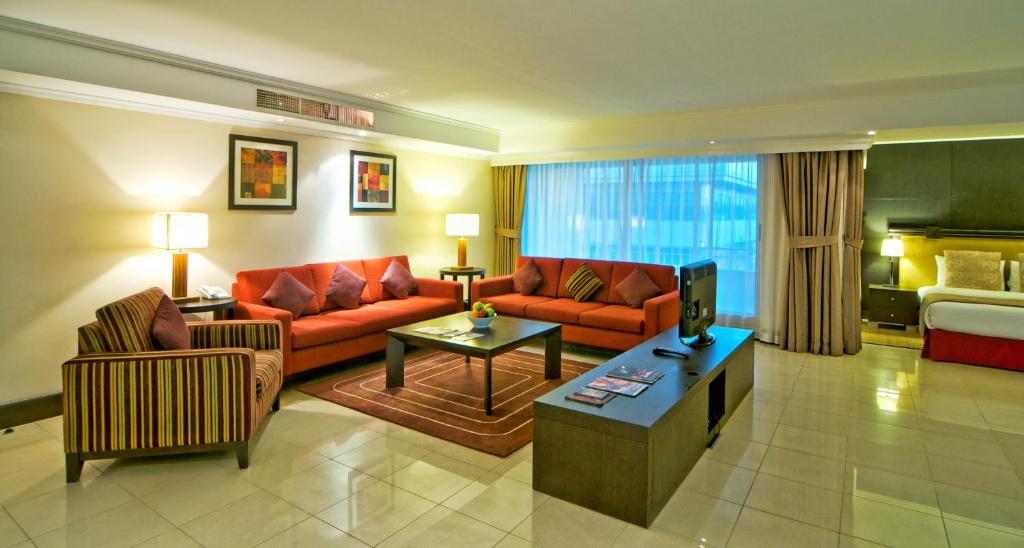 Located in Al Ain, City Seasons Hotel Al Ain offers small, yet modern and air-conditioned rooms with a seating area and a flat-screen satellite TV. The hotel features an outdoor pool and a gym with a sauna. With free parking available on site, guests can enjoy their stay without worrying about their vehicles. The all-day dining restaurant serves both traditional and international dishes, while freshly brewed coffee and snacks are available at Seasons Café. For added convenience, room service is also provided, including breakfast options. City Seasons Hotel Al Ain is conveniently situated just 15 km from Al Ain Airport, with the option of arranging a shuttle service at an additional charge.
Pros:
– Modern and air-conditioned rooms
– Outdoor pool for relaxation
– Gym with sauna facilities for fitness enthusiasts
– All-day dining restaurant offering a variety of cuisines
– Convenient location near the airport and availability of shuttle service
Al Ain Hotels with Gym Information
| | |
| --- | --- |
| 🛎️ Hotels with Gym in Al Ain | 8 |
| 💰 Hotel prices starting from | $264 |
| 💵 Highest price | $1783 |
| 🥇 Average Review Score | 7.6/10 |
| 🛏️ Average number of Rooms | 34 |
FAQ
Can you recommend any hotels in Al Ain with a gym?
Yes, there are several hotels in Al Ain that offer excellent gym facilities. One highly recommended option is the Hilton Al Ain hotel, which boasts a fully-equipped fitness center with state-of-the-art equipment. Another great choice is the Danat Al Ain Resort, which features a spacious gymnasium and offers various fitness classes for guests to enjoy during their stay.
Are these hotel gyms suitable for both beginners and experienced fitness enthusiasts?
Absolutely! The hotel gyms in Al Ain cater to individuals of all fitness levels. They have a range of workout machines and free weights that can be adjusted to suit different abilities and goals. Additionally, some hotels even provide personal trainers who can assist guests with creating customized exercise routines based on their experience level.
Do these hotels have specific opening hours for their gym facilities?
Yes, most hotels in Al Ain with gym facilities do have specified opening hours for their fitness centers. Typically, these gyms are open from early morning until late evening, allowing guests ample time to fit in their workouts at their convenience. However, it's always advisable to check with the hotel beforehand regarding the exact opening and closing times of their gym facilities.
Is there an extra charge or fee for using the hotel gym?
While policies may vary among different hotels, many establishments in Al Ain do not charge an additional fee for using their gym facilities. Access to the fitness center is often included as part of the overall room rate or resort fee paid by guests staying at the property.
Are there any other wellness amenities available besides just a gym at these hotels?
Absolutely! Hotels in Al Ain recognize the importance of holistic wellness and offer various other amenities besides just a gym. Some properties feature spa facilities where guests can indulge in rejuvenating treatments such as massages or facials after a workout session. Others may have swimming pools or outdoor sports activities like tennis or golf, providing guests with multiple options for staying active and maintaining their fitness routine.
Popular Hotels With Fitness Center destinations