Welcome to Marrakech, the vibrant and enchanting city nestled in the heart of Morocco. If you're a fitness enthusiast looking to maintain your workout routine while exploring this cultural haven, then you're in luck! Marrakech offers a plethora of accommodations that cater to your fitness needs, with an array of hotels equipped with state-of-the-art fitness centers.
Immerse yourself in the rich Moroccan culture by staying at one of the many hotels with gym facilities scattered throughout this bustling city. Whether you prefer high-intensity cardio workouts or soothing yoga sessions, these gyms have got you covered. Indulge yourself in a morning workout before venturing out to explore the captivating souks and stunning architecture that make Marrakech so unique.
Rejuvenate your body and mind after a day of sightseeing by unwinding at the hotel's spa or taking a dip in their refreshing pool. With top-notch amenities and professional trainers on hand, these hotels ensure that every guest can maintain their fitness regime while enjoying all that Marrakech has to offer. So pack your workout gear and get ready for an unforgettable experience combining wellness and exploration in this captivating city!
Best Marrakech Hotels With Gym And Fitness Center
Palm Plaza Hôtel & Spa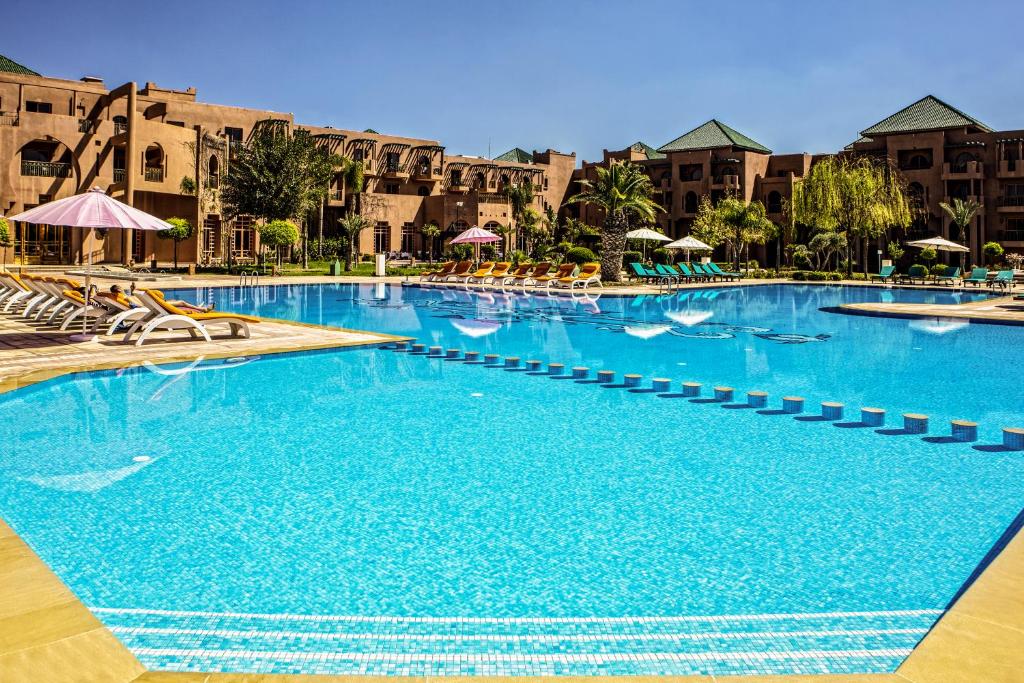 Located in the new residential district of Agdal in Marrakech, Palm Plaza Hôtel & Spa is a luxury resort that offers free Wi-Fi and a range of exceptional amenities. Guests can indulge in relaxation at the spa, which includes an aqualudique plunge pool, sauna, hammam, and gym facilities. The hotel features comfortable rooms and suites, some with terrace access. Dining options include the hotel's restaurant serving exotic dishes, as well as a pool bar for snacks. In the evening, guests can enjoy a quiet time at the piano bar or experience an exciting night out at the hotel's nightclub.
Pros:
– Luxury resort with excellent amenities
– Free Wi-Fi available for all guests
– Relaxing spa with plunge pool and various wellness facilities
– Comfortable rooms and suites, some with terrace access
– Multiple dining options including an international restaurant and poolside snack bar
Palais Namaskar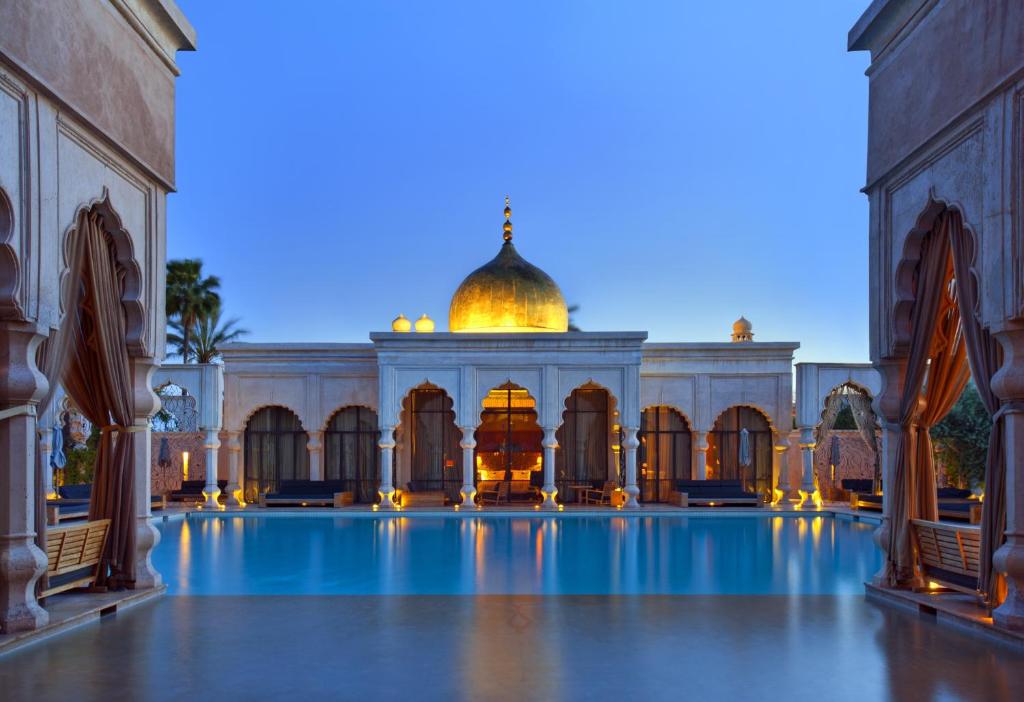 Located in Marrakech, Palais Namaskar is a 25-minute drive from the old Medina. It features an outdoor swimming pool with sunbeds, a wellness centre and limousine service. Palais Namaskar offers luxurious accommodations. Free private parking is possible on site. All units are spacious and fitted with modern amenities. Each accommodation includes en suite bathroom with shower and bath. American breakfast is served each morning at the property. Guests can enjoy local and international meals at the onsite restaurants. A range of drink is provided at the bar.
– Outdoor swimming pool with sunbeds
– Wellness centre for relaxation
– Luxurious accommodations
– Onsite restaurants serving local and international meals
– Free private parking onsite
Pickalbatros Aqua Fun Club All inclusive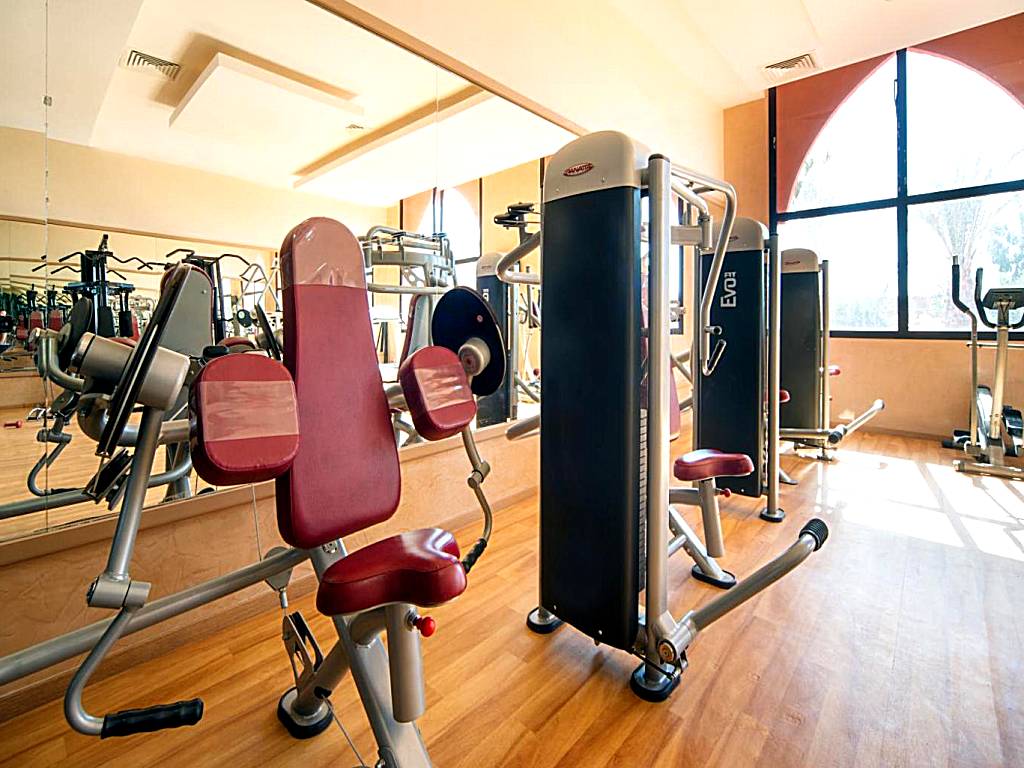 Aqua Fun Club Marrakech is a luxurious hotel situated amidst 10 acres of land, surrounded by olive trees and offering stunning views of the Atlas Mountains. The hotel provides free shuttles to Marrakech town centre, 2 indoor heated pools during winter, and complimentary access to the fitness centre. Each air-conditioned room features a modern design with a private balcony and is equipped with a seating area and satellite TV. Guests can indulge in a buffet breakfast every morning and savor traditional Moroccan and Mediterranean cuisine at the on-site restaurant. The bar offers refreshing drinks, while the private night club promises an exciting evening out. Additional amenities include a tennis court, beauty salon, well-being centre, and kids' club. Free Wi-Fi access is available at the 24-hour reception, along with free private parking for guests' convenience. Located 15 km from both the city centre and Marrakech Airport, Aqua Fun Club Marrakech ensures all guests receive a warm welcome with mint tea upon arrival.
Pros:
– Stunning views of the Atlas Mountains
– Complimentary shuttles to Marrakech town centre
– Two indoor heated pools during winter
– Access to fitness centre included
– Exciting evening entertainment at private night club
Other places to stay in Marrakech
Hotels With Fitness Center In Downtown Marrakech
Downtown Marrakech boasts a wide selection of hotels with fitness centers, offering guests the opportunity to stay active during their visit. These gyms are equipped with state-of-the-art facilities and a variety of exercise equipment, ensuring that travelers can maintain their fitness routines while enjoying all that the city has to offer. Whether it's a quick cardio session or an intense full-body workout, downtown Marrakech's hotels with fitness centers cater to every guest's exercise needs.
Amanjena Resort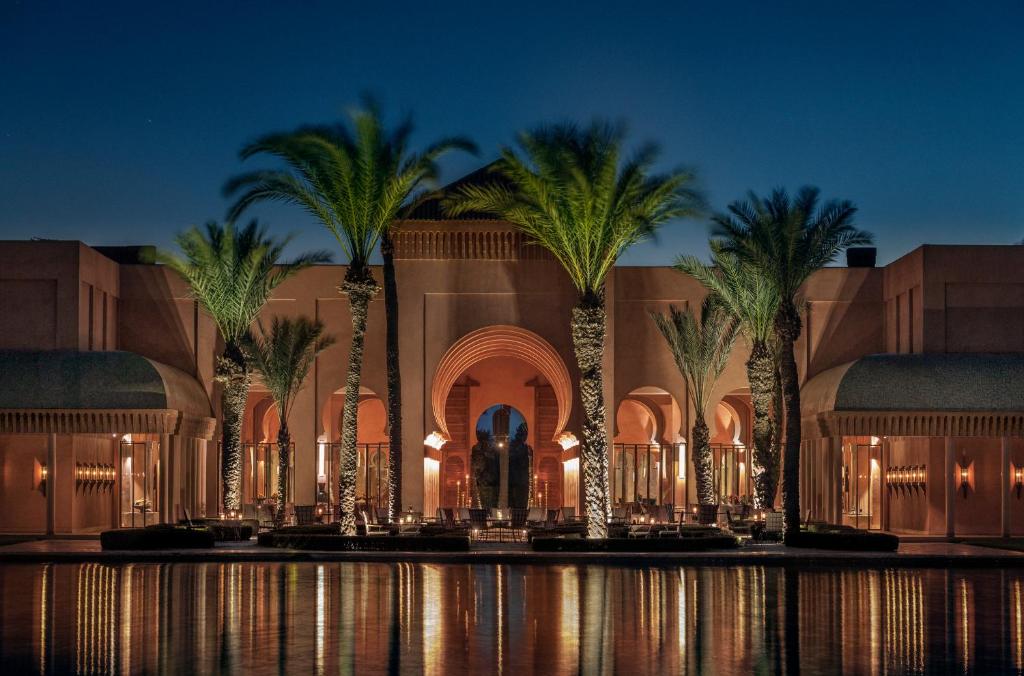 Amanjena Resort is a boutique hotel located in Marrakech. Opened in April 2021, this 5-star resort offers a range of amenities for guests to enjoy. The hotel features free bikes, an outdoor swimming pool, a fitness centre, and a beautiful garden. Additionally, there is a restaurant and terrace on-site. Guests can also engage in activities such as table tennis, tennis, and cycling in the surrounding area. The accommodation provides room service, 24-hour front desk assistance, and currency exchange services. All rooms are equipped with air conditioning, a safety deposit box, and a TV. Some units even have balconies for guests to enjoy the views. A minibar is available in all guest rooms as well. In terms of dining options, the daily breakfast offers à la carte choices along with continental or Full English/Irish options. Guests can also relax at the in-house bar or make use of the business area provided by the hotel. Amanjena Resort is situated near popular attractions like Bahia Palace (5.2 km) and Boucharouite Museum (5.8 km). The nearest airport is Marrakech-Menara Airport which is approximately 10 km away.
– Boutique hotel
– Free bikes available for guests
– Outdoor swimming pool
– Fitness centre onsite
– Restaurant and terrace
Oasis lodges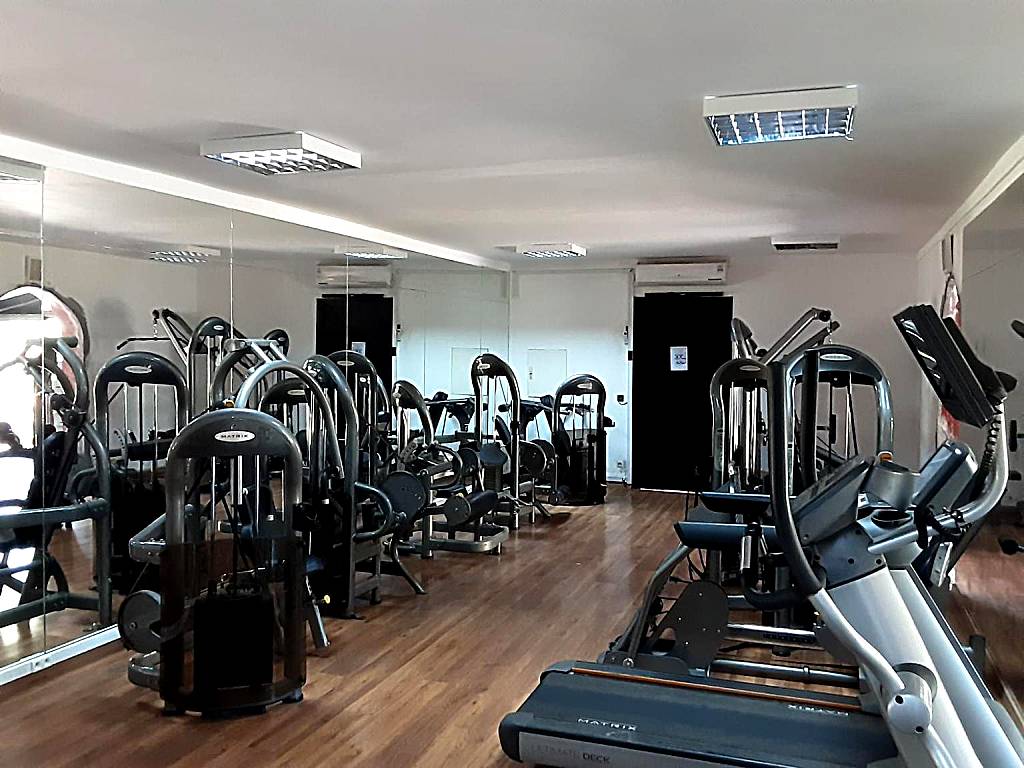 Oasis lodges in Marrakech offers a range of amenities for guests to enjoy. The hotel features a garden, fitness centre, and a bar, providing ample opportunities for relaxation and recreation. With a 24-hour front desk, guests are ensured convenience and assistance throughout their stay. The property also offers a restaurant and a year-round outdoor pool for guests to indulge in culinary delights and soothing swims. The rooms at Oasis lodges are well-appointed with modern comforts including flat-screen TVs, private bathrooms, and terraces or patios with garden views. Additionally, the hotel provides free WiFi access for guests to stay connected during their visit. Families traveling with children can take advantage of the children's playground offered by Oasis lodges. For those looking to explore the city's attractions, Menara Gardens is located just 5 km away from the hotel while Koutoubia Mosque is situated 6 km away. The nearest airport, Marrakech-Menara, is conveniently located only 4 km away from Oasis lodges with paid airport shuttle services provided by the property.
– Garden
– Fitness centre
– Bar
– Restaurant
– Year-round outdoor pool
Mandarin Oriental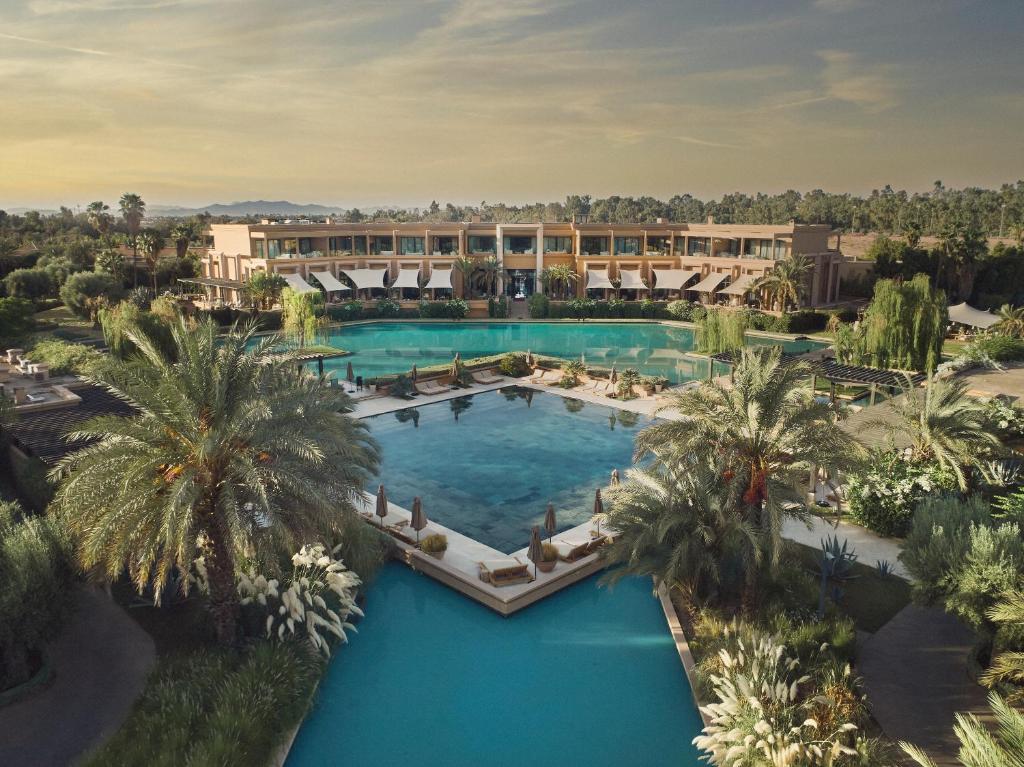 Set in 20 hectares overlooking the Atlas Mountains, Mandarin Oriental, Marrakech is a luxurious hotel located just 10 minutes' drive from Jemaa El Fna square in Marrakech. The hotel offers a spa and wellness center featuring a Hammam, hot tub, indoor pool, and massage sessions. The accommodation consists of 54 private villas with Berber-Arabic style and swimming pools & hot tubs. There are also 9 suites available, with 7 of them featuring rooftop plunge pools. Each unit includes a seating area for relaxation, as well as a coffee machine, kettle, flat-screen TV with satellite channels, and DVD player. Guests can enjoy dining at several restaurants and bars within the hotel. Additional amenities include bike hire and access to nearby golf courses. Marrakech-Menara Airport is conveniently located just 6 km away.
– Stunning views of the Atlas Mountains
– Luxurious private villas with swimming pools
– Rooftop plunge pools in select suites
– Spa and wellness center offering relaxation treatments
– Close proximity to popular attractions like Jemaa El Fna square
Marrakech Hotels with Gym Information
| | |
| --- | --- |
| 🛎️ Hotels with Gym in Marrakech | 6 |
| 💰 Hotel prices starting from | $109 |
| 💵 Highest price | $1621 |
| 🥇 Average Review Score | 9/10 |
| 🛏️ Average number of Rooms | 43 |
FAQ
1. Is it common to find hotels with gyms in Marrakech?
Yes, it is quite common to find hotels with gyms in Marrakech. As the city has become a popular tourist destination, many hotels have recognized the importance of fitness facilities for their guests. Whether you are staying in a luxurious five-star hotel or a more budget-friendly option, chances are you will have access to a gym on-site.
2. What kind of gym equipment can I expect to find in Marrakech hotels?
Hotels in Marrakech typically offer a range of gym equipment to cater to different fitness needs. You can expect to find basic cardio machines such as treadmills, stationary bikes, and elliptical trainers. Weightlifting enthusiasts will usually find dumbbells and weight machines available as well. Some higher-end hotels may offer more specialized equipment like kettlebells or yoga mats.
3. Are hotel gyms in Marrakech open 24 hours?
While some hotel gyms in Marrakech may be open 24 hours for the convenience of their guests, this is not always the case. It is best to check with your specific hotel regarding their gym operating hours before making any assumptions.
4. Do I need to pay extra fees to use the hotel gym facilities?
The inclusion of gym facilities varies from one hotel to another in Marrakech. Some hotels include free access to their gyms for all guests as part of their amenities package while others may charge an additional fee or require you to be a member of their spa or wellness center.
5. Are there any boutique hotels that offer unique gym experiences in Marrakech?
Yes, there are several boutique hotels in Marrakech that go beyond traditional gym setups and offer unique fitness experiences for their guests. These may include rooftop yoga sessions overlooking the city's skyline, personal training sessions with local experts, or even outdoor fitness classes in scenic gardens. It is worth exploring these boutique hotels for a more immersive and memorable gym experience during your stay in Marrakech.
Popular Hotels With Gym destinations