Welcome to my latest guide on Hotels With Gym in Jersey, United Kingdom. Whether you're a fitness enthusiast or simply want to stay active during your vacation, finding a hotel that prioritizes wellness is essential. Fortunately, Jersey boasts an array of accommodations that cater to your fitness needs with state-of-the-art fitness centers and well-equipped gyms.
Located in the beautiful United Kingdom, Jersey offers a unique travel experience combined with excellent opportunities for maintaining your workout routine. By selecting one of the many Hotels With Gym options available here, you can easily stay fit while exploring this charming island destination. From boutique hotels to luxury resorts, there are accommodations suited for all types of travelers seeking both comfort and exercise facilities. So get ready to sweat it out at these incredible hotels where convenience meets healthy living!
Best Jersey Hotels With Gym And Fitness Center
The Royal Yacht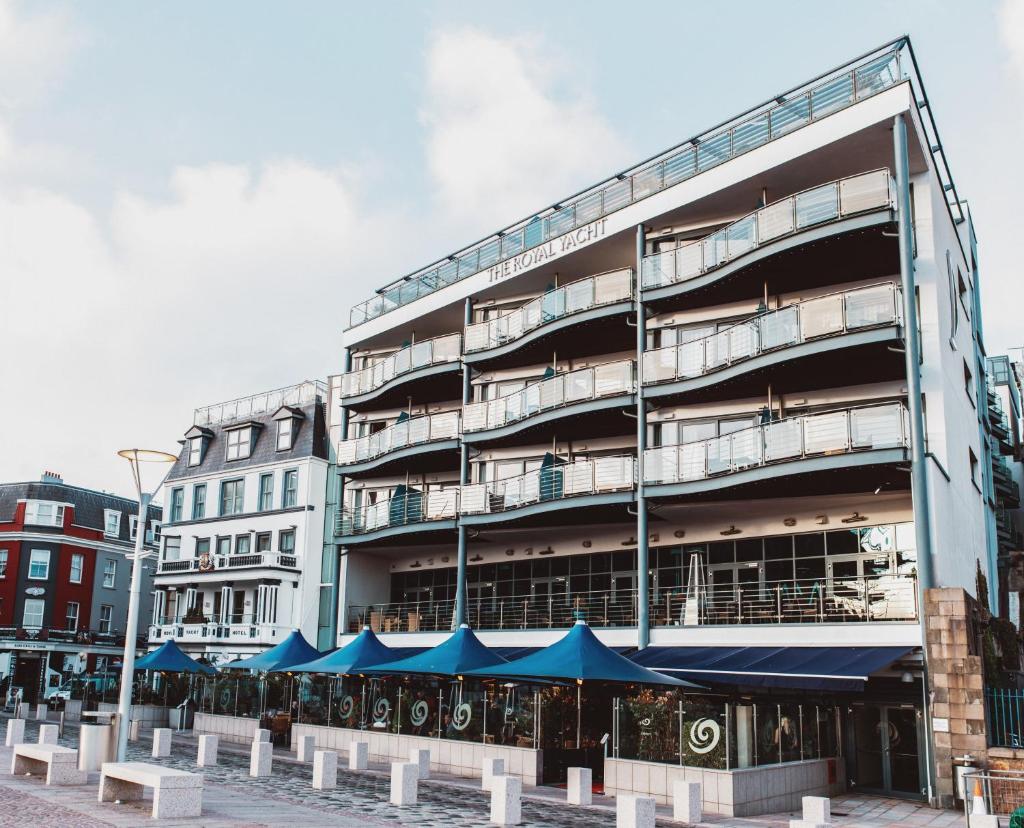 The Royal Yacht hotel is a stylish and well-placed accommodation in central St Helier. It offers modern rooms with free Wi-Fi, LCD TV with pay movies, safe, and tea/coffee facilities. Some rooms even have a balcony or terrace. The hotel boasts an impressive on-site SpaSirene that includes an indoor pool, steam room, beauty treatments, sauna, aromatherapy room, spa bath, and a state-of-the-art gym. For families traveling with children, the hotel provides passes to Aquasplash – a nearby pool and water slide center. In addition to its excellent amenities, The Royal Yacht also features two restaurants including Sirocco Restaurant serving a contemporary menu and Café Zephyr offering outside dining. The hotel also has a grill restaurant and four stylish bars with live music.
– Stylish rooms with modern design
– On-site SpaSirene with indoor pool and beauty treatments
– Convenient location in central St Helier
– Passes to nearby Aquasplash for families traveling with children
– Variety of dining options including restaurants and bars
Hotel de France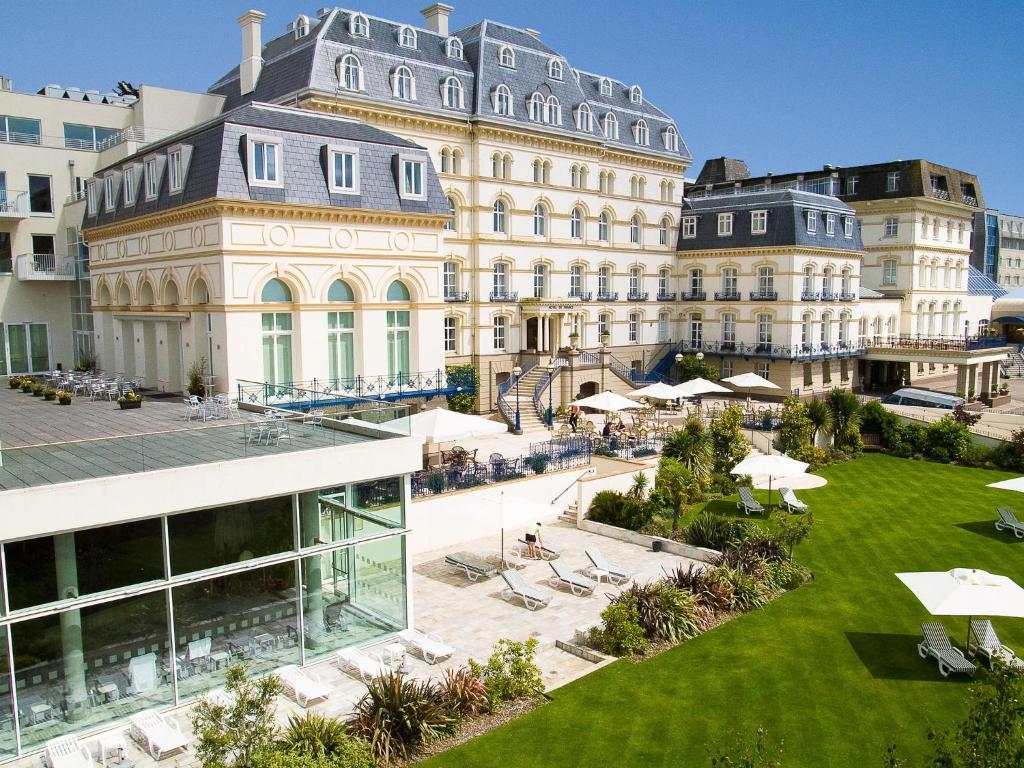 Situated on the beautiful island of Jersey, the 4-star Hotel de France is a 15-minute walk from the town centre. With free WiFi and free parking, it has a spa, gym and swimming pool complex. Each room offers satellite TV and facilities for making tea and coffee. La Terrasse Restaurant & Bar at Hotel de France has introduced a new dining experience, very much in keeping with traditional French cuisine. The hotel's large Ayush Wellness Spa offers swimming pools, a sauna, steam room, and 6 treatment rooms. It also features an extensive fitness centre. The ferry port is just 1 km away, and Jersey Airport can be reached in 15 minutes' drive.
– Free WiFi and parking
– On-site spa with swimming pools
– Extensive fitness center
– Traditional French cuisine at La Terrasse Restaurant & Bar
The Atlantic Hotel (St Brelade)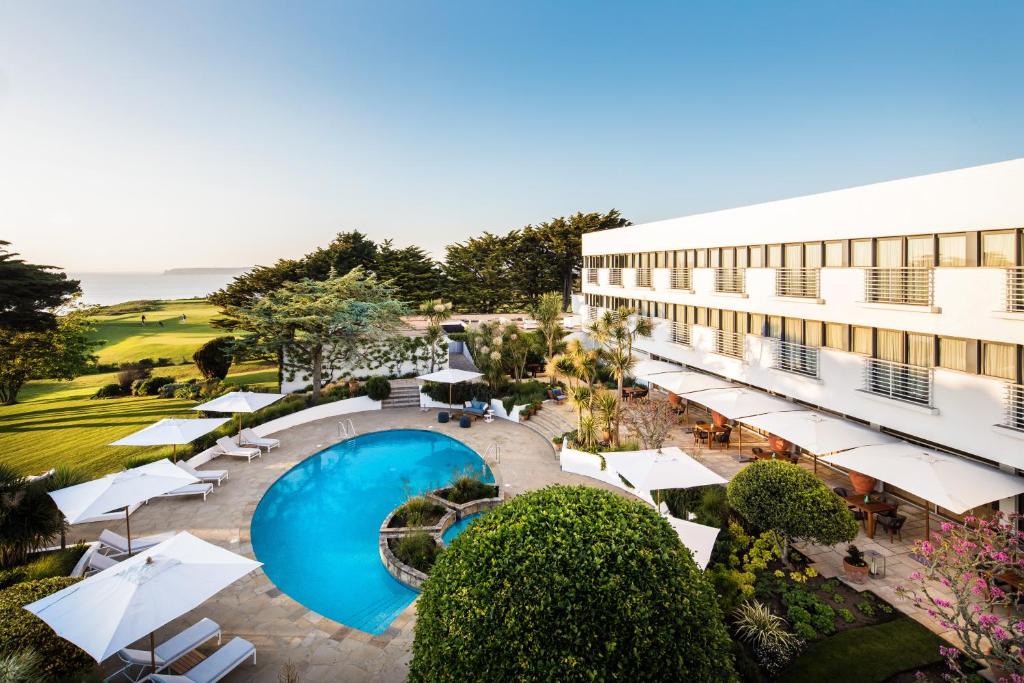 The Atlantic Hotel in St Brelade offers 4-star accommodation with stunning views of St Ouen's Bay and its own private grounds. The hotel features an outdoor swimming pool and is conveniently located next to the La Moye Championship Golf Course. Guests can also enjoy the on-site health club, which includes an indoor swimming pool, a mini gymnasium, and saunas. The stylish bedrooms have marble en suite bathrooms, modern décor, balconies, and access to free Wi-Fi. The hotel's Ocean Restaurant serves delicious modern British cuisine made with fresh Jersey ingredients. The capital of St Helier and Jersey Airport are both just a short drive away.
– Beautiful views overlooking St Ouen's Bay
– Access to private grounds
– Outdoor swimming pool
– Adjoining La Moye Championship Golf Course
– On-site health club with indoor swimming pool and gymnasium
Other places to stay in Jersey
Hotels With Fitness Center In Downtown Jersey
Visitors to downtown Jersey can find a wide range of hotels with fitness centers that cater to their health and wellness needs. These hotels offer state-of-the-art gym facilities equipped with the latest exercise equipment, allowing guests to stay active during their stay. Whether it's cardio machines for a quick workout or weightlifting equipment for strength training, these fitness centers provide all the necessary amenities for a satisfying workout experience. Travelers can enjoy the convenience of staying fit while exploring downtown Jersey and taking advantage of the bustling city's attractions.
St Brelade's Bay Hotel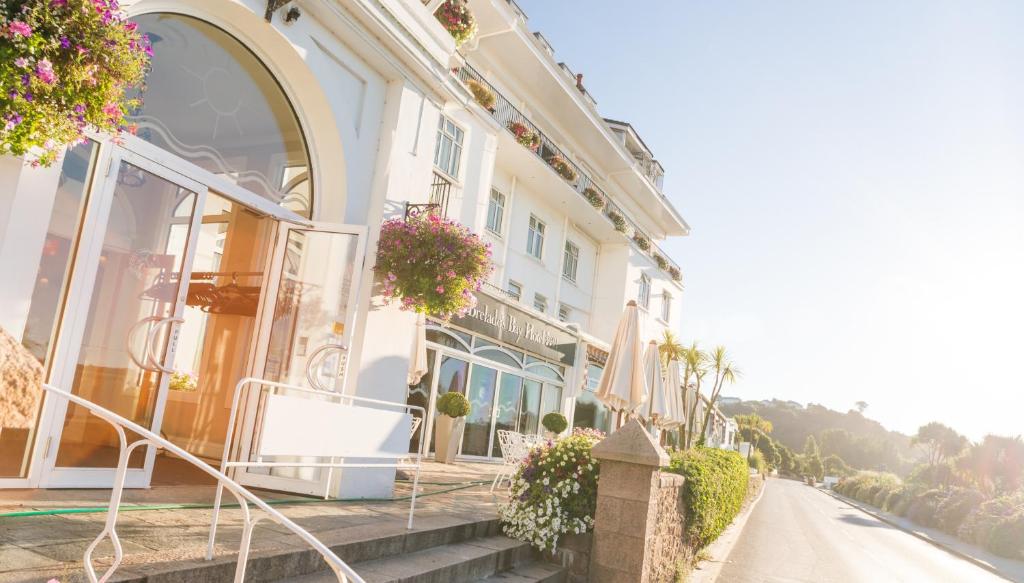 Located on the seafront, St Brelade's Bay Hotel is a 19th-century luxury hotel in Jersey. It offers stunning views of the beach and is surrounded by 5 acres of award-winning gardens. The rooms feature excellent sea or garden views, with some even offering balconies. Guests can enjoy amenities such as LCD TVs with satellite channels and heated towel rails. The hotel also boasts a synthetic grass tennis court, a heated swimming pool, a fitness center, and a children's play area. Dining options include The Bay Restaurant which serves fresh cuisine made from local produce, and The Petit Port Cafe which offers views over the swimming pool and St Brelade's Bay.
– Fantastic sea views
– Beautifully refurbished 19th-century building
– Access to tennis court
– Heated swimming pool for relaxation
– Excellent dining options
Merton Hotel (St. Saviour)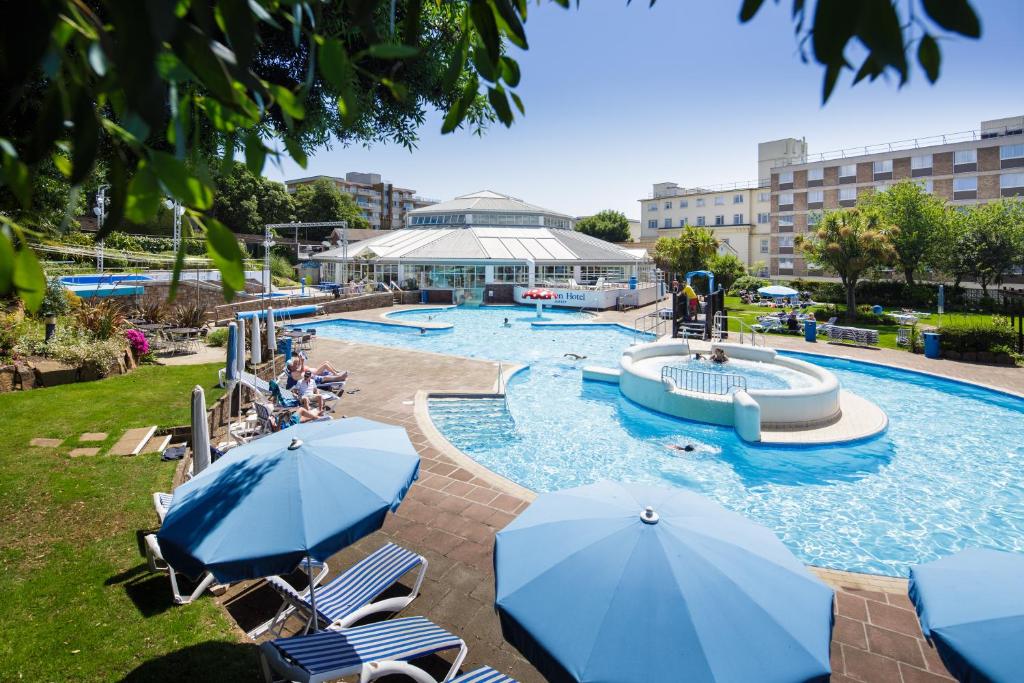 Located just a 10-minute walk from the center of St Helier, the Merton Hotel in St. Saviour offers a wide range of amenities for guests to enjoy. The hotel features a unique Aquadome, which includes both indoor and outdoor pools, as well as a sauna, steam room, and hot tub. In addition to the water park facilities, guests can also take advantage of the surf machine, fitness center, and tennis court. With five different restaurants to choose from, including an American dining experience at Jersey Joe's and Italian cuisine at Bonetti's Italian Brasserie, there is something to suit every taste. The hotel also boasts a sports bar and Star Room with live entertainment for guests' enjoyment. For those traveling by car, free parking is available on site. Overall, Merton Hotel offers a convenient location with plenty of activities and dining options for guests to enjoy.
– Water park with slides
– Spa facilities including sauna and hot tub
– Free parking on site
– Choice of 5 restaurants offering various cuisines
– Surf machine, fitness center, and tennis court available
Radisson Blu Waterfront Hotel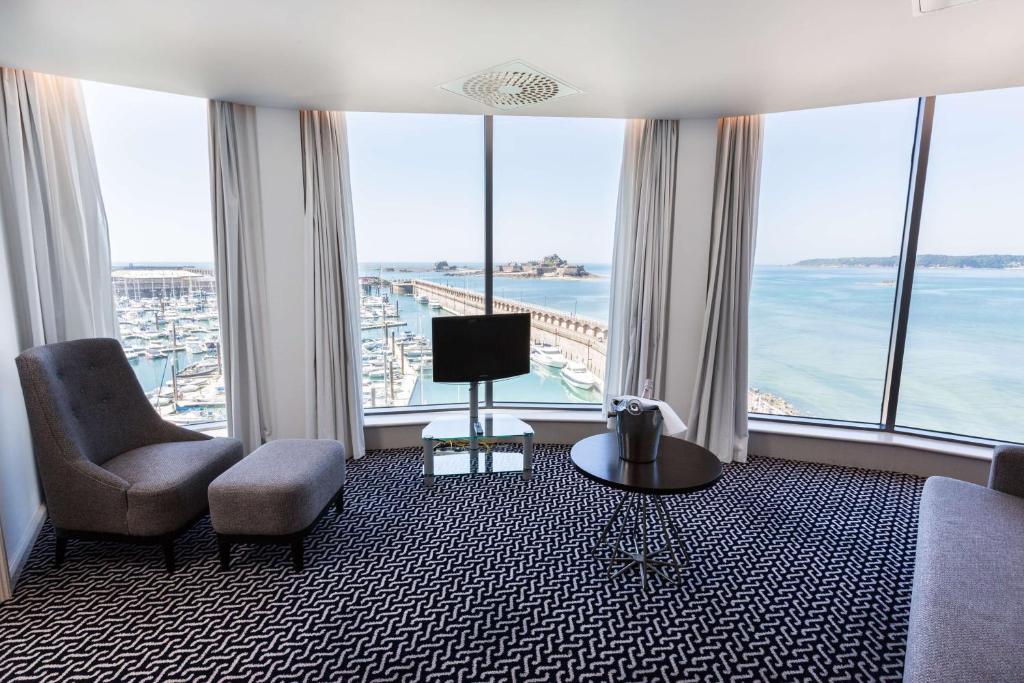 Situated on the waterfront with stunning views of St Aubin's Bay, the Radisson Blu Waterfront Hotel in Jersey offers a range of fantastic amenities. The hotel features a health club with a pool, beauty salon, and a waterfront restaurant, bar, and terrace overlooking the marina. The modern rooms are elegantly designed with town or sea views and offer free Wi-Fi, flat-screen TVs, fridges, and 24-hour room service. Guests can enjoy the facilities at Fabriah Hair & Beauty Salon including a sauna, steam room, and fully equipped gym. Indulge in massages, body therapies, facials, and hair treatments at the salon. The Waterfront Restaurant serves delicious dishes made with fresh local ingredients while the chic Waterfront Bar offers a stylish atmosphere bathed in natural sunlight from the floor-to-ceiling windows leading to a south-facing terrace with breathtaking sea views. Beautiful beaches are nearby and St Helier's city center is just a 10-minute walk away. Free parking is available at the hotel.
– Striking waterfront location
– Health club with pool
– Fabriah Hair & Beauty Salon amenities
– Delicious dining options with fresh local ingredients
– Close proximity to beautiful beaches
Jersey Hotels With Gym And Pool
Jersey hotels with gym and pool offer the perfect combination of fitness and relaxation. With state-of-the-art fitness centers equipped with modern exercise equipment, guests can maintain their workout routines while on vacation. The refreshing pools provide a great way to unwind after a workout or simply relax under the sun. Whether you want to stay active or just enjoy some leisurely time by the pool, Jersey hotels with gym and pool have everything you need for a rejuvenating stay.
Longueville Manor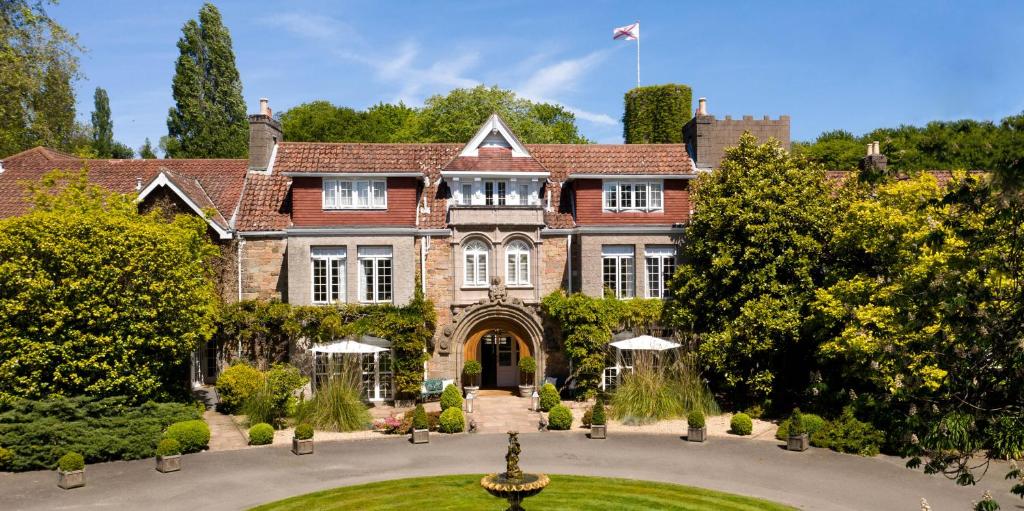 Just outside St Helier, Longueville Manor is a 14th-century manor house that offers a luxurious and peaceful retreat. The hotel features a 3 AA-Rosette restaurant, an outdoor pool with al fresco dining, and a casual cocktail bar. Situated in 18 acres of private woodland, the hotel also boasts its own tennis court, croquet lawn, and jogging trails. The rooms are individually decorated and equipped with modern amenities such as flat-screen TVs, DVD players, free Wi-Fi access, iPod docks, and Blu-ray players. Guests can enjoy fresh fruit and flowers in their rooms as well as access to the hotel's beautiful gardens and poolside terrace. The Cottage Garden is the hotel's boutique spa offering relaxation treatments in two treatment rooms along with a fitness center. Additionally, Longueville Manor has its own Victorian kitchen garden which provides quality local produce for their creative menu at the restaurant. With its state-of-the-art wine cellar housing over 4,000 wines from around the world including some rare bottles guests can indulge in afternoon teas or traditional cooked breakfasts while enjoying fine wines. The Royal Jersey Golf Club is just 2 miles away from the hotel making it an ideal choice for golf enthusiasts. Free parking is available on-site and St Helier's city center with its marina, shopping options bars and restaurants are just a short 5-minute drive away.
– Historic manor house setting
– Award-winning restaurant
– Outdoor pool with al fresco dining
– Boutique spa offering relaxation treatments
– Beautiful gardens with tennis court
Jersey Hotels with Gym Information
| | |
| --- | --- |
| 🛎️ Hotels with Gym in Jersey | 7 |
| 💰 Hotel prices starting from | $215 |
| 💵 Highest price | $1183 |
| 🥇 Average Review Score | 8.6/10 |
| 🛏️ Average number of Rooms | 49 |
FAQ
Can you recommend any hotels with a gym in Jersey?
Yes, there are several hotels in Jersey that offer gym facilities. One highly recommended option is the Grand Jersey Hotel & Spa, which features a well-equipped fitness center with state-of-the-art equipment and a range of workout classes. Another great choice is The Club Hotel & Spa, where guests have complimentary access to their fitness suite that includes cardio machines and weights. Both hotels provide excellent amenities for guests looking to stay active during their visit to Jersey.
Are the hotel gyms in Jersey open 24/7?
While some hotel gyms in Jersey may have extended hours, it is not common for them to be open 24/7. It's best to check with each individual hotel regarding their specific opening hours as they may vary. However, many of these gyms do offer early morning and late evening opening times to cater to the needs of guests who want to fit in a workout before or after exploring the city.
Do all hotels with a gym in Jersey have personal trainers available?
Not all hotels with gyms in Jersey provide personal trainers on-site. However, some higher-end establishments like L'Horizon Beach Hotel & Spa offer this service upon request. If having access to a personal trainer is important for your fitness routine while staying at a hotel in Jersey, it's advisable to contact your chosen hotel directly ahead of time and inquire about this particular amenity.
Do I need to bring my own workout gear when staying at a hotel with a gym in Jersey?
While most hotels with gyms provide basic equipment such as treadmills, stationary bikes, and free weights, it's always best to bring your own workout gear if you have specific preferences or requirements. This includes comfortable athletic shoes, appropriate clothing for exercising, and any accessories you typically use during your workouts such as yoga mats or resistance bands. Packing your own gear ensures that you have everything you need for an effective and comfortable workout.
Are there any hotels in Jersey that offer outdoor fitness activities along with their gym facilities?
Yes, there are hotels in Jersey that offer outdoor fitness activities alongside their indoor gym facilities. One such hotel is The Royal Yacht, which provides guests with access to a rooftop running track offering stunning views of the city while they exercise. Additionally, some hotels may have partnerships with local sports clubs or beachfront locations where guests can participate in outdoor fitness classes or water sports. It's worth checking with your chosen hotel to see if they offer any unique outdoor experiences as part of their gym amenities.
Popular Hotels With Gym destinations