Welcome to Chur, Switzerland's captivating city nestled in the heart of the Swiss Alps. If you're a fitness enthusiast looking for accommodation that caters to your active lifestyle, you're in luck! Chur offers an array of hotels equipped with state-of-the-art fitness facilities. Whether you prefer cardiovascular workouts or weight training, these hotels with gymnasiums are sure to keep you motivated and energized during your stay.
Stepping into any of the hotels boasting gyms in Chur will transport you to a world where health and wellness take center stage. Imagine waking up to breathtaking mountain views before hitting the well-equipped fitness center for an invigorating workout session. Enjoy a wide range of exercise options suitable for all levels of fitness, from treadmills and elliptical machines to free weights and resistance training equipment. After your workout, unwind in the sauna or indulge in a relaxing massage at the hotel's spa facilities – the perfect way to recharge those muscles after an intense gym session.
In addition to their top-notch fitness amenities, these hotels also offer comfortable accommodations and exceptional service that will make your stay even more memorable. So lace up your sneakers and get ready for a transformative experience as we explore some of Chur's finest hotels that prioritize both comfort and wellness!
Best Chur Hotels With Gym And Fitness Center
Grand Resort Bad Ragaz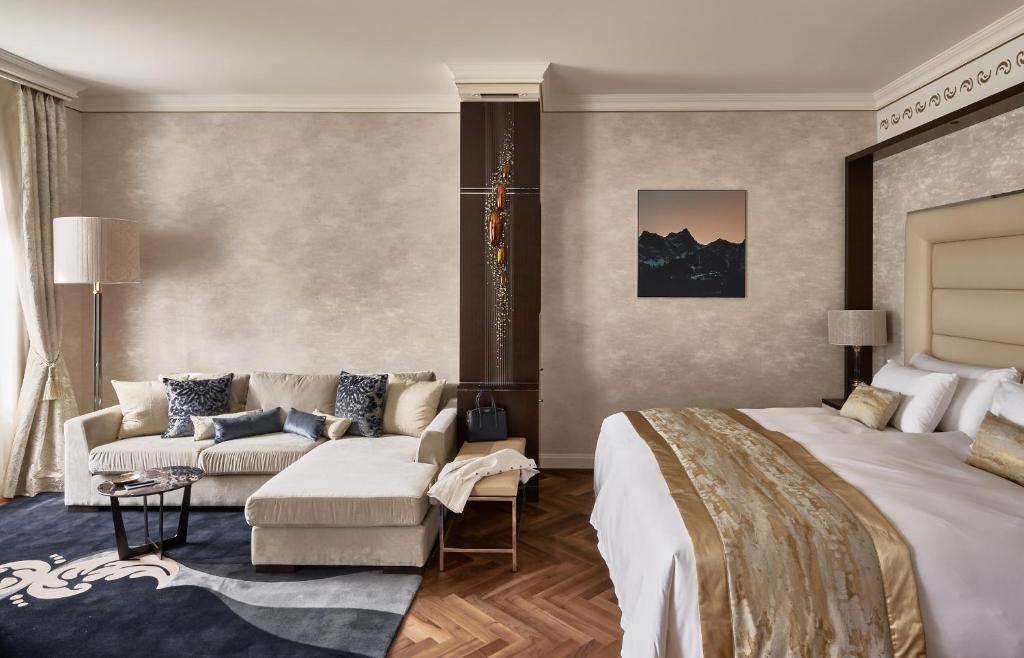 The Grand Resort Bad Ragaz is a first-class spa hotel located in Eastern Switzerland, just an hour's drive from Zurich. Nestled amidst the foothills of the Alps, this hotel offers breathtaking views of the surrounding mountain landscape and provides easy access to scenic hiking trails and world-class ski resorts. Guests can indulge in a variety of activities including golfing on one of the two courses, attending meetings or events at the on-site centre, relaxing at the public Tamina Therme thermal spa, or trying their luck at the casino. The thermal spa offers a range of pools including the historic Helena pool, sports pool, garden pool, family spa, and sauna area. Visitors can also enjoy 36.5°C thermal water sourced from nearby Tamina gorge. The resort features 5-star luxury accommodations with elegant designs that prioritize comfort. With 7 restaurants boasting a combined total of 75 GaultMillau points and 6 Michelin stars, as well as a sushi takeaway option, bistro, and café for culinary enthusiasts to relish exquisite dishes. In addition to these amenities, guests benefit from access to a medical health center specializing in convalescent patient care alongside their own thermal spring—the perfect complement to their comprehensive spa offerings.
Pros:
– Spectacular mountain landscape
– Access to picturesque hiking trails
– Proximity to stunning ski resorts
– Wide range of amenities including golf courses and a casino
– Exquisite culinary options with multiple gourmet restaurants
Grand Hotel Kronenhof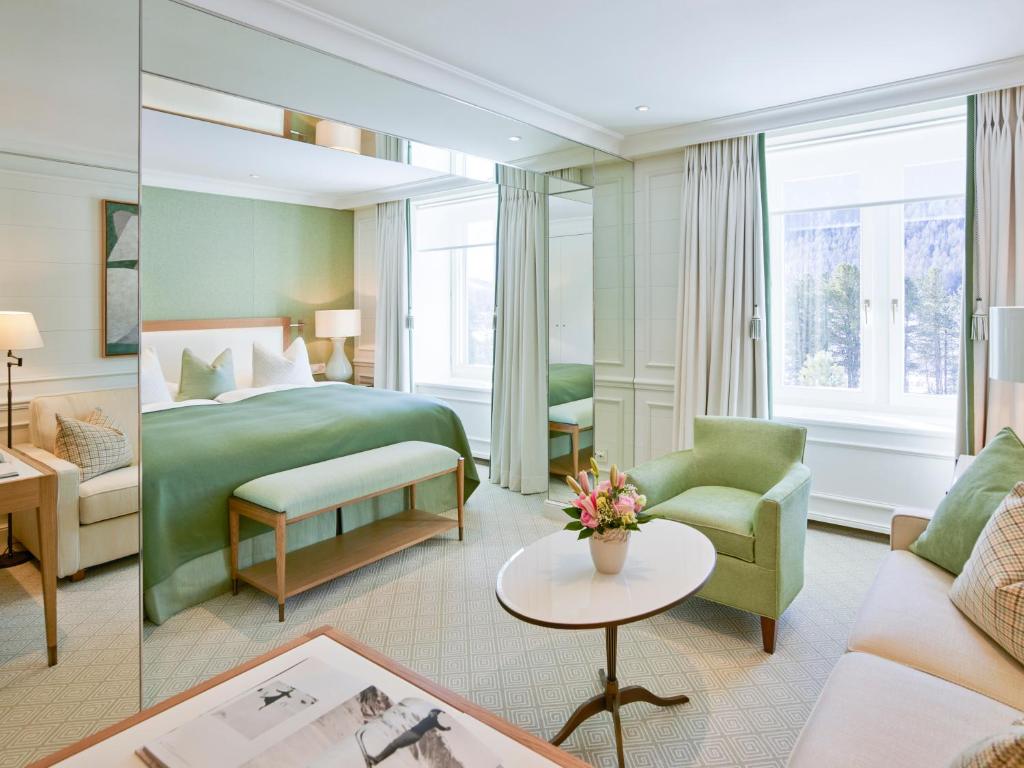 The Grand Hotel Kronenhof in Pontresina is a luxurious 5-star superior hotel that offers breathtaking views of the Bernina glaciers and Engadine Mountains. Built in the late 19th century, this neo-Baroque style hotel has a rich history dating back to 1848. As a member of Swiss Deluxe hotels, all rooms are elegantly furnished and equipped with wired and wireless internet access. The hotel features a lavish spa, including an indoor pool and children's pool, as well as a wellness bath area, saunas, steam baths, and relaxation rooms. With 13 treatment rooms and a fitness center with state-of-the-art equipment, guests can indulge in ultimate relaxation and rejuvenation. The Grand Hotel Kronenhof also boasts an award-winning restaurant where traditional Swiss and international dishes are served in an elegant neo-Baroque setting. Guests can enjoy light menus and drinks on the terrace or dine at the gourmet restaurant which holds 16 Gault Millau points. For families traveling with children, the hotel offers professional babysitting services as well as its very own children's club and restaurant. In addition to these amenities, during the summer season guests staying for two or more nights can benefit from free use of all mountain trains in the Upper Engadine region.
– Luxurious spa with indoor pool
– Award-winning restaurant serving traditional Swiss and international dishes
– Professional babysitting services available
– Free use of mountain trains during summer season for guests staying two or more nights
Waldhotel & SPA Davos – for body & soul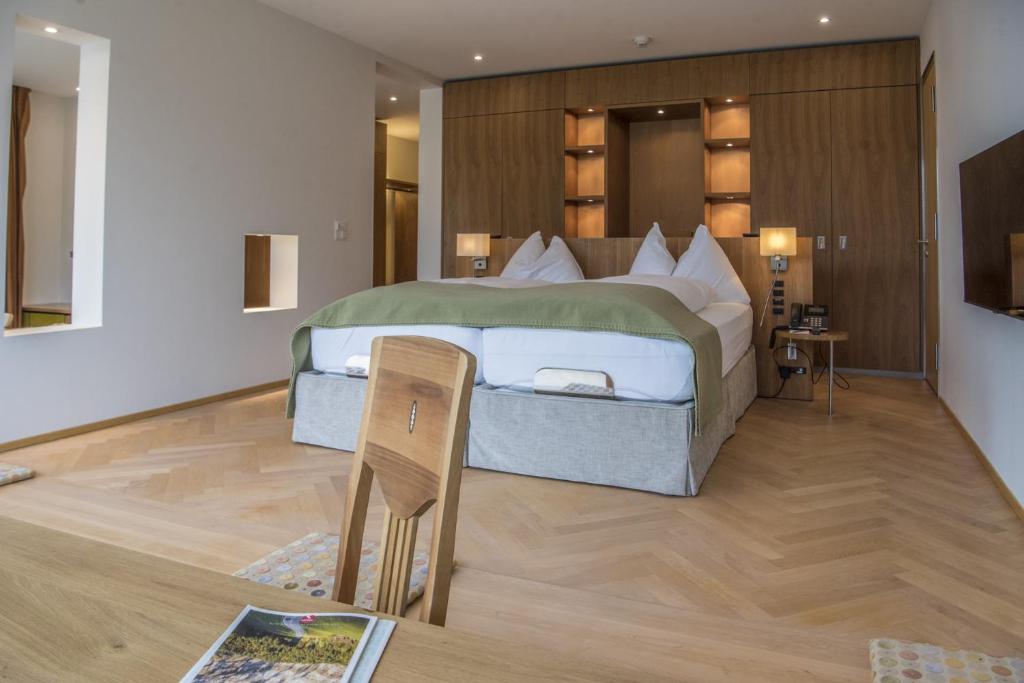 Nestled in the beautiful landscape of Davos, Waldhotel & SPA offers a luxurious 4-star superior experience for guests seeking relaxation and rejuvenation. With stunning panoramic views, this hotel features a restaurant serving delectable dishes of Aroma/Natural cuisine, as well as international and Grisons specialties. The spa area boasts an indoor pool with bubble beds, massage jets, a counter-current system, and a neck shower. Guests can also enjoy the aroma grotto, sauna, Turkish steam bath, Kneipp room, and fitness room. The spacious rooms are equipped with modern amenities and most have balconies overlooking the charming town of Davos. With its rich history as the renowned Waldsanatorium from Thomas Mann's novel "The Magic Mountain," this hotel offers not just comfort but also an intriguing connection to literature. Plus points:
– Breathtaking panoramic views over Davos
– Spa area with heated indoor pool and bubble beds
– Atrium restaurant offering culinary delights
– Convenient free shuttle service from train stations
– Close proximity to ski slopes
Hotels With Fitness Center In Downtown Chur
Downtown Chur offers a range of hotels with fitness centers, making it an ideal destination for travelers who value their health and well-being. These hotels provide state-of-the-art gym facilities, equipped with modern exercise machines, free weights, and cardio equipment. Guests can enjoy a workout session at their convenience, allowing them to stay active even while on vacation or business trips. With the added convenience of staying in the heart of the city, visitors can easily explore all that Downtown Chur has to offer while maintaining their fitness routine.
Badrutt's Palace Hotel St Moritz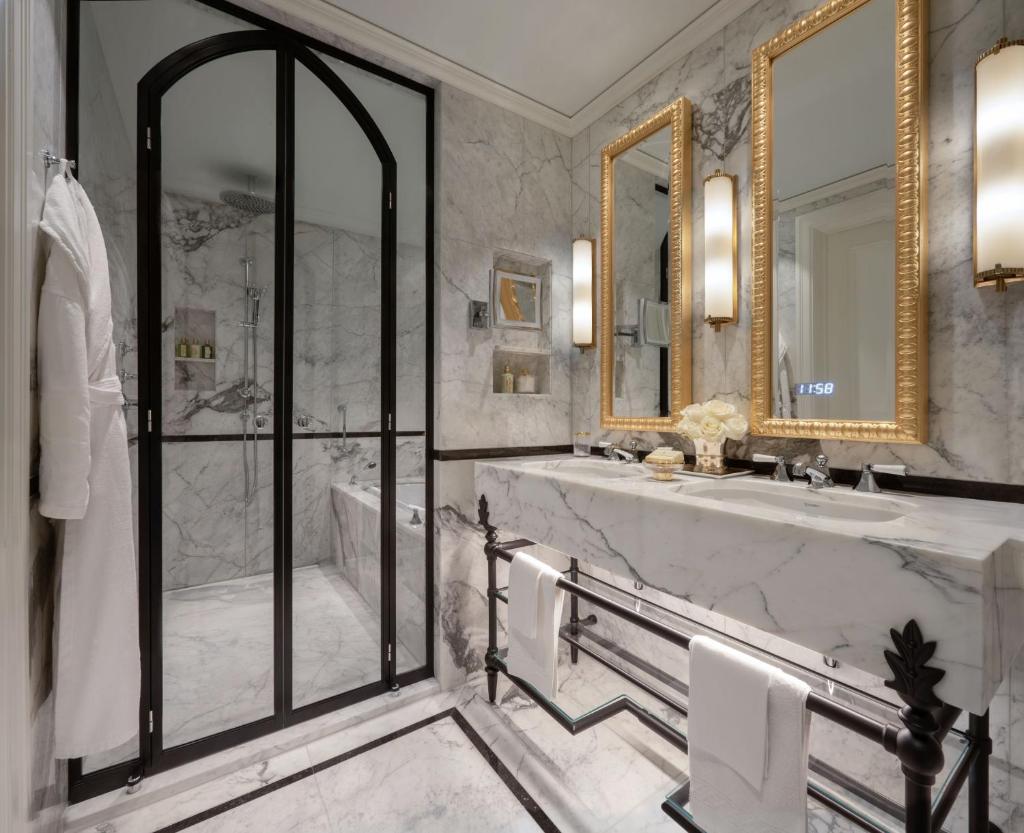 Dating back to 1896, Badrutt's Palace Hotel is a luxurious 5-star property located in the heart of Sankt Moritz. Offering breathtaking panoramic views of the Engadine Alps and Lake Sankt Moritz, this iconic hotel features six restaurants, an indoor pool, and a convenient free shuttle service to the Corvatsch Cable Car just 500 meters away. As a member of Leading Hotels of the World, Swiss Deluxe Hotels, and Swiss Historic Hotels, Badrutt's Palace Hotel boasts elegant rooms with stunning mountain or lake views. Each room is equipped with modern amenities such as a flat-screen satellite TV with free movie channels and a minibar stocked with complimentary items. Guests can also enjoy access to the spa and fitness area, 24-hour front desk services, valet parking facilities, and complimentary Wi-Fi throughout their stay. With its prime location near the train station (350 meters), guests can take advantage of the free shuttle service for easy transportation. In addition to these amenities, guests can partake in summer activities like playing tennis on the hotel's court or enjoying ice skating during winter months on the nearby lake.
– Panoramic views over Engadine Alps and Lake Sankt Moritz
– Six restaurants offering diverse culinary options
– Convenient free shuttle service to Corvatsch Cable Car
– Access to spa and fitness area for relaxation and wellness
– Prime location near train station for easy transportation
Swiss Holiday Park Resort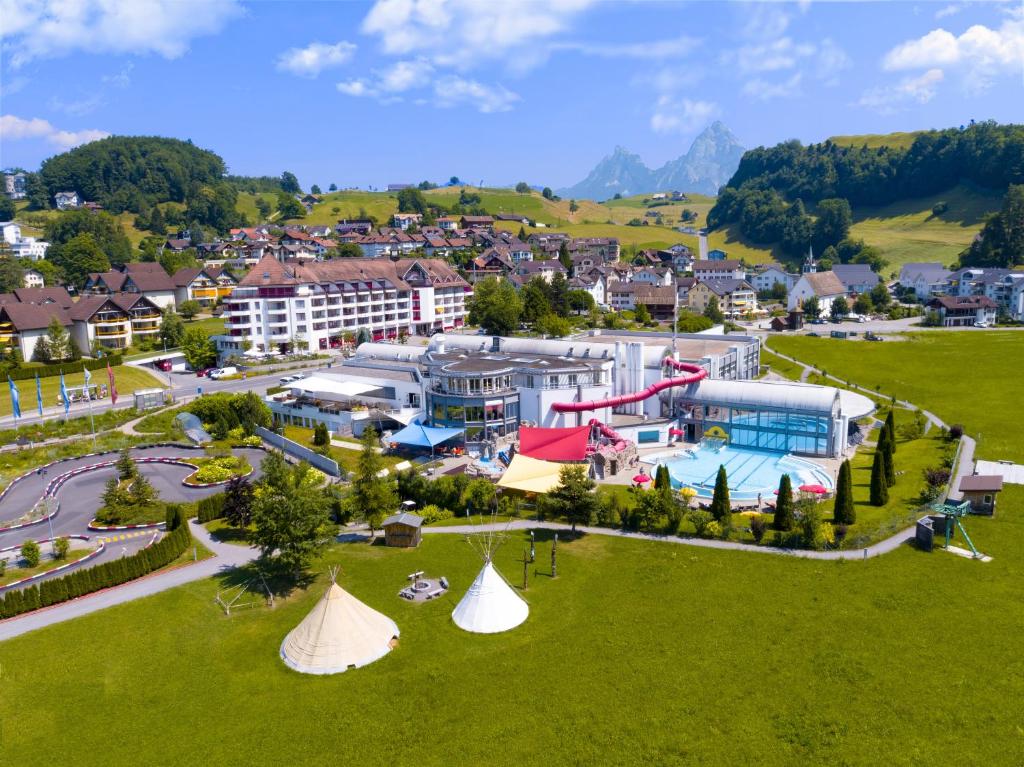 Situated in the picturesque village of Morschach above Lake Lucerne, Swiss Holiday Park Resort is the largest holiday and leisure resort in Switzerland. Surrounded by mountains and lush meadows, this resort offers breathtaking views of the lake and the Alps. Guests can indulge in a wide range of leisure activities, relax at the spa facilities, and enjoy delicious meals at the on-site restaurants. The extensive spa area is free for guests and features an adventure pool, water slides, hot tubs, saunas, and more. Accommodation options include modern hotel rooms, hostel rooms with bunk beds, and apartments with fully equipped kitchens. The resort also caters to families with an adventure farm for children, supervised kid's clubs, and special children's buffets. With various indoor and outdoor sports facilities available as well as a fitness center, there is something for everyone at Swiss Holiday Park Resort.
– Stunning views of Lake Lucerne and the Alps
– Extensive spa facilities with adventure pool
– Range of accommodation options to suit different preferences
– Family-friendly amenities such as adventure farm and kids' club
– Convenient location near ski slopes with free shuttle service
Mercure Chur City West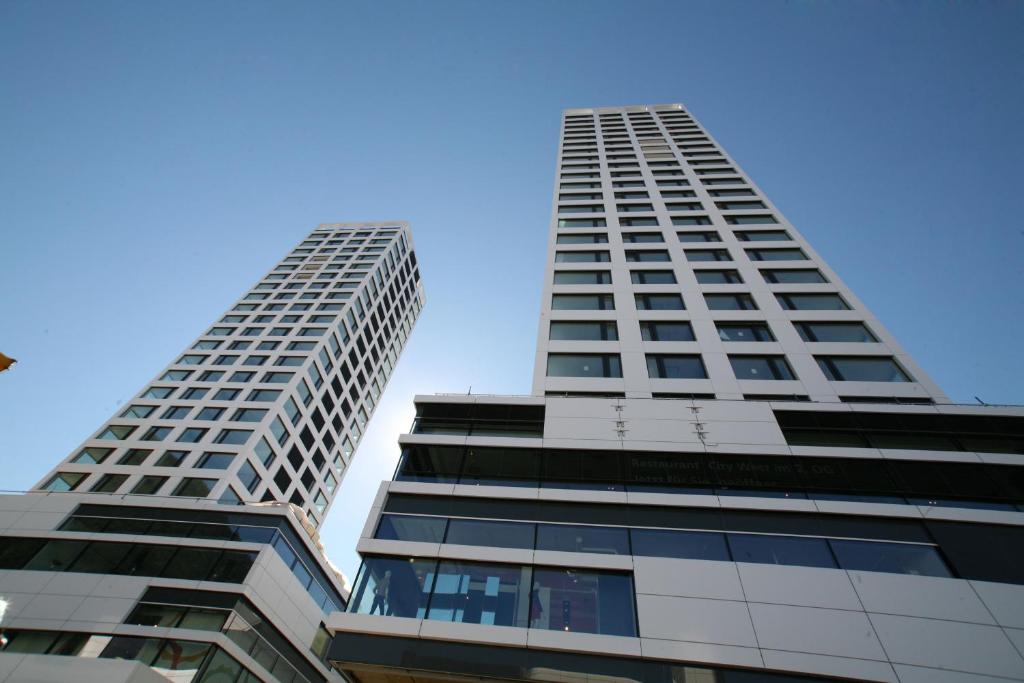 Located in Chur, Mercure Chur City West is a modern hotel that opened its doors in 2012. The hotel offers spacious air-conditioned rooms with wooden floors and amenities like a flat-screen cable TV, safety deposit box, minibar, and private bathroom with a shower. Guests can enjoy free WiFi throughout the building and have access to private parking in the on-site garage, which provides direct access to the hotel. In the morning, guests can start their day with a delicious breakfast made from local produce. The hotel's restaurant serves seasonal regional specialties that can be enjoyed on the terrace. Other facilities include a bar and designated smoking area. The hotel is conveniently located just 2 km away from the city center, with a bus stop only 100 meters away and Chur Main Train Station 2.6 km away.
Pros:
– Spacious air-conditioned rooms
– Free WiFi throughout the building
– Private parking available
– Delicious breakfast made from local produce
– Convenient location near public transportation options
Chur Hotels with Gym Information
| | |
| --- | --- |
| 🛎️ Hotels with Gym in Chur | 6 |
| 💰 Hotel prices starting from | $227 |
| 💵 Highest price | $1275 |
| 🥇 Average Review Score | 8.8/10 |
| 🛏️ Average number of Rooms | 35 |
FAQ
Is there a hotel with a gym in Chur, Switzerland?
Yes, there are several hotels in Chur that offer gym facilities for their guests. These hotels understand the importance of fitness and provide well-equipped gyms where visitors can continue their workout routines even while traveling. Whether you prefer cardio exercises or strength training, you can find a hotel with a gym that suits your needs in Chur.
Are the gym facilities at hotels in Chur open to all guests?
Yes, most hotels with gyms in Chur allow all their guests to use the fitness facilities during their stay. Whether you are staying at a high-end luxury hotel or a budget-friendly accommodation option, if they have a gym on-site, you will generally have complimentary access as part of your stay.
What types of equipment can I expect to find at the hotel gyms in Chur?
The gyms at hotels in Chur typically feature a range of modern exercise equipment including treadmills, stationary bikes, elliptical machines, and weightlifting stations. Some establishments may also provide yoga mats and other accessories for those who enjoy practicing yoga or stretching exercises.
Do I need to bring my own workout clothes and shoes when using the hotel gym in Chur?
It is recommended to bring your own workout clothes and shoes when planning to use the gym facilities at hotels in Chur. While some upscale accommodations might provide fitness amenities such as towels or water bottles, it's best to come prepared with suitable attire for your workouts.
Are there any additional charges for using the hotel gym in Chur?
In general, using the hotel gym is included within the overall price of your stay. However, it is always advisable to confirm this information with your chosen accommodation beforehand as individual policies may vary. Additionally, certain hotels may offer specialized classes or personal training sessions which could involve an extra fee.
Popular Hotels With Fitness Center destinations